In a Nutshell
Casper mattresses are designed with the 4 most important aspects of a good night's sleep in mind - comfort, support, durability, and temperature. Casper creates products that deliver top results in all of the above categories, and now with its newest innovations that include zoned support, Casper has really set the industry's bar up a notch.
pros
Range of mattresses for different budgets
Fast shipping
cons
Only available in medium-firm comfort level
Mattress removal at added cost

Casper Visit Site
Free, compressed in a box
What Type of Sleeper is it Best for?
Casper mattresses are designed to cover all types of sleepers comfortably. The combination of memory foam, support foam, and comfort foam delivers excellent support for:
Side sleepers
Stomach sleepers
Combination sleepers
Restless sleepers
And more
How it Works
Because Casper is exclusively an online outlet, customers can expect to pay less for their mattresses since there's no overhead, showrooms, sales staff, shipping costs, and other common expenses that are normally built into the price of a product.
Casper offers more options for sizes than many other mattress companies, so if you have a more specific need for size or dimensions, this is a good place to look. Next you need to decide which mattress is best for you. Check out the specifications section below to see which model is right for your needs.
Once you've selected your mattress and placed it in your shopping cart, you can enter your details for delivery. Payments are accepted via all major credit and debit cards, and customers can split up their payments as well, using Affirm financing. Shipping is free anywhere within the US, and orders are received between 1-5 business days. Some areas within New York and California even have same-day delivery.
Unboxing the mattress takes no time at all and will be detailed in the delivery section below. Once unpacked, you can use your Casper mattress for 100 days, risk free. If you are unhappy with the mattress, return it for a full refund. Casper will even come pick up the mattress free of charge and donate it to a local charity.
All Casper mattresses come with a 10-year warranty. What's nice is that the entire mattress is covered by the warranty, unlike some companies which limit your coverage severely.
If you have any trouble with your mattress, you can contact customer service staff, available 7 days a week. Known by the convivial name, Snooze Specialists, the support staff is knowledgeable and eager to help. Casper's customer service is not only available via phone or email contact form, but you can also send SMS messages.
Mattress Makeup
All Casper mattresses are hybrids, which means they synchronize the strengths of both coil and foam mattresses for the best sleep possible. The coils provide the support, while the memory foam creates the kind of softness that most people want when they go to bed. Foam alone can cause overheating and sinkage, while coils can be stiff and unforgiving on the spine. The combination, however, corrects both flaws, leaving the perfect design for all kinds of sleepers.
Every Casper mattress is in the medium-firm comfort range. In addition, all Casper mattresses come with a zip-off cover for easy cleaning; just throw it in the washing machine.
Mattress Models
Hybrid memory foam and coils
Hybrid memory foam and coils
Hybrid memory foam and coils
The Essential Mattress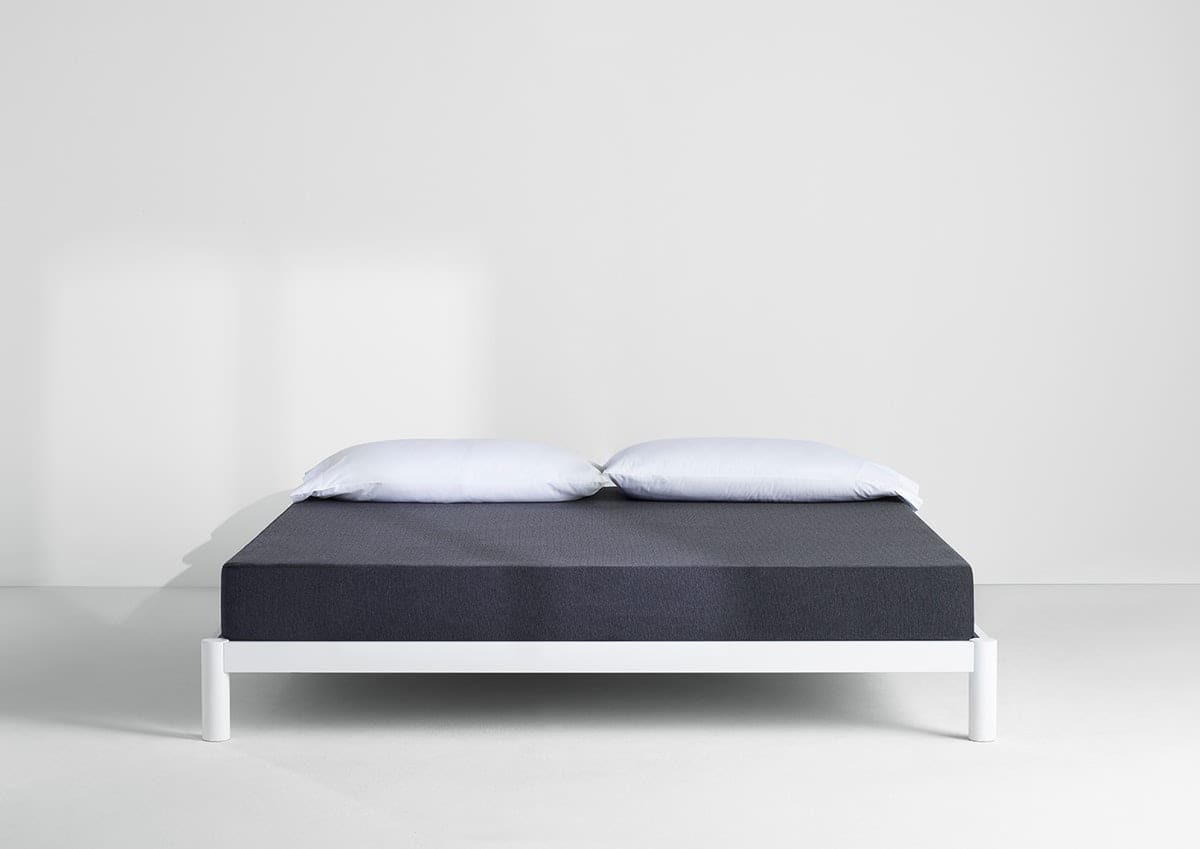 Best for: Average sleepers, side or stomach
The Essential mattress is the basic model from Casper. It is made up of 8.5" comfort divided into 3 layers of breathable, super bouncy material. It's made up of hybrid foam and coil construction with an open-cell foam for cooler sleeping. The multi-layer design of this mattress makes it particularly good at motion isolation. That means you won't feel or hear your partner's movement even if they toss and turn often. The open cell foam helps control temperature and air flow, while the triple layer of foam acts to relieve pressure against your body.
The 3 layers are:
Soft foam for comfort to the touch
Memory foam for pressure relief
Base foam for extra support
Unzip the cover, and you expose a layer of open-cell foam that is designed to provide bounce and keep air circulating for a cooler night's sleep. This layer allows the hot air to get out of the mattress, instead of trapping it inside, so you don't wake up sweating mid-sleep. The Essential mattress is a good entry level option that won't cost you a lot but will still deliver a comfortable and supportive night's sleep. It's definitely a better option than the traditional mattresses you are used to.
The Casper Mattress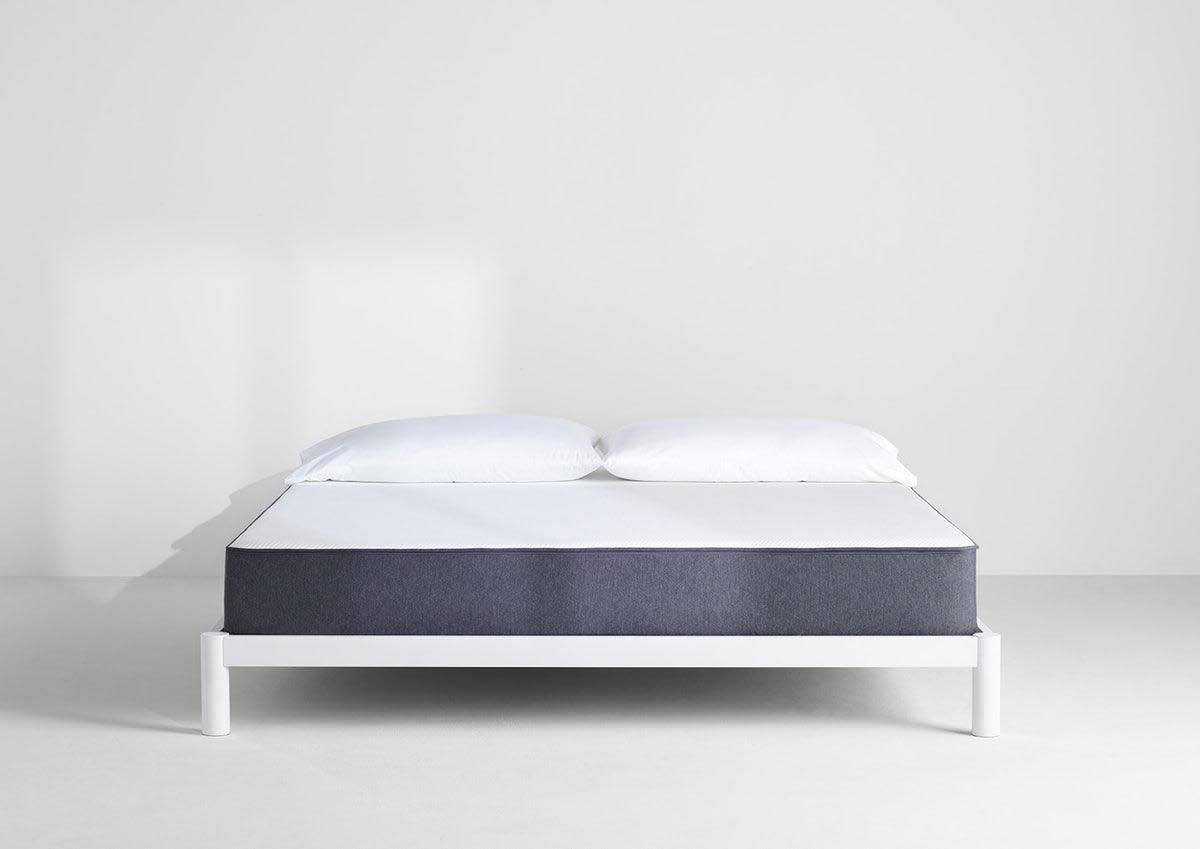 Best for: Back and side sleepers
The Casper mattress is the next level up in comfort and support from the Essential mattress. In addition to the 3 layers discussed, the Casper mattress has another high-density memory foam layer. This is where the zoned support really takes effect. The way the foam gives each part of your body optimal support. So, your back is supported the way it should be, while your neck is supported differently (but equally cushioned). Hips get more firmness while shoulders get a softer support.
After the initial support layer, Casper includes a deep transition layer of foam that effectively distributes your weight throughout the mattress so no indentations damage the mattress and you are consistently supported across your body. Finally, the base layer is made of supportive foam that not only takes the brunt of your weight, but ensures long-lasting resilience for your mattress. That means your investment won't be worn out in a few years.
The Wave Mattress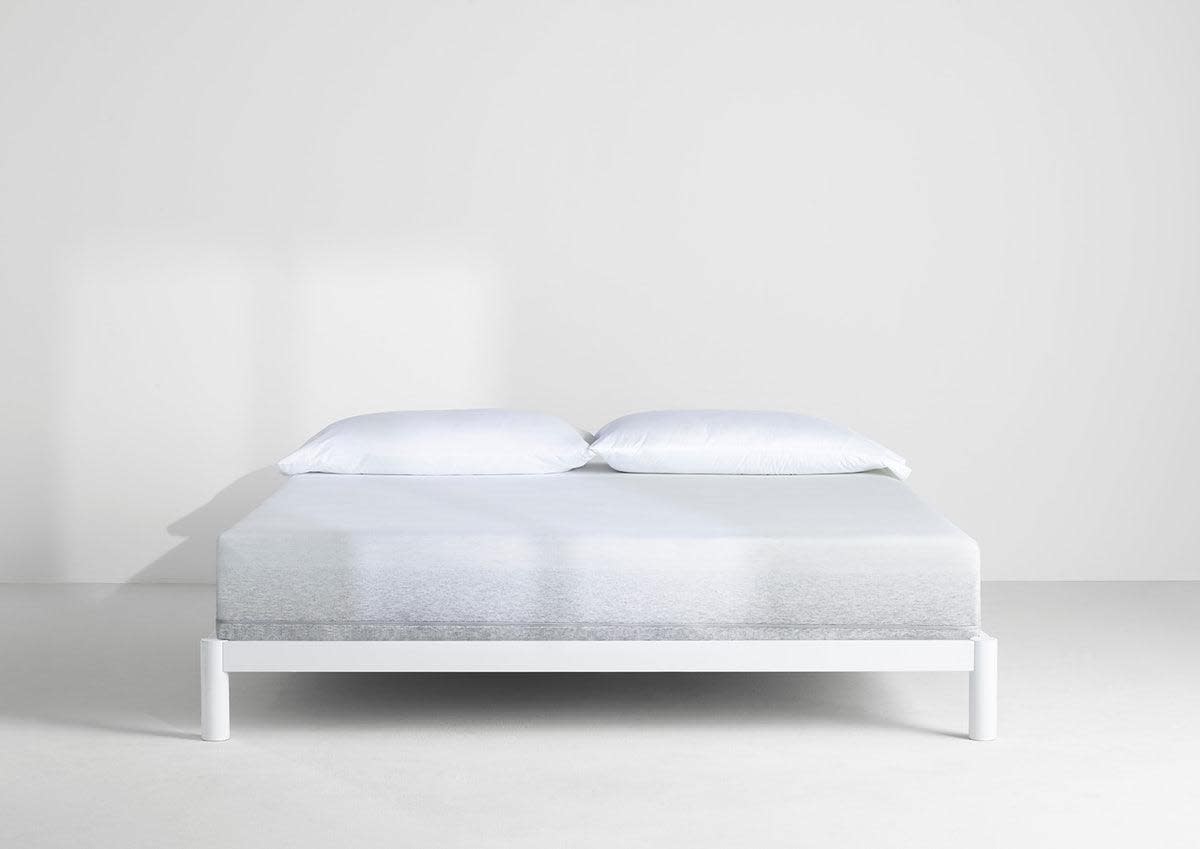 Best for: All types of sleepers, anyone with medical issues or chronic back pain
The Wave is Casper's signature mattress, and it really is impressive. The design includes both of the specs from the previously mentioned models and adds even more support for your comfort.
The Wave mattress comes with:
Hyper-targeted support for an ergonomic layer of comfort and support for your spine
5 layers of foam for the softest night's sleep
Precision contouring for maximum comfort regardless of position
Reinforced polymer network for more back and hip support
The Wave mattress brings comfort to a whole new level. Basically, everything is softer, more cushioned, and more precise, so you feel like you're sleeping on a well-supported cloud. This model is the most expensive Casper mattress, but once you feel it, you'll understand why.
The Dog Bed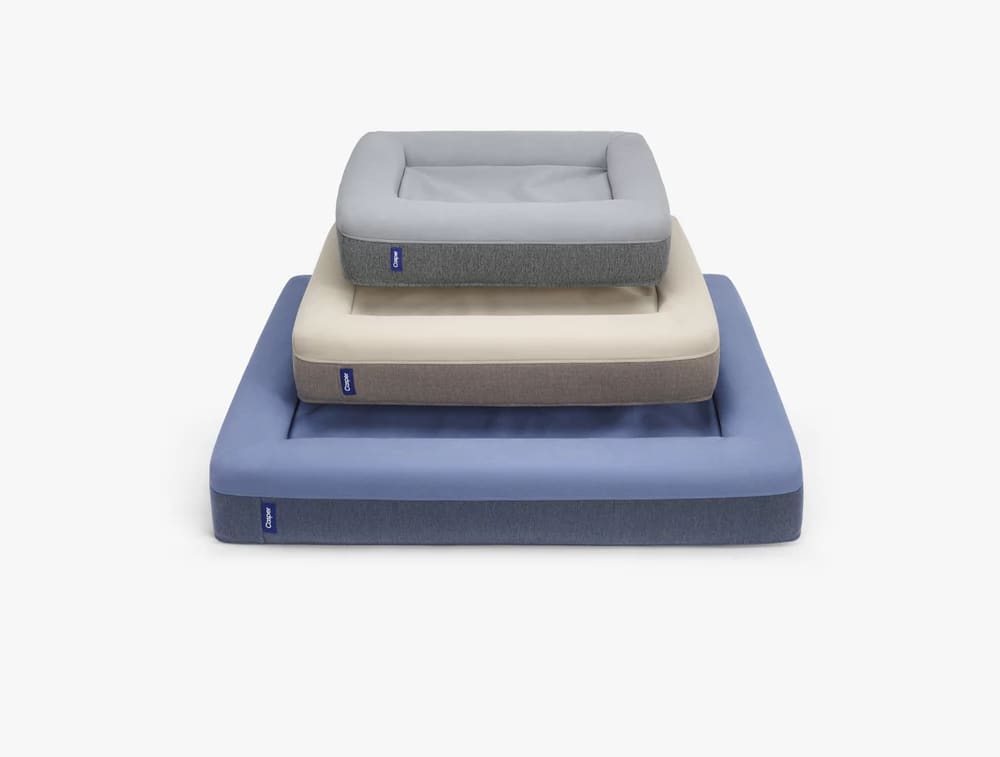 Let's not forget about man's best friend; Casper certainly hasn't. In a unique twist on niche selling, Casper offers pet owners the opportunity to pamper their four-legged friends, providing them with a comfortable spot to snuggle up in each night.
Based on 110 prototypes, 460 hours of testing, and 11 months of sleep study, the Casper dog bed is designed with canine friends in mind. The bed is made using layers of support and memory foam for pressure-relief and comfort. What's more, the dog bed comes with a protective layer on top with a soft, malleable, and super strong material that imitates soft dirt so dogs can paw away at the material without destroying the bed.
The bed is designed with strong edge support so that dogs can curl up against the walls of the bed and feel fully secure and supported. The entire bed is made with resilient micro-fibers bonded together to create the most durable mattresses.
The dog bed even has humans in mind with convenient, easy to wash covers, fur-repellent coating, and hidden zippers so they don't scratch the floor. Additionally, the dog bed comes with the same 100-day free trial and warranty as the regular beds. The dog bed comes in 3 colors.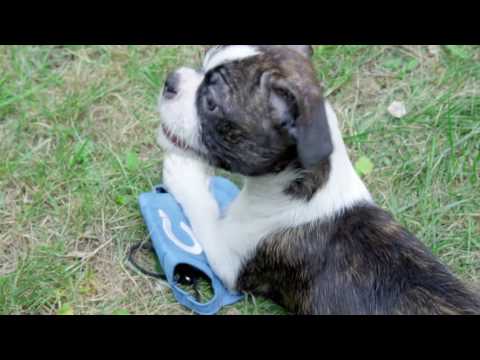 Delivery
Delivery is within a few days and some customers can receive their mattresses on the same day of order if it's before 3 o'clock. Your mattress will be compressed for easier shipping and all Casper mattresses are shipped in the same familiar Casper box. How much it weighs will of course depend on the size of your mattress.
Unboxing your purchase is quick and can be done in just a few minutes. Slide it out of the box, remove the plastic wrappings, and unroll. The mattress will automatically decompress and can be slept on immediately. Casper does note that it can take up to 24 hours for the mattress to expand to its full dimensions.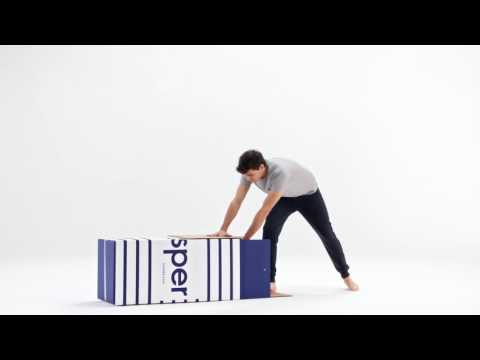 Alternatively, you can pay an extra $100 for white glove delivery. This service will have a qualified mattress specialist deliver, unbox, and set up your Casper mattress for you. If you are elderly, have medical issues, or just can't be bothered setting up your own mattress, this is a great service for you. The in-house delivery staff member will also disassemble and take away your old mattress, frame, and bedsprings.
Testimonials
I tried the options in the Casper store. I was prepared to get the top of the line model if I liked it. But I chose the basic one which felt softer and better to me. Then UPS delivered the manageable box to my door for free two days later. I took it from there, and all went well setting it up. The first night was an adjustment and took some getting used to, I liked knowing that I could easily return the bed and felt relieved about that. My second night was supremely comfortable and I have no more doubts. Now I keep congratulating myself on my great bed. I loved the simplicity involved in purchasing this high quality product. I am completely convinced this is my perfect bed. Thank you to the design team for doing your job so well. My life is better with my new bed because my shoulders don't crumple up or feel strained during the night.
Jamie, NY
The mattress came rolled in plastic in a sturdy cardboard box which had hand openings in the side to make it easier to carry. After setting up the new metal bed frame and foundation, I slid the rolled mattress out of the box, removed the plastic wrapping, and the mattress unrolled and took shape quickly. I fell asleep on it very quickly the first night, and every night since. My previous mattress was a memory foam mattress but when I slept on it I felt like I was being swallowed up by it. It was too mushy, particularly in the middle, and I often woke up with a sore lower back. Now that I have my new Casper mattress I sleep very comfortably and I no longer feel that my body is sinking into the mattress. I wake up rested and with no back pain. My new Casper mattress is definitely an excellent investment.
David, Ottowa
I loved the unboxing. Took it out of the box and it look like a burrito wrapped in Saran wrap. Once we unrolled the saran wrap it just sort of appeared as a full mattress! It is one of the most comfortable mattresses I have ever slept on! It is even more comfortable than the heavenly mattress of Hiltons. The only thing that I wish is that the mattress came in a 14 inch height, other than that not a single complaint. Now leave me alone I want to go to bed.
Sean, California
Bottom Line
The Casper mattresses have a strong design, comfortable support, and resilience. With a competitive price tag and a range of mattresses to meet most budgets, Casper offers something for everyone. Try out a Casper mattress for 100 nights to see for yourself.

Casper Visit Site
About Casper
Launched in 2014 by Philip Krim, Neil Parikh, T. Luke Sherwin, Jeff Chapin, and Gabriel Flateman, Casper was quickly successful. The company sold 1 million dollars worth of product in the first 28 days after launch. The ambitious company has strong support from celebrities, financial backers, and media outlets that all stand behind this product. In 2016, Casper expanded its products to include pillows, sheets, and dog mattresses.