In a Nutshell
What makes Eight Sleep unique is that it is not merely a mattress company, but also a tech company. By combining state-of-the-art technology with well-researched data on optimal comfort design, Eight Sleep brings a good night's sleep to a whole new level. Eight Sleep's mattresses are designed with features to help you maximize the hours you spend in bed for more energy, health, productivity, and overall happiness.
pros
Customizable comfort levels
Smart mattress
cons
Delivery takes around 7 business days
Shipped in 2 separate boxes

EightSleep Visit Site
What type of sleeper is it best for?
Since Eight Sleep's mattresses are designed with personalized optimization, every type of sleeper can gain from these products. You can tailor your mattress to deliver optimal sleep designed just for you whether you are a:
Side sleeper
Stomach sleeper
Combination sleeper
Restless sleeper
Any other type of sleeper!
Meet Eight Sleep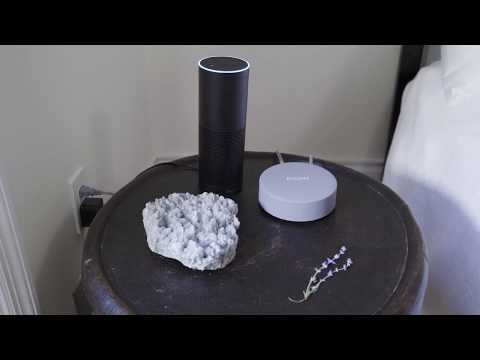 How it Works
Eight Sleep makes selecting and ordering a mattress very simple. The website clearly displays the 3 mattresses on offer, the Mars, Jupiter, and Saturn. Each mattress has its specifications along with prices clearly set out so that you can see the difference between models and what you are getting with your purchase. Once you've decided on your mattress, you can select which size you want and add it to your cart. You can also add accessories such as a bed frame, extra pillows, and organic sheet sets. At the time of this review, all Eight Sleep mattress models come with 2 free pillows upon purchase.
Customers can choose to pay the full amount immediately, or opt for financing options that allow you to pay for your mattress over 18 months with 0% APR through Affirm. Eight Sleep also offers discounts for students and military or veteran customers. Using the applicable code, you'll get 10% off of your entire purchase.
Shipping is free and can take between 7-10 business days, though customers remark that it is usually shorter. Your mattress will arrive to your home, compressed in a box. Once you've received your mattress, your 100-day trial starts, in which time you can test out your mattress for suitability. If you are not happy with your purchase, you can return it free of charge. Eight Sleep does not take the mattress back because of sanitation standards - it doesn't sell refurbished or recycled mattresses - so it has no use for the product once it's been opened.
Eight Sleep offers a 10-year warranty on the foam part of the mattress and a 1-year warranty on the technology and sleep tracker.
Mattress Makeup
While each Eight Sleep mattress model has its own unique appeal, all of the models share some basic foundational makeup. We'll look at that before delving further into the individual designs. All Eight Sleep mattresses have layers of high-density foam that are covered in hand-sewn, fire-retardant and moisture-repellent material.
The foam itself is crafted from memory foam, which gives support and body contouring; transition foam, which helps distribute your weight evenly across the matter to better adapt to your various sleep positions; and support foam that provides unwavering support during the entire night. These layers also give the mattress more durability so that it will last longer.
Smart Home Integration
All Eight Sleep mattress models are compatible with the sleep tracking technology, which is really the crown jewel of this company. The sleep tracker is a separate cover that fits snuggly on the top layer of your mattress and really enhances your experience on these mattresses. Basic commands include heart rate, respiratory, and sleep pattern tracking to direct you on how to get the best night's sleep every night.
The app is available for iOS and Android devices, can be downloaded directly from the app stores, and hooks up directly to your IoT via WiFi. The Eight Sleep smart mattresses even sync with popular fitness apps like Google Fit and Apple Health for a 360 degree perspective on your sleep health.
Additionally, there are hundreds of commands the Eight Sleep mattress understands. Easily program your life via IFTTT in order to make your daily and bedtime routine more streamlined and enjoyable. Set the mattress to warm up fifteen minutes before you go to sleep, have the lights dim automatically when it's bedtime, or schedule the coffee maker to go off based on your personal sleep patterns.
Mattress Models
Sleeved coil and foam hybrid
4 layers dynamic reactive foam
The Saturn+
Best for: Back sleepers and those who enjoy a firmer mattress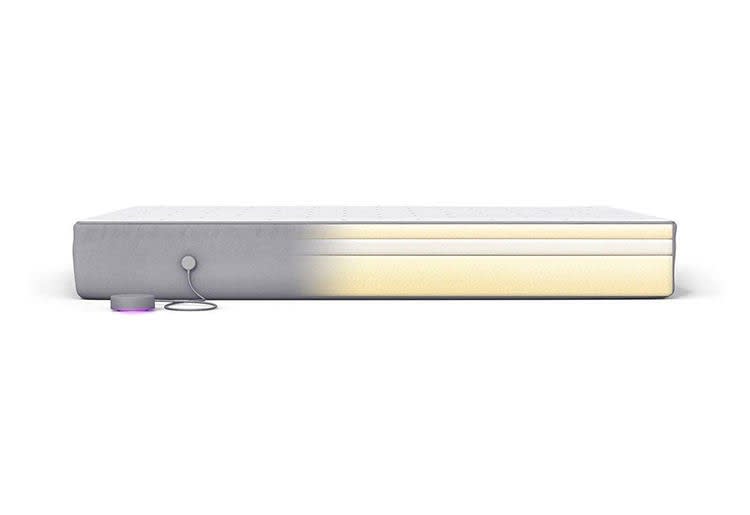 The Saturn is Eight Sleep's most affordable mattress, starting at just under $700 for a full size mattress. With medium firmness, the Saturn is most suitable for back sleepers because they will enjoy the solid comfort of this model and have the most flexibility in their choices.
The Saturn is made up of 10" of support including:
2" of responsive foam
2" of transition foam
6" of supportive foam
The additional depth of the supportive foam gives the Saturn its extra firmness. Anyone who prefers a little more firmness will appreciate this layer. The Saturn is a 7 on the 1-10 firmness scale.
The Jupiter+
Best for: Stomach sleepers or those who prefer a little more give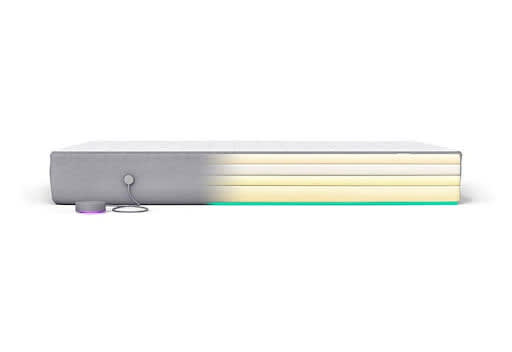 The Jupiter is the next level in Eight Sleep's offerings. It is not as firm as the Saturn, but firmer than the Mars. People who generally sleep on their stomachs will gain a lot from this combination because it offers enough support so that the arch of your back doesn't get bent out of shape. At the same time, the Jupiter is soft enough so that your ribs and stomach will be met with the comfort and pressure relief they need.
The Jupiter is made up of 4 seperate layers of foam, each highly dense, and another layer of smart sleep technology designed by Eight Sleep. The construction is as follows:
2" of reactive foam
2" of contouring memory foam
2" of supportive transition foam
4" of high-density support foam
This combination makes for a comfortable and supportive night's sleep.
The Mars+
Best for: All sleep types, side sleepers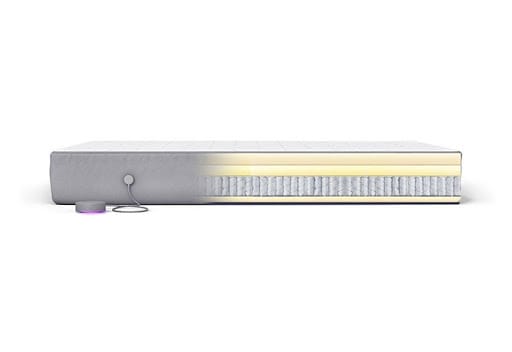 Finally, the Mars is the flagship of Eight Sleep's mattress fleet. It has the highest price tag, but with good reason. This mattress is a hybrid, combining the best features of both coil and foam mattresses. The makeup is:
2" of reactive foam
2" of comfort transition foam
4" of sleeved coils, wrapped in a polyfoam layer
3" of high density support foam
The foam gives customers the plush softness as well as the luxurious contouring that today's consumers are looking for, while the layer of coils provides support and bounce. The coils are sleeved, so you won't have to worry about pointy springs poking through the material, and the additional layer of polyfoam gives the mattress additional edge support. Side sleepers will enjoy the softness of this mattress.
Delivery
Delivery of your new Eight Sleep mattress will take about 7 business days, and you don't have to be home to receive your package. The mattress comes in 2 boxes, 1 for the foam, which comes compressed in a roll about the size of a golf bag, and another for the technology.
Caution: the mattress is quite heavy, weighing close to 90 pounds. The technology is considerably lighter, weighing about 17. Assembly is really simple. Just unbox, unroll, and you'll be ready to sleep in a few minutes.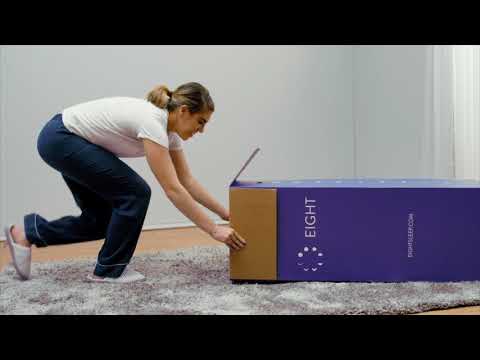 Testimonials
Perfectly comfortable for a picky sleeper like me
Adelaide Denham
The home integration is heaven sent and just so cool to watch happening!
Alko Hopper
One of my goals is to sleep better. I love that without any wearable, I can track my sleep habits and run experiments to help me get a better night sleep. The smart alarm, relaxation sounds and mediation series are pretty cool too. I also love the warming feature for my wife's side that doesn't have to happen on my side. It sleeps right down the middle, not too firm and not too soft. Would definitely purchase again. Thanks!
Slurpie
Bottom Line
How well we sleep affects our mood as well as our physical, mental, and emotional health, so it's not something to be taken lightly. Eight Sleep has given consumers a new lease on life by incorporating smart home technology into cutting edge comfort designs for the optimal mattress experience.

EightSleep Visit Site
About Eight Sleep
Eight Sleep was founded in 2014 and has already built a tremendous following. Based in New York City, this small startup backs its design with more than 10,000,000 hours of sleep track data and over 200 billion data points meticulously analyzed. All of this research has resulted in Eight Sleep's state-of-the-art smart products including sleep trackers that work with each of its luxury mattresses. This company has been featured in more than 700 publications, including The New York Times, CNBC, ABC, Forbes, and GQ.