Every year, more than 5 million men grow and sport a 'stache throughout the entire month to aid in this cause. From humble beginnings, it's grown into a well-known global movement, due in part to a host of creative and clever marketing campaigns.
In this article, we look at 10 of the most creative Movember campaigns over the past few years. Some will make you laugh, one or two might jerk a tear, but they all stand out for their creativity.
1. "Conversation Piece" by In the Company of Huskies
"Conversation Piece" was a series of outdoor light installations projected onto landmarks in Dublin by ad agency In the Company of Huskies to raise awareness around men's mental health. The accompanying video explains that, while one in three men felt lonelier during 2020, nearly half were never asked about it.
The campaign, which won the award for Best Use of Digital OOH at The Drum Awards for Digital Advertising 2021, "brought together some of Ireland's leading artists to share their own experiences of mental health, and to create digital artwork inspired by them."
Conversation Piece owes much of its success to its larger-than-life scale, achieved by the ingenious use of messages projected onto existing landmarks. A series of short videos highlighting each landmark and carrying a piece of the Movember message completed the effect.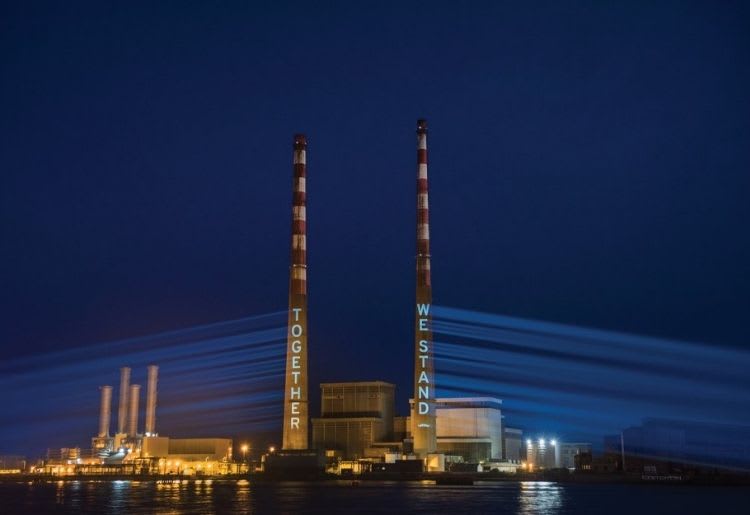 2. Pash Rash Bus Stop Ads by JCDecaux
JCDeceaux is the largest outdoor advertising company in the world, so it's no surprise to see a clever Movember marketing campaign from them. The company placed a high-tech bus stop ad on George Street, Sidney, Australia, outside The Galeries shopping center.
Men on the street were invited to stand in front of the ad space to have their mustache scanned using facial recognition technology. Those with a sufficiently bushy mustache were rewarded with a sample of Movember Rain, a skin cream specifically designed to relieve "pash rash" — irritation around the lips caused by kissing a man with a stubbly face.
The campaign not only generated a ton of media attention for its lip-tickling cleverness, it very effectively got the word out on a new revenue stream for the Movember NPO.
3. Movember & MayEight by Cummins&Partners
While Movember is typically associated with its eponymous month, it runs campaigns all year round. In 2017, it partnered with Cummins&Partners to promote the "MayEight" initiative.
"MayEight is about encouraging guys to keep these connections because catching up with your mates is good for your mental health," explains Movember Foundation APAC director Charlotte Web.
The campaign featured simple vector graphics on black backgrounds encouraging men to make and follow through on plans to hang out. "It's a simple action that makes such a huge difference to men's future", Web says, "[by] steering them away from social isolation and providing them with a support network."
4. Whatever you grow… by MATTA
...will save a bro. That was Movember's 2019 ad campaign by MATTA, an advertising agency based in the United Kingdom. The campaign featured a number of short videos plus some more ostentatious media like billboards and banners.
The campaign aims to celebrate all different kinds of mustaches, from the bushiest to the patchiest. Growing a mustache can be a self-conscious affair for many men. "The campaign aims to dispel these anxieties, demonstrating the ultimate importance of Movember: that the wider awareness of our charity and its causes—prostate cancer, testicular cancer, and mental health—can change lives forever."
The success of the campaign owes no doubt in part to this "everyman" approach and resonates with Movember's classically self-deprecating sense of humor.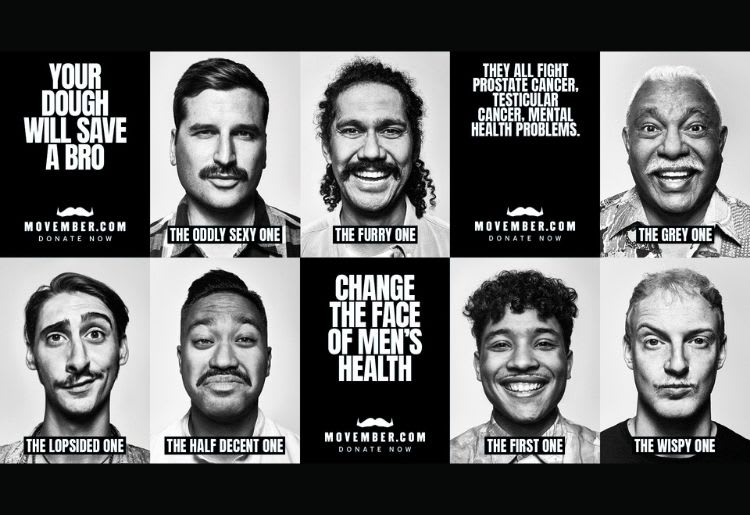 5. Unmute - Ask Him by Cummins&Partners
Unmute - Ask Him is a series of three videos released by Movember in 2017 ahead of World Suicide Prevention Day (September 10th). Suicide awareness is one of Movember's main goals. It's a leading cause of premature death among men that, unfortunately, is rarely discussed.
The Unmute campaign ads are shot in the style of a how-to video, like repairing a tire or filling a propane tank. After a moment, watchers are invited to "unmute" to hear what's really going on. Over the video's otherwise mundane images, the men describe some mental health issues they're facing.
The campaign is meant to underscore the fact that many men have trouble talking about their thoughts and feelings, and how important it is to ask men if they're doing alright.
Together, the three films amassed more than 3 million views online and helped 58,000 individuals find their way to Movember.com, for a total investment of just $25,000 AUD.
6. In-Play Movember Ads by Admix
Product placement isn't the sole province of television anymore. Admix is an innovative advertising company that specializes in "in-play" advertising: ads and product placement in video games.
Admix teamed up with Movember to place its iconic mustache branding in Ultimate Car Driving Sim, Traffic Tour, Drive Ahead, TiMX and others. "Reaching people while they're at their most engaged with relevant ads that don't interrupt gameplay is the perfect way to deliver powerful messages and brand uplift for charities and brands alike," said Michael Silberberg, VP of Global Agency Partnerships at Admix.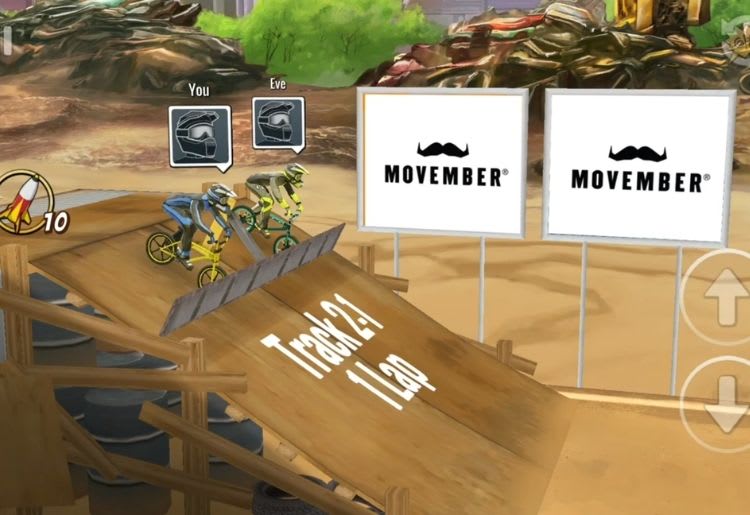 7. Harry Mustachio: Don't Be a Stachehole by i.d.e.a.
Harry Mustachio appeared in Movember's 2014 annual campaign. The campaign started with a single video, crafted as a primetime feature on the life and times of Harry Mustachio, an adorably mustachioed muppet-style puppet. Born "fully clothed, with the ability to talk, and with a perfectly formed mustache," he gets ridiculed by kids, pursued by dogs, and generally just has a hard time.
But Harry escapes this life and makes his way to—you guessed it—Motown! Here, 'staches abound and Harry finds his calling as a "Movangelist." The rest of the campaign features videos of the Mustachio puppet taking to the streets to interview everyday Americans about who they think has the best mustache (Magnum, P.I., Hulk Hogan, and Tom Selleck are all favorites) and reminding them about Movember's mission.
8. Father & Son by Jung von Matt/Spree Berlin
This one's a tearjerker. Produced by German agency Jung von Matt/Spree Berlin for Movember in 2016, Father & Son skips back and forth between the happy images of a father and his son growing up, and the poignant and touching image of a younger man's hand holding an older one over hospital sheets. The music is sentimental and emotionally charged, while the back-and-forth creates a painfully ominous juxtaposition.
The terrible twist is that, in the end, the man in the hospital bed is the son. "Too many sons die before their fathers," concludes the video. "Join the movement for men's health now."
Campaigns like this appear in stark contrast to Movember's more lighthearted and playful side, but strike home for just this reason, reminding people that Movember's mission is a very serious one. That incongruity just makes Father & Son all the more poignant.
9. Be a Hero by BBDO
BBDO is a global advertising group that's won a slew of awards for its work over the years, many of which belie a quirky sense of humor. The three print ads in their 2014 Movember campaign are excellent examples.
Each features an unlikely everyman portrayed as the hero of a racy romance novel or cheesy direct-to-video. Each of the unconventional male heroes is paired with an attractive young woman.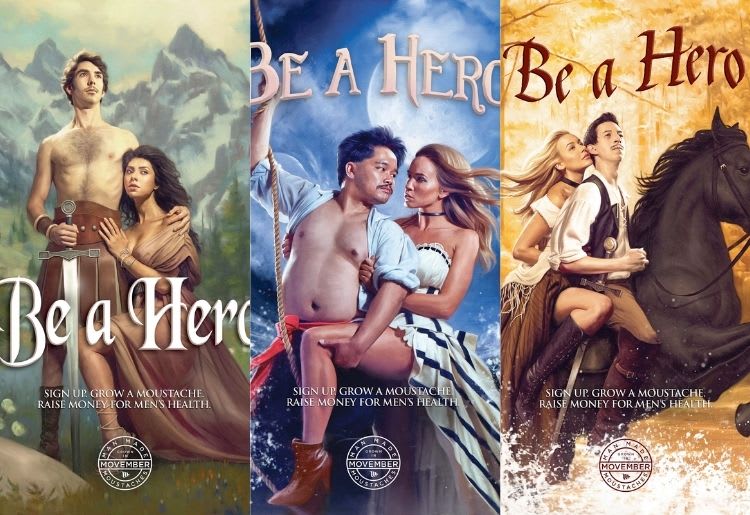 BBDO created a short video called Josh to accompany these ads. It features another heroic cliché: a fireman rescuing a helpless kitten from a tree.
But our traditional hero reminds us in swarthy baritones that not all heroes wear capes (or suspenders). The camera pans out and we're introduced to Josh, who sports a decidedly juvenile and patchy mustache. Josh's girlfriend isn't a fan of the look—but ultimately can't resist when a comparison is drawn between Josh and any battle-scarred, wartime hero.
The message here leverages a marketing device as old as time: sex sells. Beautiful women crooning over everyday men fits in perfectly with Movember's comedic approach to manhood. The campaign also underscores an important message from the Movember campaign: anybody and everybody can be a hero.
10. Spot the Signs by MATTA
Another creation from MATTA, Spot the Signs zeroes in on mental health, highlighting the importance of watching our buddies, partners, and bros for changes in behavior that might hint at more serious problems. The short film launched in November 2019.
The video portrays a series of men whose behavior conflicts with some visual message in the video clip. A man lying awake in bed with a "Sleeps like a Log" tattoo, for example, or ignoring messages from friends with a "King of the Group Chat" sticker on his iPhone case.
The video accompanied a larger Movember campaign that championed ALEC, a simple acronym to help men connect better: Ask, Listen, Encourage action, and Check in.
Conclusion
The wide variety of mediums, approaches, and emotions in this roundup demonstrates just how many ways there are to create original and inventive ads for NGOs and NPOs like Movember. Whether comedic or melancholy, these creative ads helped showcase an important issue and bring awareness to Movember and men's health.
This year's Movember is just around the corner. Find out how you can help by visiting the Movember website today. And if you're looking for the perfect tools to craft, manage and disseminate your own Movember campaign, check out our list of the best marketing tools available today.