In a Nutshell
Canary is a home security service that provides state-of-the-art equipment, 24/7 monitoring services, and some incredibly advanced features. Homeowners can download video recordings, receive on-the-spot security notifications, and set up out-of-bounds zones where monitoring isn't necessary. Canary has two-way audio, emergency buttons, and a free HD camera with night vision, all included in your plan.
pros
Air quality sensors
24/7 monitoring for basic and premium plans
No contract required
cons
Window sensors unavailable
Free plan only has one-day video storage
Images can take time to buffer

Canary Visit Site
Ideal For
People who want to sync smart homes and make use of excellent high-tech features
Homeowners and apartment dwellers
Those who want to secure and monitor indoors, outdoors, and air quality
Why Choose Canary
It's easy to understand why you would choose a Canary home security system. Although there are some downsides, (like a limited number of equipment options and minimal video storage for the freemium plan), the benefits far outweigh the drawbacks. Major pluses include advanced features (more on those soon), state of the art equipment, and reasonably priced 24/7 professional monitoring.
Features
Canary home security systems are decked out to the hilt. They've got just about every feature you could imagine; plus some nice extras you probably would never have thought of! Here are a few of my favorites:
Auto-mode is one of the coolest features available from Canary. Your Canary system will automatically update according to your location. When you leave the house, the security system automatically turns on. And when you get home, it'll automatically turn off. There's no need to put in a password, switch it on, or shut off the system at all. There are four modes to choose from: away, home, night, and privacy. This gives you lots of flexibility and functionality built right into the system.
This is an important one for anyone, regardless of your living situation or family arrangement. This feature lets you instantly send out a 90-decibel siren with just the touch of a button. Emergency action also allows you to connect to your local police department from right within the Canary app. This can be done on-site or remotely. So if there's activity in your home while you're away, Canary will automatically start recording video and audio footage. It will also notify you immediately so you can take action. There's also a safety button that you can press when you're alone at night that will send a police officer straight to your location.
Canary has done a fantastic job of loading up the features. Here are a few more:
Free HD 1080p image sensor camera with night vision
24/7 monitoring and motion alerts
30-day access to full-length videos
Waterproof and wire-free
Live streaming with mobile app
Air quality monitoring
Temperature monitors
Humidity alerts
90-decibel siren
Wide angle lens
Wi-Fi capability
Security Services
Canary offers its security services at two levels: basic and premium. While the premium services are in a league of their own, even the basic plan touts some impressive specs, including:
24/7 live video streaming
Motion-activated video clip recordings
Person detection
Auto-arming/disarming
Smart notifications
Privacy mode
Activity zone masking
One-touch access to first responders
Customized modes
For optimal security services, you'll need to upgrade to a premium membership. When you do, you'll get important security features including:
30-day video history
Two-way audio safety button
Incident support
Unlimited video download
Live video streaming
Premium security services are available for $9.99 a month or $99 for the year. Equipment costs depend on the type of sensor you purchase, and whether you buy a premium monitoring plan.
Canary Home Security Pricing Plans
Standalone (includes basic service)
You can get all three free when you purchase a home security bundle from Canary.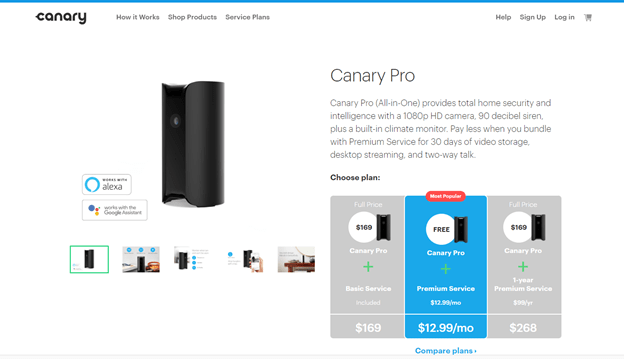 Integrations
Canary and Canary Flex have apps for both iOS and Android, and you can also sync them up with your Apple Watch. That means you can access your account and your devices from your smartphone (or watch) from anywhere and at any time. What's more, you can control your Canary home security system from your phone. So if you're not home, you're able to check in on the live feed to see what's going on. You can also remotely arm or disarm your system, set off the alarm, and even speak to people in the house. This is a major perk as far as a home security system goes.
The Canary home security service offers seamless device integration. You can get smart home automation that includes Google Assistant and Alexa.
Help & Support
Canary has support available via email (online ticket), Twitter (@canarysupport), and live chat. You can even get support via SMS if you provide a phone number when signing up for your account. Canary also has an extensive FAQ help center on its site. So if you prefer DIY troubleshooting, you can browse, search, and conquer independently.
With the Canary home security system, you'll get a 1 or 2-year warranty depending on whether you go with basic or premium security monitoring.
Customer Support Hours:
8AM - 5PM EST, 7 days a week
Bottom line
Canary is one of the best home security systems on the market today. With state-of-the-art equipment, advanced technology features, and 24/7 professional monitoring, there's not much Canary doesn't provide. Add to that its reasonable pricing plans, 60-day money-back guarantee, and smart home connectivity, and Canary emerges as a top choice for homeowners everywhere.

Canary Visit Site
About Canary
Canary home security systems use top-of-the-line equipment along with cutting edge technology for the most advanced options in home security available today. From HD video and audio recordings to auto modes that let you set the system to automatically function when you're away, home, going to bed, or in the mood for privacy, Canary systems are ideal for smart home connectivity, customization, and automation. These devices also excel when it comes to advanced security features.
Contact Details
To contact Canary for questions or help regarding products and services, you can visit help.canary.is. There you'll find you can browse articles by category, find answers to frequently asked questions, or chat with a representative. If you can't find an answers there, you can also ask the Canary community and "Open a Ticket" for further assistance.