In a Nutshell
GenealogyBank offers a range of family tree research tools and enables you to purchase a DNA Origins ancestry test, which provides insights into your DNA makeup and DNA migration history. GenealogyBank's family research tools are extensive, but its tree-building tools could be better, and you will need a premium subscription before you can purchase a DNA test. It does integrate with the FamilySearch family tree builder, which is good to see.
pros
Excellent family tree research tools
Well-written and informative FAQs
Integration with FamilySearch family tree builder
cons
No native family tree builder
A subscription is required to purchase a DNA test

GenealogyBank Visit Site
Types of Tests and Kits You Can Get from GenealogyBank
GenealogyBank focuses on ancestry testing and offers a single DNA kit from GPS origins. It also has a selection of family tree research tools that could be very useful.
Ancestry testing
Through GenealogyBank, you can purchase the GPS Origins DNA Test. It costs $149 through the company, as opposed to the recommended retail price of $199. With the test, you can send in a small saliva sample, which will then be analyzed against 36 gene pools, 850 reference populations, and tens of thousands of genetic markers. The results will return details about the ethnicities of your ancestors.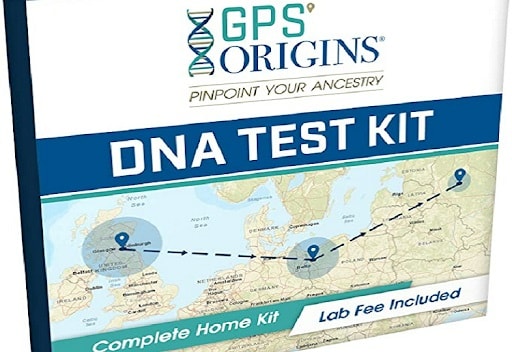 Other Features at GenealogyBank
GenealogyBank is primarily a genealogy research tool, and it contains a number of features relating to both this and its DNA test kit.
Origins mapping
GenealogyBank offers advanced origins mapping through the GPS Origins DNA test. Not only will you discover your genetic makeup, but you will also receive a map showing an estimated migration route for both sides of your family tree.
Family tree research
There are a number of family tree research tools available from GenealogyBank, including access to newspaper archives, US Census Records, and the Social Security Death Index. GenealogyBank has a great search tool that enables you to filter results by a number of things including state, exact name, and time period.
You can only perform a token search with a free account. You will need a paid premium subscription to access any of the newspaper archives or other resources in GenealogyBank's library.
Any matches will be presented in a visual manner, enabling you to immediately see if they're relevant to your research or not. When you do find a news article or other resource that's useful, you can save it to your collection. You can also download relevant resources to print them or save them elsewhere.
Another noteworthy feature here is that GenealogyBank enables you to link your FamilySearch account. FamilySearch is a free family tree builder, and by linking your accounts you can add files and information from GenealogyBank directly to your family tree. However, there are no native family-tree-building tools from GenealogyBank, other than a downloadable document template.
How Much Does GenealogyBank Cost?
The GPS Origins DNA Kit costs $149 (normally $199) if you purchase it through GenealogyBank. This price covers everything you need, including the test kit that will be mailed to your address and all lab fees associated with your DNA processing.
However, you can't purchase the test without a premium subscription. This costs either $19.95 if you want to pay month-to-month or $99 for an annual subscription. There's also a 7-day free trial for this service. However, you will have to add payment information to access the trial, so don't forget to cancel if you don't want to continue using it.
Overall, this system makes GenealogyBank a higher-cost option compared to many of the alternatives on the market.
View and save archived files
Ability to purchase DNA test
FamilySearch tree builder integration
GenealogyBank coupons and promo codes
There are no coupons or promo codes available with the GPS Origins DNA Kit. However, you can receive a 20% discount on an initial annual GenealogyBank subscription. At the time of writing, we were offered a 44% discount if we signed up immediately without completing the free trial.
How to Get Started with GenealogyBank
The sign-up process
To get started with GenealogyBank, you will need to create an account. This is a straightforward process and the only information you have to provide is your name, email address, and credit card number. You must sign up for a premium subscription before you can purchase a DNA test kit.
What's in the box?
In your GPS Origins kit, you will receive the following.
An order form

An instruction manual

4 cheek swabs

A DNA sample envelope

A coded return envelope
How to collect your DNA samples
Before attempting to collect your DNA samples, ensure you've read the provided instruction manual and understand exactly what you need to do. You should only ever use the swabs included in the kit to take your DNA sample, and you need to take care at all times to ensure you don't contaminate them by touching the tips or letting them come into contact with anything other than your mouth and the sample envelope.
Begin by removing the swabs carefully from their packaging. Scrub the tip of the swab against the inside of your cheek for 30 seconds, twisting it to ensure it has as much DNA on it as possible.
Complete the same process for all 4 swabs and place them carefully in the DNA sample envelope. Follow the instructions to mail it back to the lab.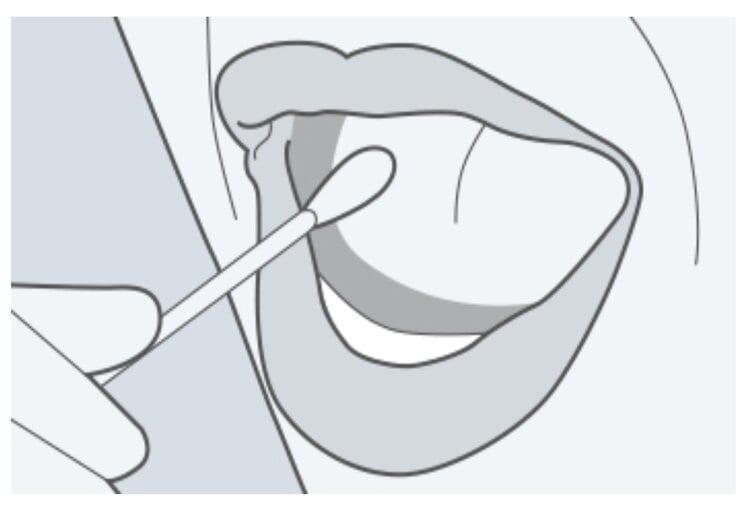 Getting The Results
Within 4 to 6 weeks of returning your DNA sample, you will receive results via email. This includes an in-depth and comprehensive report that details your ancestral origins and the percentage of DNA from each gene pool analyzed.
You will also be able to access your results through your GenealogyBank account. Here, you will find interactive results showing more detailed information about your genetic ancestors. You can even view estimated DNA migration routes for each side of your family.
It's worth noting quickly that you can't access a paper copy of your results unless you print it yourself. However, you can download your raw DNA data for use with other tools.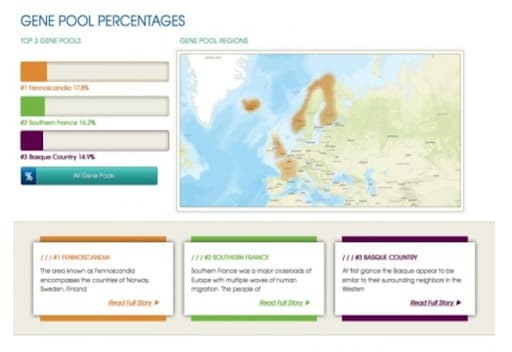 How GenealogyBank Protects your Privacy
The GPS Origins DNA test is covered by excellent privacy procedures. According to the FAQs on the GenealogyBank website, all DNA results and potentially identifying information is securely stored and never shared with third parties. Anonymous data may be collected.
GenealogyBank doesn't sell or license any personal or genetic data.

GenealogyBank doesn't provide data to insurance companies.

Users can delete their data from GenealogyBank at any time.
Something that concerned us a little was that the link to GenealogyBank's privacy policy on the DNA Testing page actually led to a page on the HomeDNA website. This is somewhat concerning, as we would expect a reputable company to have its own privacy policy.
Help and Support
Customer support is available from Monday to Friday, 7AM to 6PM (MST).
How to contact GenealogyBank
You can speak to the GenealogyBank team via business-hours phone or live chat. However, the live chat button doesn't always work, which can be frustrating, and the support team is often slow to reply.
Are FAQ pages available on GenealogyBank?
GenealogyBank offers a large number of FAQs. On the dedicated FAQ page, you will find questions about various things, including getting started with the family tree research software and the company's security practices. On the DNA testing page, you will also find a range of well-answered, useful FAQs.
How GenealogyBank Compares to Other DNA Testing Companies
Detailed ancestry research
GenealogyBank vs. MyHeritage
Like GenealogyBank, MyHeritage offers basic ancestral DNA testing services. It also boasts an excellent records database and advanced genealogy research tools. However, its family-tree-building tools are much more advanced than GenealogyBank's, and its test kit is less than half the price.
GenealogyBank vs. AncestryDNA
AncestryDNA is another platform that's very similar to GenealogyBank. However, its ancestral DNA test kits are much more affordable, starting at just $99. It also offers high-resolution results, enabling you to see exactly what regions and/or countries your ancestors are from. There are numerous other interesting tools, including an ancestry tracker that lets you view an estimation of your ancestor's movements over time.
GenealogyBank vs. 23andMe
Unlike GenealogyBank, 23andMe focuses on DNA testing and family tree building. Its DNA-testing services encompass ancestry ($99) and health plus ancestry ($199), providing insights into your genetic makeup and any health conditions you may be vulnerable to. There's also an advanced family tree builder, making 23andMe an excellent alternative to GenealogyBank.
Is GenealogyBank Worth It?
If you're looking for high-level DNA testing, GenealogyBank won't be your best option. Its family tree research tools are decent, but it only offers the DNA Origins ancestry test. This is quite expensive, but it is a widely-used test that's known to provide reliable results.
On top of this, you will need a paid GenealogyBank subscription before you can purchase your DNA test. However, with a premium account, you will have access to millions of historical records, including newspaper articles, census records, and more, that can be used to inform your family tree research.
While GenealogyBank has no family tree builder, it does boast an integration with FamilySearch. The company employs decent privacy practices, despite some concerns we had, and the customer service is decent without being amazing.
Overall, we'd recommend taking advantage of GenealogyBank's free trial if you're interested in its family tree research tools. Its ancestry DNA test could be worth doing if you're already using its research tools, but you will need to look elsewhere if you require any other type of DNA testing.