In a Nutshell
DNAfit offers three health-oriented DNA test kits that provide you with information on how to optimize your diet and nutritional intake. The test kits range from $151 to $629, making the company a higher-priced option. Nonetheless, DNAfit's pricey Circle Premium program may be worth it if you want access to the most thorough DNA insights you can get. With 500+ reports, it's the most comprehensive test on the market.
pros
Up to 500 health, ancestry, and diet reports
Actionable suggestions for optimizing your lifestyle
Information on cancer and other disease risk factors
cons
One of the more expensive offerings on the market
Only available in the US, UK, Canada, and Australia
Visit Site
Types of Tests and Kits You Can Get from DNAfit
DNAfit offers three DNA tests, though it does not include a family tree builder.
Diet Fit
This entry-level health-related test includes 25 reports across three different categories—diet insights, nutrient insights, and personalized meal plans. You also receive a genetic nutrition report that details your ideal diet type, lactose tolerance, vitamin needs, and more. Additionally, you get access to a personalized meal planner with thousands of genetically-matched recipes that can help you consume a tailored diet.
Health Fit
This middle-tier health test provides 42 reports across five different categories. In addition to the 25 reports in Diet Fit, Heath Fit also includes 11 fitness insights, five stress and sleep insights, and an additional report on meal and training plans.
In addition to the personalized meal planner described above, you also get access to a genetic stress report that outlines your genetic stress tolerance and your predisposition towards certain sleep patterns (i.e. whether you're an early bird or a night owl).
Circle Premium
This test is DNAfit's most comprehensive test and includes health and diet insights in addition to ancestry reports, cancer markers, body and brain health risks, family planning and ancestry trait insights, drug response factors, behavior trait insights, and many more. In total, Circle Premium analyzes over 31 million data points, resulting in over 500 reports across 10 different categories, making it one of the most full-featured DNA test kits on the market today.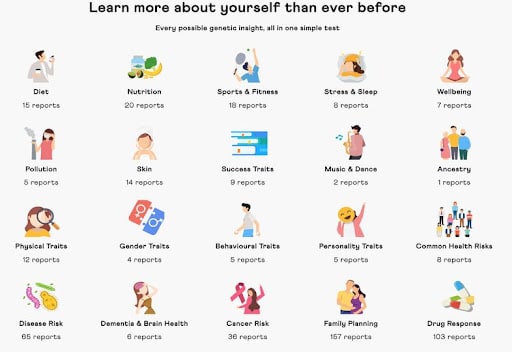 Other Features at DNAfit
You can use DNAfit's analysis services even if you don't take their DNA test. In addition to tests, the company also offers several health and wellness-oriented products.
Diet Link and Health Link
Customers who didn't purchase DNAfit's test kit but instead used 23andMe, AncestryDNA, or MyHeritage can have their results analyzed via DNAfit's Diet Link and Health Link products.
Diet Link provides the same reports and insights as Diet Fit does, while Health Link is essentially the reports from the company's Health Fit product.
SnapShot
SnapShot is an at-home blood test you can use to track and analyze your heart health, diabetes risk, and liver function. You perform the test at home and the results are sent to a physician for review. You then receive your reports and analytics via the DNAfit online portal.
12 Week Health Transformation
This coaching program features a series of six calls with a dietician to help you plan out and reach your nutrition goals. The package also comes with a professionally-tailored seven-day meal plan and unlimited one-on-one support with a dietician.
DNAfit Cookbook
DNAfit's cookbook is personalized and custom-made for every individual and is based on results from DNAfit's test kit results. Each cookbook contains over 50 tailored and curated recipes. The cookbook includes vegan and vegetarian recipes, and each recipe comes with a detailed nutritional breakdown so you know exactly what you're eating.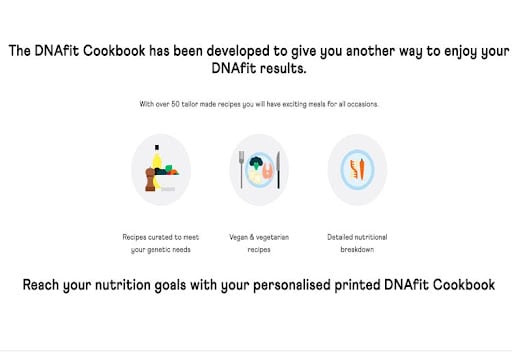 How much does DNAfit cost?
DNAfit's three DNA tests range from $151 to $629. Shipping is $12.50 per test. Once you place an order, you should expect to receive a test within 10 business days.
At $151 and $199, respectively, DNAfit's Diet Fit and Health Fit test put the company's standard offerings at the middle-to-high end of the market. Meanwhile, Circle Premium's $629 price tag stands out as one of the most expensive DNA tests out there today, though with the number of reports offered, it may still offer lots of value.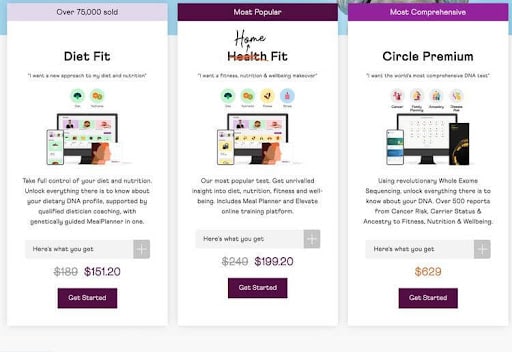 DNAfit coupons and promo codes
DNAfit is currently offering a coupon code for 20% off. The coupon code is SPIRNG2022 and will be automatically applied upon checkout. They also offer a free 14-day DNA guide, which provides information on how genetic testing works, in addition to how your genes affect your diet, fitness, sleep, stress, and more.
How to Get Started with DNAfit
It's quick and easy to test yourself using DNAfit's test kits.
The Sign-up Process
After you've taken a look at DNAfit's tests and picked out the one that works best for you, add it to your cart to begin the checkout process.
Upon checkout, you'll be asked to provide your name, email, address, and zip code. You'll also be asked to create an account so that you can register your kit once you receive it.
What's in the box?
Inside every DNAfit test kit is an instruction manual, a cheek swab, and a return envelope for sending your sample back to the lab.
There will also be a serial number you'll need to make note of. You'll use this number to register your kit, which you should do before mailing your sample to the lab.
How to Collect your DNA Samples
Before you begin the sample collection process, ensure that you have not eaten for at least 30 minutes and have not smoked for at least an hour.

Next, wash your hands, open the test kit, and read the instruction manual thoroughly.
Remove the swab, making sure that the swab head doesn't touch anything before or after it goes in your mouth. Place the swab in your mouth and brush it in a clockwise fashion along the insides of your cheek for at least 30 seconds.

Next, place the swab back into the box in the manner described in the instruction manual. Seal the box and place it in the envelope. Then, seal the envelope and deposit it into the mailbox.
Make sure to register your kit online before sending it off.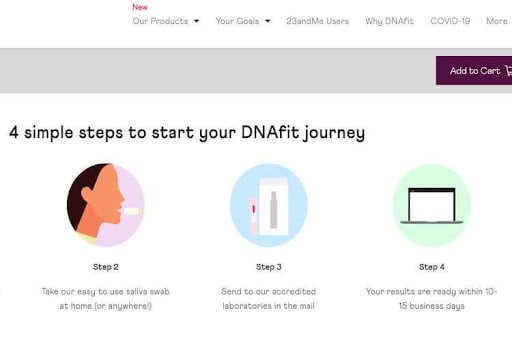 Getting The Results
After sending your samples to the lab, it'll take about 10 days for you to receive your test results. You'll be able to view your results online, and can access your reports by logging in.
Depending on the test kit you purchased, you'll get access to anywhere from 25 to 500 reports in up to 20 different health and wellness categories.
If you purchase the Circle Premium test, you'll also receive insights into your ancestry and family history, including how your heritage or ethnicity may impact your genetics and traits.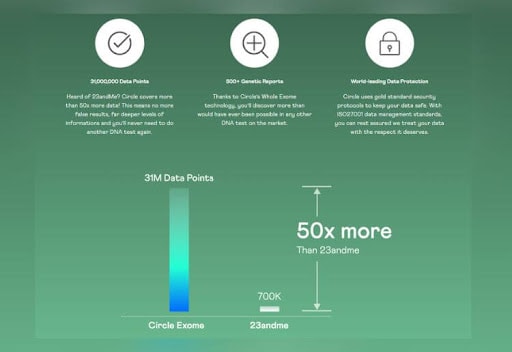 How DNAfit Protects your Privacy
DNAfit takes the privacy of its customers seriously. For example, the company is ISO 27001 certified, meaning it adheres to rigorous international information technology standards.
DNAfit doesn't sell or license any personal or genetic data.

Users can delete their data from DNAfit at any time.
Check out DNAfit's full privacy policy to learn more.
Help and Support
It's easy to get a hold of DNAfit's customer service team.
How to contact DNAfit
You can reach out to DNAfit's customer support team by dialing +44 (0)20 8004 4008 or by submitting an online form located on DNAfit's contact us page. If you call in, hold times will depend on the volume of calls they receive at the moment. If you submit a request using their online form, you can expect to receive a response within several business days.
Are FAQ pages available on DNAfit?
DNAfit's website contains a series of thorough FAQ and help pages in their knowledge hub. You can find information on DNA testing, health, fitness, and more. If you're looking for information but can't find it, you can even suggest an article by emailing advice.centre@dnafit.com.
How DNAfit Compares to Other DNA Testing Services
Extremely detailed diet and health reports
DNAfit vs GeneFood
GeneFood is a diet-focused DNA test kit provider and analytics platform that breaks down your diet into 20 types. If you're primarily interested in extracting diet and nutrition-related insights from your genetic profile, GeneFood may be the best choice for you. On the other hand, if you want more comprehensive tests that span sleep, fitness, ancestry, general lifestyle, and more, DNAfit may be the better bet.
DNAfit vs MyToolbox Genomics
MyToolbox Genomics provides DNA and epigenetics test kits that offer you information on your genetic profile and how your lifestyle and environment affects your genes. If you purchase the DNA and epigenetics bundle for $299, you get access to 21 stats that break down your biological age, inflammation score, and more.
While DNAfit doesn't offer epigenetic testing, it provides up to 500 reports on how your DNA impacts your diet, health, lifestyle, and other factors. If you want a more detailed breakdown of how your DNA impacts you, then DNAfit may be the better option. However, if you're in the market for epigenetic testing, then MyToolbox Genomics may be right for you.
DNAfit vs LivingDNA
LivingDNA offers DNA tests that provide you with insights on your ancestry and wellbeing. The company's ancestry tests break down your ancestry across more than 150 regions across the globe. Additionally, you can opt in to the company's Family Networks database if you're interested in using your DNA test kit results to connect with living relatives.
In contrast, DNAfit's Diet Fit and Health Fit DNA tests don't offer ancestry insights. If you want information on your ancestry and family history, you'll have to opt for the pricey Circle Premium package.

DNAfit Visit Site
Is DNAfit worth it?
At $629, DNAfit's Circle Premium is one of the most expensive products on the market today. However, if you're serious about getting the most out of your DNA test, it may be worth it. Circle Premium provides you with some of the most comprehensive, detailed, tailored, and granular reports on the market today, making its value for money quite impressive.
If you're hesitant about spending so much on a DNA test, DNAfit's Diet Fit or Health Fit products may be a better option for you. At $151 and $199, respectively, these moderately-priced tests are in line with other offerings on the market. If you're just starting out, or if you have a moderate budget, these two test kits may be good options for actionable lifestyle suggestions.