In a Nutshell
The League is an exclusive dating platform designed for savvy professionals looking for a serious relationship. It's invite-only and you have to join a waitlist to get approved. All members are manually verified to ensure a safe and authentic environment for educated singles with similar values to meet and connect. If you're a busy professional who wants to cut to the chase and find true love, The League could be for you.
pros
Designed for busy, ambitious, and career-oriented singles
Users verified using LinkedIn and Facebook
Mobile app available for Android and iPhone users
cons
Long waitlist to get approved
Membership fees are expensive

The League Visit Site
Best For
Best for professional individuals
Number of Members
Approximately 30,000 members
Favorite Features
League Live

Video Profiles

Party Scout
Video Chat
Yes
How Much Does The League Cost?
The League's pricing depends on the membership tier you choose. The Member subscription costs $299.99 per month, whereas the pricing for the Owner subscription is $399.99 per month. The top tier, which is called Investor, costs $999.99 per month. Holders of the Member subscription can save 66% by paying for 3 months in advance.
In comparison to other dating platforms like EliteSingles and Hinge that cost around $20 for a monthly membership, The League is quite expensive. But it has impressive features such as weekly speed dating parties, online groups and exclusive events that justify the high subscription fees.
What Can You Do with The League for Free?
With a free guest account, you can customize your profile, view other users' profiles, send friend requests, and communicate with other users through instant messaging and video chat, as long as they've accepted your friend requests.
In addition, you can join online interest groups/events to interact with fellow professionals and connect your social media accounts to use the Instagram search feature. You'll also be able to attend League Live, a weekly event where you go on three video dates in nine minutes.
However, you can't receive daily matches, boost your profile, or see if someone has read your messages. To unlock all features and fully enjoy the unique dating experience, it's best to become a paid member.
Premium Features and Upgrades on The League
A paid membership enables you to receive daily matches, send unlimited messages, including sending intro notes to your matches, check the status of read messages, view your profile stats, and boost your profile to increase visibility. Extra profile boosts start at $59.99 and go up to $999.99, where you'll be boosted until you get ten likes.
Furthermore, you'll be given priority entry for League Live. You'll also have the ability to create your own local groups, host professional events online and offline, and chat with an in-app personal concierge.
How The League Works
The League makes it easy for educated professionals to connect with like-minded singles who value ambition and intelligence. All members are initially put on a waitlist to screen out people who are looking for casual relationships. If you're a busy professional with high standards, who doesn't want to settle for less, you'll find high-quality matches on the platform.
How to Sign Up for The League
To sign up, search for The League on the App Store or Google Play store, and install the mobile app. Then click on Get Started to begin the registration process. You have the option to log in with Facebook or SMS.
After logging in, you'll be asked to enter your basic information and preferences, and then to upload up to six high-resolution photos from your photo library, Facebook, or Instagram account. This step is optional but it's advisable to add some photos to your profile to make it stand out.
Next, sync your LinkedIn profile to import your education and profession. Don't worry, your co-workers will be blocked automatically and your LinkedIn profile won't be visible on The League. If you don't want to sync your LinkedIn account, you can choose to become a paid member instead.
After signing up, your account will be put on the waitlist for screening before you can be matched with users. To skip the line and get off the waitlist faster, ask an existing Member for a VIP ticket, refer two single people, or upgrade to a paid membership. You'll be reviewed in less than 48 hours. While you're still waiting for your account to get approved, you'll be able to access your dashboard and customize your profile.
Setting Up Your Profile on The League
To set up your profile, log in to your account on The League app, tap on the Settings icon, click on Edit My Profile and upload a 10-second video to show off your personality. This is optional, but users who add a video to their profiles will get priority in the matching algorithm.
Next, write a short bio and say what you're looking for in a partner in the About Me section. There are also sections for Marriage & Family and Career & Interests, where you can choose whether you're open to a pre-nup, when you plan on getting married, and if you want to have kids in the future.
There is no option to delete the pictures uploaded during signup, but you can reorder them by tapping a single photo and dragging it to a new position. You can also select another one from your gallery or your Facebook account to take its position.
Finally, to further verify your account, add your phone number and connect your social media. Now that you're done setting up your profile, it's time to find your soulmate!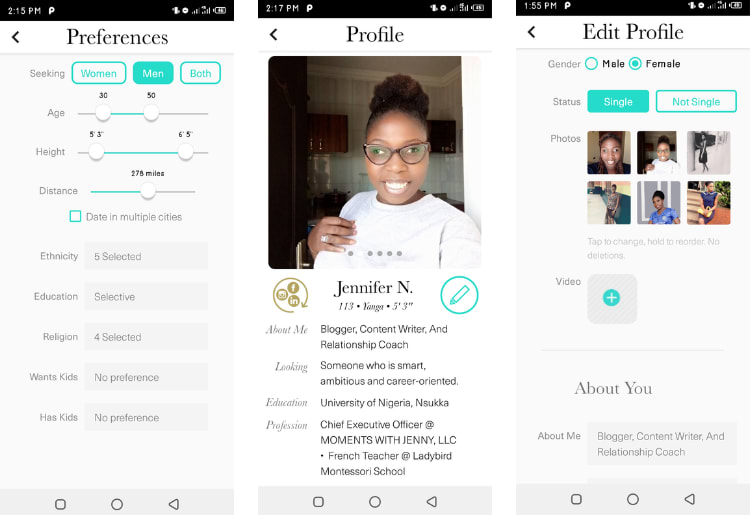 How to Find Matches on The League
Once you're approved as a member, you'll receive up to five matches daily at 5pm based on variables such as geography, education level, career level, performance on the app, and your preferences. If you don't communicate with your potential partners within two weeks, they'll expire and be removed from your list of prospects.
To see your matches, click on the Chat icon at the bottom of your phone's screen and browse through profiles. Since you're matched with users who fit your set preferences, you can only filter the results by popularity, recency, activity, and availability.
When you like a prospective match who has already liked your profile, you'll get a "Home Run'' notification in the app. This means either of you can initiate a conversation through instant messaging or video chat. To view users you've liked before, you'll need to upgrade to a premium membership.
When you see someone who piques your interest, send them a friend request and they'll be notified through the app. You can find more users by using the Instagram search feature or joining interest groups and local events.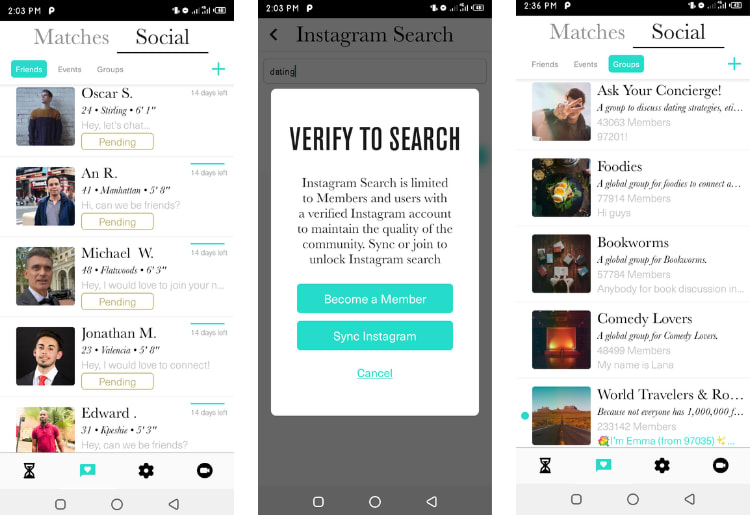 Now that you have an idea of how the platform works, let's take a look at how your personal data is kept safe.
Safety & Security
The League has high standards and won't let just anyone into the community. To ensure a safe place for everyone, users are asked to authenticate their accounts before using the platform, and verification badges are shown on all profiles.
The League also uses world-class infrastructure to store, secure, and encrypt all data. When you download the app and create an account, The League collects your personal information, IP address, device information, and login details for your social media accounts.
This information is used to authenticate your account, enhance the app, and personalize your dating experience. You may choose to permanently delete your account at any time in the Settings tab. This action is irreversible, which means you'll lose all your data and will have to re-apply to The League if you decide to use it again.
In addition, you can report fraudulent profiles, suspicious accounts, or offensive behavior by clicking on "Report A Safety Issue" in the Settings tab. Alternatively, you can click on the X icon on the right hand side of a user's profile and choose Block or Flag. You'll be asked to leave feedback explaining why you're reporting the account.
The League App
The League can only be used on the mobile app which is user-friendly and available to both Android and iPhone users. It's easy to navigate and interact with other users on the app even if you're not tech-savvy.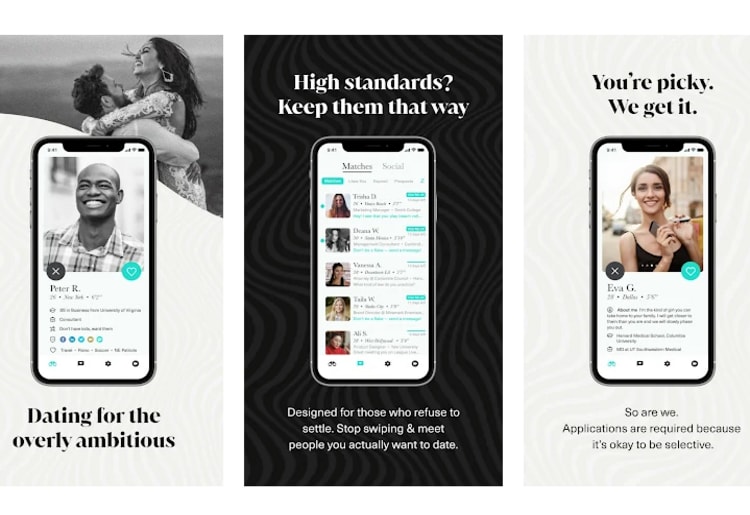 The League Customer Service
While you don't have the option to contact the customer service team on the phone, The League offers in-app live chat with a real person rather than a bot and email support from Mondays to Fridays, 9am-5pm PT. You'll get a response within a few hours.
Additionally, you can access an in-depth FAQs page, a range of blog posts, and a safety practices page to guide you on your journey to finding a life partner.
You can ask for a refund within three days of purchase by notifying Apple or Google via their respective app stores. If you don't receive a refund within 5-7 business days, notify The League team at contact@theleague.com.
How to Cancel or Pause a The League Subscription
The League membership auto-renews by default after the initial payment. To cancel your subscription before the next billing period, visit the Apple and Google Play store, click on your ID, select The League under subscriptions, then click Cancel Subscription.
You can also cancel your subscription in the app via the Payment Settings tab under your profile. Alternatively, you can request a League Timeout, which will temporarily suspend your account. As a result, your profile will be hidden from the community and you won't be shown any new profiles.
If you want to deactivate your account for a while, go to Settings and click Disable. Note that this will not cancel your membership and you'll still need to take the steps mentioned above to stop recurring payments.
How The League Compares to Other Dating Sites and Apps
The League vs EliteSingles
Like EliteSingles, The League is best suited for single professionals looking for serious relationships. However, with its five-factor personality test and highly compatible matches, EliteSingles is more suitable when it comes to finding a life partner.
The League vs Hinge
Both platforms are geared toward forming meaningful connections with single people. However, Hinge offers affordable pricing and voice messaging features, which give it an advantage over The League.
The League vs Tinder
With a large user base and low membership fees, Tinder is the go-to dating platform for singles. However, its focus on casual flings makes it unsuitable for elite individuals looking for something serious. The League could be a more preferable option for you if you're an educated single searching for like-minded professionals to connect with. Does The League Work?
Does The League Work?
The League offers exclusive matchmaking services as well as a social networking community. Compared to other dating platforms, it's quite expensive but you'll get your money's worth when you pay for premium features. Overall, it's a great choice for ambitious professionals who want to connect with like-minded people.