In a Nutshell
Happn primarily draws people aged 18-25, its app and video functionality being particularly popular with this demographic. Its location-based algorithm allows you to easily find nearby people, but it pinpoints exact locations in less populated areas, which could pose a safety concern. Although not fully LGBTQ+ inclusive, 100 million users, Happn could well be the place to find your next crush.
pros
Access 3 free FlashNotes upon registration to contact members
Access 5 video calls with paid membership
Certified profiles
cons
Map matching could create safety issues
Not fully LGBTQ+ inclusive
Happn at a Glance
Best For
People under 25 looking for local relationships
Number of Members
100 million
Favorite Features
Referral program

Match by location

Invisibility mode

CrushTime
Video Chat
Yes
Recommended Age
18+
How Much Does Happn Cost?
Happn offers both free and paid membership options. Paid memberships are available in 1-, 6-, and 12-month increments.
It is competitively priced and comes in lower than the industry average of $30 or more each month. The six and twelve month options are particularly affordable by comparison to many apps available on the market, although the longer timeframes suggest it might be more difficult to find relationships on the app.
What Can You Do with Happn for Free?
Happners, or Happn members, can take advantage of many free features. You can match with other local users based on your location and the locations you frequent, send up to 10 "Hellos" per day to start a conversation, like an unlimited number of profiles to indicate interest without initiating a conversation, get Crushes (or mutual likes) from other Happners, and communicate through email and instant messages.
You can also play the CrushTime game where you'll be shown up to four users you crossed paths with. If one of them likes you, and you guess which one, it's an instant Crush. This helps you connect to more users who cross your path even if they don't originally appear in the location-matching algorithm. You can only play once for free. After that, you must purchase and send FlashNotes–Happner messages you can send to anyone whether or not you've matched–to keep playing.
With the free version of Happn, you can also make one audio or video call per Crush. This makes it easier for Happners to chat and set up dates in the real world.
If you need a break or pursuing a possible connection you can also switch on the 8-hour invisibility mode to remove your profile from view.
All in all, getting a date using the free version is definitely possible, but you'll increase your chances with an upgraded membership.
Premium Features and Upgrades on Happn
Upgrade your account to access five one-hour video calls each month. You'll be able to see anyone who's liked your profile, narrow your search by specific criteria, activate invisibility mode an unlimited number of times, utilize more privacy controls, and enjoy an ad-free experience.
Privacy control options include Hide My Age, Hide My Online Status, and Hide My Distance. Every premium Happn membership comes with 10 FlashNotes per day, or five FlashNotes every 12 hours. You'll also have the option to buy additional FlashNotes in the online store or earn them by referring your friends.
How Happn Works
Happn is a location-based dating app that helps users find, like, match, and date one another. The algorithm is based on your sexual orientation—with options for gay, straight, and bisexual users—and location as well as locations you frequent. For instance, if you commute to work, you're likely to see other users on Happn who cross your paths.
How to Sign Up for Happn
Signing up for Happn is easy. You can do it via the website or mobile app, available on iOS and Android. To sign up via the website, click on Sign Up, located in the top center of the home page.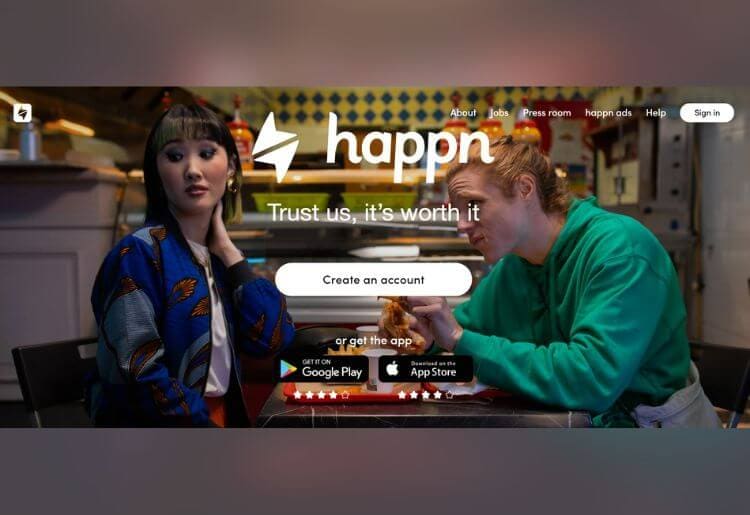 Next, choose if you'd like to register using Google, Facebook, or your phone number. The app will also let you sign in with Instagram. You'll receive a 4-digit text code for verification purposes and can choose whether or not you'd like to certify your profile. You can choose to certify it later or not at all.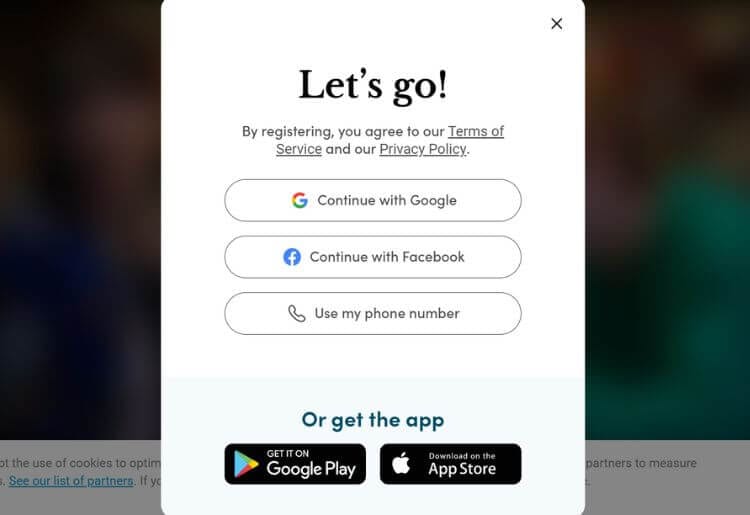 Setting Up Your Profile on Happn
Next, enter your gender, age, city, and if you prefer to meet men, women, or everyone. You can upload up to 9 pictures from your phone or computer or import photos from Facebook or Instagram.
Click on your profile photo to add a short audio message to your account, complete work and education information, and indicate your height, exercise, and cooking preferences.
You can also share your values and lifestyle and if you have or want children. Connect to Instagram and Spotify to add photos and music to your profile.

Once your profile is set up, it's time to find your match!
How to Find Matches on Happn
Happn boasts 100 million members worldwide, with 1.5 million new users added each month. To get started on your search, take a look at the algorithm-provided matches in your Timeline. These matches will be generated using your location, age, and gender preferences. You can also check out the map to see users in your area who were not suggested by the algorithm.
With the free version, you'll only be able to specify age, gender (male and female options), and sexual orientation (options of gay, straight, and bisexual only). With premium membership you can hide your age, online status, and distance, as well as narrow your search by lifestyle factors. Advanced filters include what you're looking for on Happn, height, partying tendencies, smoking preferences, and whether or not you have or want children.
You'll notice that Happn isn't fully LGBTQ+ inclusive. Gender options don't include gender fluid, gender non-binary, intersex, or trans individuals, while the sexual orientation options don't include pansexual, omnisexual, or asexual options. Happn's target audience is a male or female demographic who identify as straight, gay, or bisexual.
When browsing profiles, you can select X to reject a match and Like to accept one. You'll have the chance to review 30 matches per day. Notifications are received through the app and by email. Once your profile is set up, you'll even get a step-by-step guide on how to best utilize Happn's services to meet your match.
Happn also covers in great detail the steps it's taken to protect your privacy.
Safety & Security
Happn offers a Safety and Privacy section conveniently located in the FAQs. This provides its Terms of Service, Privacy Policy, and Member's Rights. One of the security concerns on Happn is that it uses geolocation to create the algorithm for matches. While the website states that locations are approximate and never specific, this could still raise safety concerns for those in rural areas.
Happn also provides best practices for a safe online dating experience by answering frequently asked questions about identity protection, account hacking attempts, and how to report suspicious profiles. Personal data, including banking information is protected, and cookies can be refused for analytical but not technical purposes (i.e., those needed by the algorithm to function).
Profile certification is available during the registration process. You'll take a short video of yourself staring at a dot while moving your head back and forth. This will only take a few moments and will let other users know you're not a bot.
Happn App
Happn has an app for iOS and Android. Its user-friendly interface combines all the features of the website with the convenience of an app.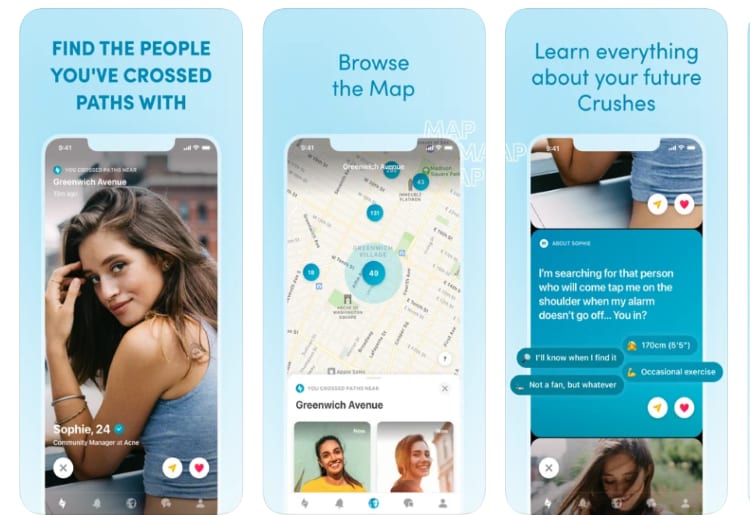 Happn Customer Service
Happn offers email customer service via a contact form in the website or app. However, it does not state a promised response time, offer live chat, or disclose a contact telephone number.
To request a refund, iOS users should contact Apple directly by going to reportaproblem.apple.com and choosing "I'd Like to" followed by "Request a Refund". You'll be asked to include a reason why.
If you're an Android user, you can ask for a refund within 48 hours of purchase by visiting your Google Play account. From here, go to Order History to make the refund request. You'll be asked to input the GPA payment confirmation code listed in the confirmation email for the purchase. You can also request refunds through Google Play by asking for a refund through Google Assistant.
For other support or additional reading, you'll want to visit the Help page. Here, you'll find guides that answer frequently asked questions about all aspects of the service, including payment, security, and company policies.
How to Cancel or Pause a Happn Subscription
To pause a Happn subscription, visit App Settings on your mobile device and select Pause My Account at the bottom of the screen. To cancel a premium subscription, visit the App Store or Google Play store to update your account. To cancel and delete a free membership on the app, go to App Settings, My Data, and Delete My Account to remove all information from the site.
To cancel, pause, or delete your membership on the website, go to your profile and select My Data. Choose Delete My Account. To pause your profile without ending your subscription, you can utilize invisibility mode. It's free for 8 hours without a membership, and you can use it indefinitely with a membership. To pause your subscription, you will have to visit the app, as the website doesn't offer a pause option.
How Happn Compares to Other Dating Sites and Apps
Under 25 year olds looking for local relationships
Casual or serious relationships
Personality-based matching and LGBTQ+ and gender inclusivity
Happn vs Tinder
Happn and Tinder share a similar audience and features with location-based searches available, but Happn comes out ahead with its reported 100 million members. Additionally, Happn's advantage over Tinder is its location-based algorithm, which matches users who might actually cross paths in daily life.
Happn vs Bumble
Happn and Bumble both report 100 million members. While both are comparable dating services, Bumble's setup only allows women to initiate conversations, an effort to reduce online dating harassment.
Happn vs OkCupid
OkCupid has been around for years longer than Happn, but Happn already has double the members, making it a more attractive option on paper. OkCupid has two advantages over Happn, The extensive compatibility profile used in its matching algorithm can help weed out unsuitable prospects, and it is fully LGBTQ+ inclusive as well as ideal for polyamorous and non-monogamous singles.
Does Happn Work?
Happn capitalizes on the idea that your soulmate could be out there, but you simply missed the connection because your paths crossed but neither of you realized it. A dating app based on location algorithms isn't uncommon, but without more lifestyle- and interest-based compatibility matching, it might be hard to find a good relationship match. Happn also lacks full gender inclusion and pansexual dating options. But you never know, with Happn you might discover that love was just around the corner all along.