With the rise of polyamory and other permissive relationship structures, online dating services and mobile apps are also catching up with the social changes. On new apps like Feeld and (would you believe) OpenMinded.com, you can find open relationships and other new relationship formats.
If you ever felt like there was something missing from the usual dating channels you've been trying, from the ideas you've been taught about how love works, or even within your current relationship, you need to keep reading.

Feeld Visit Site
1. What is Free-Spirited Dating?
Open-minded dating is all about experimenting, expanding, and expressing romance, love, and relationships. Within this forum, there are no restrictions and no rules about how you "should" date or who you "should" be attracted to. Free-spirited dating opens the playing field to all genders, sexual identities, and secret curiosities you've been harboring.
You may have a hard time making a monogamous relationship work. Or maybe you're confused because you're equally attracted to both men and women. Or perhaps you enjoy interacting with multiple partners but have always felt guilty because, well, that's just not how you're "supposed to date." Free-spirited dating offers people the opportunity to date, love, and enjoy romance without the social stigmas that have built up over the years.
2. Who Does It?
You don't have to be non-committed to a relationship to work free-spirited dating into your lifestyle, either. In fact, you can even find couples dating on these sites together, expanding their sexual experiences and discovering new ways to enjoy their romantic connections. Some of the many options open-minded dating embraces include:
Polyamorous relationships

Open relationships for couples
Polyamory is known as the practice or interest for intimacy between more than a single partner. Bottom line, these types of relationships have chucked exclusivity out the window, balking the prescribed notion that loving and committed relationships need to be built solely between 2 individuals.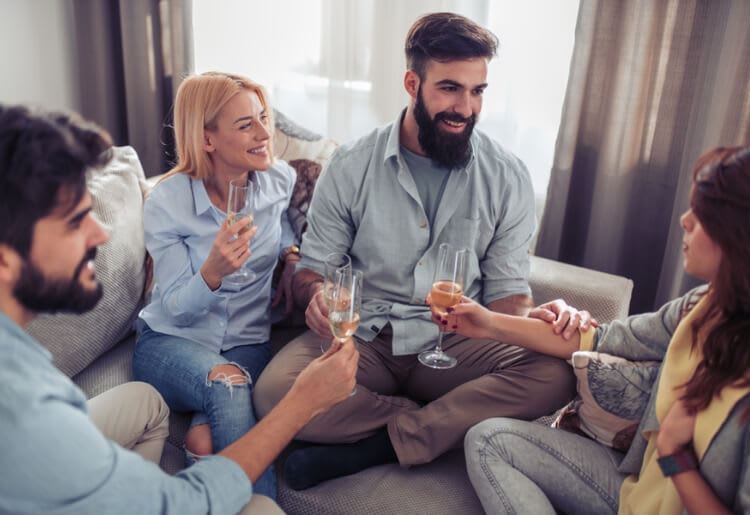 3. What Is It Not?
Before going any further, something should be stated clearly. For those of you getting the impression that open-minded dating is an easy way to hit it and quit it, then think again. Free-spirited dating can be used for one-night stands, booty calls, and sexual experimentation, but all parties need to be agreeable to this arrangement. One of the most basic tenets of polyamory is that all partners and activities are fully consensual, ethical, and responsible.
This type of freestyle dating isn't meant to abuse, demean, or harass anyone, and if your idea of sexual fulfillment is mistreating a non-consenting partner, feel free to look elsewhere.
4. Who First Practiced Polyamory?
It may surprise you to hear that the traditional nuclear family and monogamous relationships we hold as the paradigm for love have only been around for a few hundred years. Polyamory and polygamy have roots stretching back to the ancient Greeks and were also regularly practiced in China, Tibet, Nepal, and across Africa. Mesopotamia is famous for the massive orgies that were hosted on a regular basis. Ancient Egypt is also known for its wide and varied open sexual practices, and China only recently changed its laws regarding marrying multiple partners.
5. What About Open Relationships?
There are texts written about the Etruscans of Italy having swing parties where partners were swapped frequently (and in public) back in the 4th century BC, and in 675 BC the Ionians came to the North Aegean Islands devoutly proclaiming it a polygynist settlement.
There are also more recent instances of open relationships. We have Queen Eleanor's Court of Love that uplifted extramarital relationships as being the more elevated form of love. In the 16th century, Queen Marguerite was known for having no less than 12 sexual partners. And the list continues, disproving the theory that a successful relationship must be one-on-one.
6. How Does it Work?
Now that we know what free-spirited dating is (and clearly understand what it is NOT), how does it actually work? It's very simple. If you've ever done online dating before, you already know the drill:
Sign up for one of the online dating sites or apps.

Create a profile where you add great pics of yourself, talk yourself up in a profile, and tell the world about who you are and what you're looking for.

Browse other profiles, send messages to potential matches, and engage in healthy flirting via the app.

If things go well, the 2 (or 3, or 4…) of you hook up and see where things go from there.
7. Which Apps Should You Use?
Some of the best apps that specialize in free-spirit dating are Feeld, Ashley Madison, and more. You can also use some more open-minded mainstream dating sites like Zoosk and BlackPeopleMeet App. The reason you might opt for a standard dating site as opposed to the exclusively open relationship options is because these are more established (so you can trust the services, don't have to worry about online hacking, and know that the matches you're finding have already been vetted) and have a significantly larger pool of people to date. Top dating sites like Zoosk and EliteSingles also have more sophisticated dating algorithms, so you can use the sleek mobile apps or powerful search engines to quickly narrow down your choices and find the kind of like-minded people you're looking for.
If you're over 40-50 years old, you may even want to try your luck on more mature dating sites like Ourtime.com, Silver Singles or mature singles only. The mature users may be more open to non-traditional dating.
8. Is Open-minded Dating for You?
Of course, free-spirited dating isn't the right choice for everyone. Some people are tired of dating simply because they've been dating the wrong person or the wrong type of people. For example, if you are a lesbian but haven't come to terms with that reality yet, you've probably been dating guys. No matter how great he is, that dude will never satisfy your need for a deep relationship because he hasn't got what you're looking for.
Not sure if you're the right match for open-minded dating? Here are some questions you should ask yourself if you're curious:
Do you have a hard time sticking to a long-term relationship?

Have you been unfaithful (and how many times)?

Do you find yourself in "friends with benefits" relationships often?

Do romantic relationships feel restrictive or make you feel like you're trapped?

Are you a people person?

Do you fantasize about having a threesome?

Do you enjoy new experiences?
9. What About Jealousy?
If you answered yes to a lot of these questions, you are probably a free-spirited dater. On the other hand, if you answer yes to the following questions, you're probably better off in a more traditional relationship and just haven't found the right one yet:
Would you have a hard time seeing your partner kiss someone else?

Are you a jealous person by nature?

Do you consider yourself a faithful partner?
10. Finding Love & Having Fun Freestyle
It's 2023, and the world is getting bigger, better, and more exciting every day. With free-spirited dating, your love life can do the same. Explore your options in an open, non-judgmental, and charged atmosphere that won't make you explain yourself, ask irrelevant questions, or distract you from your ultimate goal of being in a relationship: enjoying every minute you have with each other.