Less Annoying CRM Visit Site
Overview
Less Annoying CRM is a relatively bare-bones customer relationship management software solution. You can record contacts, companies, events, and tasks in the system, view a calendar of events, and generate reports on prospects and leads.
You can sync your contacts and calendar with a few other software applications like Google and Outlook, but the overriding focus here is on simplicity. This makes Less Annoying CRM ideal for smaller businesses who don't need advanced tools for sales, customer support, or marketing.
How Less Annoying CRM Works
Tools for Sales Teams
The workflow of using Less Annoying CRM is very simple for sales teams. Add companies and contacts to the CRM, then attach meetings and leads to these contacts. Sales representatives can see what's on today's agenda in a calendar or task list format, and get a list of leads based on the stage of the sales process they are in.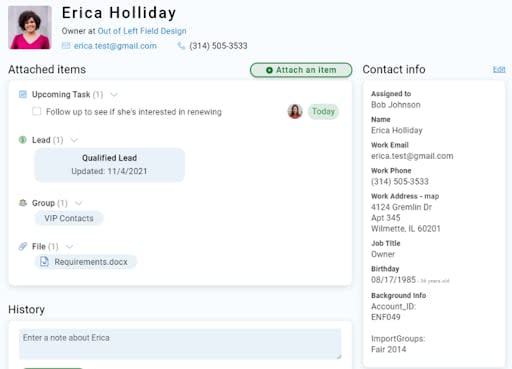 It's also possible to set up additional pipelines if your business doesn't follow a traditional CRM structure. Contacts, companies, and pipelines can also be assigned custom fields, so there's scope for reconfiguring the system to work for your particular business needs.
Tools for Customer Support Teams
Less Annoying CRM doesn't have any specific tools for customer support teams, but you could use it to record details of all your customers and the customer support you offer them. To do this, you would most likely create a new pipeline that categorizes customers according to whether their issue is new, open, or resolved.
However, if you expect to receive many customer support calls, you'll be much better served by dedicated customer support services software.
Tools for Marketing Teams
Less Annoying has no marketing features such as tools for creating email campaigns. If you plan to do extensive email or social media marketing, a CRM with stronger marketing tools would suit you better.
However, it does offer free integration with MailChimp, the popular email marketing service. So, you can sync your contacts to MailChimp and create an email newsletter campaign from there, which will be logged in Less Annoying CRM.
Customization and Integrations
As far as integration with other popular software goes, Less Annoying CRM has some options. You can sync your calendar with Google Calendar or Outlook Calendar and your contacts with Google Contacts or MailChimp.
There are nine further third-party integrations currently available with Less Annoying CRM: Simplii, SigParser, MyRepChat, LeadsBridge, Leads Connector, JustCall, Invoco, AgileForms, and Badger Maps. However, using them may come with additional costs and separate support systems.
You can also customize your CRM by uploading your logo and creating your own color scheme, or choosing from the eight existing ones.
Reporting and Dashboards
Less Annoying CRM offers three report types.
The Activity Report sets out all the activity that occurred in the CRM. You can, for example, see all the leads that have been added, meetings that were attended, and any changes to the status of customers. You can filter the report by date, user, and activity type, so that it doesn't feel too unwieldy.
The Task Report lists all the incomplete, complete, and overdue tasks in the CRM. Again, you can easily filter this report to drill down to the information you need.
Finally, the Pipeline Report shows you all the contacts in your CRM based on their status. For example, you can view all the leads that are currently tagged as prospects or qualified leads.
There aren't many analytical tools available here, but you can always export the data from the reports into an Excel file and perform your own analysis there.
Ease of Implementation and Use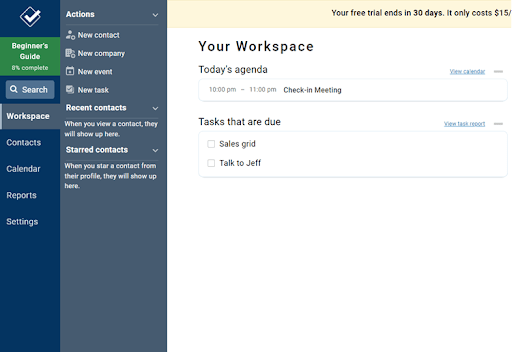 Less Annoying CRM offers one of the best onboarding experiences for new users I've seen. First, it's great to be able to try the service for a month for free without even needing to enter credit card details.
It's clear that Less Annoying CRM has been built for those less experienced with CRMs. After signing up for the service, the first place you're taken is the Beginner's Guide, a 13-page document with video guides on each of the important features of the software.
This guide is just a click away at the top of your screen while you're getting used to the software. A tracker shows you how much of the guide you've gone through, and once you're familiar with the software's features, you can hide the guide. It'll still be available in the Help section if you need it later.
Further to this, you can schedule a live demo from a Less Annoying CRM assistant, who can answer any questions over the phone while showing you how to set up the system to your liking, right on your screen.
Less Annoying CRM App
Less Annoying is a cloud-based CRM, so it will work anywhere where you have an internet connection. It doesn't have an app, but the website has been designed with mobile devices in mind. When you log in from a mobile device, you have access to all the features of the software. Still, the mobile interface feels somewhat clunky compared to competitors that have dedicated apps for iOS and Android.
Also, there's no offline mode, so to access your data you'll need to be connected to the internet. It's possible to sync your contacts from Less Annoying CRM to Google Contacts to get around this, but it's not a simple workaround.
Less Annoying CRM Customer Support
Less Annoying CRM offers free email and phone support besides its excellent help center. Phone support is only available on weekdays between 9am and 5pm CT. Impressively, full support is available to free trial participants.
Less Annoying CRM Pricing
How Much Does Less Annoying CRM Cost
Less Annoying CRM's pricing is very straightforward. It costs $15/user/month without locking you into a contract, and you can add and remove users as you see fit.
This puts Less Annoying CRM's pricing in line with budget CRM competitors like Pipedrive, Zoho CRM, and Freshsales.
Integration with Google Calendar, Google Contacts, Outlook Calendar, and MailChimp is free. Suppliers of the other third-party software listed above may require an additional setup or ongoing fee to integrate with Less Annoying CRM.

Less Annoying CRM Visit Site
Bottom Line
Less Annoying does a particularly good job at offering just the features of a CRM system that a small business needs and cutting out those that few ever use. For many small businesses, Less Annoying CRM is a straightforward way of keeping track of customers, companies, leads, and meetings—and it has a simple payment model, too.
I also like Less Annoying CRM's well-thought-out onboarding experience, no-quibble free trial month, and free phone customer support. Though larger businesses will find the lack of advanced reports and customization quite limiting, Less Annoying CRM definitely a great option for smaller businesses that just want to get the job done.