HoneyBook Visit Site
Overview
HoneyBook at a Glance
Best for: Freelancers and solo entrepreneurs
Key use: Project tracking
Lead capturing: Yes
Cloud: Yes
What is HoneyBook?
HoneyBook is an end-to-end client relationship management platform for small and medium-sized businesses. It's built to be easy to use and comes with a free migration service. This makes it an ideal option if you're wanting to avoid getting bogged down in technical complexity.
HoneyBook's strength is its end-to-end project management tools. You can book meetings, communicate with clients, and share documents and contracts. You're also able to deal with invoicing and payments with HoneyBook too.
Most CRMs focus strongly on sales and marketing or dealing with customer interactions, whereas HoneyBook's features provide a powerful pipeline for managing a range of client processes. This makes HoneyBook a good choice for freelancers and solo entrepreneurs in particular.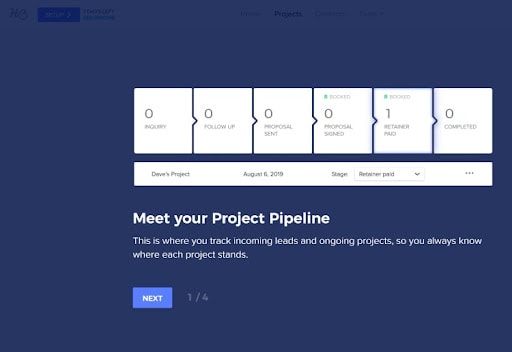 HoneyBook Features
Proposals, contacts, and payments
HoneyBook's key feature is the ability to manage your clients—from the onboarding process to payments—all from one platform. HoneyBook allows you to create proposals from templates, which include contracts, invoicing, and taking payments. This helps save time with the paperwork side of running a business.
Automation
With HoneyBook, you can automate aspects of client management to save time. For example, you can use automatic follow-ups to send additional materials to a promising lead. Another useful feature is using an event or date-based triggers for tasks like reminding a client to sign a contract.
Integration with other tools and platforms
HoneyBook can integrate with your email system, Calendly, Gmail, Quickbooks, Zapier, and Zoom. You can also integrate Facebook/Instagram Lead Ads with HoneyBook. This means you can track leads and automatically funnel them into new projects on HoneyBook.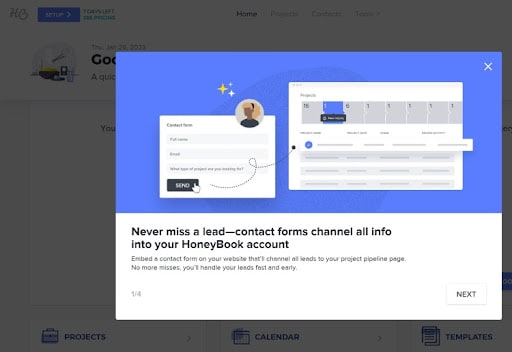 Analytics and Reporting
HoneyBook's analytics and reporting are functional rather than outstanding. The reports provided are clean and easy to read. They cover areas such as lead sources, conversion rates, number of projects booked, and payment and financial information. I found that HoneyBook offered me the reporting features I needed without having to search multiple reports for the data I was looking for.
Ease of use and user interface
HoneyBook has a clean, tidy user interface. The important tools are easily accessible and the dashboard includes plenty of white space, so nothing feels cluttered. Whereas some CRMs I've used can feel intimidating when getting started, I always felt in control while configuring HoneyBook.
Support and customer service
HoneyBook provides support through its excellent knowledge base, as well as via email and live chat. It's worth noting that HoneyBook doesn't offer phone support, and chat support is limited to weekdays 4am-8pm PST, and weekends 8am-5pm PST.
Is HoneyBook Reliable?
HoneyBook appears to be a reliable service, based on our experience testing it and the reviews of other users. HoneyBook offers unlimited team members, projects, clients, and files with their subscription, so we would expect them to handle high volumes of data and traffic as well as your business's ability to scale.
However, like most cloud services these days, HoneyBook doesn't make promises regarding uptime and availability. It also doesn't provide details regarding data backup and recovery. Regardless of which CRM you choose and what they promise, I would always recommend that you have access to your own data backups and files outside of the platform.
Likewise, information on how HoneyBook conducts error handling or meets compliance and security standards isn't widely available. For example, the HoneyBook Data Processing Addendum states that HoneyBook takes "appropriate technical and organizational measures" to protect data, without detailing what those measures are. While many companies do not need these details, depending on the data your CRM will contain, you may need to request more details or consider other CRMs.
How HoneyBook Works
HoneyBook works as an end-to-end client management platform. It allows you to manage every aspect of a client's experience with your business—from being an initial lead and receiving a project proposal to invoicing and payments. All of this can be managed by point and click through the HoneyBook dashboard.
With HoneyBook, you can also respond to inquiries, create projects, and communicate with clients using their mobile apps. Your clients can access any shared communications, files, and project details through a web-based client portal.
How to Get Started with HoneyBook
Getting started with HoneyBook is really easy. Simply register for an account and away you go.
Once you sign in, HoneyBook provides a setup wizard that you can follow to help you get everything configured. Clicking on your profile icon in the top right allows you to set up your profile and manage custom integrations, payment details, and other configurations and preferences. If you run into trouble at any point, there are plenty of helpful video tutorials to follow.
For members who have subscribed, there's a free, one-time migration service. HoneyBook asks you to upload pricing brochures, project proposals, client questionnaires, and old contracts, which they use to set up new templates within the CRM.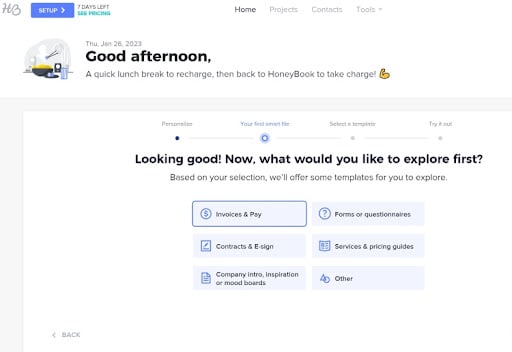 HoneyBook Customer Service
Unfortunately, HoneyBook doesn't offer phone support—but it does have a number you can call for billing inquiries. Instead, customer support is provided by "unlimited concierge support" via email and web chat.
HoneyBook's chat support is staffed on weekdays from 4am-8pm PST and on weekends 8am-5pm PST. Questions are initially fielded by a bot. However, if it can't answer it you'll quickly get passed to a human. The chat system notifies you that they usually respond in under 30 minutes, but I received helpful answers from a person within five minutes.
If you need support outside those hours, HoneyBook has plenty of useful resources such as a knowledge base, video content, and live educational webinars. These can be used for troubleshooting and helping you get the most out of the service. The blog has a nice mix of HoneyBook-specific and more general business content. There are also some free tools like invoice templates and an email signature generator.
Is There a HoneyBook App?
HoneyBook has both iOS and Android apps. As with the clean and uncluttered interface on the web, the mobile app is also easy to use. While many people will still want to do most of their CRM work on a desktop, the app allows you to immediately receive and respond to incoming inquiries on the go. This makes HoneyBook really useful for smaller support teams.
HoneyBook Pricing
How Much Does HoneyBook Cost?
Invoices and payments, basic reports, client portal, and more.
Everything in the Starter plan plus automations, QuickBooks Online integration, and more.
Everything in the Essentials plan plus priority support, an onboarding specialist, dedicated account manager, and more.
HoneyBook's pricing is competitive when compared to other paid services. Even though the entry-level pricing of CRMs such as Pipedrive—$14.90/user/month—and Capsule—$18/user/month—might initially be cheaper if you only need one user account, both work out more expensive by the third team member you add.
When you consider that HoneyBook gives you access to all the features in its plan, I think that makes it good value for money.
What can you do with HoneyBook for free?
HoneyBook offers a free, seven-day trial. You can access all the features of HoneyBook during the free trial. As HoneyBook is an intuitive and easy-to-navigate CRM, you should be able to configure it to meet your needs and test the software properly within the seven-day trial.
HoneyBook's promotional $1 per month pricing for the first six months and 60-day money-back guarantee make it a low-cost investment for getting started with a CRM.
HoneyBook Alternatives
How Does HoneyBook Compare to Other CRMs?
$14.90-$99 per user per month
$19-$99 per user per month
HoneyBook vs Pipedrive
Both HoneyBook and Pipedrive are easy-to-use CRMs for small to medium-sized businesses (SMBs).
With tools for proposals, scheduling, invoicing, and payment processing, HoneyBook is a better option for project management users who want one solution for all their client management tools. If you are looking at a solution specifically for your sales and marketing teams then Pipedrive might be the better choice.
HoneyBook vs HubSpot
HoneyBook is a great all-around CRM for small and medium-sized businesses, but if you need an enterprise-level solution then HubSpot should be considered.
HoneyBook is an aesthetically well-designed platform that prioritizes ease of use. HubSpot, on the other hand, can provide an overwhelming array of complex options. If you can dedicate time to learning HubSpot—or pay someone else to do so—it's a solution that will scale with your business. However, HoneyBook is a simpler solution for small businesses wanting to get started with a CRM quickly.
Unlike HoneyBook, Hubspot does have a free tier, but some optional tools and features can cost thousands of dollars per month.
HoneyBook vs Zendesk CRM
Zendesk CRM is a fully-featured CRM that includes a ticketing system and excellent reporting tools. The extra features you get with Zendesk CRM compared with HoneyBook come at a price.
ZenDesk has two platforms for managing customers. There's "Suite" for customer support and "Sell" for sales and marketing—priced at $49 and $19 per user per month respectively. This can make it a significantly more expensive option than HoneyBook if you need all the features across both platforms.

HoneyBook Visit Site
Bottom Line
HoneyBook is a very capable and user-friendly CRM. While it may not be the most configurable option for enterprise-level power users, it does provide a comprehensive set of features without being overwhelming to use.
With HoneyBook, you can add unlimited team members and it has a strong pipeline for working with clients from proposal generation to payment processing. This makes it a good choice for anyone who wants all their client management tools on the same platform.
I'd recommend HoneyBook for small and mid-sized businesses that don't want to take on the technical complexity of an enterprise solution like HubSpot or Salesforce.