ClickUp Visit Site
Overview
While ClickUp isn't specifically designed as a CRM, it's chameleon-like nature means that it can easily be used to keep track of a sales team's pipeline.
Best for: Companies that need both project management and CRM tools
Key use: Integrated CRM and project management
Price: From $5 per month
Free trial: Free tier
Tools for Sales Teams
Sales teams can adapt ClickUp to fully customize their pipeline management process.
Its features include:
Customizable Views: Organize your accounts in a list, Kanban board, or tables for quick data entry. ClickUp's 10+ flexible views make it easy to manage everything from sales pipelines to customer orders.
Powerful Dashboards: Create high-level views to monitor customer lifetime value, average deal sizes, and more. ClickUp's 50+ dashboard widgets make it easy to visualize all of your customer data in one place.
Custom Statuses: With ClickUp, users can assign custom statuses which best reflect their internal workflows. For instance, if a sales team wanted to specify a stage 'Had Zoom call 'and another for 'Sent quote' then this could easily be added.
Custom Fields: Add custom fields to track orders, leads, scoring, and more. Save every datapoint and make reports for smarter analysis.
Comments & Chat: Add comments and assign them to clients or guests for quick approval. Or assign your team so they know exactly what comes next to close the deal.
Formulas & Calculations: Calculate numeric fields in List view to quickly total contract values, determine total cost to close, revenue, and more.
Automations: Automatically assign tasks for each stage of your pipeline, trigger status updates based on activity, and switch priorities to alert your team on where to focus next.
Task Dependencies: While task dependencies are typically used in project management, tracking who's responsible for what can also be useful for sales resources. For instance, a sales team might need to hand over a lead to customer success after they become a paying customer. Using the dependency feature, teams can roll out templates to reflect their internal workflow and keep track of who's blocking who.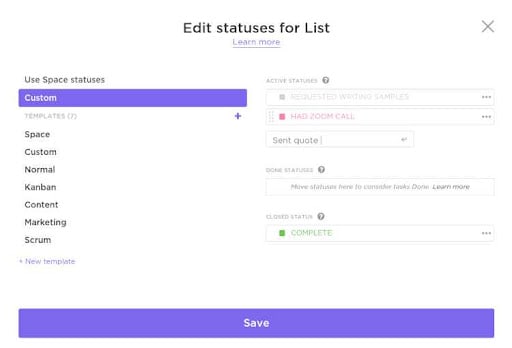 Users don't need to make sophisticated adjustments to the ClickUp system in order to reprovision it from a project management system to a CRM tool. In fact, all that's required is to rename columns in the board view to better reflect a sales team's internal nomenclature. In just a few minutes, the tool can go from a project tracking hub to a sales machine.
Tools for Customer Support Teams
Just as ClickUp can be used for CRM or as a project management tool, it can also be adapted for the needs of customer service. And there's no need to make choices either—in fact, multiple teams can be signed up for the platform at one time.
Features that are particularly important for customer support teams joining the platform include:
Priority tracking: With ClickUp priorities, users can manually assign a priority to every task in the system. This can be used by support teams to know which issues to prioritize.
Scalable architecture: Organize your accounts with a scalable hierarchy of Folders and Lists. Share projects with your clients and set granular permissions to control who sees what.
Email integration: Eliminate silos and fast-track communication by integrating your emails with ClickUp. Collaborate on deals, send project updates to clients, and onboard customers with a single email hub.
Custom forms: Streamline your intake process, organize response data, and automatically create tasks with custom branded Forms.
The tagging system also allows support resources to assign tags to common issues so that team members can deal with problems in batches.
Just like when setting up the CRM, all users need to do in order to get a support center running is to customize the workflow and fields.
Tools for Marketing Teams
Marketers can also make use of ClickUp to track marketing projects and keep the sales team appraised of progress while they're at it.
Marketers' favorite features include:
Customizable views: see your team's marketing initiatives at a glance on a List, Board, Calendar, Timeline and 10+ other highly customizable views
Custom Forms: establish an efficient intake system for affiliate sign ups, client onboarding, co-marketing collaboration requests, and more with ClickUp Forms.
Proofing & Annotation: assign comments for requested changes and approve them in real-time! Provide and receive feedback on ad creatives, landing page mockups, and more with Proofing.
Dashboards: build custom widgets to oversee campaign results at a glance. Quickly reference the efficiency of past campaigns to optimize for increased ROI.
Docs: collaborate in real-time, assign comments, and create new tasks from your Docs. Outline processes for new members to get them in action right away!
Chat: discuss anything from blog ideas to designs anywhere in ClickUp. Chat gives you the same power of attachments, notifications, unfurled task links, and embedding.
Goal Tracking:plan, manage, and track quarterly initiatives with Goals! Link tasks and Lists into one central source of truth.
Time Tracking: attach time to any task and even include estimates for how long a project will take for efficient workload management.
Timeline Tracking
Building out a content marketing editorial calendar and then developing the perfect content can involve multiple stakeholders. ClickUp's Gantt charting can make it easy to visualize progress.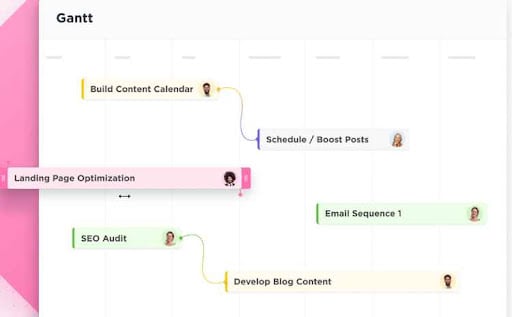 Collaboration and Task Management
Marketers can collaborate with sales members and assign sub-tasks to various resources directly through the system.
Customization and Integrations
ClickUp integrates with a number of third party services to expand its capabilities. Some of the most noteworthy integrations include:
Slack: For instant messaging and internal team communications.
GitLab: For collaboratively managing codebases
ClickHub API: This can be used by development resources to build custom integrations.
Reporting and Dashboards
ClickUp contains an important reporting module designed for teams that wish to extract key data about sales performance.
Reports can be filtered by team resources and teams and quickly organized into folders for more convenient access.
Ease of Implementation and Use
Setting up Clickup is really easy. For the most part, the system runs through a very convenient drag-and-drop system and sales teams just need to update labels in order to change the default workflows. Even for inexperienced implementation teams, setting up the system from scratch shouldn't take more than a few hours. After that, the team will be ready to track and manage their workflows online.
ClickUp App
For users that wish to access ClickUp from their mobile devices, ClickUp produces mobile apps for Android, iOS and Amazon Fire. These programs allow sales resources to update deal stages and pipeline opportunities while they're on the road.
ClickUp Customer Support
ClickUp is renowned for providing excellent customer support. Better yet, the team is available 24/7 to assist with users' queries. There's also an entire library full of onboarding content including videos, documents, and FAQs. Users can also request features and report bugs to the team through dedicated options.
Pricing & Special Offers
ClickUp is available on both a limited free plan and a paid version which removes the limits.
The free plan isn't time-limited and it's easy to upgrade between the 2—so although there isn't a free trial, users can simply start out with the free plan and then switch if they feel the desire.
The unlimited version costs $5 per member per month when billed annually. When billed on a monthly basis the price rises slightly to $9.

ClickUp Visit Site
Bottom Line
ClickUp is as useful as a CRM as it is as a project management tool. Users simply need to customize fields as they wish and they have a fully scalable cloud-based customer management and sales tracking tool capable of tracking pipeline and streamlining customer contact.