Capsule Visit Site
Overview
Capsule CRM at a Glance
Businesses seeking a CRM they can get up and running on quickly—with minimal required training.
$18 per user per month for Professional tier
$36 per user per month for teams
How Capsule CRM Works
Tools for Sales Teams
Sales teams have all the basic CRM functionalities they might need in Capsule CRM, including the ability to capture leads and schedule follow-up activities such as account check-ins and prospecting calls.
In order to keep track of sales performance it's important to keep a close eye on the sales pipeline to see how many leads are nearing maturity — and what the total expected deal volume might be from them.
Keeping to its tradition of simplicity-first, Capsule also makes it simple to export and import data. Users can quickly export a Vcard (electronic business card) format for any lead stored in the CRM — or import contacts from a spreadsheet, as a CSV, or through an integration with Gmail or outlook. The multiple options available make it quick and easy for the team to get their leads in one place.

There's also an 'add task' sidebar which allows users to quickly capture follow up activity for a lead. There's a pre-populated list of activities that are likely to recur in many organizations such as 'call', 'follow up', and 'meeting' to help make the process even quicker.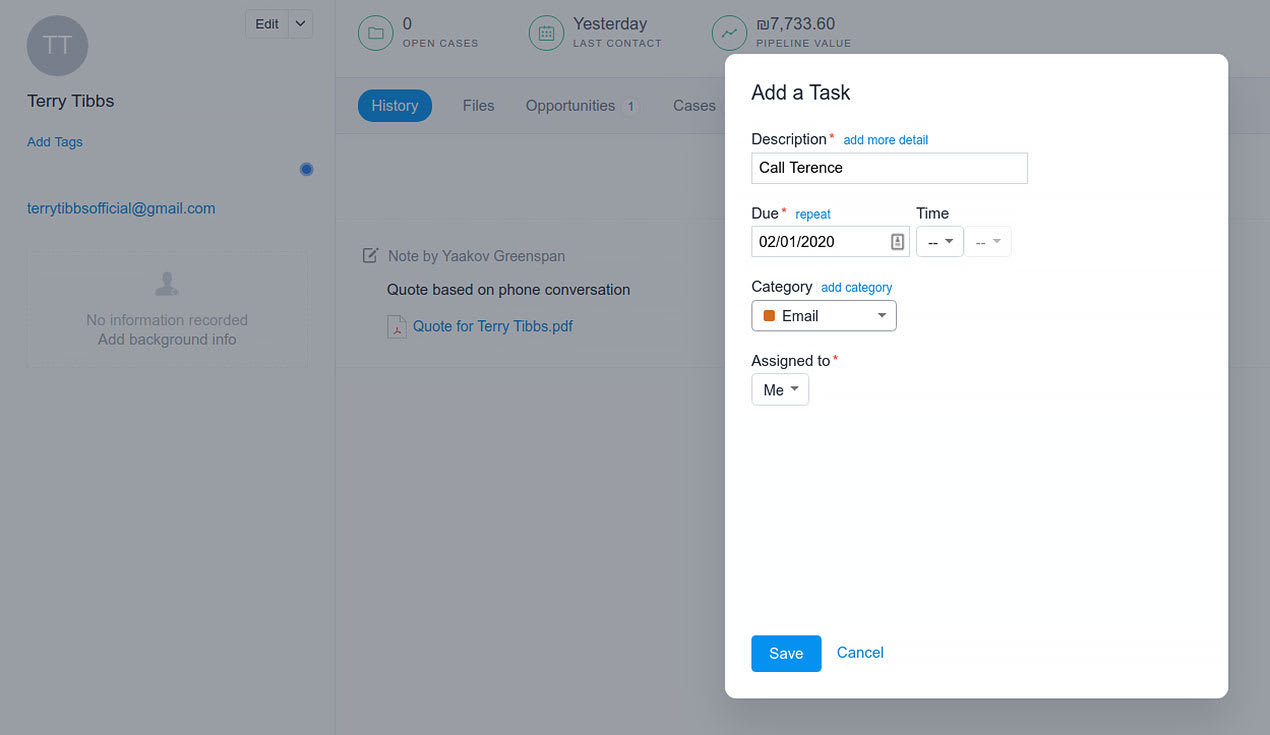 Likewise, when creating an opportunity, users are able to easily assign it to a lead via a dropdown that auto populates. Users can also automatically annotate additional details to the opportunity by sending email to an address which is unique to that prospect.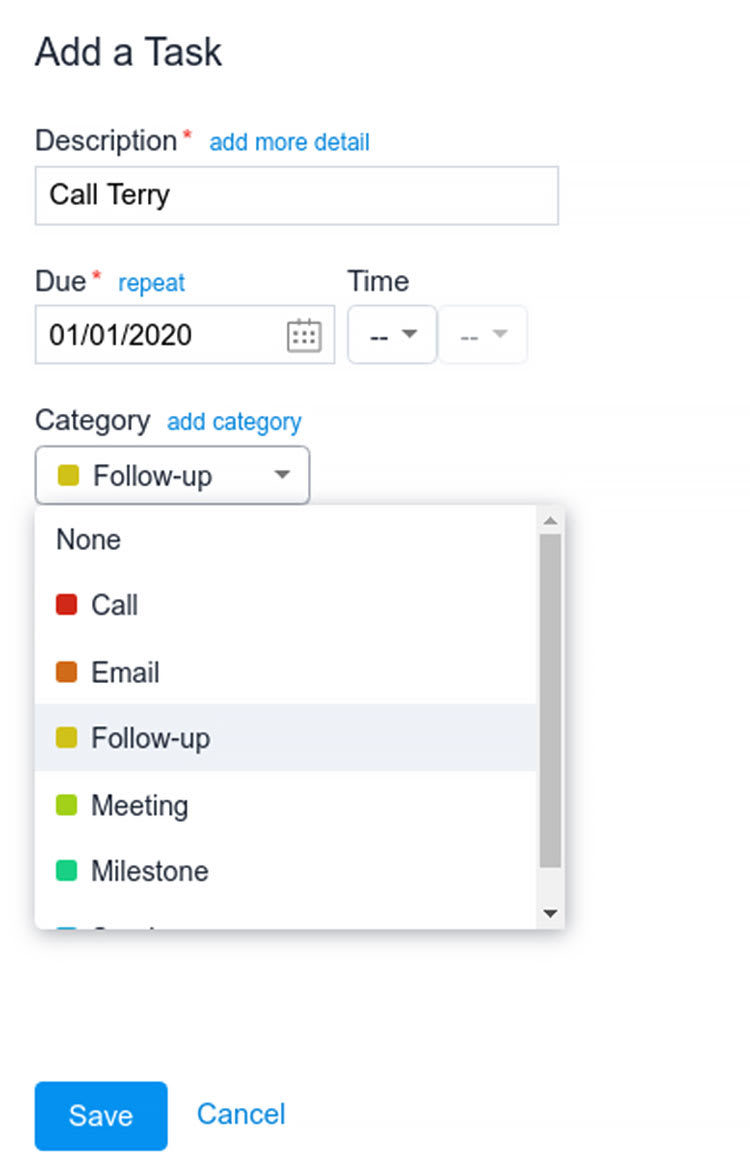 If users want to annotate documentation to a lead, then they can simply click on the 'files' tab and upload a PDF. The PDF can be viewed directly online within the browser
Tools for Marketing Teams
Capsule CRM does not contain any marketing-specific features such as email campaigns and landing page generators. However, when used in conjunction with one of its integration partners, such as Transpond, Mailchimp and Mad Mimi, it contains all the tools needed to merge contacts and drive them down the sales funnel.
The main marketing integration is with Transpond, which is Capsule's email marketing tool. It can be used to generate rich emails and send them to CRM prospects—or groups of them.
The integration with Transpond provides Capsule users with the most seamless experience for using an email tool with their CRM. You can also integrate with Mailchimp and a range of other marketing tools like leadinfo.
You can be up and running within minutes as it uses your Capsule Tags to segment and target campaigns.
Additionally, Capsule CRM gives users a system-wide mail drop box which can be used to automatically associate mass emails with CRM leads. This can be hidden in the BCC field so that it doesn't appear to prospects.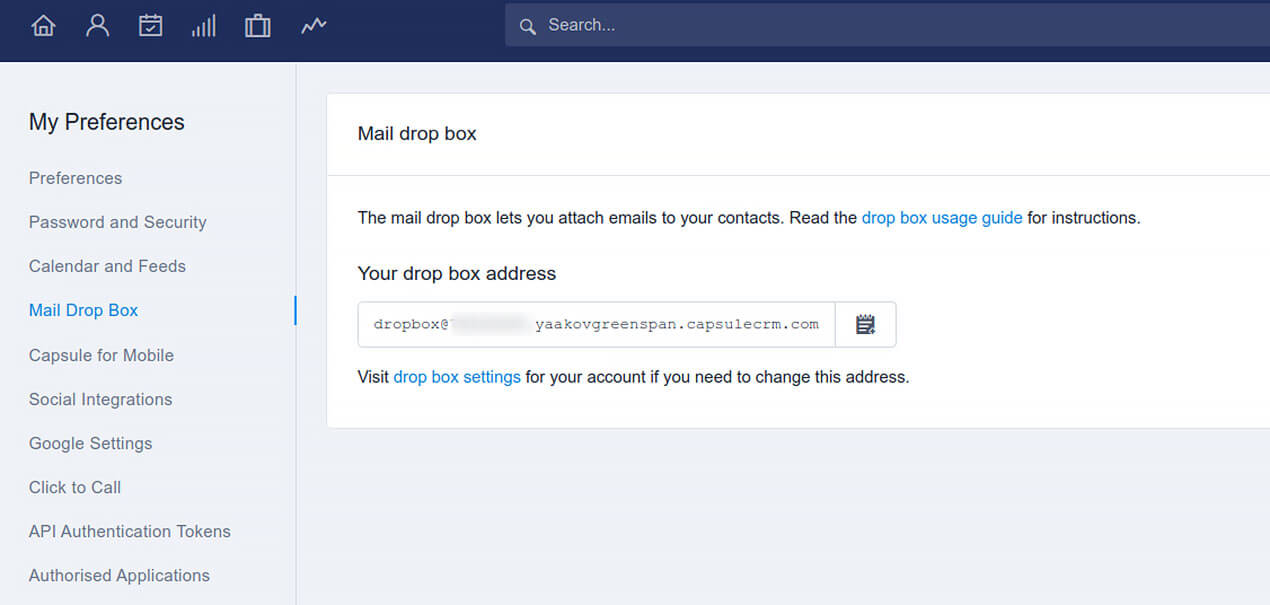 Tools for Customer Support Teams Teams
Capsule CRM isn't intended as a support tool but some do use it to keep 'cases' associated with leads. This can be information related to a specific task or project that is ongoing and connected to a certain lead or account in the system.
Additionally, Capsule can be integrated with the following support tools to allow helpdesk staff to have complete access to the sales department's accounts:
Zendesk
Help Scout
SupportBee
Enchant
Project Management
Capsule provides an all-in-one project management tool called Projects to help your teams manage projects and deliver work consistently. With Projects, collaboration between sales, service and support teams is effortless as information silos are eliminated by one inclusive workspace. Projects ultimately lets you customize project stages, get better visibility of project statuses, progress projects more quickly, and more.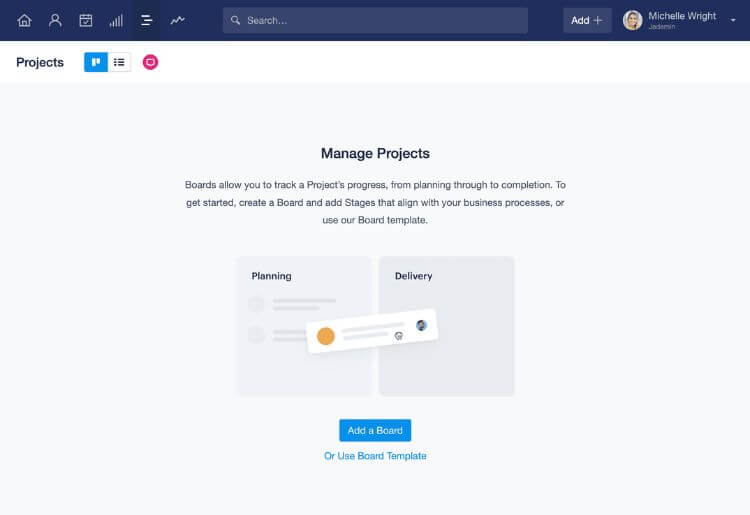 Projects are made up of boards and Tracks (grouped series of tasks), with status updates than can be easily viewed and updated by all team members.
Customizations and Integrations
Capsule CRM comes with a library of customization and integration options—although the list isn't quite as extensive as what you might find with other providers.
For customization, users can associate custom fields with various CRM records. These can range in type, from dates to lists and automatically generated links.
There are over 50 supported integrations — including with marketing automation toolkit which enables users to connect the CRM with additional services. Some notable support options include:
The UnifiedVU business dashboard
Email marketing programs
GSuite and Google Data Studio
Broad range of Accounting apps including Xero and Quickbooks
To integrate with other apps-- like Slack, for example, Capsule suggests using Zapier CRM integration.
Reporting and Dashboards
The 'Reporting' module is one of the four key parts of the CRM and allows users to generate detailed reports about sales activity. Color coded graphics and charts make it visually easy to determine how much of the pipeline is taken up by deals at various stages of lead maturity.
The free plan gives access to customized filtered lists and the sales pipeline dashboard. The professional plan has these features along with activity reporting. In addition to these features, the Teams and Enterprise plans also offer custom activity types, advanced sales reporting, reporting by team, and custom reports via google data studio.

Ease of Implementation and Use
Capsule CRM is one of the easiest CRMs to use on the market. The entire CRM is contained within a few modules: leads, calendar, reporting, project management and reports.

Setup isn't difficult for administrators, either. After connecting the outbound mail server and setting access permissions, they can simply begin adding users and creating custom fields.
Mobile App
Smartphone users never fear—thanks to Capsule's Android and iOS modules, users are able to annotate and create leads no matter where they are. The mobile apps provide the full set of functionalities contained in the web version, including the ability to see a live stream of coworker activity, capture and save lead data, and manage and access the dedicated CRM calendar and place bookings there.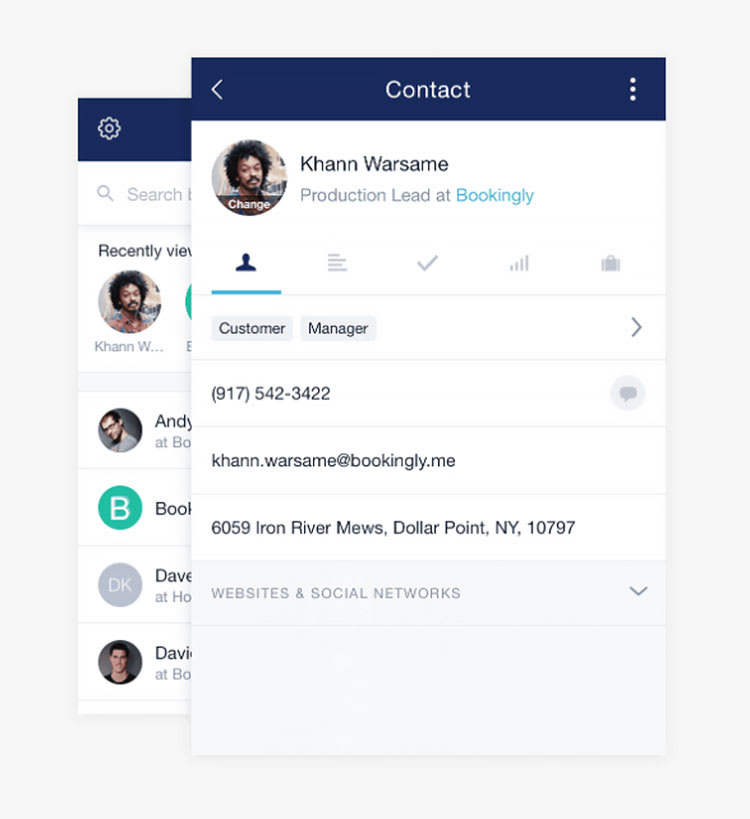 Capsule CRM Customer Support
Capsule Support is available during US business hours between Monday and Friday via email or Twitter.
The primary means of support is a ticket-based system which allows for easy issue tracking. Capsule CRM has also put together a Support Portal which contains an entire library full of self help resources.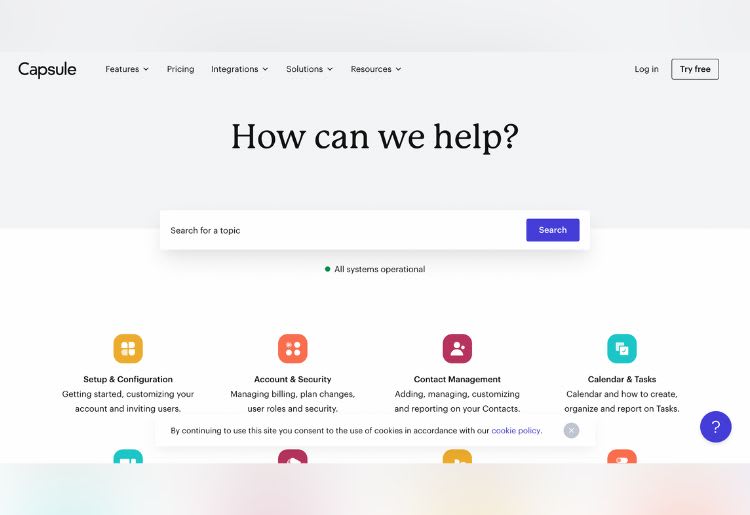 These tutorials feature text and screenshot based instructions and help users resolve a wide variety of issues. Live chat and telephone support are available depending on the plan.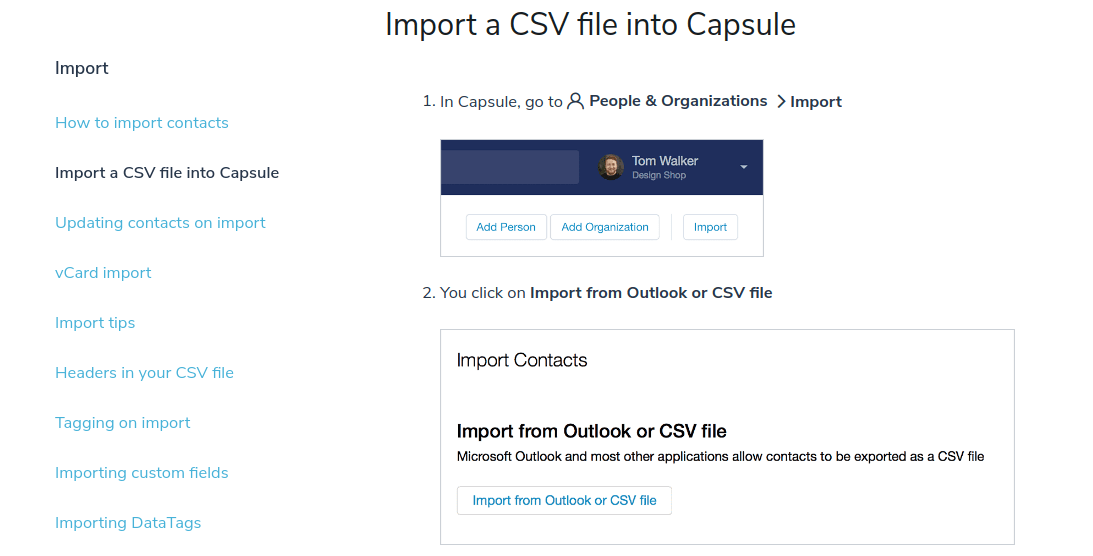 Capsule CRM Pricing
Capsule has a free tier and three paid tiers.

Capsule Visit Site
Capsule's Free plan provides a basic, starter platform for up 2 users and 250 contacts - a great way to get a taste of Capsule's interface.
The Professional tier is intended for smaller sales teams and includes basic sales reporting, project management, and file storage of 10GB.
The Team plan, by contrast, can hold up to 100,000 contacts (Professional's limit is 50,000) and provides up to 20GB of storage. It also allows users to export custom reports via Google Data Studio and to take advantage of Advanced Sales Reporting, including modules not included in the basic reporting feature.
The Enterprise plan can hold 200,000 contacts, 40GB of storage, and also comes with implementation support, import assistance, custom training, a dedicated customer success manager, and ongoing priority support.
Bottom Line
If your organization is looking for a CRM that everybody can get up to speed on by the end of the workday, then Capsule CRM is just about the best choice on the market. It's extremely uncluttered user interface can all be accessed from the top bar menu where users can create leads, opportunities, or track deal flow throughout the pipeline. It also has a good basic set of integrations and users can easily annotate documents to accounts. It's not the most full-fledged offering on the market but it should be enough for the vast majority of businesses.