In a Nutshell
Underground Cellar is an online marketplace where wine lovers can discover prestigious wines selected by experts. You purchase your wine in quantities of three, six, or 12 bottles. Underground Cellar then randomly upgrades all your bottles to higher-value ones at no additional cost. What's more, Underground Cellar has its own temperature-controlled cellar so you can store your wine for free until you're ready for it to be delivered.
pros
Wine is tasted and hand-selected by experts
Free wine upgrades
Free bottle storage in a temperature-controlled cellar
cons
Does not deliver to all 50 states
Minimum of three bottles per order

Underground Cellar Visit Site
Underground Cellar at a Glance
Prices start from roughly $19 with luxury bottles $100+
Wine drinkers interested in sampling premium bottles from different regions
Order as and when you prefer
Purchase three, six, or 12 bottles per offer
Wine Types and Quality
Underground Cellar sells a selection of red, white, rose, and sparkling wines from all over the world. Expect to sample wine from well-known wine regions, including Napa Valley in California and Bordeaux in France. There is a wide range of varieties to choose from, with many classics such as Pinot Noir and Grenache.
The team at Underground Cellar tastes and hand-picks each wine to ensure high standards. The company often sources wine directly from wineries, which means your bottles will have the highest possible provenance. Many of the wineries they source from have a long-standing history of producing quality wines. Besides wines produced in the past decade, you can also find prestigious aged bottles, such as red wine from 2001.
Rather than selling individual bottles, Underground Cellar puts together a range of wine offers that include a selection of similar-tasting wines at comparable prices. Each offer consists of three, six, or 12 bottles of wine.
Alongside each wine offer, you'll see a brief summary that includes the region, flavor, value, and history of the wine, as well as a list of possible wine upgrades you may receive. On occasion, the company shares recommended food pairings. Some of their offers promote wines from particular brands, such as Screaming Eagle and Opus One. Other offers might bring together wines of a particular variety, such as Sauvignon Blanc.
Membership Options
Underground Cellar provides free membership for anyone over the age of 21. You must create a membership account before you can make an order. You can sign up via the website with your full name and email address, or you can join through Facebook.
As an active member, you can store wine purchases for free in the company's humidity- and temperature-controlled wine cellar in Napa Valley, California. When you're ready to collect, you can click any time on your "CloudCellar" tab and request for your bottles to be shipped. Additionally, you can request for them to arrive chilled and ready to drink.
CloudCellar records a list of all your wine purchases and expenses, including those of other members. You can see what other members have received by clicking on an offer and then scrolling down to "Recently purchased by." From here, you can click on different member profiles.
Pricing
Each week, Underground Cellar provides exclusive offers for its members. Each offer consists of a selection of similar wines at comparable prices, but as a member, you only pay for the lowest-priced bottle in the offer. There is a wide range of price points, with some bottles under $30. The average bottle, however, is $35-$50.
Every bottle you purchase will randomly be upgraded to higher value bottles. Sometimes, your upgrade will be of a similar price but you may receive much more expensive bottles that come from a winemaker's private stash. On every offer, you'll see a list of possible upgrades you could receive, as well as the number of bottles that will be upgraded.
All offers on Underground Cellar are available for a limited time and on a first come first serve basis. Because of this, you can continually visit the shop and find new wine collections to sample.
Shipping charges vary depending on location and order quantity, but a typical order of six bottles usually costs $20-$30. Free shipping is always available when you purchase 12 bottles.
Featured Wines
The wine at Underground Cellar changes continually, but here are three wines that have been sourced by the company.
1. 2018 Cantine Lizzano Primitivo di Manduria Macchia Red Blend
Estimated value of $34 but available at $31
Goes great with creamy pasta dishes and white meats.
2. 2016 Flying Goat Bubbles Blanc de Blanc Santa Maria Valley Sparkling Wine
Estimated value of $44 but available at $35
Goes great with a night in with your favorite cinema snacks and poached salmon.
3. 2021 Somnium Napa Valley Rose
Estimated value of $90 but available for $20
Goes great with practically everything—perfect to enjoy during the holidays with your roast.
Giving the Gift of Wine
If you'd like to gift a collection of wine to someone, you can write a personalized message on your order upon checkout.
Occasionally, Underground Cellar runs gift card offers. You can purchase a gift card and have the chance to have the card upgraded to a higher value. These offers are usually available near holiday periods such as Christmas.
As a member, you can also give the gift of wine by using the "Give $50, Get $50 offer." Each time you invite a friend to order from your referral link (found within your membership area), you both receive a $50 credit.
Customer Service
You can contact customer service by email at support@undergroundcellar.com. You can also speak to an advisor from Monday to Friday, between 10am and 5pm PT.
You can also reach out on social media via Instagram, Facebook, and Twitter. Support is available between 8am and 4pm PT, from Monday to Friday. Underground Cellar aims to respond as quickly as possible to all inquiries, typically within one business day.
The website has an FAQ section for information on managing your account, orders, shipping, and delivery.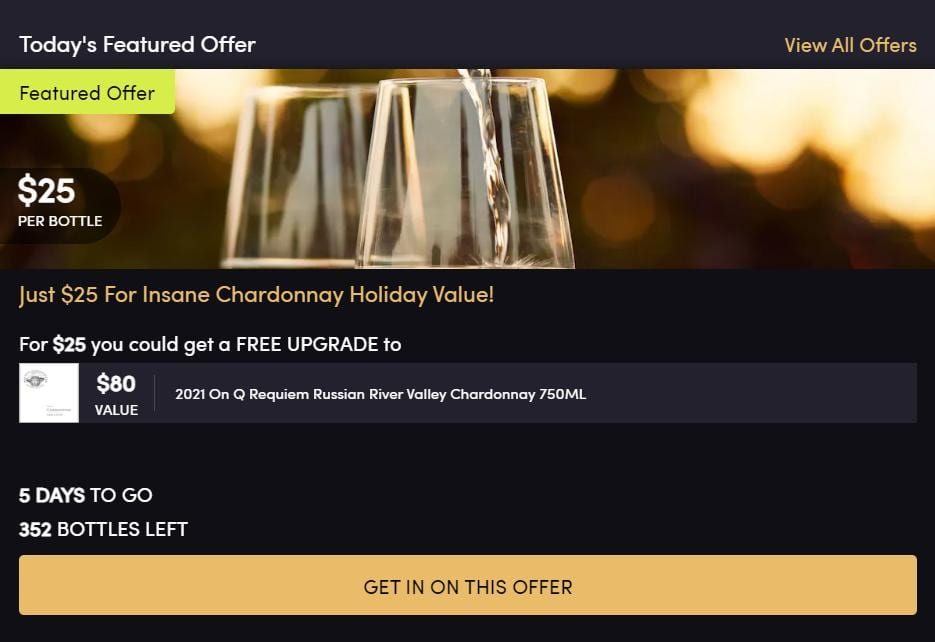 Underground Cellar Visit Site
Bottom Line
With no monthly fees, Underground Cellar is an online marketplace for wine drinkers who want to try quality wine as and when it suits them. Although the company will appeal to wine aficionados who appreciate premium bottles, Underground Cellar also caters to novices who want to try lots of different wines recommended by wine experts.
With a wide selection of bottles at varying price points, there's something for everyone. Joining the company's free membership means you can sample luxury wine at a fraction of the price due to free wine upgrades.
If you want to save your wine for special occasions, Underground Cellar has its own temperature-controlled cellar in Napa Valley, where you can store wine for free. You can then arrange to have it delivered when it suits you. Overall, the company caters to wine drinkers who would prefer not to commit to a monthly paying membership.