In a Nutshell
"Buying Great Wine Should Be Easier" is the call to arms of Firstleaf, a wine club that provides personalized wine selections to users at prices that put the retail stores to shame. The company learns which wines you like based on the computational analysis of a biochemist and uses this data set to determine which wines to send you and which to recommend in the future. Regular orders can be amended based on your personal preferences.
pros
Uses your feedback to decide which wines to offer you
100% satisfaction guarantee
Reasonably-priced, high-quality wines
cons
Shipping only free for orders of 12 bottles or more
Does not ship to all 50 states

Firstleaf Visit Site
Firstleaf at a Glance
6 bottles of wine for $89.94
Clearing up the confusion of buying wine by getting matched with selections that match your preferences
You can receive wines every 1, 2, or 3 months.
Wine Types and Quality
Firstleaf offers a wide variety of red, white, rosé, and sparkling wines from across the world, including from vineyards in Argentina, South Africa, France, New Zealand, Spain, Chile, Portugal, Italy, United States, and Australia. These award-winning wines include Chardonnay, Malbec, Pinot Noir, Riesling, and Sauvignon Blanc, among others. By cutting out the middlemen, the company gets directly to the winemakers, developing an intimate connection to the wine shipped out to club members.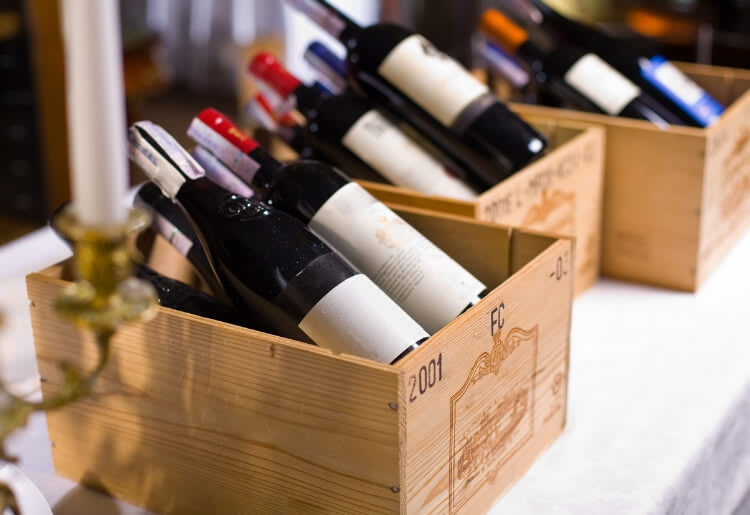 Membership Options
When you sign up with Firstleaf, you'll get a special introductory shipment of 6 bottles for $39.95 with free shipping, after which you'll have the option of staying on for 6 bottles per month. The first box is shipped almost immediately and you should receive it within a few days. You can then set the frequency for all subsequent orders. The company will ask you for feedback on the wines you received, and your input will be used to determine which wines to send you in the future.
Pricing
First leaf has a rather unique pricing system for the wine club industry. When you sign up, your first order will be of 6 bottles—which the company's wine experts select for you—priced at $39.95.
Your next shipments will be 6 bottles each, and the recommendations will be based on feedback that you give the company. You can switch out any of the recommendations before they ship. You can also buy individual bottles at any time through the company's online store, and Firstleaf will waive the shipping fee for any orders of 12 bottles or more.
Featured Wines
Cantharos - 2014
It may sound like a supervillain set on world domination, but this Grenache is one of the top offerings of a winery that has won 2 gold medals as "French Grenache Winery of the Year." There are hints of herbs and spice in this Grenache, which Firstleaf says has a bouquet that brings to mind the very earliest origins of wine.
Cost per bottle: $16.80
Goes great with: A beefy winter stew, a braised pot roast with roasted carrots, a fireplace, and a blanket.
Aromatherapy - 2016 Chenin Blanc
One of the great things about wine is that it hits you before it even touches your lips. The bouquet, the bottle, the way it cascades down the glass. This aptly-named Chenin Blanc has hints of fruity and floral notes, and at less than $20 a bottle, this is an hour of therapy anybody can afford.
Cost per bottle: $17.10
Goes great with: Grilled fish with a healthy squeeze of lemon, chicken picatta, a Saturday afternoon in the late spring when you get that first hint that summer's on its way.
Isolde's Rapture - 2016 red blend
We'll be honest, we selected this one because the bottle is so cool. Seriously, there's a lot happening on this label. It turns out it's also a double gold medal winning 95 point red blend. So maybe you should just judge a bottle by its label—sometimes.
Cost per bottle: $20
Goes great with: Barbecued steaks on the patio while you wait for the rapture (we mean another glass of this wine).
Giving the Gift of Wine
With Firstleaf you can easily buy an E-Gift card on the company website. They run in increments of $25, $50, $75, $100, $150, and $200. Couldn't be easier.

Firstleaf Visit Site
Customer Service
Firstleaf has a customer queries email on its website where you can send questions, as well as a lengthy FAQ section that should answer most questions you may have. The company also operates a 1-800 number where you can speak to a representative.
Bottom Line
With a friendly price point ($89.94 for 6 bottles) and a wide selection of highly-rated wines that are selected based on your input and preferences, Firstleaf is a great wine option if you're looking to try out a wine club. It takes your specific wine tastes seriously and regular orders easily be amended according to your schedule and preferences. This means that your wine cellar is always stocked.The company also keeps things flexible so you get the wine you want to suit your lifestyle—when you want it.