In a Nutshell
This acclaimed wine club offers you "hidden-gem organic wines made from the world's most fascinating grapes" curated from artisanal and small-batch wineries across the world. The wines are hand-selected by wine experts and every delivery comes with shipping included. You can easily purchase wine as a gift for a loved one, or just keep the wine for yourself, we get that.
pros
Free shipping
No membership fees
100% satisfaction guarantee
cons
The company selects the wines for you
Minimum 4 bottles per month

Plonk Wine Club Visit Site
Plonk at a Glance
$23.75 to $27.50 per bottle
Trying small-batch organic wines
Monthly, bi-monthly, quarterly
Wine Types and Quality
Plonk features award-winning, mainly small-batch organic wines. The wines are hand-sourced from every corner of the globe, including Argentina, Australia, Austria, Chile, Croatia, France, Georgia, Germany, Hungary, Italy, New Zealand, Portugal, Romania, Slovenia, Spain, and Uruguay.
Membership Options
Plonk allows you to order red or white wines, or a mix each time. You can order either 4. 6 or 12 bottles per shipment on the membership plans, and can sign up for a monthly, bi-monthly, or quarterly plan. You can also order individual bottles directly from the company.
Pricing
Featured Wines:
Alveirao Encostas Do Vale Godinho 2016
This organic red wine blend from Portugal has a lot of character and flavor, with hints of black currant and licorice.
Cost per bottle: $23.75
Goes great with: Barbecued chicken with asparagus and roast potatoes, a grilled steak on the beach in...Portugal, why not?
Vinoce Sauvignon Blanc 2017
This lively white wine from the Napa Valley will give you a rush of grapefruit and melon and makes for refreshing sipping any time of the day.
Cost per bottle: $28.75
Goes great with: Sauteed shrimp with a lemon ginger glaze, ceviche and fresh vegetables, linguini with scallops while watching the sunset on the back porch of a mansion you bought with cash (it's a daydream, go with it)
Ligier Cremant du Jura Brut Rosé NV
This sparkling rosé looks and also tastes somewhat like strawberries. Every bottle is aged 12-18 months, helping give it that creamy texture and finish you'll love.
Cost per bottle: $23.75
Goes great with: fresh strawberries with dark chocolate, french onion soup, showing somebody who maybe doesn't like to drink that maybe they actually do.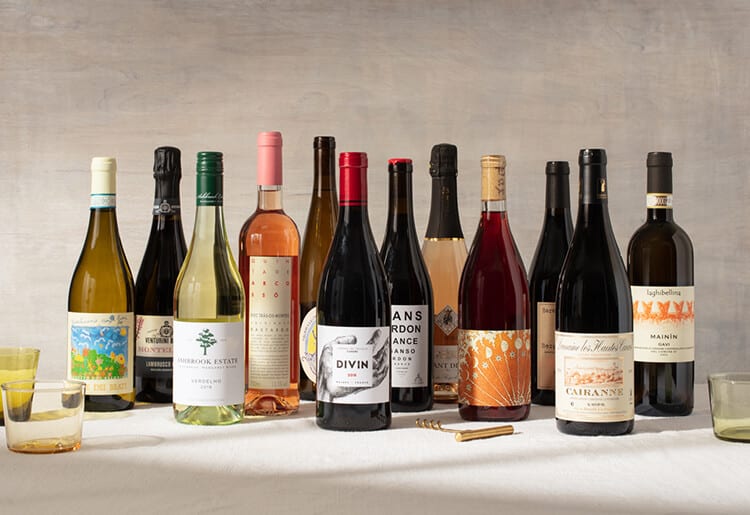 Giving the Gift of Wine
Plonk has the rather novel feature of allowing you to purchase continuous wine club subscriptions. In other words, not only can you buy a one-off present of wine, but you can also purchase a 3-month, 6-month, or 12-month subscription that renews itself, and includes a custom gift message. All for the same price as the regular subscriptions.
For one-off gifts, you have a number of gift basket options. These include 3 different "dinner party 6-pack" baskets (red, white, or mixed wines) all for $155, shipping included, 3 "mystery cases" of 12 bottles for $250 each, shipping included, and a 4-bottle sparkling wine sampler for $120.

Plonk Wine Club Visit Site
Customer Service
Plonk operates a "live chat" where you fill out your details and send in a question, which is later answered by a company representative. You can also send a direct email to help@plonkwineclub.com or call 1-877-50-75665
Bottom Line
Plonk is a wine club that provides members with premium, organic wines curated from the best boutique wineries in the world. It gives you a number of options for the type of membership you sign up for, as well as a variety of gifting options. Simply put, there's a lot to like with Plonk.