In a Nutshell
"Just Two Guys, Selling Wine" is how The New York Times described Nocking Point co-owner Andrew Harding and his partner Stephen Amell, who you may know as the star of TV's "Arrow." Today the wine club has thousands of members and a healthy serving of glam and cool that you probably won't find at the liquor store down the street. The wine comes in monthly or quarterly shipments, and you can pair it with coffee (drink separately).
pros
Free shipping for club members
10% off all other Nocking Point purchases
Special bottles signed by Harding available
cons
Only 2 wines per month
Does not deliver to 16 US states

Nocking Point Visit Site
Nocking Point Wine Club at a Glance
Price Range: $24.50 per bottle; shipments are 2 bottles per month for $49, shipping included
Best For: People who want to sample top-shelf, small- batch wine inspired by some of their favorite TV celebrities
Order Frequency: Monthly and quarterly. Orders can be cancelled if notification is given 14 days before the shipment
Bottles per Shipment: 2 (750ml)
Nocking Point is a Walla Walla, Washington based winery that provides a monthly wine club (as well as merchandise and coffee) to customers across the States. Wine club members get discounts on all of the company's products, as well as free shipping. The membership includes 2 bottles per month, which are "produced and branded by your favorite celebrities and tastemakers."
Wine Types and Quality
The wines offered by Nocking Point include a wide range of red, white, sparkling, and blended wines. These include Petit Verdot, Pinot Noir, Pinot Grigio, Cabernet Sauvignon, Sparkling Rose, Syrah, Sauvignon Blanc, Grenache, Malbec, Cinsault, Merlot, and Pinot Gris, among others. All of the wines come from vineyards in Washington state, and are grown and made by award-winning winemakers.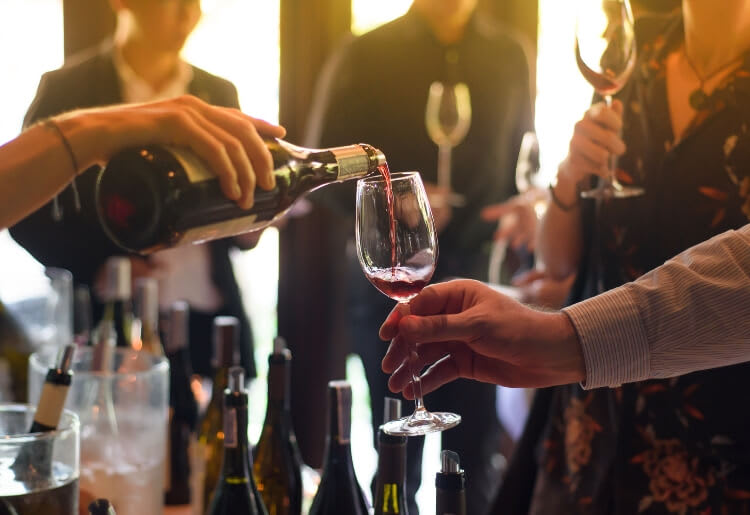 Membership Options
You have two main wine club options with Nocking Point - the quarterly plan and the monthly plan. With the quarterly plan, every three months you get three bottles of wine, a bag of coffee, and a t-shirt 4 times a year for $99 each quarter, shipping included. The monthly plan charges you $49 for 2 bottles per month, shipping included.
Pricing
$99 - includes 3 bottles of wine, a bag of coffee, and a t-shirt
Featured Wines
1. Basic Witch Potion No. 1 - 100% Pinot Grigio, from Washington State
This crisp, refreshing Pinot Grigio is the brainchild of West Hollywood reality TV stars Stassi Schroeder, Kristen Doute, and Katie Maloney ("Vanderpump Rules"), who are by no means basic and are not to our knowledge witches (that may depend on who you ask though.)
Cost per bottle:$24.50
Goes great with: pan-seared fish, shrimp and pasta, people watching (and judging), while you day-drink at brunch, which can be as early as you want it to be.
2."Dirtbag" red blend
Have you ever asked yourself what if Aquaman made wine? Could he still swim and speak with fish if his speech was slurred? "Dirtbag" is the signature wine of 'Aquaman' star Jason Momoa, also known as "Lisa Bonet's husband."
Momoa calls this wine "a big, spicy, Bordeaux-style red" and it's easy to picture glasses of it next to a platter of grilled steaks while Momoa's "Khal Drogo" from 'Game of Thrones' bludgeons people with a wine bottle somewhere off camera.
Cost per bottle: $24.50
Goes great with: Meat burnt on a fire, anything that was alive and is now on a skewer, drinking away the pain of not knowing what to get your stepdaughter Zoe Kravitz for Christmas/Hanukkah.
3. "Pink Wine for Dudes" Rose Grenache, Syrah, Mourvedre blend
The backstory of this wine is that "Stephen and Drew were abducted by aliens in 2017" and they really liked wine and "this year's label is in honor of that experience and the aliens the guys spent time with."
This sounds like the backstory for a brand of LSD, not wine, but we'll go with it. Also, if you had the power of interstellar flight, would you be impressed by wine made by guys in Walla Walla? If you were abducted by aliens would you not begin to question gendered stereotypes about color and wine? Who cares! This is a very interesting rosé by winemaker Sean Boyd that is limited to only 700 bottles.
Cost per bottle: $24.50
Goes great with: lightly cooked shellfish with a goat cheese salad, grilled chicken or lamb, appeasing your alien landlords who are waiting for you to pass out so they can start the probing.
Giving the Gift of Wine
You can find a number of places to purchase coupons for Nocking Point which you can then gift to a friend, but the company website does not appear to offer any gifting options other than the "special gifts in holiday shipments" that are sent to wine club members. If you're a regifter, this could work well for you.

Nocking Point Visit Site
Customer Service
The Nocking Point website has a lot of pictures of good-looking people who are good-looking before you drink wine and also, you can find a lot of helpful information there about the wine club itself. You can also send the company an email and you can try reaching them by phone call at the company's tasting room.
You may not want to expect a prompt response though. An email sent to the Nocking Point info email given on the website was answered with a form email that included answers to commonly-asked questions, but it advised that "due to the very high volume of emails we are receiving right now it can take up to a few days for us to get back to you."
Bottom Line
Nocking Point is a very cool wine club that almost gives the feeling of joining some sort of Hollywood club where (TV) stars hang out and talk about grapes. And while the company only offers 2 bottles of wine per month—and they're pricier than some other options—they have some really special featured wines, as well as coffees which you can try out the morning after.
Just remember: friends don't let aquatic man friends swim home drunk.