In a Nutshell
Square Online is an Ecommerce website builder that's suitable for online-only businesses as well as for physical restaurants and retail stores that want to sell online. This platform offers features that most website builders don't support, like contactless ordering and an in-store pickup option. While Square Online offers limited design flexibility, it's very easy to use, and it integrates seamlessly with Square's payment processing system.
pros
Free online store plan
Supports contactless ordering and in-store pickup
Excellent inventory management system
cons
Limited design flexibility
Only works with Square or PayPal for payments

Square Visit Site
What Is Square Online?
Square Online is a website builder created by the payment processor company Square. It launched in 2018 after Square purchased the website builder Weebly, and there are a number of similarities between Square Online and Weebly. However, Square Online is optimized for Ecommerce businesses and designed to integrate seamlessly with Square for processing online payments.
Square Online stands out by offering Ecommerce tools for brick-and-mortar businesses that few other website builders match. For example, restaurants can offer contactless ordering or coordinate delivery through a Square Online website. Shop owners can accept orders online for in-person pickup across multiple locations.
Overall, Square Online is ideal for fully online storefronts or physical stores that want to cross-sell online to local or nationwide customers.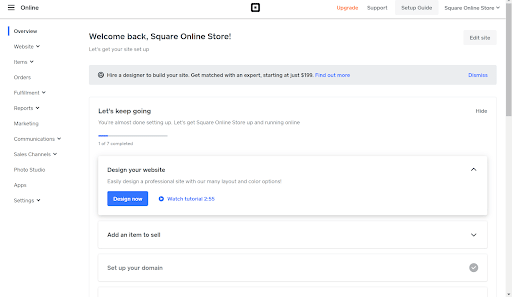 Using Square Online
When you get started with Square Online, you'll need to fill in a few details about yourself and your business. This enables Square to set you up with a payments account at the same time that you're setting up your business website.
Square Online's design tools are somewhat limited, as you cannot drag and drop content or even choose from multiple templates. That said, it's easy to navigate the back-end of your store thanks to a dashboard that's separate from the page editor.
Square Online Features and Tools
Square Point-of-Sale Integration
Parent company Square offers point-of-sale (POS) devices for accepting payments at physical stores. While these devices aren't included with Square Online, they integrate with all Square Online accounts. That means you can seamlessly manage order fulfillment and inventory across your online and physical channels, all from a single account. You can even manage multiple store locations, which is a huge plus for small businesses looking to unify their operations.
Contactless Ordering
A neat feature that Square Online offers for physical restaurants and similar businesses is contactless ordering. All you have to do is print off a QR code from your Square Online account and place it on your tables. Customers can scan the code to access your online menu and order from their own devices.
Shipping Calculator
Square Online enables you to set up a UPS account for shipping products and offers a real-time shipping calculator, so you can charge customers exactly the right amount for shipping instead of relying on generalized pricing rules.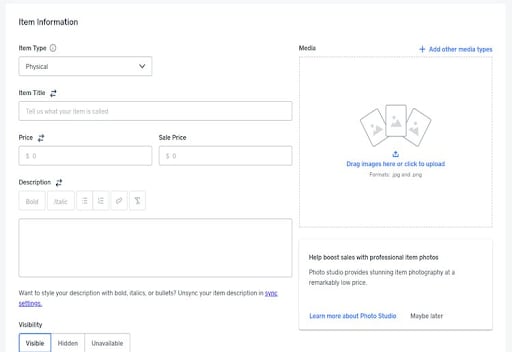 How to Create a Website with Square Online
Square Online makes it easy to create an online store, although your design options are somewhat limited. The platform only offers a single site layout and doesn't have templates. When you get started with Square Online, the platform will ask a few questions about the type of business you have and what types of products you sell in order to help kickstart your design.
To build your Ecommerce site, you'll need to add page sections that combine text, images, and other content in prearranged formats. There are around 30 different section layouts in total, although many of them look quite similar. You have some options to change the background color and fonts within each section, but that's about as much flexibility as Square Online's page editor offers. You can't drag and drop content elements within page sections.
While some store owners will find this approach to website design restrictive, it does make the process of setting up your site go extremely quickly. You can create a skeleton for your site in minutes and then simply go through each page section to customize the text and images. The premade sections also do a good job of organizing products in a way that's easy for customers to approach.
Overall, Square Online's design process is quick and easy, but restrictive. Many online store owners will appreciate the simplicity, but this platform might not be right for you if you want a highly customized site layout.
Adding Multimedia to Your Square Online Website
Square Online has page sections for images, videos, and PDFs. To upload content, simply click on the content element in the site editor and choose the media you want to add. You can upload files from your computer, import content from Instagram, or use free images from Unsplash. When creating image galleries, you can upload multiple images at once.
Marketing Functionality with Square Online Websites
Square Online integrates with Square Marketing, a suite of tools from Square that includes email and SMS campaign builders. As forms are a type of page section in the site editor, it's easy to add them to your Square Online website so you can collect customer emails to target your campaigns. Square Marketing also enables you to attach coupons or special offers to customer receipts and to integrate your site with Facebook.
Square Online also includes detailed analytics with all paid plans. You can track overall site traffic, see where visitors are coming from, and even monitor which products are getting the most attention. Square Online doesn't integrate with Google Analytics, but its built-in reporting platform offers most of the same metrics.
SEO Functionality and Add-Ons with Square Online Websites
Square Online offers only basic features for managing your site's SEO. You can customize the SEO title and description of each page, but the platform doesn't offer insight into whether your SEO titles are optimal. Square Online also doesn't offer any sort of keyword or competitor analysis. There are nearly 200 add-ons available for Square Online, but none of them deal directly with SEO.
Ecommerce
Square Online is all about Ecommerce. You can sell physical and digital products, as well as things like appointments, memberships, and services. Notably, Square Online lets you choose the available fulfillment methods for each item you sell: you can select shipping, pickup, local delivery, or self-serve ordering.
The platform also handles SKUs for inventory management, which is a key selling point of Square Online for retail stores. SKUs are integrated across Square Online and Square point-of-sale devices, so the platform's inventory management tools account for both online and in-store sales.
Adding items and product variants to your Square Online store is simple. We especially like that for any item, you can specify possible modifications for your customers to select. Our one complaint is that while you can add product images, 360-degree photos, and GIFs, you cannot add videos or PDFs.
Square Online is also a payments processing gateway. It works with all major credit cards—so merchants can take these directly via their Square websites. Additionally, Square Online offers a Payments API, which can be used to integrate with third-party systems
How Much Does Square Online Cost?
Square Online offers 4 pricing plans, including a free plan. All plans let you sell an unlimited number of products with any fulfillment options. However, the free plan doesn't let you connect a custom domain, and you'll have Square branding on your site. The Professional plan removes these restrictions.
The Performance plan unlocks all of Square Online's analytics tools, lets you use PayPal as an alternative payments processor to Square, and includes abandoned cart recovery. The Premium plan offers a lower payment processing fee and gives you access to Square's real-time shipping calculator.
All Square Online plans must be paid annually.
2.9% + $0.30 per transaction
2.9% + $0.30 per transaction
2.9% + $0.30 per transaction
2.6% + $0.30 per transaction
Square Online Help and Support
Square offers customer support via phone, email, and live chat from 6AM-6PM (PT), Monday-Friday. The company has a detailed online support center where you'll find a virtual assistant, in-depth articles, and video tutorials. Square also has a community forum where you can get answers from other users.
How Square Online Compares to Other Website Builders
From free to $72 per month
From free to $45 per month
From $29 to $299 per month
From free to $49 per month
Email marketing functionality
Built-in and Google Analytics
Built-in and Google Analytics
Square Online vs WordPress.com
Square Online and WordPress.com are built for very different purposes. Whereas Square Online is optimized for Ecommerce, and particularly for physical businesses looking to sell online, WordPress.com is best for small online-only storefronts and blogs that want to generate ad revenue.
Square Online vs Shopify
Square Online and Shopify have a lot in common for Ecommerce businesses. Both integrate online and physical sales and offer point-of-sale devices for physical businesses. Shopify is slightly more expensive, but it offers a lower 2.4% + $0.30 transaction rate with its most advanced plan ($299 per month). Shopify has more integrations, so we think it's the better option for businesses that are looking to scale up.
Square Online vs Wix
Square Online is a cheaper alternative to Wix for online-only Ecommerce businesses. However, Wix offers far more design control and a wider range of marketing tools for staying connected with online customers. If you prize flexibility, Wix's extra cost might be worthwhile for your business.

Square Visit Site
Bottom Line
Square Online is a powerful platform for brick-and-mortar businesses that want to start selling online. With this platform, you can set up contactless ordering with QR codes, deliver products locally, or coordinate in-store pickup. You can also integrate inventory management across your online and physical orders. Of course, Square Online supports shipping and works equally well for online-only storefronts.
Building an online store with Square Online is simple. While the design process is restrictive, we think that's ultimately a good thing for ease of use and for attracting customers. Square Online supports selling everything from physical products to digital downloads to subscriptions, and it offers excellent marketing and analytics tools to help you grow your business.