In a Nutshell
SiteW is an excellent choice for non-tech-savvy users who need to design a secure, fully customizable website without spending a lot of money. It's ideal for businesses and individuals looking for a comprehensive DIY website builder
pros
Excellent design flexibility
Competitive prices
Attractive template library
cons
Very confusing editor
Basic Ecommerce and marketing tools

SiteW Visit Site
What is SiteW?
French-based SiteW was developed to offer French speakers website-building solutions in their native language. Its editor uses the same drag-and-drop model as Wix, although it doesn't have nearly the same power.
There's a selection of resources to help you start your own site, but these are quite basic and will likely just add to your confusion. SiteW may be a viable option if you're looking for advanced design flexibility, but it's very hard for us to recommend it for anyone.
Using SiteW
The SiteW website is well designed, and creating an account is straightforward. You can sign up with an email address or password, or you can connect and log in with your Google or Facebook account.
Once you have an account, you will be guided through a short introductory questionnaire asking about your site and enabling you to select a template. The editing interface itself is unique, but very well designed. The management dashboard is also quite intuitive, enabling you to manage all of your sites from one central hub.
SiteW Features and tools
SiteW may not be a leader in the website-building industry, but it still boasts a few notable features worth expanding on.
Free domain name
All premium subscriptions that are 12 months or longer come with a free domain name for the first year. You can also connect your own custom domain.
Built-in regulatory tools
Since SiteW is a French website builder, it's likely going to be used by a large number of European website owners. SiteW includes various built-in regulatory tools catering to these customers, including the ability to add legal and GDPR notices with just a few clicks.
Collaboration
All premium subscriptions come with the ability to add collaborators to your account. You can set permissions to ensure external collaborators can only access what's necessary.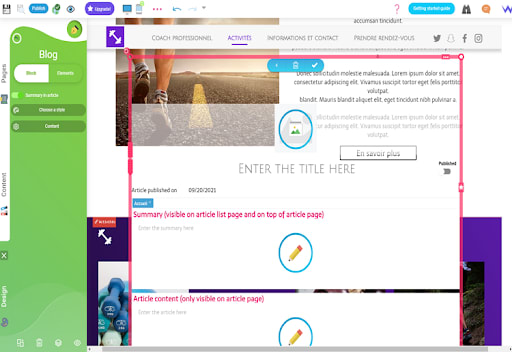 How to Create a Website with SiteW
When you start a new website, you will be asked what sort of site you need. There are 52 templates to choose from, and most of these are unique and quite well designed—although there are a few outdated options, so choose carefully. Alternatively, you can start with a blank template. Unfortunately, you don't seem to be able to change your theme once you've started editing.
The SiteW editor appears excellent at first glance, but it's very underwhelming when subject to rigorous testing. It uses a pixel-perfect drag-and-drop editing method, much like Wix or HostGator's Gator Builder.
Use the menu on the left of the screen to manage most aspects of your design. Add and remove pages via the Pages tab, manage elements via the Content tab, and personalize your global design settings via the Design tab.
You can also switch between mobile and desktop editing views, which lets you check that your site design works across devices. All templates are fully responsive and mobile optimized.
On the downside, there's no mobile app or mobile editor. New elements simply add on top of existing content, which means that you have to configure the layout of your site manually. This can be quite complicated and very time-consuming, particularly if you're not very experienced in the design world.
You also can't export your website, so make sure SiteW is the right option before committing to it.
All editing tools and features are available with SiteW's free version, but some elements simply won't show on your published site without an upgraded subscription. All edits are automatically published with the free version of the editor, but there's an option to save as a draft and preview before publishing with the high-end plans.
There's no specific design assistant, but there is a useful getting started guide that you can use to familiarize yourself with the editor. Basic keyboard shortcuts are available, but nothing too fancy.
Overall, the SiteW editor doesn't perform as well as we expected. It's quite difficult to use, and many people will have trouble generating an attractive design without spending hours.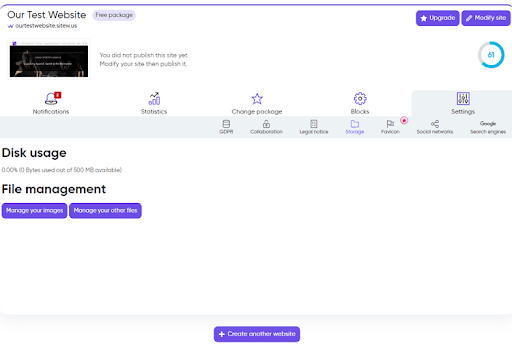 Adding Multimedia to Your SiteW website
SiteW supports the most common media file types. It enables you to upload multiple images or videos at a time from your computer, or you can connect your Facebook and Google Drive accounts to add images directly from these.
You can also add media from Pixabay or Flickr through the SiteW media manager. Videos can be added from YouTube, Twitch, Vimeo, or Dailymotion. Media editing tools are notably absent, and this is something we would like to see added in the future. Apart from the lack of editing tools, SiteW performs quite well on this front.
Marketing Functionality with SiteW Websites
SiteW enables you to gather contact details to send out newsletters and create email marketing campaigns. There's a blogging option, but it's quite basic and difficult to customize. A social media tab is present on the management dashboard, but it doesn't seem possible to connect directly with any social media networks. There are no built-in analytics tools, though you can link to Google Analytics if required.
SEO Functionality and Add-Ons with SiteW Websites
Different SEO tools are available with each SiteW subscription option. The free Starter plan only enables you to connect to Google Analytics. The Blog plan adds automatic Google submission every time you edit your site.
But for any real SEO tools, you will need one of the three highest-tier subscriptions. These include automatic Google Search console connection, the ability to customize your URL and meta tags, and the ability to add alt text for images.
Ecommerce
SiteW has basic Ecommerce tools that enable you to sell through your website. You will need to add online store and shopping cart blocks and spend some time configuring them before you can even start accepting orders. On the plus side, there are numerous payment gateways to choose from, and you can sell digital products.
However, the product management tools are very basic, and you will likely be quite confused at the beginning. There's just not enough here for us to be able to recommend SiteW for Ecommerce, though.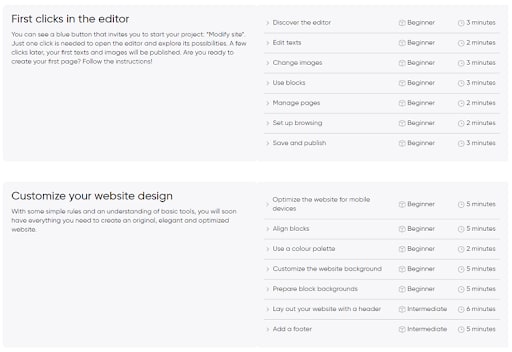 How much does SiteW cost?
SiteW has 1 free-forever plan and 4 premium subscription options. Prices range from $6.99 to $39.99 for a monthly subscription. Discounts are available with annual (16% off) and biannual (33% off) subscription terms. There are no misleading introductory prices, and the entire fee structure is clear and well presented.
Professional email addresses
SiteW Help and Support
The SiteW editor features a built-in tutorial that's designed to help beginners familiarize themselves with the editing interface. Live support is only available via email, but the team is responsive and knowledgeable.
Unfortunately, the help center is average, at best. There's a selection of tutorials and guides, but these are basic and don't contain a lot of useful information. There's no search bar, so you will have to browse until you find the content you're looking for.
The FAQ page appears good, but a closer look shows that many of the answers are in French—even on the English version of the site.
How SiteW Compares to Other Website Builders
Email marketing functionality
Good-Great, depending on plugin
Advanced through Google Analytics
*Prices shown here represent the monthly cost of an annual subscription term.
SiteW vs WordPress.com
SiteW and WordPress.com are both basic website builders that can't really compete with industry leaders like Wix and GoDaddy. Both offer affordable low-end plans and decent free-forever options, with the notable downside that they both have confusing, difficult-to-use editors. WordPress comes out ahead here because of its huge template and plugin libraries.
SiteW vs GoDaddy
GoDaddy offers simple, beginner-friendly website building solutions, while SiteW offers more advanced solutions designed for more skilled users. The GoDaddy editor is much more basic than SiteW's. Both platforms offer basic blogging and Ecommerce tools along with decent email marketing functionality.
SiteW vs Wix
Wix is significantly more expensive than SiteW, but it also offers a free-forever plan. The two builders offer leading design flexibility through their drag-and-drop builders, but Wix offers significantly more integrated tools. It's also a lot easier to use, and SiteW's confusing editor really lets it down here.

SiteW Visit Site
Bottom Line
Although it appears like a good option on the surface, a closer look reveals that SiteW really isn't worth using. It features a pixel-perfect drag-and-drop editor, but this can get messy quite quickly if you're not careful. The built-in tools are almost all on the basic side, and there are no native analytics or reporting features.
On the plus side, there is a free-forever version, and prices are quite competitive. Feel free to take advantage of the free plan to test SiteW, but we really can't recommend using it. There are just too many better options on the market.