In a Nutshell
IM Creator offers a website builder for professional and Ecommerce sites. It's fairly affordable, but the site editor is surprisingly complicated. So, it's not a great choice for beginners. The platform also lacks marketing features, which limits its use for online businesses. IM Creator is best for professional web designers who take advantage of unlimited licenses and white-labeling to build websites for any number of clients.
pros
Free for students, artists, and nonprofits
Modern, well-designed themes
Unlimited licenses and white-labeling for resellers

ImCreator Visit Site
What Is IM Creator?
IM Creator is a website builder launched in 2011 by a former employee of Wix. It currently powers 11 million websites around the world.
IM Creator's unique selling point is that it offers low-cost plans for Ecommerce and white-label licensing. So, it's a great option for designers or agencies looking to build websites for clients. However, IM Creator's page editor is needlessly complicated compared to other website builders. Despite the affordable price point, we wouldn't recommend it for first-time site designers.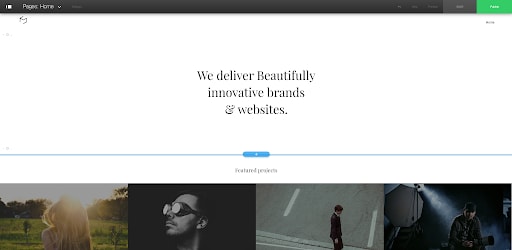 Using IM Creator
IM Creator isn't the simplest website builder to use. The interface is designed so that there's never a consistent menu or a back-end dashboard you can return to. Rather, clicking around yields a series of pop-up menus with different options, and it can be difficult to find key settings. Working with IM Creator gets easier the more time you spend with it, but the builder isn't very beginner-friendly.
IM Creator Features and Tools
Web Hosting
All IM Creator plans include web hosting with unlimited storage and bandwidth. Every site also includes an SSL certificate.
Multilingual Websites
IM Creator lets you have multiple versions of the same website without buying more than one license, which is great if you want to create a multilingual website. It even features a dedicated guide on how to set up multiple-language websites on the platform.
Agency White-labeling
If you're a freelancer, an agency, or a reseller offering website building services to clients, IM Creator offers unlimited white-label licenses. This means that you can create an unlimited number of websites for your clients with IM Creator, and there won't be any IM Creator branding on the site you deliver.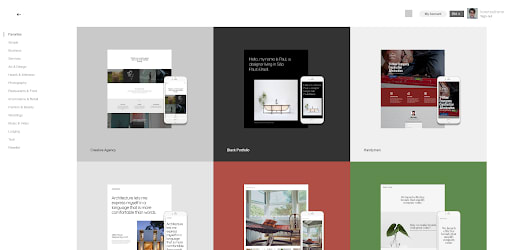 How to Create a Website with IM Creator
The process of creating a website with IM Creator starts with choosing a template. There are more than 70 mobile-responsive templates available. The designs are very modern, with plenty of empty space to emphasize your content.
You can customize your template using IM Creator's site editor. This isn't a drag-and-drop editor. Rather, you can add and remove full-width page sections from your site, with relatively few options for changing the layout of individual sections.
While that limits IM Creator's flexibility to a significant extent, there are 20 different types of sections available to display galleries, text, testimonials, services and pricing, and more. For each type of section, you can choose from several different layouts.
The more frustrating aspect of IM Creator's site editor is that it's difficult to customize the look and feel of your template. Changing background colors and images, for example, must be done section by section. There's also no way to standardize fonts across your whole website. When you add new sections, you have to tell IM Creator that you want the section to match your site's current style, or else it will default to a completely different set of colors and fonts.
Overall, we found the process of customizing a website with IM Creator to be anything but seamless. The page sections are well-designed and offer plenty of layout options, but the lack of drag-and-drop functionality and the difficulty of standardizing styles were headaches.
Adding Multimedia to Your IM Creator Website
Adding multimedia in IM Creator was also convoluted. You have to click through two different menus simply to replace an existing image, and there's no media library to reuse images you've already uploaded to your site. You also can't upload multiple images simultaneously when designing galleries. IM Creator does offer hundreds of stock images, but a glitch prevented us from actually adding these to our site.
Importantly, IM Creator doesn't support audio, PDFs, or text files. If you want to add videos, you must embed them from YouTube or Vimeo as they cannot be uploaded to your site.
The only good news is that IM Creator includes a built-in image editor. You can crop images, add filters, change opacity, and add overlays. Still, this hardly makes up for the overall difficulty in adding images and videos to IM Creator websites.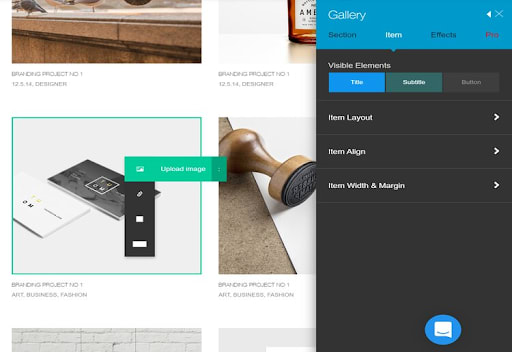 Marketing Functionality with IM Creator Websites
There's no email marketing or newsletter functionality available in IM Creator. While you can have a blog, there's no central dashboard for managing blog posts. To create and edit a post, you first have to add a blog page section to one of your pages and then click on the link to the post to edit it. There's no way to schedule, tag, or search posts, which makes it pretty unappealing to host a blog in the first place.
Built-in social media functions are limited to Facebook follow and comment widgets. Thankfully, you can embed a variety of social media buttons using third-party widgets. There's no way to track social media engagement within IM Creator, so you'll have to rely on third-party widgets for that, too.
SEO Functionality and Add-Ons with IM Creator Websites
SEO functionality with IM Creator is very limited. You can set the meta title, description, and social media image for your entire website, but not for individual pages. You can also add alt text for images or add a favicon to your site.
IM Creator also doesn't have any built-in traffic analytics tools. You'll need to use Google Analytics or another third-party tool to see how many people are visiting your website.
Ecommerce
IM Creator is one of the most affordable Ecommerce website builders we've found. All sites can sell an unlimited number of digital and physical products, and you have the option to create discounts and sales.
However, IM Creator wouldn't be our first choice for running an online store. When adding products to your site, you can only have 1 image per product and a plain-text description. Worse, there are no notifications for new orders placed through your site, and it's difficult to access the dashboard where unfulfilled orders are displayed. More advanced features like abandoned cart recovery, inventory management, and shipping management are also missing.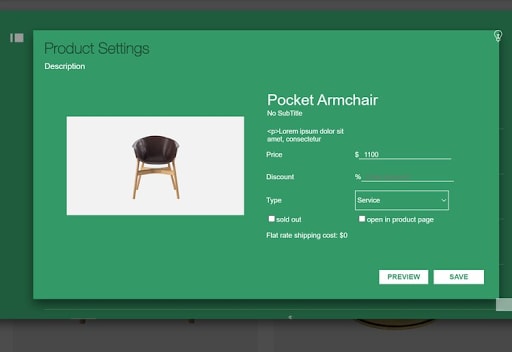 How Much Does IM Creator Cost?
IM Creator offers 3 plans: a free plan for students, artists, and nonprofits; a paid plan for individual users; and an unlimited plan for professional web designers and agencies. All plans offer full access to IM Creator, including the ability to sell an unlimited number of products. The only difference is in how many websites you can create.
Students, Artists & Nonprofits
Unlimited LIcenses & Whitelabel
IM Creator Help and Support
IM Creator offers customer support by live chat and email. We found that the company responded to our questions within a few hours, although the lack of phone support is a bit disappointing. There's also an online knowledge base that includes dozens of tutorials with animated images. It's put together well and serves as a valuable resource when getting started with the site editor.
How IM Creator Compares to Other Website Builders
Email marketing functionality
Built-in and Google Analytics
Built-in and Google Analytics
IM Creator vs Weebly
Weebly is a highly customizable website builder that's significantly more user-friendly than IM Creator. It includes excellent email marketing and Ecommerce tools, and we'd recommend it over IM Creator for most online businesses. However, it is more expensive, so IM Creator could be worthwhile if you're on a tight budget.
IM Creator vs Wix
Wix is one of the most flexible website editors on the market. The design process can take a while, but Wix's site editor is more intuitive than IM Creator's. Wix also has extremely powerful tools for scaling up an Ecommerce store. For anyone who can afford it, we recommend Wix over IM Creator.
HostPapa
HostPapa is a basic website builder with templates that aren't nearly as aesthetically pleasing as those offered by IM Creator. However, it is much easier to use and can be cheaper if you only need a 1-page website. If you're willing to put up with IM Creator's site editor, it offers more options for scaling up your site and the ability to sell products without having to pay more.

ImCreator Visit Site
Bottom Line
IM Creator is an affordable website builder with modern templates and support for Ecommerce. However, the platform has a lot of faults that make it a headache to use. The site editor is confusingly laid out and makes it difficult to add multimedia to your site. Setting up a blog or online store is convoluted, and there are few advanced selling features.
That said, IM Creator can work well for professional web designers or design agencies, since it has an affordable white-label plan that enables you to create an unlimited number of websites for clients.