In a Nutshell
The HostPapa website builder is an affordable option for first-time creators who want to get up and running quickly. The platform includes more than 230 templates and simple customization options. However, the builder doesn't include any advanced features like built-in email marketing or dedicated blogging tools. Overall, HostPapa might be okay for designers on a tight budget, but we think there are better options available.
pros
Included with HostPapa hosting plans
Free one-on-one training session
Very simple to use
cons
No free trial or money-back guarantee
Very few marketing or SEO tools

HostPapa Visit Site
What Is HostPapa?
HostPapa is a Canadian hosting company founded in 2006. The company specializes in low-cost hosting solutions for small businesses, but it's also suitable for individuals looking to make their mark online.
The HostPapa website builder is designed to complement the company's hosting plans, and the lowest-tier builder package is free with all HostPapa hosting plans. The platform is designed to enable you to launch a site in minutes and it comes with free one-on-one coaching from HostPapa's customer support team. On the whole, HostPapa's builder is suitable if you just want to get online quickly, but it's not as robust as other website builders for ecommerce or online marketing.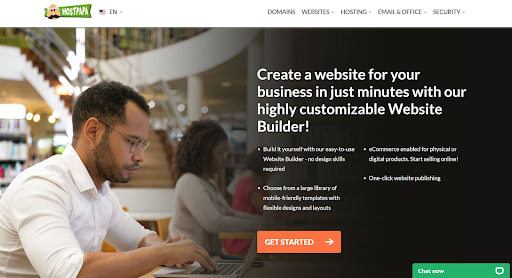 Using HostPapa
HostPapa's website builder was quite easy to use. You can get started simply by choosing one of the platform's templates, and it's easy to modify the look of your site by customizing fonts and colors.
The HostPapa site builder is fairly straightforward to use and lets you drag and drop content elements onto your site. You can preview how your site will look to visitors on a desktop, tablet, or mobile device at any time. When you're ready to launch, it only takes one click to bring your website live.
HostPapa Features and Tools
Free Domain
The HostPapa website builder comes with a free domain name for the first year. If you choose HostPapa hosting, you'll also receive a free SSL certificate, email addresses at your domain, and unlimited bandwidth for your website.
Code Editor
HostPapa makes it easy to modify some aspects of your site's template, like fonts and background colors. For more in-depth changes, you can edit your site's HTML and CSS code directly. HostPapa also enables you to inject code into the header and footer of your site, which allows you to further customize how text and images are displayed across your pages.
Note that the code editor is only available with the upper-tier Premium and Enterprise website builder plans.
How to Create a Website with HostPapa
HostPapa makes the process of launching a new website incredibly simple. To get started, you can choose from more than 230 templates. All templates are mobile responsive and they're organized into categories for different types of businesses. You can change your template later on, but you'll have to redesign your site from scratch if you do.
Once you've selected your template, you can customize it. HostPapa's drag-and-drop site editor lets you add content elements like text boxes, image galleries, and forms to your website. You can also add maps from Google Maps and social media icons.
HostPapa's content element options are limited compared to other builders we've tested, but you'll find everything you need for a basic business website, portfolio site, or blog. The biggest issue we found with the site editor is that you don't have a lot of options for how to arrange your content elements. All elements must conform to your template's preconfigured layout, so there's not a lot of flexibility to create a unique-looking site.
Overall, HostPapa's website builder is very simple to use, especially for first-time designers. It only takes a few minutes to customize your template and launch. However, HostPapa isn't a great choice if you want to build a site that features an unusual layout or non-standard content elements. You also can't migrate your site to another platform.
Adding Multimedia to Your HostPapa Website
HostPapa allows you to add photos, videos, and audio files to your website. However, you cannot add PDFs or other types of documents. HostPapa keeps track of all your content in a media library, so you can easily reuse photos and videos across pages. You can also upload multiple files simultaneously, which makes it easier to create photo galleries.
Another thing that we liked about HostPapa is that it comes with a built-in photo editor. It's pretty basic, but it comes in handy to have the ability to crop and adjust photos in your media library.
Overall, we were happy with HostPapa's multimedia capabilities. The support for audio and video files is a plus, although we'd like to see support for PDFs as well. The media library makes it easy to adjust and reuse images across your site.
Marketing Functionality with HostPapa Websites
One of the biggest downsides to the HostPapa website builder is that it has virtually no marketing tools to speak of. This builder doesn't include email marketing, and social media integration is limited to adding icons to your website.
HostPapa does support blog pages, although we didn't think it was the best platform for blogging. The blog editor is pretty basic and doesn't give you many options for organizing your posts with tags or categories. You also need to upgrade from the basic website builder package that's included with HostPapa hosting to create a blog, since that package only allows you to have up to 2 pages on your site.
SEO Functionality & Add-Ons with HostPapa Websites
HostPapa's website builder is also very limited when it comes to SEO and traffic analytics. You can customize the meta title and description for your whole site, but not for each individual page. There's also no built-in way to analyze keyword usage across your site or to evaluate how to improve your site's search engine rankings.
HostPapa offers only basic traffic analytics. You can see how many visitors came to your site and how long they stuck around for, but not what pages they visited. If you want to use Google Analytics to get more information, you'll need to have access to your site's code. In other words, you'll need to upgrade to a Premium or Enterprise builder package.
Ecommerce
HostPapa offers ecommerce only with its Enterprise website builder plan. There's no limit to how many products you can sell, and digital downloads are supported. You can choose from more than 45 payment gateways, and HostPapa helps you manage your inventory online.
The ecommerce features are decent, but the builder doesn't offer many options for customizing your products. You can add descriptions and images, for example, but not product videos. Online store pages also look similar across all of HostPapa's templates, which can be constraining if you want your site to stand out.
How Much Does HostPapa Cost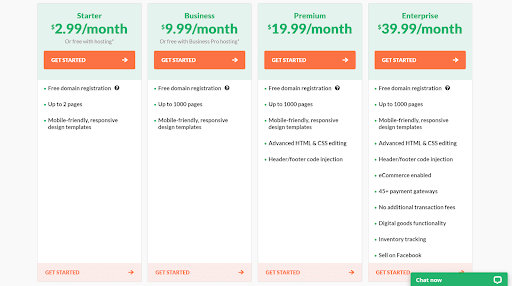 HostPapa offers 4 pricing plans: Starter, Business, Premium, and Enterprise. The Starter plan is free with any HostPapa hosting plan, while the Business plan is free with a Business Pro shared hosting plan ($23.99 per month).
The Starter package is somewhat limited in that you can only have up to 2 pages on your site. The other packages allow you to have up to 1,000 pages, although your storage limits will depend on your hosting plan.
Unfortunately, HostPapa doesn't offer a free trial or a money-back guarantee. You must sign up for a 12-month, 24-month, or 36-month term.
HostPapa Help and Support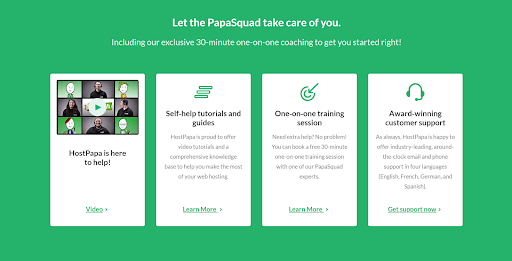 HostPapa offers excellent customer support. The company is available 24/7 by phone, email, and live chat, and all new website builder customers can sign up for a free 30-minute one-on-one training session.
The company also has a detailed online knowledge base. It's organized into categories and fully searchable, although we didn't find many screenshots or videos with the tutorials.
How HostPapa Compares to Other Website Builders
Site builder included with hosting plan
Email marketing functionality
Built-in and Google Analytics (with upgrade)
Built-in and Google Analytics
Built-in and Google Analytics
Built-in and Google Analytics
HostPapa vs IONOS
HostPapa is competitive with the IONOS website builder when it comes to price, but we think IONOS offers more advanced features for the money. For example, you get email marketing functionality and Google Analytics integration standard with all IONOS plans. We also found that IONOS offers more templates and content elements, which means greater flexibility for designing your site.
HostPapa vs GoDaddy
GoDaddy is more expensive than HostPapa, especially for basic websites. However, it includes handy tools for businesses, like appointment scheduling and email marketing. The GoDaddy website builder is much more flexible than the HostPapa builder, so we think it's a better choice for small businesses that can afford the extra cost.
HostPapa vs HostGator
HostGator is one of our favorite value website builders. While the basic plan starts at $9.98 per month compared to $2.98 per month for HostPapa, that price includes hosting, email marketing tools, and an online store with up to 3 products. All HostGator website builder plans come with unlimited storage and bandwidth, plus a logo maker to help you launch a new online business.

HostPapa Visit Site
Bottom Line
The HostPapa website builder is an affordable option for individuals and small businesses looking to get online quickly. You can design a website in minutes using the more than 230 templates and simple drag-and-drop site editor. While HostPapa doesn't offer a ton of customization options, sites created using this builder look decent with relatively little effort.
The main issue we have with the HostPapa builder is that it lacks the advanced tools that most small businesses need. You won't find email marketing tools included with this platform, and your options for blogging, analytics, and SEO are limited. HostPapa might make sense if you're on a tight budget, but we think platforms like HostGator and GoDaddy offer much more bang for your buck if you're willing to pay a little bit more for a website builder.