In a Nutshell
Hostpapa is a website hosting provider that specializes in providing affordable shared hosting plans to small businesses (although the company also offers reseller hosting and VPS). To help inexperienced webmasters get pixel-perfect websites up and running using the tool it also features a point-and-click builder, which is a rich tool that can get excellent websites online in no time at all.
pros
Completely click-and-point designer
Large library of mobile-ready templates
One-click publishing
cons
Not as customizable as designing a site yourself
Starter tier only includes 2 pages
Ideal for
Like any drag-and-drop website editor, Hostpapa's built-in tool for its hosting plans is a great choice for those that simply need to get a template-based website on the internet relatively quickly. Additionally, because the tool is a component of Hostpapa's hosting solutions there is no need for users to put together different products in order to get their designed site live on the internet. In fact, because Hostpapa is also a domain name registrar, users can get everything they need—from domain name to site design—taken care of under one convenient roof. No need to play around with DNS records or hire expensive frontend developers.
Why Go With
Some of Hostpapa's standout features include:
Free domain registration. Users can get a free domain name as part of their hosting and domain package across all tiers from the Starter plan up.
The Business, Premium, and Enterprise versions of the site builder support up to 1,000 pages.
Premium and Enterprise users can take greater control over the look and feel of their sites by editing the HTML and CSS.
The Enterprise tier has Ecommerce support, inventory tracking, and support for more than 45 payment gateways
Features
Hostpape's drag and drop website creator features:
Up to 1,000 Pages
Using Hostpapa's website creator you can design websites with up to 1,000 pages. This generous limit means that the designer is suitable even for developing Ecommerce websites with many internal product pages.
HTML and CSS Editing
For more advanced website designers that want to take greater control over the look and feel of their websites, the Hostpapa website editor allows users to create and edit HTML and CSS. CSS stylesheets can be applied on top of existing themes—so that users can tweak prepopulated templates to comply exactly with their desired look and feel.
Ecommerce Support
Those that want to set up online storefronts have more reasons to choose Hostpapa's website builder:
Payment gateway support: The tool supports up to 45 payment gateways including familiar household names such as Paypal and Stripe. Additionally, technologies such as Google Shopping can be rolled out too.
Sales: By interfacing with their built-in inventory management system users are able to apply limited fixed or percentage discounts on key items in their inventory in order to encourage sales.
Inventory management: Hostpapa's site builder includes an inventory tracking tool that can be populated with data about the store's inventory—including SKUs and replenishment times. This ensures that users are not able to place orders if the business does not have the product in stock
Guaranteed Responsiveness: These days, websites need to look good no matter what device they are displayed on. Hostpapa's professionally designed theme library consists only of responsive themes that are optimized for display on both desktop and mobile devices.
Pricing
Hostpapa's website builder is offered as a free product add-on to users that subscribe to its hosting plans. However, because VPS hosting users likely already have the technical skills to design their own websites it is of most interest to shared hosting customers.
Hostpapa's current shared hosting pricing is:
Clearly the Business Pro package—which elevates the Business tier to include performance and security enhancements—represents the best value for money.
Alternatively, users can sign up for the Website Builder directly and host their site elsewhere. The cost for that option is:
Customization
Users are able to select from one of the website builder's library of templates. Users can search the template library by business niche, vision, or simply start with the default template and start based upon a simple page size format.
Those on the Premium and Enterprise tiers are able to use their own HTML and CSS within the site builder.
Payment Processing
Hostpapa Website Builder's Enterprise tier includes support for more than 45 payment gateways including Paypal, Google Checkout, and Stripe. In addition, a number of smaller payment gateways of more use to international merchants are supported. Wherever businesses are selling from, Hostpaper has the technology to enable them to get paid quickly and seamlessly.
SEO Tools
The website builder includes basic SEO tools allowing website operators to position their websites as favorably as possible in the search engine rankings. This includes the ability to customize the meta title and description of each created page. Additionally, the builder's custom templates have all been designed with user experience (UX) and SEO firmly in mind. Compared to building websites by oneself, using the Hostpaper tool is both quicker and will likely result in better search engine rankings.
Customer Support Services
Hostpaper provides support for all its hosting and add-on products through the same team.
While users can obtain information about the product from the product's developers' knowledge base, it makes more sense to reach out to Hostpapa's excellent customer support team.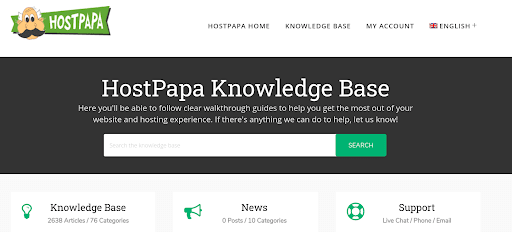 HostPapa maintain its own knowledge base, which includes detailed support for the Website Builder: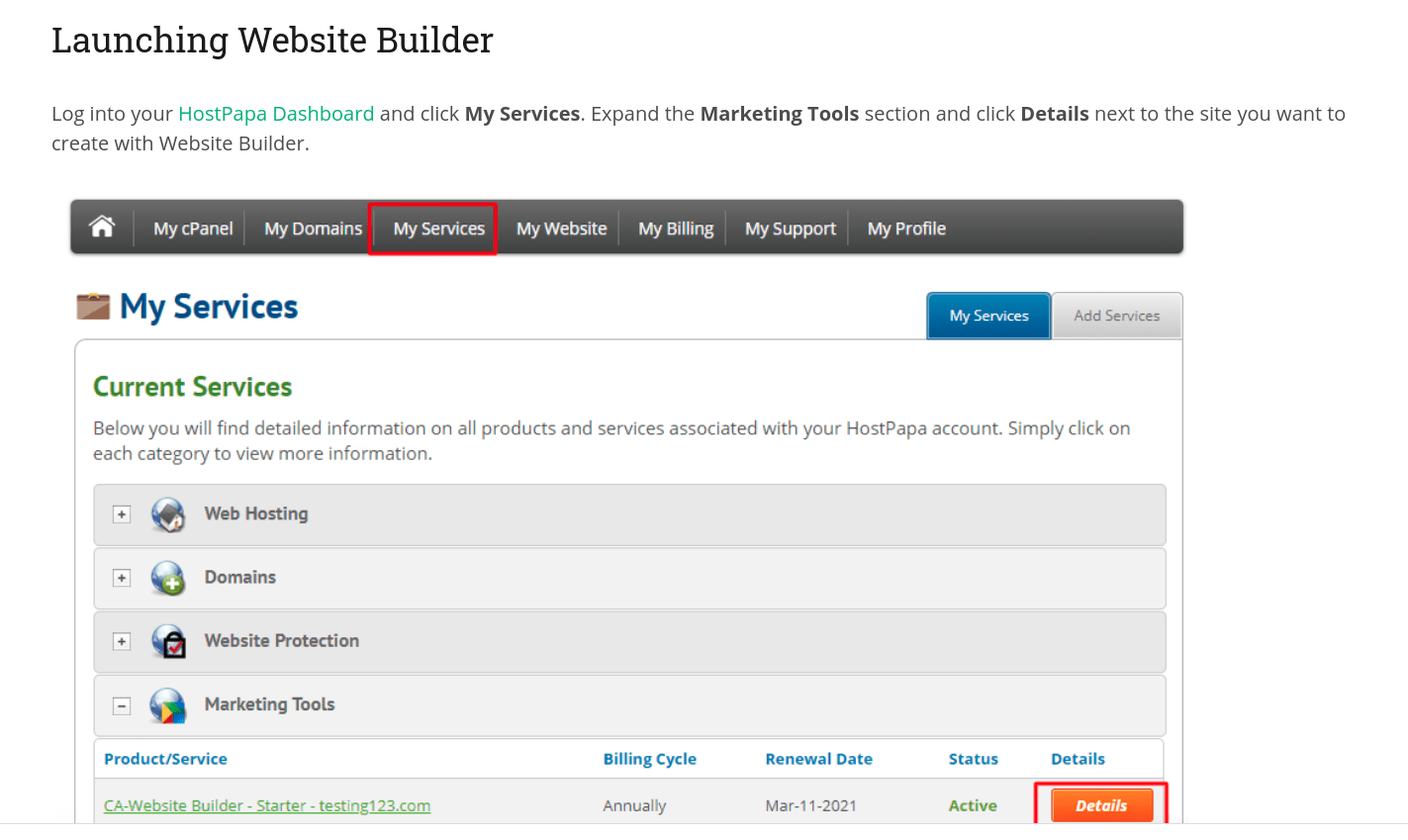 Additionally, customers can reach out by live chat, phone, and email.
HostPapa Visit Site
Review in Short
Hostpapa's website builder can be used for both basic designs and for full functioning Ecommerce sites. The site builder product is offered free with hosting plans—but can also be subscribed to independently. It includes functionalities for content management, including SEO and content organization. While drag-and-drop site builders aren't as designer-friendly as building websites from scratch, this is a very good happy medium
About
Hostpapa is a Canada-based company specializing in web hosting. The company was founded in 2006 and is led by founder Jamie Opalchuk. More than 180,000 websites are hosted on Hostpapa infrastructure.