In a Nutshell
Simplified website building, with done-for-you designs while still offering complete customization. Ideal for small businesses and startups that need a website designed on a budget.
pros
Free domain name with any website package
Logo design services available
cons
Only 1 email account per hosting package
Limited number of pages in site

Deluxe Visit Site
Design Features
Deluxe website builder isn't a traditional website builder—not like you may be used to seeing where you create an account, login, and start putting a website together. Deluxe takes a different approach that is more strategic to helping you get online.
You provide the information you want for your site, and Deluxe has its team of designers create the website for you. Technically, you won't have to do any of the design or code work. Once the website is finished, you'll receive access to the site editor using the Deluxe Marketing Suite. This tool will let you make any changes to your content so you can keep your website up to date at all times. Just hit publish and it's live.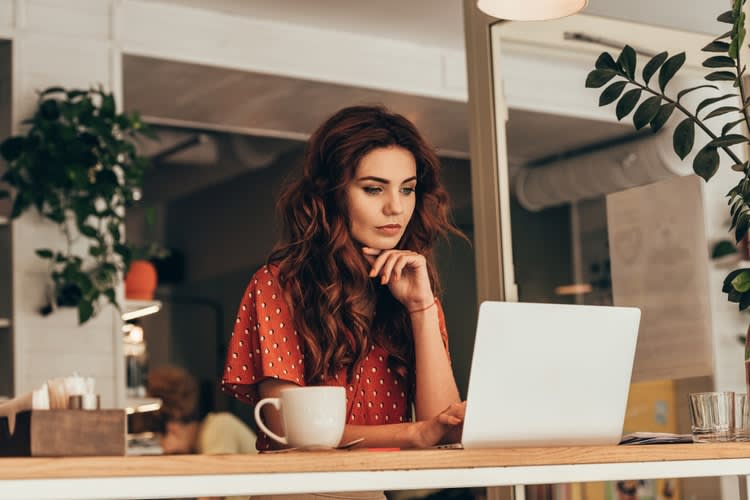 The interface is completely visual, so you'll be designing your website the way you want people to see. It's an intuitive and easy-to-use interface with drag-and-drop tools, beautiful templates, and simple content management so you can spend more time working on your business—not your site.
Marketing Features
One of the most attractive features bundled with the website builder packages is the email marketing tool. Business owners should be gathering contact information, email included, from every customer they do business with. A tool like this allows you to then contact them with updates, specials, engaging emails and other content that keeps your brand in the front of their mind.
Deluxe provides an email marketing tool for sending newsletters, offers, invitations and more that keep those customers coming back again and again. There's even built-in analytics to help you grow your email list, along with segmentation tools to send custom email campaigns to specific customers. If you're not sure how to design emails from scratch, the built in templates make it easy.

The marketing suite also comes with email for personal contact, analytics to get a clear picture of what's working with your site and marketing, and a social posting tool that helps you get your message and content out by including social media widgets on your site. You can even share email marketing messages out to your social channels and schedule posts across platforms like Facebook and Twitter.
The only thing lacking that could be helpful with creating and expanding a website is clear search optimization tools to help with keyword optimization and visibility in the search results. Basic search optimization is available through alt tags for images, page descriptions, and managing content—but scoring tools would have helped considerably.
Hosting Options
There are no variations in the hosting options with Deluxe. The plans are all hosted on shared servers. While this does lend to the affordability of the service, it can also lead to some complications depending on the volume of traffic you may get. If you experience a spike in traffic, or your business scales up to the point where traffic load expands considerably, you may want to move to a dedicated server for your website. That option isn't available with Deluxe.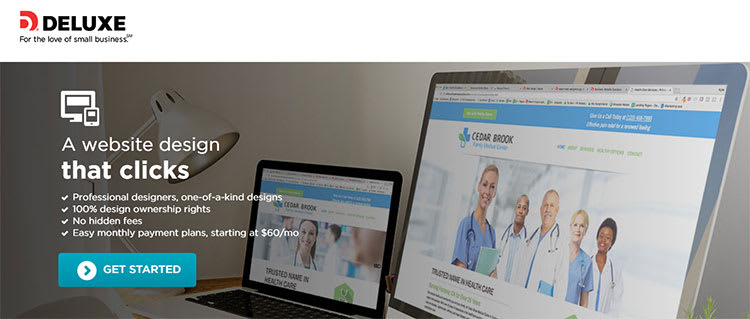 The features bundled with basic hosting are also somewhat limited. You get a single domain, and one email address. There's also a distinct limit on the number of pages you can have. The basic plan gets you a site with 3 pages designed. The business package provides design for up to 5 pages. While the done-for-you website is attractive, there's a significant limitation in what is included compared to other website builders that are similarly priced.
Pricing
The pricing is where Deluxe loses considerable points by comparison to other website builders with similar features. Other services similarly priced include additional email addresses, SEO tools, basic marketing tools, ad vouchers, form builder applications, unlimited pages and extensive storage and bandwidth. Deluxe offers a fraction of that with its email, site and shared hosting limitations.
On the other hand, Deluxe offers the option of designing your site for you. So if you need a website done without all the cost of hiring a design firm, the price may be worth it. Just keep in mind that the pricing with Deluxe is based on terms, and not a month-to-month plan like other hosting companies.
*Prices last updated April 2018
Customer Service
Deluxe has a customer service team along with marketing specialists that are available to help with all of your support needs. These teams are available with any design and hosting package, and can be reached through the online help center, via email, or by calling to speak with one of the representatives.
There are no support hours indicated on the website for Deluxe, but the multiple channels of contact do make it easy to find support when you need it. It would have been great to see additional help and resources in an online, public-facing knowledge base.

Deluxe Visit Site
Executive Summary
Deluxe offers a unique approach to website building, designing sites for customers as part of their general site builder packages. The included marketing suite and features make it an attractive option, though not totally scalable for larger businesses.
Conclusion
Deluxe offers an attractive service that seems to be best for busy small business owners who need a basic website created and done for them in a flash. The websites aren't groundbreaking, but the availability of a design tool so you can manage the site, plus the marketing tools, make it a streamlined way to get your site up and running without pulling focus from your business. The price is a bit steep given some feature limitations when compared to other website builders, but it's not too bad given their free design services.