In a Nutshell
Bookmark is a little-known website builder that features an excellent AI-powered design assistant. It's designed to be a simple platform for those with zero web development or design skills, but it boasts a surprising number of advanced tools and features. The streamlined site creation process stands out as excellent, and it enables businesses to get online in next to no time. There's also a selection of SEO, marketing, and E-commerce tools.
pros
Excellent AI-powered builder
Decent E-commerce tools
Beginner-friendly editing interface
cons
No pixel-perfect editing capabilities
No templates to base your site on

Bookmark.com Visit Site
What is Bookmark?
Bookmark is an AI-based website builder founded in 2014. It's far from the most popular builder available, but the proprietary AIDA design assistant makes it a great option for those looking to get a business website online fast.
With the advanced AIDA design assistant, you will be guided through a short questionnaire asking about your goals and the style you would like for your site. The platform also does a great job of combining a beginner-friendly editor with a suite of advanced tools.
There's a great FAQ and help library, where you can find answers to common questions. Overall, we'd recommend Bookmark if you want to get a small to medium-sized business website up and running but just don't know where to start.
Using Bookmark
Signing up for a new Bookmark account is very straightforward. The website is well designed and easy to navigate, and you should be able to create a new account within seconds. Sign up with your name and email address or simply link your Facebook or Google account.
The Bookmark editor is very easy to use, and the AIDA design tool is great. We didn't have any notable issues when creating our Bookmark website, and we see no reason why you would either.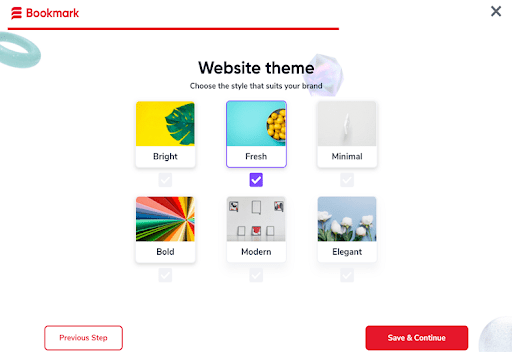 Bookmark Features and tools
Bookmark offers a great selection of advanced tools and features. Here's a few of the most noteworthy.
Video Backgrounds
Bookmark enables you to add video backgrounds to your website, which is a feature we haven't seen often with website builders. These can be used to get a particular brand or business message out there, enabling you to, for example, advertise a sale or the launch of a new product.
Custom Code Embedding
Bookmark enables you to embed virtually any type of code on your website. Add JavaScript, CSS, HTML, and more to add extra functionality to your site.
Integrated Bookings
Bookmark includes an intuitive booking app that you can use to accept appointment bookings through your website.
Daily Site Backups
All Bookmark sites are hosted on the Amazon Web Services (AWS) cloud, which is one of the most reliable cloud hosting platforms available. To add an extra layer of protection, all Bookmark sites are automatically backed up daily.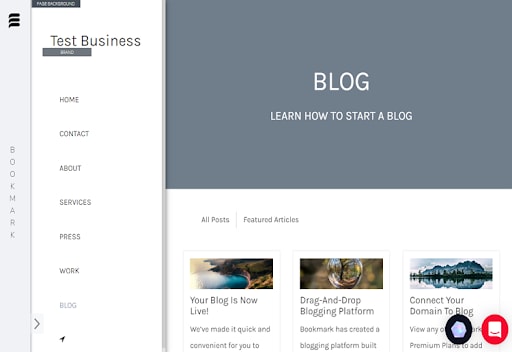 How to Create a Website with Bookmark
When you sign up for a new Bookmark account, you will be taken straight to AIDA, Bookmark's artificial intelligence design assistant. First, AIDA will ask you about the type of website you want to create and some basic business information (optional). You will also be able to add social media links.
Next, you will be asked a few questions about exactly what you want your site to look like and what your main goals are. You can add a blog and/or online store at this point and select a theme.
It's worth noting here that these aren't really "themes" in the normal sense of the word. Instead, they are more like styles that inform AIDA about the type of site you want. Bookmark doesn't offer specific templates.
You will be able to specify more layout and design preferences to help AIDA develop a template before being given the option of fine-tuning your site by yourself or hiring an expert. The initial setup will take you a few minutes, but it's a straightforward process that you shouldn't have any trouble with.
The AIDA-developed design will be comprehensive, and you can simply populate it with your own content and hit publish. But if you don't like the provided design, it's possible to modify it. There's a built-in help popup, which provides useful tricks and tips to assist you in fine-tuning your site.
The Bookmark editor is similarly impressive. It's not the most powerful, but it offers decent design flexibility, enabling you to customize virtually every aspect of your site. However, the section-based editing and predefined element layouts are somewhat constraining.
On the downside, you won't be able to export your website to another platform if you decide that you don't want to use Bookmark anymore. There are no keyboard shortcuts to streamline the design process, and there's no mobile editor.
Although Bookmark isn't the most powerful website builder we've seen, the combination of the AIDA design tool and the streamlined, beginner-friendly editor works very well.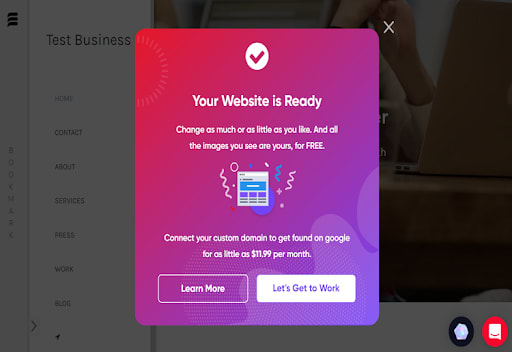 Adding Multimedia to Your Bookmark website
You can upload media files or folders to your Bookmark website with the click of a button. You can also import images by pasting their URL in the provided box. Most popular file types, including GIF, PNG, and JPEG, are supported. A selection of free images and videos are available via Bookmark's built-in stock media library.
Videos can be embedded directly from YouTube, Vimeo, or virtually anywhere else on the web, though there are no integrations with Facebook, Google Drive, or any other social media or cloud storage platforms. There is a built-in photo editor, and the entire process of adding multimedia is simple and straightforward.
Marketing Functionality with Bookmark Websites
Bookmark enables you to add a simple blog to your new website. The layout is quite standard, and it's very easy to add and manage posts. You will have access to a professional email address if you pay for an annual subscription, but there are no noteworthy email marketing tools.
On the plus side, you will be able to integrate your site with Facebook, and there are selling tools available for numerous social media platforms. Basic analytics are also available.
SEO Functionality and Add-Ons with Bookmark Websites
Most website builders have very basic SEO tools, but Bookmark actually does okay. It enables you to add meta information, such as meta tags, meta titles, and meta descriptions. You can create custom 404 pages, upload your own sitemap, and view and edit your robots.txt file. In addition, you can add custom code snippets to the header and footer of your site to do things like connecting Google Analytics.
Ecommerce
Bookmark's Ecommerce tools are okay without being amazing. You can add an online store to your website, uploading products and managing product listings with the click of a button. There are no transaction fees. You can sell digital products, there's a neat mobile management app, and the inventory management portal is excellent. Customization is limited, though.
How much does Bookmark cost?
Bookmark is available with one free-forever plan and two premium plans. Monthly and annual subscription options are available, and you will benefit from a 20% discount with an annual term. The Professional plan is designed for those who want to create a website without Ecommerce. The Business plan adds support for an online store and integrations with various third-party marketplaces.
Price per month (monthly term)
Price per month (annual term)
Social media selling tools
Bookmark Help and Support
Bookmark offers email and live chat support. Unlike many website builders, it only offers live chat during business hours. However, the team is responsive and helpful when they are online.
There's also a large selection of self-help resources. The Help Center contains a built-in search bar and numerous well-written guides and articles touching on every aspect of the website creation and management process.
You can post more specific questions in Bookmark's community forum, which is quite active. There's a great FAQ page, and the Bookmark Learning center contains courses to help you start and grow your first online business.
How Bookmark Compares to Other Website Builders
Email marketing functionality
Bookmark vs BigCommerce
Bookmark offers AI-powered website creation, and it includes a basic online store builder. BigCommerce is one of the world's leading E-commerce builders, and it's definitely a better option for those looking to create a large online store. It is a little more difficult to use, though, and we'd recommend Bookmark for basic business sites and small stores.
Bookmark vs Web.com
Web.com is a very average website builder that just doesn't bring anything notable to the party. Bookmark is a much better choice in virtually every situation.

Bookmark.com Visit Site
Bookmark vs Site123
Bookmark and Site123 are two quite similar website builders. They are both targeted at beginners, and they both offer fast, intuitive site creation solutions. Site123 is slightly simpler but easier to use. Bookmark's AI-powered design assistant stands out as excellent, and it includes excellent tools for business users.
Bottom Line
Bookmark is an excellent website builder that's designed for business users who want a small site. Its AIDA design tool will help you get started, and then you can customize virtually every aspect of your site through the beginner-friendly editing interface.
On top of this, Bookmark offers decent Ecommerce, blogging, booking, and SEO tools. You will be able to add a simple store to your site without too much fuss, but don't expect too much power. Prices are slightly high, but there's an excellent free-forever plan. If you're looking for a new small business website, we'd highly recommend considering Bookmark.