In a Nutshell
Bookmark is an artificial intelligence-powered website builder for individuals and small-business owners with little or no technical experience. Its AiDA (Artificial Intelligence Design Assistant) learns the user's needs and builds a website in 30 seconds. You can further customize your website using the drag-and-drop editor.
pros
Get a unique website in seconds
Free sign up with Google or Facebook login credentials
cons
Limited number of templates
Only one website per account
Bookmark.com Visit Site
Standout Features
AI-powered platform
Thousands of website combinations
The standout feature here is undoubtedly AiDA, the Artificial Intelligence Design Assistant. AiDA builds websites from a choice of 20 templates, more than 650 business types, and tens of thousands of stock images, with the end result being a unique website from millions of possible combinations. Within just a couple of minutes, AiDA gives you a fully functional website or online store that you can further customize or use as is.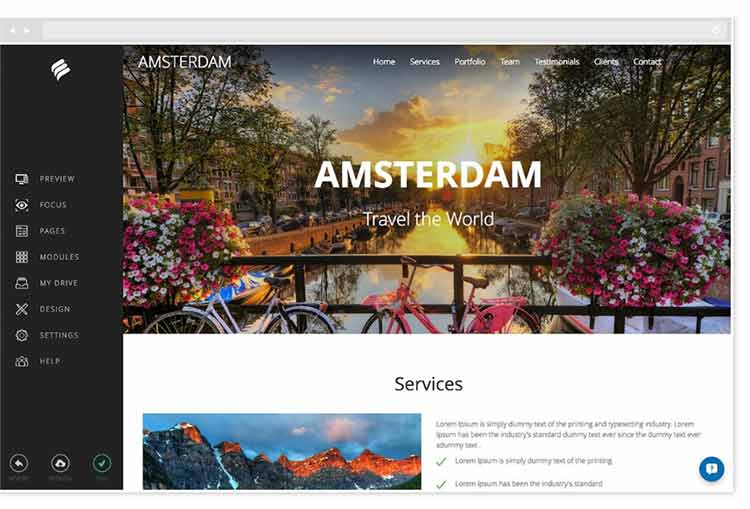 Ease of Use
Bookmark was founded to make it easier for small business owners with little technical knowhow to build a website. There are essentially 2 parts to building a website with Bookmark: AiDA, the artificial intelligence assistant, and you. To begin, tell AiDA your business name and sector and she (AiDA is female) will create a unique design for your websites in 30 seconds. Once that's done, you can edit images and content with the drag-and-drop editor. If you're not satisfied with the end result, you can also ask AiDA to recreate your website as many times as you wish until you feel her work is complete.
Features
In addition to AiDA, Bookmark offers numerous features to help you not only create your website but to also build your brand, sell your products, and analyze visitor interaction. The features vary by pricing package (below), and include the following.
SSL security certificate, creating a secure and encrypted connection between the web server and a user's web browser.
Amazon cloud hosting, ensuring the operational and physical security of all Bookmark websites.
Video backgrounds that tell your brand's story.
SEO optimization to ensure your website reaches the maximum number of visitors possible.
Integration with Facebook Business Page and Facebook Reviews.
Custom domain for paying customers.
Analytics dashboard and integration with Google Analytics, showing traffic, page views, visitors' countries, and more.
Unlimited number of sub-pages for your website.
Ability to embed your own HTML, Javascript, or CSS code.
Pricing
*Prices last updated August 2018
Bookmark offers a 4-tiered package, from basic websites through to business sites suited to Ecommerce or other business activities. All packages include a 14-day money-back guarantee.
The Free package includes 1GB bandwidth, 500MB storage, a bookmark.com subdomain (i.e. www.bookmark.com/yourwebsitesname), free SSL security, and a mobile website.
The Personal package includes everything in the free package, plus hosting, domain name, secure SSL certificate, premium support, and other useful features such as advanced analytics.
The Professional package provides unlimited bandwidth and storage, and throws in additional features such as email and $100 worth of Google Adwords credit.
The Business package is built for online stores. It includes everything in the Professional package plus extra features for Ecommerce. Bookmark doesn't charge any transaction fees for sales made using its Ecommerce package.
Templates
Bookmark offers only 20 templates, which is significantly fewer than most of its rivals. This limited selection is actually by design: once the user selects a template, AiDA uses the template as the first building block for a unique website catering to all the user's requirements. Despite the limited selection, there is a good deal of variance, with templates for everything from corporate to small business to wedding to personal portfolio. There are also specific templates for certain business types, including restaurants, medical services, and fitness services.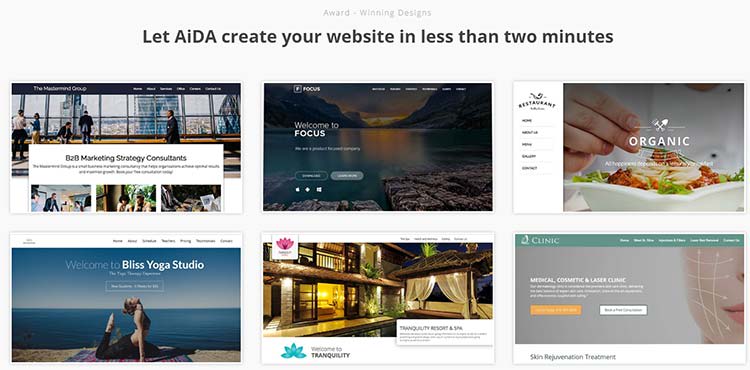 Ecommerce and Online Stores
As mentioned above, you can upgrade to the Business package to run an Ecommerce store selling up to 1,000 products. With Bookmark, you can integrate your online store with third-party selling platforms like Facebook and eBay. Bookmark lets youset up your store in preview mode, leaving the shopping cart disabled until you are ready to upgrade and start selling.
Other features include:
Mobile point-of-sale
Digital goods
Shopping cart
Inventory management
Discount coupons
Automated shipping and tax
Product reviews
Abandoned cart saver
Wholesale pricing groups
Android and iOS store management app
Customer Service
Each step of the website-building process comes with useful tips, and the FAQ section includes a treasure trove of articles on creating websites. Customers have 4 ways of communicating with Bookmark or finding answers to their questions.
Login and hit the question mark to send a direct message to Bookmark.
Visit the help center to find a solution to frequently asked questions.
Use the community forum to get a quick answer from a resident expert.
Email on the site to have someone get back to you.
Bookmark.com Visit Site
Bottom Line
Bookmark was created to help small business owners with little technical knowhow or training set up a website quickly and easily. It lives up to its mission, using AI technology to give customers their own unique site within a couple of minutes, from millions of possible combinations. People with basic web-building experience or complicated requirements might not find what they're looking for with Bookmark, but for people who simply want a good-looking, functional website without having to invest a great deal of time and energy, Bookmark offers an affordable and practical option. It offers a free package as well as a 14-day money-back guarantee for the priced packages, so you can try it out and see how you like the results before committing long term.
About Bookmark
Canadian entrepreneur David Kosmayer founded Bookmark in 2014 with the goal of catering to small businesses. He injected $800,000 of his own funds to get the company started, and various investors have since provided the seed funding to help it expand. Bookmark is a partner of the organization charity: water, and donates a portion of every sale to help bring clean water to people in developing countries.