In a Nutshell
JustCall offers attractive VoIP solutions for businesses of all shapes and sizes. All plans come with unlimited inbound minutes, and there's a custom option for larger businesses. You will also benefit from more than 100 integrations with third-party productivity apps, a selection of call-management tools, and a versatile mobile app.
pros
100+ third-party integrations
Tidy mobile app
Attractive custom subscription options
cons
Slightly higher-priced than some alternatives
No video conferencing

JustCall Visit Site
JustCall Pricing & Plans - How Much Does JustCall cost?
JustCall offers two standard subscription options, along with custom solutions for larger businesses. The lowest-cost Standard subscription costs $30 per month, per user ($24 if you pay for a year upfront). It includes a free local number, unlimited inbound minutes, SMS messaging, integrations, and more.
Upgrading to a Premium subscription ($60 per month, per user, $48 with annual billing) adds a selection of more advanced tools, including live call monitoring, voicemail transcription, multi-level IVR, and priority support. However, it's worth noting that you will have to pay a variable call fee for all outbound calls with either of these options.
You can also request a custom quote if your business requires a more specialized solution. Some features that can be added here include agent coaching, custom analytics, a service level agreement (SLA), and unlimited outbound calling.
A simple trial plan is available for $9, and it includes 100 minutes of calling and access to all features. You can also add extra toll-free, local, and additional numbers, with prices starting from $6 per month.
Price per user, per month
Call & voicemail transcription
JustCall Available Features
JustCall is an advanced VoIP platform boasting a suite of call-management and productivity tools. Video conferencing is a notable omission, but little else is lacking.
Call Management Tools
JustCall offers the expected call-management tools, including call recording, caller ID, call forwarding, voicemail transcription, and automatic call blocking. You will also have access to international calling, conference calling, and advanced interactive voice response (IVR) tools to route callers to the correct team member.
Call Queues
One feature that stands out is JustCall's Call Queue, which automatically places customers on hold until there's an agent available. You can keep track of how many callers are waiting with the Live Queue window.
SMS Bot
JustCall's SMS Bot is designed to automatically respond to incoming messages. This enables you to show customers that you've received and are working on their query, even if you're unable to be near your phone 24/7. Automatic responses can be configured based on custom rules.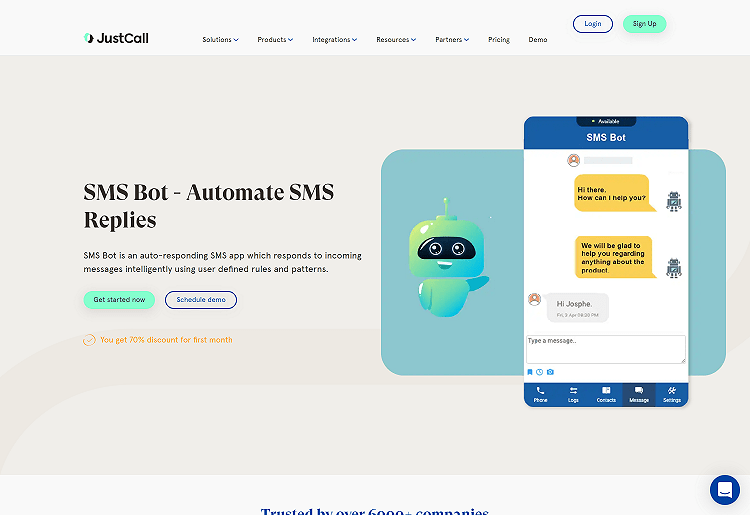 Bulk SMS Messaging
With JustCall's bulk SMS messaging tools, you can send a bulk message to pre-configured contact groups. You can schedule marketing campaigns, send thousands of messages at a time, and manage replies from your JustCall inbox.
Call Center Analytics
JustCall enables you to track live call activity and log data for later analysis. The call center analysis tools provide valuable insights into the way your phone system is being used, and you can view custom reports based on a number of different metrics.
Security and Reliability
JustCall doesn't provide much information about its security processes. However, it is fully GDPR compliant, which suggests that it uses industry-accepted procedures to ensure your personal and sensitive data remains secure. Its privacy policy clearly outlines exactly what your data is (or can be) used for, and there's nothing to worry about here.
JustCall Mobile App
The free JustCall mobile app is available for Android and iOS devices. It enables you to make and receive calls, create or enter conference calls with your team members, and send and receive SMS messages.
VoIP apps often lack quality, so we were pleasantly surprised with the amount of praise JustCall has received. It has excellent ratings in both the Apple App Store and the Google Play store, and many of these focus on its versatility and ease of use.
JustCall Integrations
JustCall offers 100+ integrations with various CRM, productivity, workflow-management, and other platforms from third parties. For example, the Salesforce integration enables you to integrate your call and phone number with your Salesforce Cloud management dashboard. You will also have access to an integrated dialer so you can work from a single interface.
Each integration is clearly explained, and you shouldn't have any trouble setting them up. Additional integrations can be created with Zapier, which enables you to create automated workflows based on specific actions or events.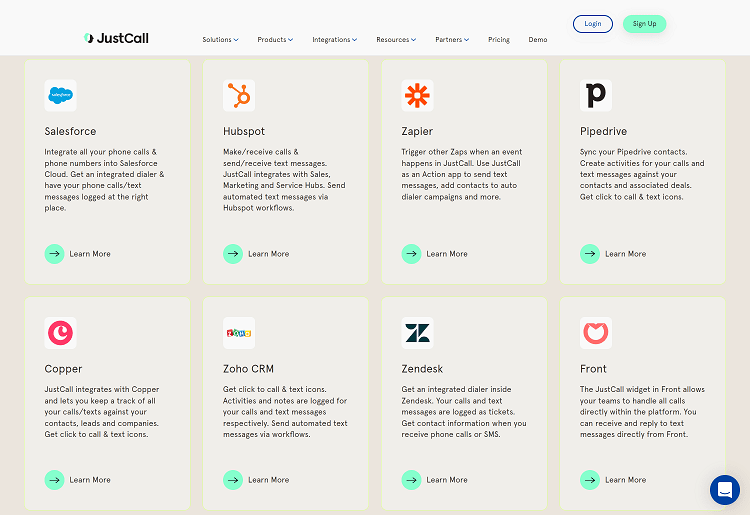 Help and Support
The only way to speak with the JustCall team is by sending an email or opening an online support ticket. The team responds during business hours (exactly what these are isn't specified), and it can take 12+ hours to receive a response.
On the plus side, the self-help resources are excellent. You will find numerous informational articles, tutorials, and guides in the Help Center, including a step-by-step guide to getting started. A large number of educational videos are also available via the JustCall YouTube channel.
How JustCall Compares to Other VoIP Providers
$14.99 per user, per month
$19.99 per user, per month
Five users, 50 minutes each
Business-hours email, support site
Email, live chat, business-hours phone, support site
24/5 phone, 24/5 live chat, 24/7 email, support site
24/7 phone, online ticketing, support site
JustCall vs Vonage
Vonage is a leading VoIP service provider, and it offers a selection of advanced features for businesses. It's more affordable than JustCall, offers excellent support, and includes video calling. However, JustCall is a much better option for those who require SMS marketing and other automation tools.
JustCall vs Dialpad
Dialpad is slightly cheaper than JustCall, and it offers a range of AI-based tools including in-call coaching and transcription. It offers fewer integrations than JustCall and lacks marketing automation tools, but it remains a powerful option for those looking for a small business VoIP solution.
JustCall vs RingCentral
RingCentral MVP is one of the most popular VoIP solutions on the market, and it's easy to see why. It boasts hundreds of integrations, an attractive user interface, and industry-leading security. However, it lacks the marketing automation and SMS marketing tools that JustCall has, which means JustCall is a better option for marketing-focused businesses.
Is JustCall Right For Your Business?
JustCall presents an excellent option for businesses looking for a marketing-focused VoIP solution. It's slightly more costly compared to many of the other options on the market, but its SMS marketing and automation tools are among the best we've seen.
On top of this, JustCall offers 100+ integrations with various third-party platforms. Its mobile app is up there with the best VoIP apps available, and you will benefit from an array of call-management and analytics features.
At the end of the day, we'd suggest scheduling a demo with the JustCall team and familiarizing yourself with the platform a little more. It's certainly a viable option for many businesses, and it just might be the perfect platform for your needs.

JustCall Visit Site
FAQs
Is JustCall any good?
JustCall is a powerful VoIP service provider focusing on marketing automation. It boasts a range of attractive features, and we'd recommend it as a powerful option for anyone requiring marketing tools as a part of their VoIP package.
Who owns JustCall?
JustCall is a private company that was founded by and is currently owned by Gaurav Sharma. It's based in Delaware and offers advanced VoIP solutions to users across the USA.
Who are the most common JustCall users?
JustCall is best suited to users and small businesses requiring marketing automation tools. Along with most standard VoIP features, it offers SMS marketing and a selection of other tools as part of its VoIP packages.