In a Nutshell
If you want whiter teeth but suffer from sensitivity issues, the LIVFRESH Mobile Whitening System may offer a solution. It can be used on all types of teeth, including sensitive teeth and gums, and works in minutes by combining its unique whitening formula with blue light technology. The treatment duration lasts from 10 to 30 minutes per day, for 21 days, and many customers have seen results after only one use with zero pain and zero sensitivity.
pros
Speedy process
Gentle whitening
Convenient easy to use system
cons
No free shipping on whitening kits/strips
No payment plans
LIVFRESH at a Glance
Best For: People with sensitive teeth who want quick, hassle-free whitening
Starting Price: $149.99
Treatment Duration: 10-30 minutes a day for 21 days
Estimated Length of Results: Up to six months depending on diet and lifestyle
LED Technology: Yes
Money-Back Guarantee: Yes
What is LIVFRESH?
Based in Los Gatos, California, LIVFRESH was founded by a father and son intent on helping people combat gum disease and improve their oral health. The company's initial product was a toothpaste that aimed to fight plaque on a molecular level, breaking it down and preventing its recurrence.
After much success, the duo introduced a brand new product in September 2020—the LIVFRESH Mobile Teeth Whitening System—a non-irritating solution aimed at helping its customers to achieve and maintain a whiter, brighter smile.
LIVFRESH is now featured by Inc500 as one of the fastest-growing companies in the United States. The company also partners with non-profit organizations by donating one tube of LIVFRESH dental gel for every purchase.
How Much Does LIVFRESH Cost?
Dental gels are priced at $19.99, whereas the LIVFRESH Mobile Teeth Whitening System costs $149.99. Coconut Whitening Strips are $39.99. Shipping costs apply to all non-subscription orders.
LIVFRESH Wintergreen Dental Gel
LIVFRESH Peppermint Dental Gel
LIVFRESH Mild Peppermint Dental Gel
LIVFRESH Mobile Whitening System
LIVFRESH Coconut Whitening Strips
LIVFRESH Whitening System Pen Refill

The Subscribe and Save Program applies only to dental gels and provides a discount of up to 20%, plus free global shipping.
Customers can pay by Visa, Mastercard, and Paypal. While LIVFRESH dental gel has a relatively high price tag, customers state that a little goes a long way. In contrast, the LIVFRESH whitening system and coconut whitening strips are similar in price to competitor products.
LIVFRESH Whitening Kit Review
This review focuses on the LIVFRESH Mobile Whitening System, retailing at $149.99. We'll look at the system, how it's used, whether or not it works, and, more importantly, if it's safe.
What Comes in the LIVFRESH Whitening Kit?
The mobile whitening kit contains:
Three silver whitening pens for regular use

One extra strength gold whitening pen for special occasions

Blue LED diode to accelerate the whitening process

A tooth shade guide to monitor progress

User manual

Reusable velvet storage bag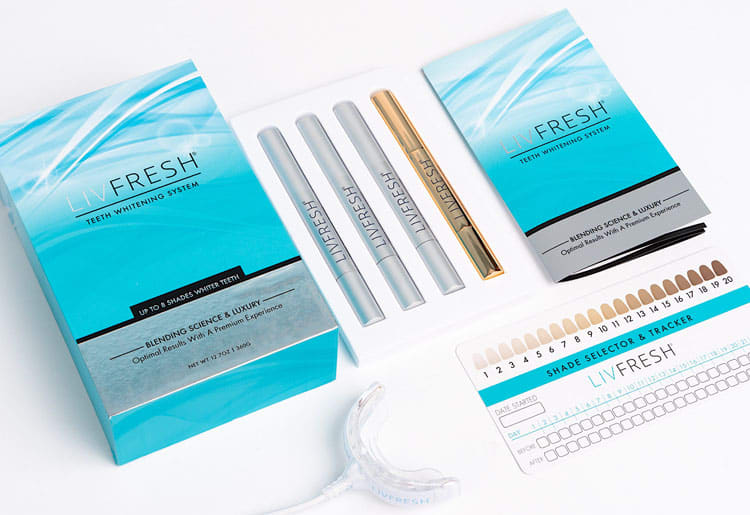 LIVFRESH whitening kit ingredients
The active whitening ingredients are a blend of hydrogen and carbamide peroxide. In addition, potassium nitrate helps to desensitize teeth and gums, making it a soothing option for sensitive teeth. The serum does not contain abrasives, detergents, parabens, or phthalates. It's also vegan, enamel-safe, and cruelty-free. Furthermore, the whitening gel is free of sugar, gluten, triclosan, and SLS.
How does LIVFRESH's whitening kit work?
The proprietary formula behind the kit is unique because it contains a blend of hydrogen and carbamide peroxide together with potassium nitrate—a desensitizing ingredient also contained in Sensodyne toothpaste.
Hydrogen and carbamide peroxide are active whitening ingredients that have varying release times. The combination of the two facilitates a sustained and comfortable whitening treatment, while the blue LED mouthpiece accelerates the process.
The LIVFRESH whitening technology is said to remove tough stains such as coffee, tea, and red wine.
How to use LIVFRESH's whitening kit
Start by brushing your teeth and then follow the simple instructions below:
Apply the whitening serum to the upper and lower teeth using one of the metal alloy pens.

Connect the mouthpiece to your smartphone. The resulting blue LED light emits the correct wavelength to accelerate the breakdown of the stain molecules, so teeth appear whiter and brighter.

Insert the mouthpiece into your mouth and keep it in place for 10-30 minutes.

You can walk around, read a book, or listen to music while the whitening serum works its magic.

Once the waiting time is up, rinse your mouth, and the mouthpiece is ready for use the next day.
It's recommended to use the product once a day for 21 consecutive days, at whatever time suits you best. There should be no pain or discomfort since LIVFRESH is designed for even the most sensitive teeth.
Is LIVFRESH Safe, or Will It Damage Your Teeth?
LIVFRESH prides itself on only using ingredients that its founders would be happy to use. All products are designed with sensitivity at the forefront. However, it is best to avoid any brand of teeth whitening if your tooth enamel is badly worn.
Those pregnant or breastfeeding should always consult their doctor before using teeth-whitening products. Children under the age of 12 should not use whitening products.
Does LIVFRESH Actually Work?
Customer reviews on YotPo expressed how easy the whitening kit was to use. Teeth looked significantly whiter within a few days of use, and there was no mention of teeth sensitivity. Several senior reviewers said their teeth looked "young" again.
LIVFRESH offers a guarantee on its results if teeth do not whiten more than two shades, or if extreme sensitivity is experienced within 21 days of purchase. There is also a one-year warranty upon purchase which covers the blue LED accelerator and the serum applicator pens.
Although there are no detailed figures on how long results last, people can typically expect to see results for up to six months. However, results will vary significantly depending on your diet and lifestyle choices.
How Does LIVFRESH Compare to Other Whitening Kits?
Smartphone- connected blue LED mouthpiece and whitening pens
LED wireless whitening kit, accelerator pen, and serum
PAP+ Gel/LED light combination with mouthpiece
Upper and lower custom trays and whitening pens
Up to 30 minutes a day for 21 days
Nine minutes a day for 21 days
Up to twice a day for 10 minutes, for six days
Up to three hours per session until desired results are reached
Not defined, but up to six months
LIVFRESH VS SNOW
LIVFRESH targets sensitive teeth with its unique blend of hydrogen and carbamide peroxide and blue LED technology. SNOW, on the other hand, utilizes blue and red LED technology for whitening and gum support. However, it's questionable whether the extra cost for SNOW equates to better results.
LIVFRESH VS Hismile
LIVFRESH and Hismile are both suited to sensitive teeth, although Hismile does away with peroxide altogether in its whitening serum. While the price point is the same, Hismile works considerably faster (six days) and utilizes PAP+ Primer for whiter results. Both brands offer a toothpaste range and whitening strips to accompany their whitening kits.
LIVFRESH VS Smile Brilliant
LIVFRESH adopts a modern approach to teeth whitening by utilizing smartphone-connected light technology. Smile Brilliant opts for custom teeth whitening trays. While the latter is more expensive than LIVFRESH, the products from Smile Brilliant are customizable for sensitive and non-sensitive teeth
Other LIVFRESH Products
LIVFRESH Coconut Whitening Strips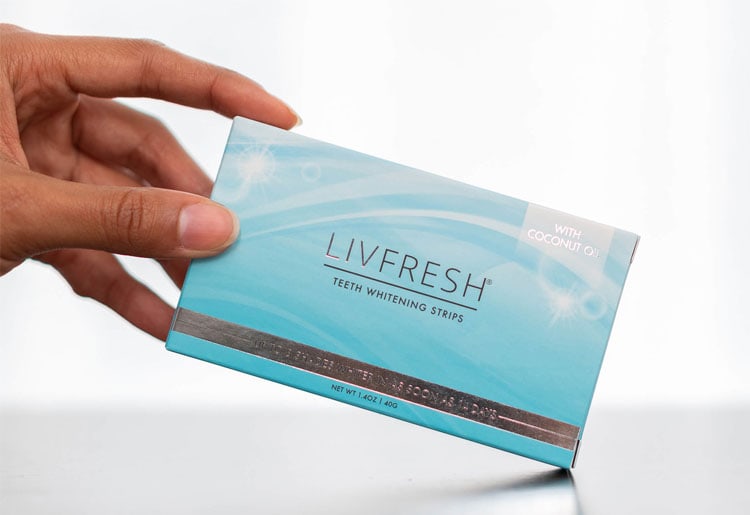 Whitening strips are the ideal choice for those wishing to whiten their teeth at home with a minimum of fuss. LIVFRESH coconut whitening strips deploy a unique oil-pulling technology that is said to accelerate whitening. The strips are also enamel-safe and sensitivity-free.
Advanced no-slip technology ensures the strips remain on your teeth to produce even results, and there is also a tooth shade guide so you can monitor whitening progress.
LIVFRESH Wintergreen Foaming Dental Gel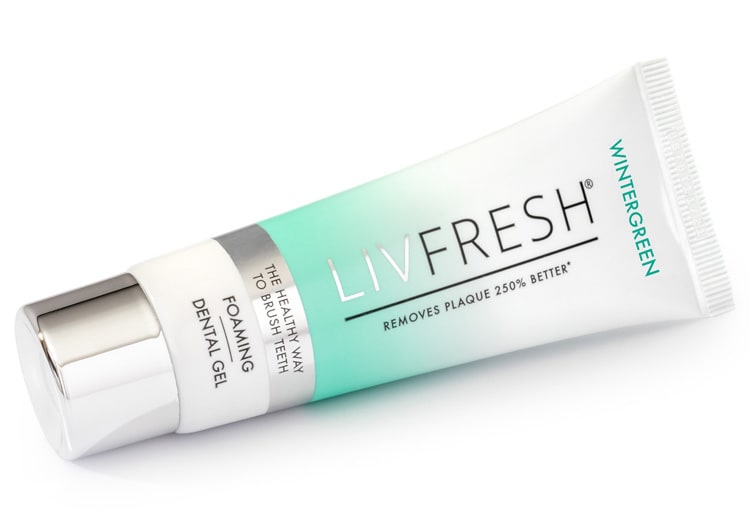 LIVFRESH dental gel isn't your average toothpaste. In fact, the company website states that its dental gel outweighs traditional toothpaste in plaque removal and prevention by 25%.
The Wintergreen dental gel has ultra-foaming action propelling the gel into those hard-to-reach nooks and crannies. It works by breaking the molecular bond between the plaque and the tooth—in effect, removing the leading cause of gingivitis. Regular use of the product is said to improve oral health and reduce the risk of gum disease.
Is LIVFRESH's Teeth Whitening Kit Worth It?
According to the online reviews we have researched, the results look favorable. Teeth whitening appears to be achieved without any sensitivity or discomfort and most users saw visible results within the first few days of treatment.
LIVFRESH refunds anyone who fails to achieve at least two shades of whiter teeth. It also provides a one-year warranty against defects or malfunction. Overall, it's a premium product that's nicely packaged, convenient to use, and does what it says on the tin.