In a Nutshell
Zoho Assist is a cloud-based remote support solution, so it's accessible anywhere and anytime, regardless of the device you use to connect. Robust SSL and AES 256 encryption keep both technicians and customers safe, while a bevy of useful features like voice and video chat, multi-monitor support, and session recording make Zoho Assist a great choice for both remote support and remote access.
pros
Free and affordable plans for all budgets.
Integration, bundling & branding customizability for businesses.
Lots of features for both remote support & access
cons
Some key features missing from standard & professional plans
Only up to 25 devices on unattended remote access plans
Zoho Assist at a Glance
IT support technicians; remote access for SMBs
$0 - $21/technician/month
What Services and Features Does Zoho Assist Offer
Zoho Assist comes with a number of practical features for both support technicians helping customers remotely, and business users looking to remotely access and control workstations.
Remote Support
All plans include Instant Chat messaging to communicate with clients, while Enterprise plans ($21/technician/month) include Voice & Video Chat, the usefulness of which is hard to overstate when it comes to remote troubleshooting with potentially tech-unsavvy customers.
To guide users through tasks, you can share your own screen while controlling theirs—a handy feature for training sessions. While in control of the remote computer, you can easily access the Ctrl + Alt + Delete menu, reboot (even into safe mode), and invite another technician to give you a hand.
Finally, multi-monitor navigation makes it easy to support professionals from all industries.
Remote Access
Unattended plans include support for up to 25 computers and an unlimited number of technicians or users, making it easy for businesses to explore and adopt remote work practices.
The set-up process is greatly facilitated by bulk deployment, while robust user & device management makes it easy to monitor, troubleshoot, and control multiple connections. Group devices and set permissions to ensure smooth and secure operations.
You have full control of the end device, including remote shutdown, reboot, lock or hibernate, and wake on LAN, even for powered-off devices.
Prices, Plans and Value for Money
Zoho Assist has a Free plan that allows 1 technician to support up to 5 unattended computers, and includes instant chat, clipboard sharing, and Windows and Mac support.
Remote Support plans are billed per technician per month, and start at $8 for the Standard plan, with file transfers, multi monitor navigation, Ctrl+Alt+Del, reboot & reconnect, screen captures, and 2 concurrent sessions. The $13 Professional plan adds support for mobile devices (iOS/Android), session scheduling, screen sharing, rebranding, and 4 concurrent sessions. Finally, $21 enterprise plan adds session recording & auditing, voice & video chat, annotation, and 6 concurrent sessions.
For Unattended Remote Access, both the $8/mo Standard and $13/mo Professional plan support up to 25 unattended computers for an unlimited number of technicians, with user & device management, bulk deployment, remote power on/off, multi-monitor support, file transfers & screen captures. The Professional plan also includes session recording, remote printing, annotation, voice & video chat, rebranding, and mobile & Internet of Things (IoT) devices.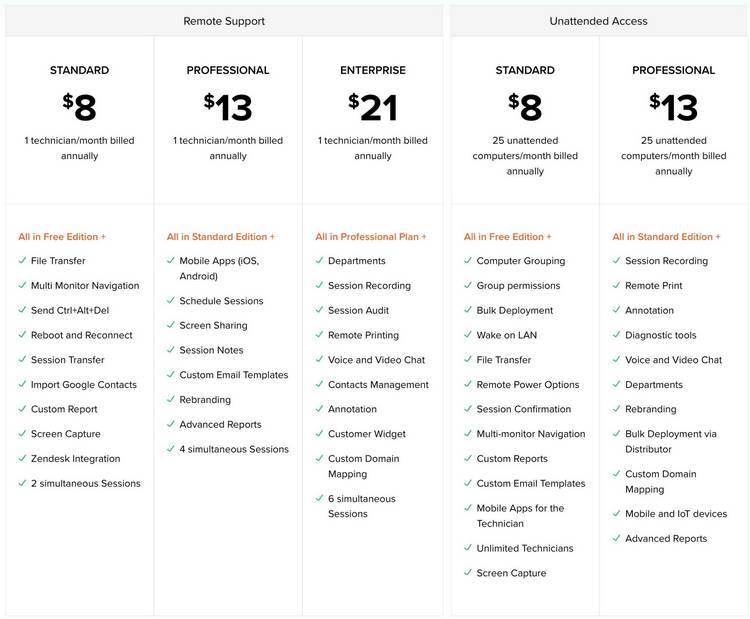 Ease of Use and Setup
Because Zoho Assist is web-based, getting set up is simple. You can create an account using a Google, Microsoft, LinkedIn or Facebook account, or with an email address. You'll be taken to the Zoho Assist dashboard, the interface of which is simple and intuitive. To start a remote session, simply enter the email address of the customer to invite them, or select a previous client or computer from the Sessions list.
On the client side, downloading and installing Zoho Assist is easy. When invited by a technician, an email directs users to a Download page, where the appropriate client can be downloaded and installed.
Zoho Assist Security
Zoho Assist uses industry-standard SSL and AES 256 encryption, the same used for online banking, so your remote sessions are well protected. Additional features like 2-factor authentication, inactive session timeouts, and comprehensive logs help protect your business and your customers equally.
Zoho Assist Performance
Zoho Assist provided us with a low-latency, smooth remote session experience in tests. The web-based app is surprisingly swift, with no real lags whether navigating the dashboard or remotely controlling a device. Occasionally, viewing large logs on multiple sessions can be a bit slow.
On the client side, the application is very lightweight, using only about 10% CPU on our 2.6 GHz 6-Core Intel Core i7 16" MBP running macOS Catalina.
For both technicians and customers, the experience is impressively smooth.
Zoho Assist Customer Service
Zoho offers a number of resources for new and existing customers looking to learn more about Assist and how to use it, including free training sessions (with recordings you can watch at any time), a light FAQ section, much more comprehensive user guide, knowledge base, and forum, where users and Zoho support staff can interact.
If you need more immediate assistance, you can contact Zoho support by email or by telephone. Regional numbers are listed on their website for the Americas, APAC, Middle East, Africa and Europe.
What People Say About Zoho Assist
"I would definitely recommend Zoho! Anyone looking for an IT solution that allows you to walk through problems and diagnose issues with client along with something that will not kill the budget, I would recommend Zoho Assist all day!" — Jeffery Garibay – Founder, Quick to Impress
"Impressive. Zoho Assist works very well, is simple for non-techies to use, and has the features i like. The experience feels very professional, easy for the end user to set up a connection... They have a free version which, as I understand it, allows in their EULA for one technician even in a commercial situation. The paid version is very affordable - best price I have seen anywhere - and adds a few nice features like file transfer." — Keith Richmond – Power to change
"I have tried a number of remote software applications but they were soooo expensive, or lacking in functionality such as dual monitor support. Zoho Assist has solved all these problems. It has worked trouble free over a wide range of customer internet connections including satellite which are very slow. Fantastic product - made my life much easier and now able to offer great support to my customers quickly and easily." — Ross – Righton Software Solutions
FAQs
Is Zoho Assist secure?
Yes. Zoho Assist uses 256-bit AES encryption, which is the same encryption used when banking online. As long as both parties are practicing safe online activity (using strong passwords, not leaving their device unlocked & unattended, etc.), Zoho Assist is safe to use.
Are connections possible between different operating systems?
Yes. As a web-based client, Zoho Assist can be accessed from any HTML5 enabled browser, and can be used to connect to Windows, macOS, iOS/iPadOS, Android and Linux computers and mobile devices. Windows to Mac, Mac to Windows, and Linux to Mac/Windows are all supported, starting at Professional plans.
How does file transfer work?
You can transfer any filetype between the host and client computers, using the Zoho Assist interface. There is a limit of 2GB per file.
Bottom Line
All in all, Zoho Assist is a robust and feature-rich remote support and access solution.
While many of the best features, like mobile device access, session recording, and voice & video chat are only available with higher-end plans, these are still relatively affordable. For those who just need basic support capabilities, the free and Standard plans are still great options.
Large enterprises may find the 25-computer limit restricting, but for SMBs, the customizability in terms of branding and integrations is a definite plus.