In a Nutshell
Remote monitoring is one of Atera's features. Windows and Mac clients are supported. The remote access functionality provides an easy way for MSPs and support organization's to provide easily scalable remote support to clients running these operating systems.
pros
Bidirectional file sharing
Multiple monitor toggling
Supports Windows and Mac clients
cons
No Linux clients (for technician or endpoint)
No free tool
Atera at a Glance
MSPs and professional support organizations
From $79 / month per technician
Encryption via UDP port 443
What Services and Features Does Atera Offer
System Health Monitoring
Atera is much more than just a remote access client, although that is one of its core features. Atera is principally designed to be used by service teams and MSPs who need to monitor large fleets of endpoints. Therefore, one of the tool's features is an alerts dashboard which will display any system alerts provided by the agent client that runs on endpoints. After adding a virtual machine (VM) and a laptop, for instance, I got a CPU alert indicating that the core temperature had exceeded a safe threshold.
Remote Access Dashboard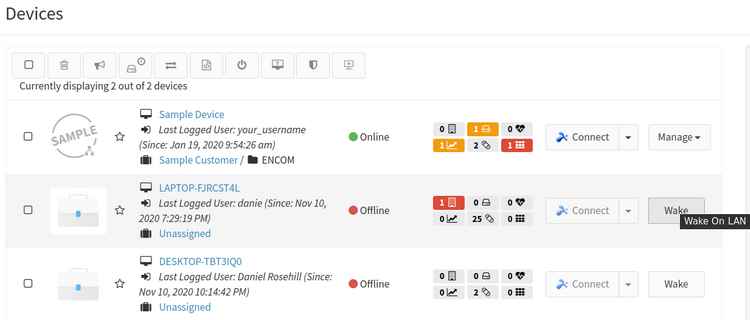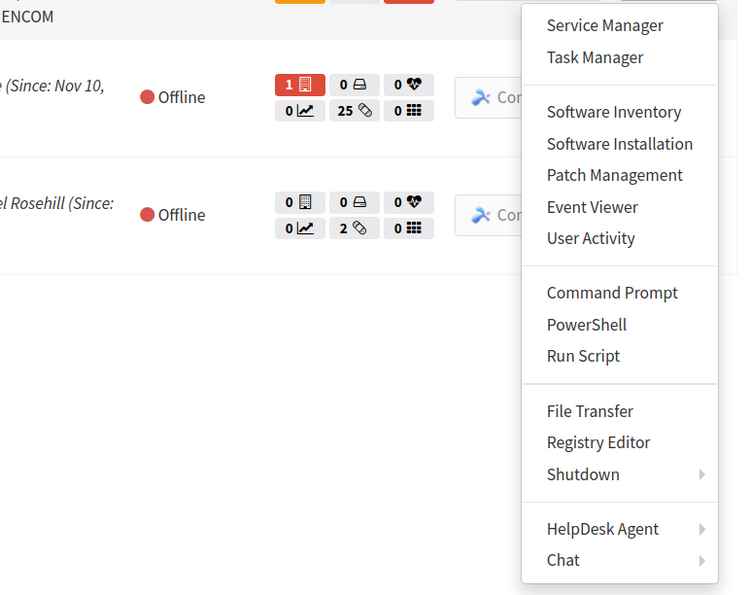 Atera's web UI provides a visually rich dashboard showing the live state of the fleet of supported devices. Users can send a wake on LAN command directly through this screen and also receive visual alerts on any aberrant system states.
Additionally users can directly access:
A software inventory list showing all detected software running on the endpoint
A software installation utility which uses the Chocolately API integration to enable
seamless remote-initiated installation of software
A Registry editor
An event log viewer
Users can also choose to filter through the list of devices to which they can connect and create views. Remote access endpoints can be filtered by availability status, alert status, device type, and assigned customer.
Remote Access
Once connected to a remote access endpoint, users receive a live remote access feed and, as expected, can control the remote computer with the keyboard and mouse. If users input shortcut keys, such as using the Print Screen tool, they receive a popup asking whether the screenshot should be taken on the local or remote computer.
File Transfer
Once a remote access session is initiated, Atera also provides an attractive remote transfer interface which supports bidirectional file transfer between the client and host. Both filesystems are displayed on side-by-side windows and users only have to select the desired files and then select the transfer direction in order to move across files and folders.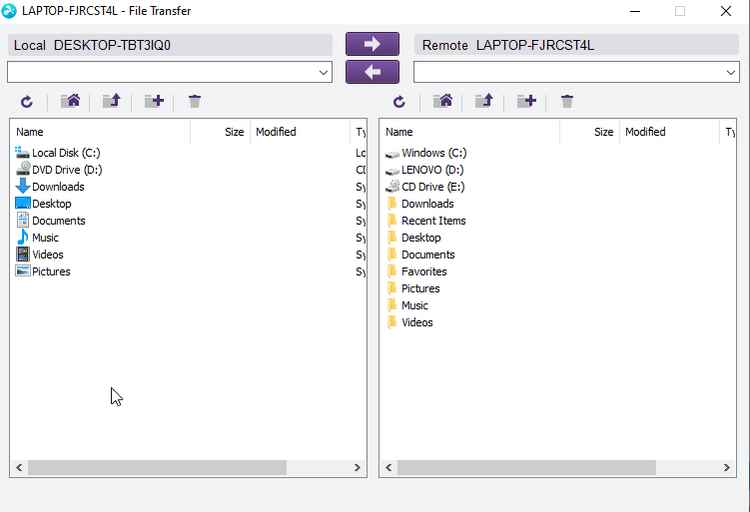 Live Chat
Users can also initiate a live chat session through the web UI which will undock a chat window on the connecting computer. The chat interface is a 2-way sync client allowing live communication between support operator and the computer owner.
Wake on LAN
Computers that have Wake on LAN installed can be woken up directly from the web UI. Next to every endpoint in the connection list is a 'Wake' button. By clicking on it users can send a wake command which should take the computer out of shutdown state and make it available for a remote access session.
Prices, Plans and Value for Money
Atera's remote access tool is not available as a standalone product but rather comes included as part of the Atera subscription package, which includes access to tools such as the support helpdesk, a patch management system, and IT automation and scripting.
The tool's pricing is as follows:
On the Pro plan, each technician can only initiate 2 concurrent remote support sessions through the Splashtop remote access interface. That rises to unlimited on the Growth and Power plans.
Ease of Use and Setup
Getting remote access set up using Atera requires firstly that support teams / MSPs have an active Atera account and can access the online interface. Next, users have to download the connection agent which allows the person providing support to be able to access their computer. This is available for both Windows and Mac. Finally, the support operator needs to install the Splashtop connection tool which will provide the actual connection interface. This whole process takes only a couple of minutes and the web UI also provides a useful download link to the agent for ease of installation.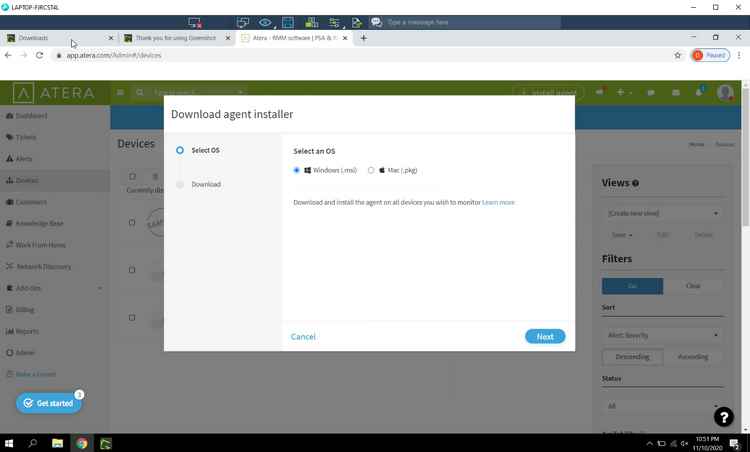 Atera Security
Of course, when transmitting live streams of computer feeds, security remains a priority. Atera uses UDP port 443 in order to secure and encrypt connections. This means that the live data stream is encrypted and even if somebody were to intercept the package, they would not be able to read its contents.
Atera Performance
Atera provided good real time streaming performance during my test evaluation period. Of course, whenever you're using a remote access tool, connectivity is going to be impacted by the speed of the endpoint's internet connection. In this case, I had a good and stable connection and was able to action changes on the remote server in near real time.
Atera Customer Service
Atera maintains a comprehensive online support offering and is able to help customers that need a helping hand getting the remote connection agents configured for remote access.
Atera maintains an online knowledge base with lots of helpful information about making maximal use of the product and a dedicated section for remote access with tutorials about connecting with Teamviewer and ScreenConnect, among others. Those that run into issues can open up a request with the support team who work primarily through a ticket-based system.
What People Say About Atera
"Better than our old RMM specially with cost and features that is offered."
Bhasker C, IT infra and cloud architect
"Atera was the best fit for what we were looking for. It's easy to use, easy to install, doesn't interrupt the flow of our clients, and drives efficiency in our daily business processes."
Vince Adamo, Technical Support Director at Amerihub
"With all the integrations Atera offers, we were able to retire several of our old platforms and services, which has meant considerable bottom line cost savings"
Mike Casey, Managing Director at Cloudscape
FAQs
Which platforms can you connect to with Atera?
There are user agents available for both Windows and Mac
How are connections to the client computers secured?
The remote access connections are secured by encryption via UDP port 443.
What kind of file sharing functionality does the tool have?
There is bidirectional file sharing and live chat
Bottom Line
Atera is a powerful remote access tool that can be used to connect in real time to Linux and Mac clients. The tool also features live chat and 2-way file sharing. MSPs and support teams can use this team to support large fleets of connected devices.