In a Nutshell
GoToMyPC is a user-friendly remote access software for Windows and Mac computers. The platform makes basic tasks easy through an intuitive connection system. Plus, you can access your computer from a mobile device, which isn't possible with many other remote desktop tools. The biggest downside to GoToMyPC is that a monthly subscription is fairly expensive.
pros
User-friendly remote access interface
Includes a bulk file transfer tool
Connect to a remote computer from a mobile device
cons
Expensive monthly subscription
No remote audio tool
GoToMyPC at a Glance
Personal use, small business teams
Starting from $35/computer/month
128-bit AES encryption, 2-factor authentication
What Services and Features Does GoToMyPC Offer
GoToMyPC offers a number of basic features that make it easier to access your computer remotely. To start, connecting is extremely simple. You can create desktop icons for each remote computer you access. So, all it takes is a double-click to connect to a work or home computer.
Inside your remote session, you can take advantage of a shared clipboard and remote printing utility. You can also drag and drop files between computers or use the included file transfer tool for moving large numbers of files.
One of the best things about GoToMyPC is that it includes mobile apps for Android and iOS devices. You can connect to a remote computer just as you would from a desktop—simply use your finger to move the mouse around during the remote session.
Unfortunately, GoToMyPC does leave out a few useful features. There is no audio chat included in the software, which makes it difficult to use GoToMyPC for IT helpdesk applications (although there is a text chat tool). You also cannot record video of a remote session without installing a third-party tool.
Prices, Plans and Value for Money
GoToMyPC is surprisingly expensive for how simple the software is. Individual plans start at $35 per computer per month when paid annually.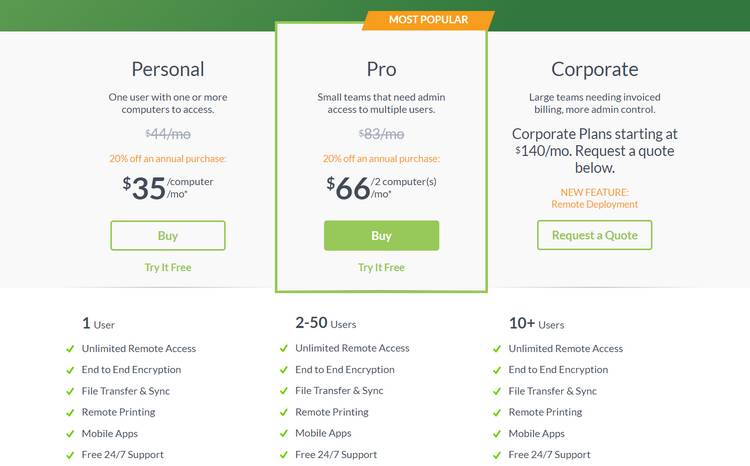 If you have a small business team, you can create up to 50 user accounts at a cost of $66 per 2 remote computers per month. This Pro plan includes comprehensive reporting, but not advanced features like wake on LAN or user access management.
GoToMyPC also offers corporate accounts for businesses with at least 10 users, but pricing is by quote only.
Ease of Use and Setup
Setting up a computer for remote access with GoToMyPC is fast and straightforward. Just log into your GoToMyPC account online from the computer you want to access and download the remote control software. You'll be prompted to create a password for future access to that desktop.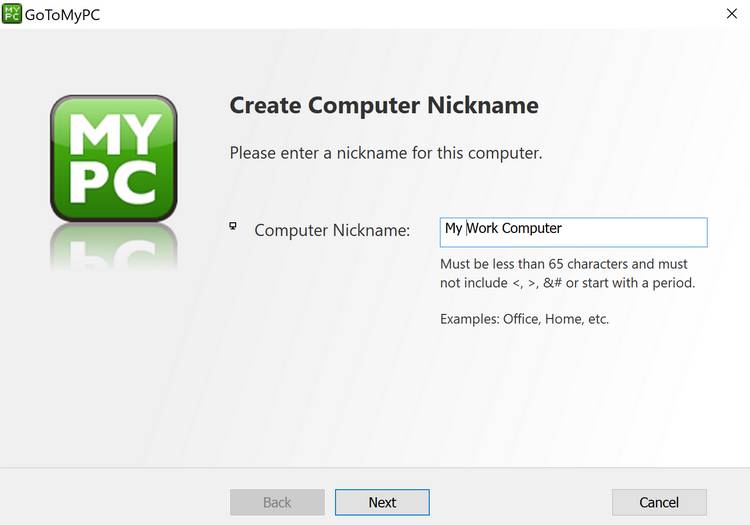 Once that's done, you can connect from any remote device. You'll need the GoToMyPC viewer software, which is available through your online account and takes less than one minute to install.
GoToMyPC Security
GoToMyPC does a nice job of keeping your remote connections secure. Each remote desktop requires a unique password that is distinct from your GoToMyPC account password. These are known only to you, which is a plus for security—but keep in mind that you will need to be physically present at the remote computer to reset the access password if you forget it. Once connected, remote sessions are protected by 128-bit AES security.
Your online GoToMyPC account, which you must access to install the remote control software on a computer, is also fairly secure. You can enable two-factor authentication to protect your account.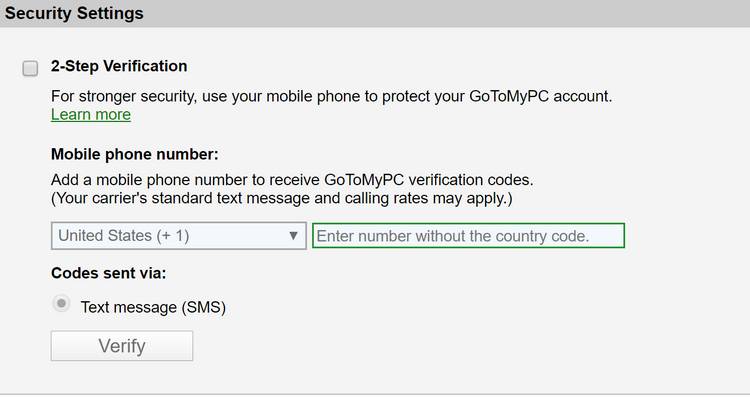 GoToMyPC Performance
When it comes to performance, GoToMyPC delivers. Connecting from one PC to another only takes a few seconds. While you would normally need to log into your web account to see available connections, you can connect instantly by leaving a remote access shortcut on your desktop.
Once you connect, the remote desktop is surrounded by a border so you can distinguish it from your own computer's desktop. The menu interface is slightly outdated-looking, but it's easy to find the text chat and file transfer tools.
GoToMyPC Customer Service
You can get in touch with GoToMyPC's customer support team by live chat 24/7. However, you do have to go through a chatbot first, so it can take a few minutes to get a person on the other side of the chat box.
The company's website also has a large library of resources, including detailed tutorial documents and videos. There's a detailed user manual for technical issues as well as a community forum, although the latter doesn't see much traffic.
What People Say About GoToMyPC
"What I love best about GoToMyPC is that it's simple, easy to use and very reliable."—Linda Lubitz Boone, The Lubitz Financial Group
"We are a highly mobile company working internationally. The need to remotely access our resources in the United States. GoToMyPC allows us to log onto our office desktops from anywhere in the world. Rather than transport our confidential information on a laptop, we can virtually operate right on our office computers."
"GoToMyPC has been critical in helping us access desktops as needed as we travel around the country. GoToMyPC is very stable and has gotten us out of trouble in live presentations on the road when we didn't have the right information on our laptops. We could easily connect to our desktop using the app and get the information we need."—Breece Robertson, The Trust for Public Land
"GoToMyPC is primarily used by our helpdesk department for remotely troubleshooting errors. The ability to share screens and data is great with GoToMyPC."—Sourav Singla, Tata Consultancy Services
FAQs
Does GoToMyPC offer a free tier?
GoToMyPC doesn't offer a free tier, but you can try out the software for free for up to 7 days.
Can GoToMyPC wake a sleeping or powered off computer?
GoToMyPC offers wake-on-LAN for Corporate plan subscribers only.
Can GoToMyPC be used as a helpdesk software?
GoToMyPC can be used as an IT helpdesk software, but keep in mind that it does not offer audio chat with the remote computer.
Bottom Line
GoToMyPC is a reliable and easy-to-use remote desktop software for Mac and Windows. The platform includes a number of helpful features, including a bulk file transfer utility and the ability to access a remote computer from a mobile device. It also offers relatively strong security to prevent unauthorized access to your network. The biggest downside to GoToMyPC is the cost, which can be prohibitively expensive for medium-sized teams.