In a Nutshell
RemotePC is a capable remote desktop solution for individuals and small businesses. The software works across devices, so you can access any computer from a desktop or mobile device. RemotePC is packed with team features, including options for unlimited users, one-time shared access codes, and a built-in video conferencing solution. RemotePC does miss out on a few useful features like audio chat, but most users won't even notice.
pros
Inexpensive plans for individuals and small teams
Seamless file transfer across devices
Numerous collaboration features
cons
No audio chat within remote sessions
Prices increase after first year
RemotePC at a Glance
Personal use, small businesses, helpdesk
Starting from $22.12 per year
What Services and Features Does RemotePC Offer
RemotePC is a remote desktop solution built for individuals and business teams. With RemotePC, you can access a Windows, Mac, or Linux computer from any device, including mobile phones.
The software enables you to use your computer like you normally would. You can easily transfer files by dragging and dropping between desktops or by using the built-in file transfer utility. RemotePC supports remote printing, wake-on-LAN, and multiple monitors, so it's ideal for connecting remotely to an office setup.
RemotePC stands out by offering some helpful productivity features for teams. There's a chat box and whiteboard-style drawing tools inside every remote session. In addition, you can generate one-time-use codes to enable a coworker to access your computer without revealing your encryption key. There's no limit to how many people can log into a single desktop at once.
Prices, Plans and Value for Money
RemotePC offers plans for individuals, teams, and helpdesk use.
The Consumer plan, which starts at $22.12 per year, is designed for personal use and offers a single user access to up to 2 remote desktops.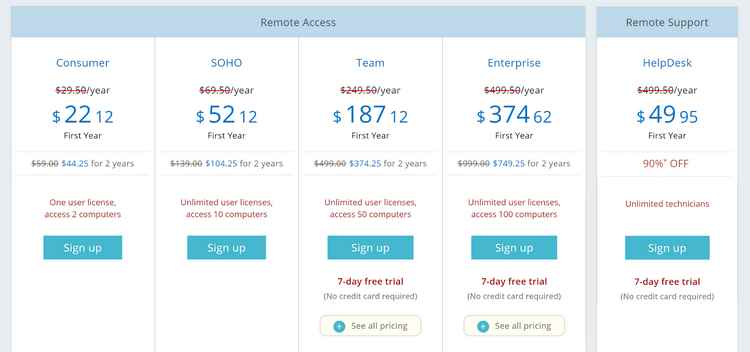 The SOHO, Team, and Enterprise plans all let you add unlimited users to your account, but vary in how many computers you can access. The SOHO plan costs $52.12 per year and offers 10 computers. The Team plan costs $187.12 per year for up to 50 remote computers. The Enterprise plan costs $374.62 per year for up to 100 remote computers. Team and Enterprise plans also offer single sign-on and remote helpdesk support.
If you only need remote access for IT support, RemotePC offers a HelpDesk plan for $49.95 per year. You can create unlimited technician accounts and access any number of computers, but someone must be present at the remote desktop being accessed.
One thing to keep in mind is that RemotePC prices jump by 25% after your first year. You can try out any plan for up to 7 days for free before signing up.
Ease of Use and Setup
Setting up RemotePC only takes a few minutes. To get started, you need to download the software from the RemotePC website on the computer that you want to access remotely. You'll give that computer a name and create a personal access key. Once it's saved to your account, you can access it from any other device with the RemotePC software installed or from the RemotePC web interface.
Setting up RemotePC for a business can be more time consuming since you need to invite users and set permissions. However, the software speeds up this process by enabling administrators to send bulk invitations to your company account via email. With an Enterprise plan, you can also organize users and remote desktops into groups to manage access controls.
RemotePC Security
All RemotePC connections are protected with 256-bit AES encryption and transport-layer security. Your desktop is secured with your own personal passcode, and you must authorize a new device before RemotePC will allow it remote access. Every login is also verified with two-step verification.
RemotePC Performance
RemotePC has a reputation for performance, and it delivered when we tried out the software. There was virtually no lag in the connection, and the software used up only a small percentage of our computer's resources. We did find the mobile app to be a bit too responsive to touch, but this wasn't a huge issue for navigating a remote session.
The only issue we had is that the RemotePC web interface is somewhat limited. It cannot be used to transfer files, for example, or to take advantage of remote printing. So, you'll likely spend most of your time using the desktop and mobile apps.
RemotePC Customer Service
All business RemotePC plans come with 24/7 customer service by phone, email, and live chat. The company's website also has a detailed FAQs page that explains in detail how to set up and use the software.
What People Say About RemotePC
"RemotePC has tons of features. This is one of the reasons we like it. Not only can we provide remote support, but we can also record that remote session and use it later on if we need to refer back to it."
"RemotePC is just like TeamViewer, but affordable - especially for a small network. It's easy to use and pretty intuitive."
"I love that I am able to access my laptop from anywhere using RemotePC. The installation was very quick, and super straight-forward. It's very easy to set up an always-on connection with the guided installer."
FAQs
Is RemotePC secure?
RemotePC secures connections with 256-bit AES encryption, TLS, and two-factor authentication.
Can I turn off a remote connection to my computer?
RemotePC shows a notification when someone is trying to connect to your computer, and you can always block the connection.
Can I drag and drop files with RemotePC?
RemotePC allows you to transfer files between remote computers by dragging and dropping them across file systems.
Bottom Line
RemotePC is a robust remote desktop software with a lot of features for individuals and teams. The platform makes it easy to connect to any computer from any device and includes handy features like live chat, drag-and-drop file transfer, and wake-on-LAN. RemotePC is especially useful for business teams thanks to built-in video conferencing and access control features. Overall, there's a lot to like about RemotePC and the plans are reasonably priced.