In a Nutshell
If you're looking to deploy a scalable remote access solution, then ISL Online provides a good tool that is capable of securing access to hundreds of endpoints—with 2FA access and support for Windows, Mac, and Linux remotes. The remote desktop app is a clean and easy-to-use interface that can be customized with company visuals. If you're in the business of providing remote support, then this might be worthy of inclusion on your shortlist.
pros
Support for Windows, Mac, and Linux remotes
Rich annotation support to guide users
Multimonitor support and quick screen toggle
cons
Not the cheapest support tool available
Some smartphone users report connection difficulties
ISL Online at a Glance
Professional support teams that need to support a variety of remotes
Options for paying for support minutes, cloud licensing, and self-hosted
What Services and Features Does ISL Online Offer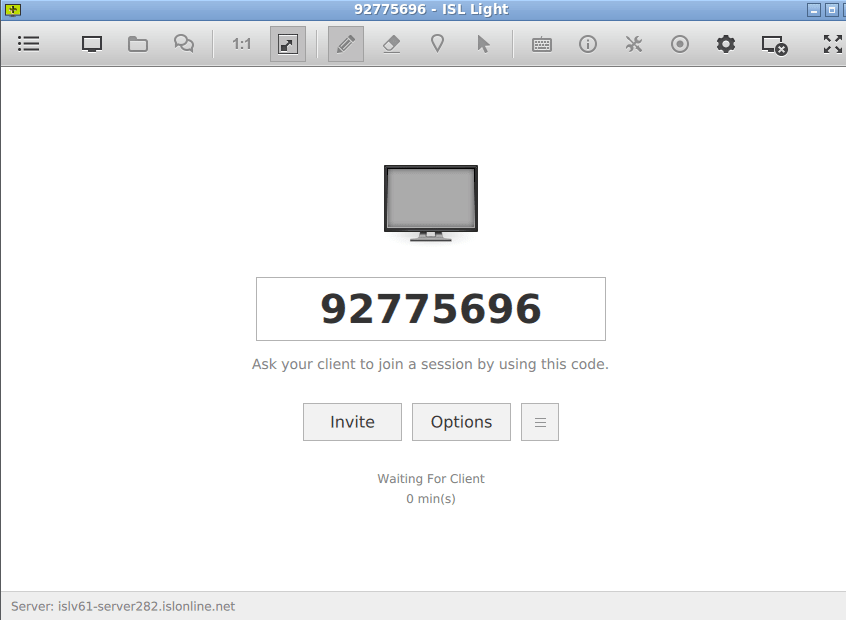 ISL Online is a comprehensive support tool that is designed for helpdesks that need to remotely support a wide variety of endpoints. It features:
Easy Credential-Based Connections
In order to initiate a remote support session, those that require support need to have the support client installed while those providing it need the support / agent desktop app. After both parties ensure that they have the right software installed, the client reads off a connection code which allows the support staff to remotely access their desktop.
Unattended Access
Sometimes, support teams need to access computers remotely without their clients' involvement. In other instances, support teams might need to access and troubleshoot computers that they own. Both of these scenarios can be well-addressed by using the unattended access features, which allow support team members to access remotes without any human intervention.
Cross Platform
In order to support as many users as possible, the ISL Online team has made both the support and client tools available for Windows, Linux, and Mac. I tested out the tool using an Ubuntu Linux (host) to Windows 10 (client) setup and the connection worked flawlessly. Additionally, Windows RDP connections can be tunneled through ISL Online in order to provide Windows users with a more secure connection configuration. SSH is also supported.
Annotations
Using ISL, support teams can draw annotations on their screen which will appear in real time on the client's computer.
Support agent's can choose from a pencil, marker, arrow or eraser—and change the color. These will appear for a number of seconds on the user's screen.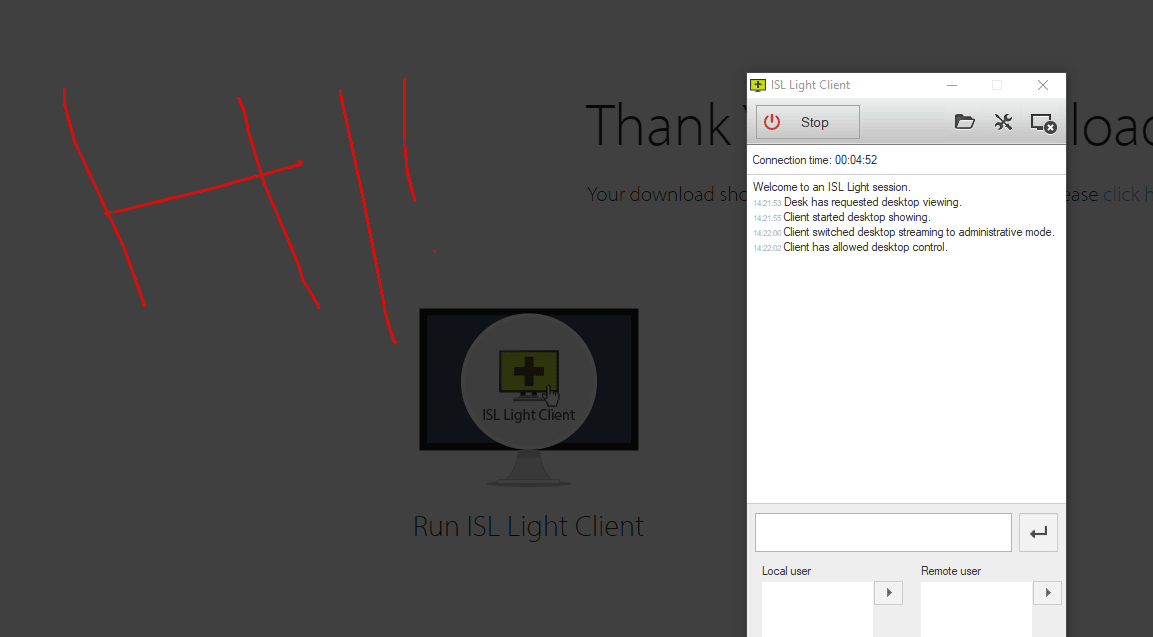 Session Recording
ISL Online supports session recording. Recordings can be initiated manually or configured to run automatically. The latter is useful for compliance purposes.
Live Chat
Two-way real time live chat is supported between agents and clients. This runs through a small chat window that undocks automatically after a connection is initiated. In addition, users can initiate VoIP phone calls and video conferences for more interactive support experiences. Finally, users are able to share files through the file sharing functionality.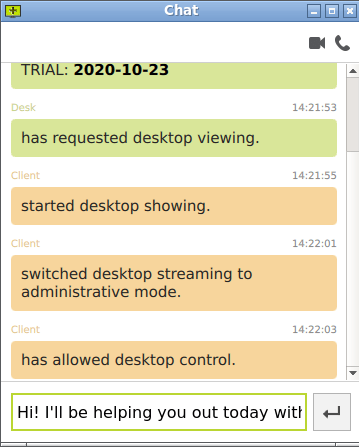 Live Guest Metrics
The remote access system also provides real time system monitoring from the support user's client to the agent's monitoring panel. The system information tab reports, in real time, upon:
The user's RAM and CPU consumption
The user's local storage capacity and availability
The user's upload and download speed
Whether the user is connected by battery or to AC power
The user's monitor configuration
The user's operating system, uptime, processor, and total RAM available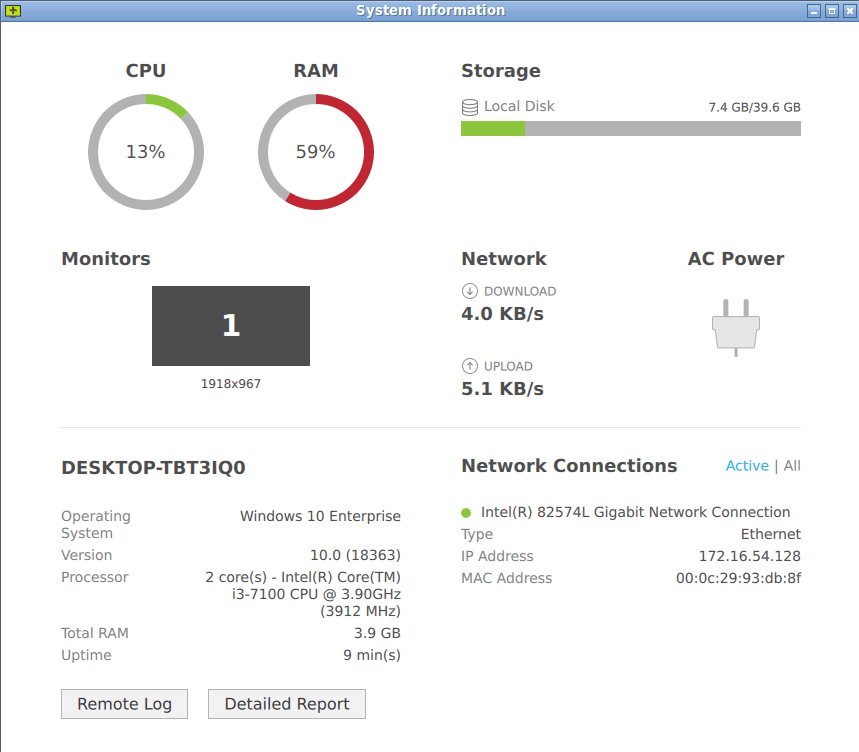 Prices, Plans and Value for Money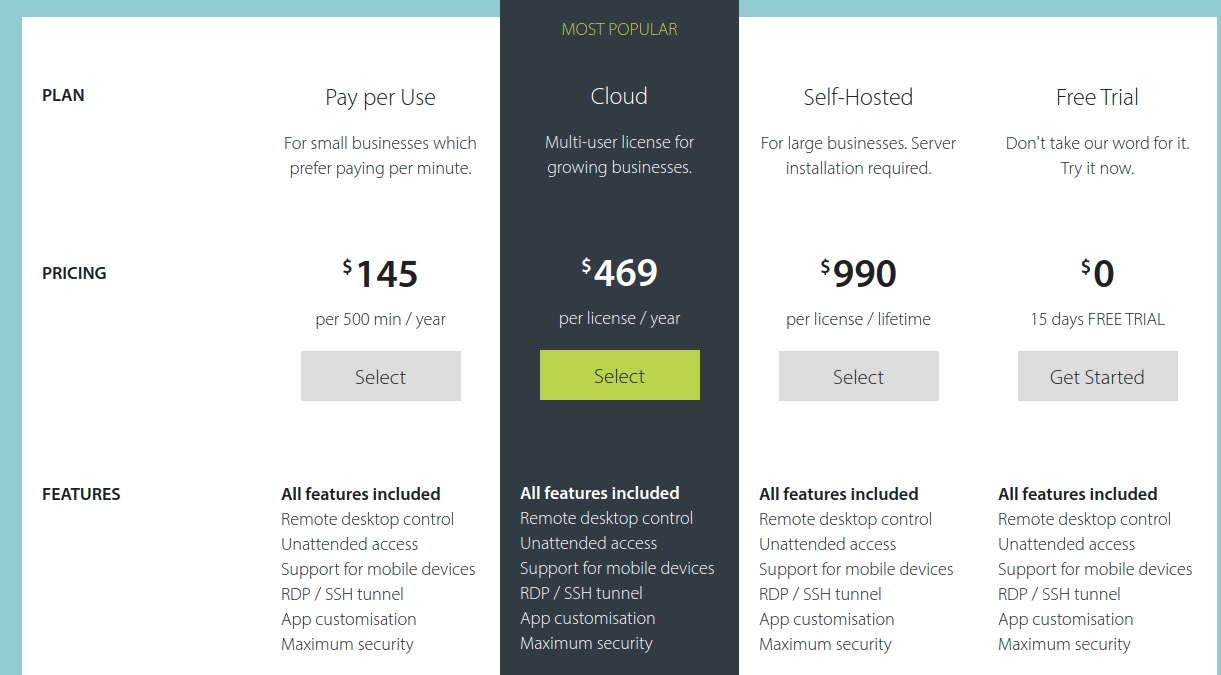 ISL Online is available for use on a few different pricing models.
500 minutes' access per year
Yearly user license. One simultaneous connection allowed per license
Users can opt to pay $145 per 500 minutes' connection time per year on the pay per use plan. Alternatively, the cloud hosted plan costs $469 per license per year—however this only allows one simultaneous support connection, so multiple seats are likely needed for support teams. Users can realize considerable cost savings by hosting the application on premises. Again, one simultaneous connection is provided for each license—but the fee is for a lifetime license. There's also a 15-day free trial.
Ease of Use and Setup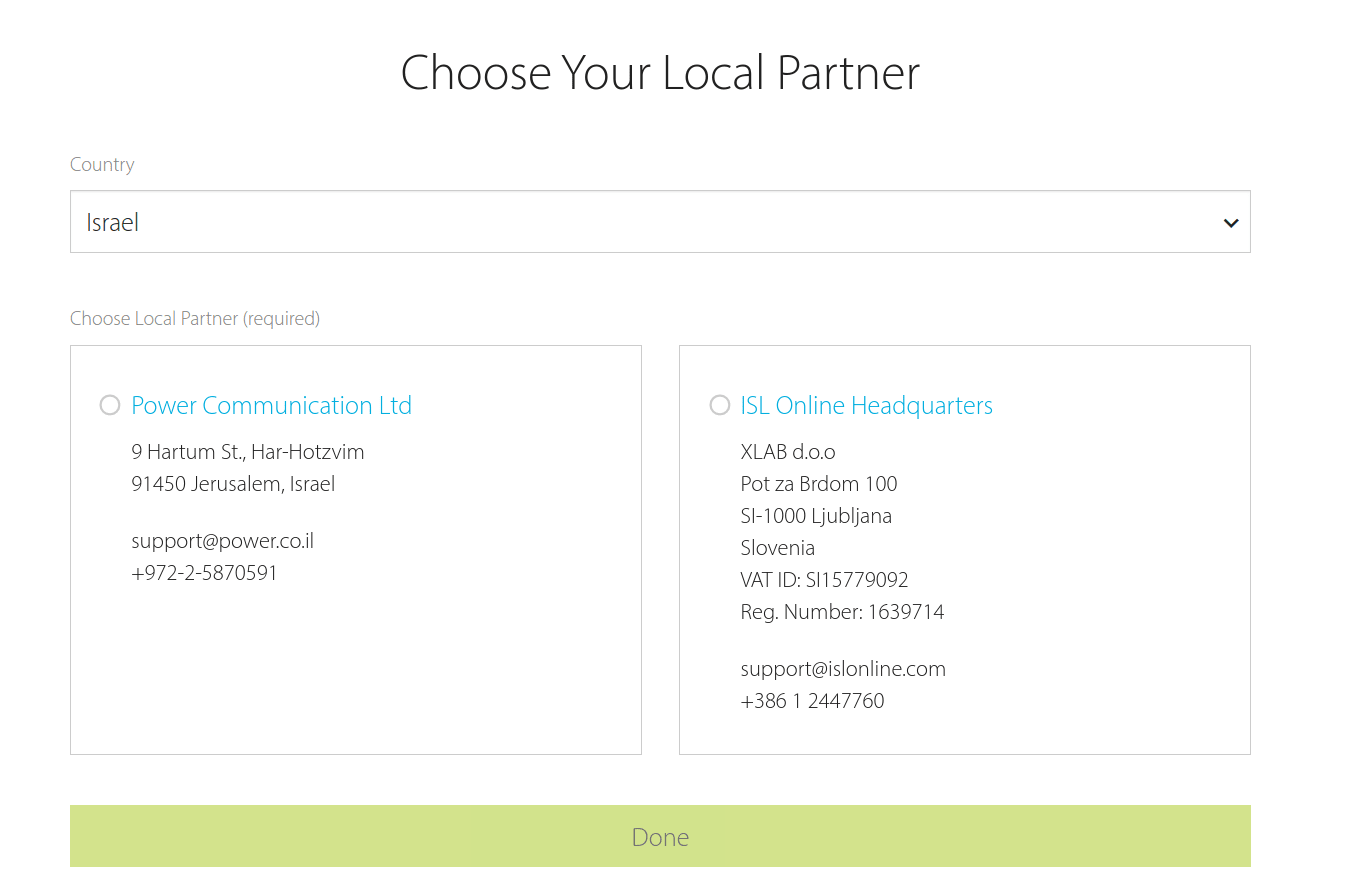 Setting up ISL Online for both support agents and end users is as simple as downloading and stalling the appropriate client (Llinux, Mac, and Windows are supported). After providing a login code the remote support connection is initiated.
For agents, there's a navigation bar along the top of the screen which allows them to toggle the input between their own computer and that of the client. Both mouse and keyboard can be easily toggled in this manner. Additionally the quality of the remote display can be changed. This is suitable for users who want to favor a fast connection over a high quality one—or vice-versa.

ISL Online Security
Secure Connectivity
In order to make sure that remote connections are being initiated securely, ISL Online supports a variety of security options. These include:
Multifactor authentication (MFA).
Integration with external authentication services for federated logins
Exportable audit logs
Additionally, connections are secured using the RSA 2048/4096-bit public/private key exchange for end to end encryption.
ISL Online Performance
Connection speeds through the ISL Online network are fast. I didn't notice any significant latency while connected on my test support session.
ISL Online Customer Service
ISL Online has put together a rich and comprehensive online Help Center filled with self help resources. This includes technical documentation related to integrating ISL Online with other platforms as well as an FAQ page for common questions and diagnosing frequent issues. Full API documentation is also provided.
What People Say About ISL Online
"This is a great product that just works, no messing, we give the customer the session code, connects very quickly and we can support our client's needs quickly and easily."
David from 3Tek (Via SoftwareAdvice.com)
"It's a product that simply works, the connection never fails and it is able to connect to practically anything."
Nega F (Via G2)
"Easy to use for us and our clients. It is also free for our clients, which makes it a simple thing for them to start using. It's very responsive and filesharing works great,"
Kim A, small business owner (Via G2)
FAQs
What clients are supported for agents?
Users can connect via Linux, Mac, and Windows
Is the consumer client free?
Yes, users can download the consumer client at no cost
How many connections are provided per license?
There is one simultaneous connection for each license
Bottom Line
ISL Online provides a robust remote access environment that is widely used by support teams around the world. It's truly cross platform and contains an impressive array of features, including annotation and automatic session recording.