In a Nutshell
TheCircle opens with a welcoming color palette and just a few page tabs to help navigate its services. The simplicity of this site is one of its positive features, offering only a few reading types, unlike other sites which may overwhelm new users with choices. However, lurking behind this user-friendly facade is a site that seems more interested in profit than customer service — they seemingly sell customer data and edit reader reviews.
pros
Fairly inexpensive compared to other online psychic sites
15+ years of experience
Accepts PayPal
cons
They may edit or even delete ratings/feedback
By signing up, you agree that TheCircle may use your data

TheCircle Visit Site
How Much Does TheCircle Cost?
At first glance, TheCircle seems to have a unique and affordable pricing structure in comparison to other online psychic sites. It advertises a flat $3.46 per minute rate, and if you buy in bulk to load up your account ahead of time, you'll get free extra minutes — from 3 free minutes when you buy 30 up to 11 free minutes when you buy 90. TheCircle also has a Welcome Offer of $0.59 per minute for 10 minutes of your first reading. While this isn't too bad, there are other sites out there offering a better introductory rate.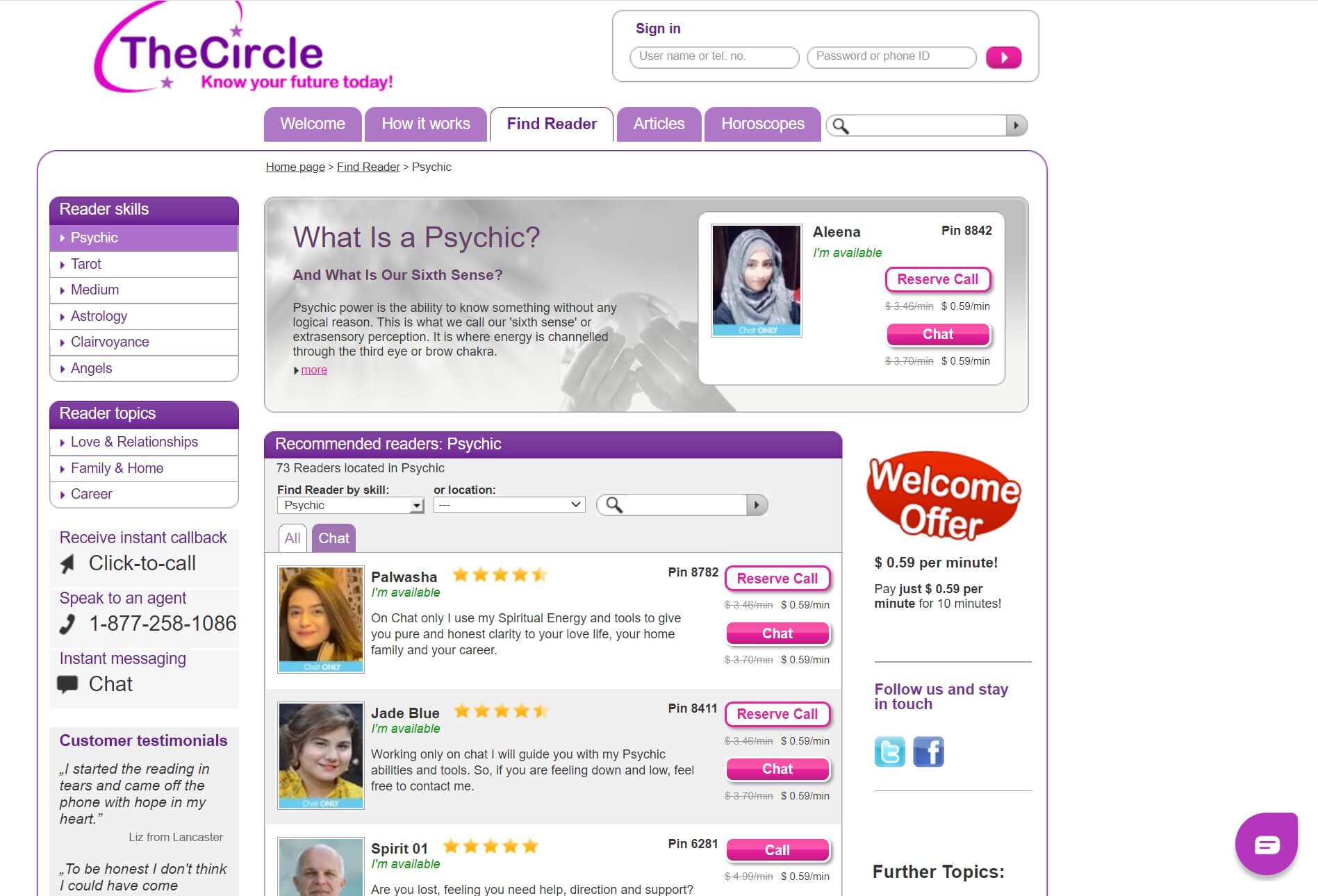 The flat-rate pricing structure is misleading, however. While many of the available psychics do offer the standard $3.46 per minute rate, there are some that go as high as $6.40. Not only is this confusing, but some of the readers even charge more for their chat readings than their phone calls, which seems odd since most users often find live phone conversations more valuable and worthwhile.
It may be that loading your account with minutes before a reading gives you a better rate than just paying as you go with an individual psychic, but this isn't clarified for the user. Also, buried within TheCircle's Terms and Conditions, you'll find that there is a VAT (value-added tax) — a.k.a. a hidden fee — applied to some readings "where applicable."
Top Payment Methods
Credit Card (Visa, Mastercard, AMEX)
Debit Card
PayPal
Pricing and Special Offers
Pay per minute, from $3.46 to $6.40 per minute
30 minutes + 3 free minutes for $103.80
45 minutes + 5 free minutes for $155.70
60 minutes + 7 free minutes for $207.60
75 minutes + 9 free minutes for $259.50
90 minutes + 11 free minutes for $311.40
Yes. $0.59 per minute for 10 minutes of the first reading
Is TheCircle Legit?
How does the brand screen potential readers?
TheCircle states that all of its readers are subject to a "vigorous vetting and monitoring process" in which 90% of applicants are screened out, but there is absolutely no information about this vetting process available on the site.
What's the process for becoming a reader?
So long as you aren't a customer on TheCircle, anyone can apply to become a reader. A potential reader only has to send them an email with contact information and explain why they'd like to become a reader. Then TheCircle contacts the applicant to begin stage 1 of the recruitment process, which is left unspecified.
Do TheCircle psychics work for the company?
Like most online psychic sites, TheCircle is a platform for psychic readers and customers to connect and psychics do not work for the company directly. While that gives greater freedom to the psychics, it also means that the site can deny responsibility when something happens.
How do users feel about TheCircle?
Although TheCircle's website might lead you to believe that it, and many of its readers, are well-regarded, other sources such as Trustpilot tell a different story. 38% of external reviews gave TheCircle a 1-star rating, while only 51% of the reviews were 5 stars.
This is a massively polarized set of reviews compared to other online psychic services, and many of the reviewers claim that their negative reviews on TheCircle's site itself were either deleted or edited. In fact, looking at the review policy in TheCircle's Terms and Conditions, it states that a user's most recent review of a psychic will automatically delete any older reviews of that psychic by the same user.
How to Get Started with TheCircle
How easy is it to sign up?
TheCircle makes it extremely simple to sign up. Just enter your email and a password, personal data, and payment information to begin speaking with a psychic immediately.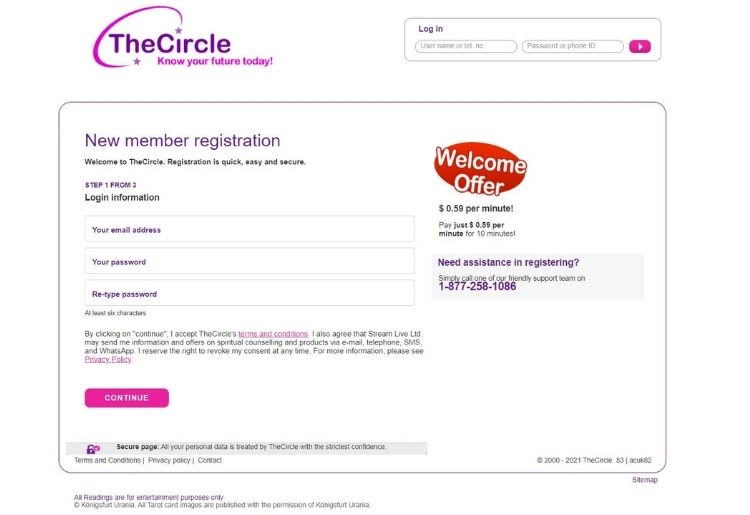 What personal information do you have to provide?
In addition to your email address and payment info, TheCircle also requires your date of birth, address, and phone number. This is a lot more than most sites, especially considering that TheCircle can use/sell your information according to its Terms of Service.
What payment methods are accepted?
TheCircle accepts major credit and debit cards (Visa, Mastercard, AMEX) as well as PayPal.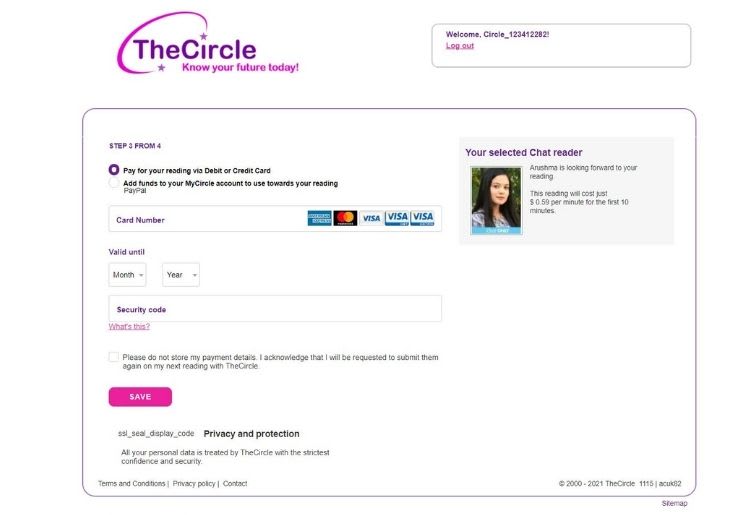 Do you have to deposit funds before being able to choose a reader?
You do not have to deposit funds before choosing a reader. You may either pre-pay for a certain number of minutes, and receive a few bonus minutes, or pay a higher per-minute rate.
TheCircle Features and Tools
Receive a reading by phone or chat.
Site includes articles and horoscopes, though it's not stated whether any of the readers on the site authored these supplements.
Money-back guarantee, but only if the reading was no longer than 5 minutes.
Basic ability to filter psychics by reader skills: e.g. psychic, tarot, astrology, or by reader topics: love & relationships, family & home, career.
User-friendly, if sparse, website.
How to Choose a Reader at TheCircle
Types of readings at TheCircle
TheCircle offers a limited variety of reading types compared to other sites. Its full line-up of general reader skills is:
Alternatively, you can search for a reader by topic: love & relationships, family & home, or career. Unfortunately, TheCircle doesn't offer anything more fine-grained than that, although it does have extensive articles on each of the reader skills to help users understand what that type of reading will be like.
What type of reader information is available?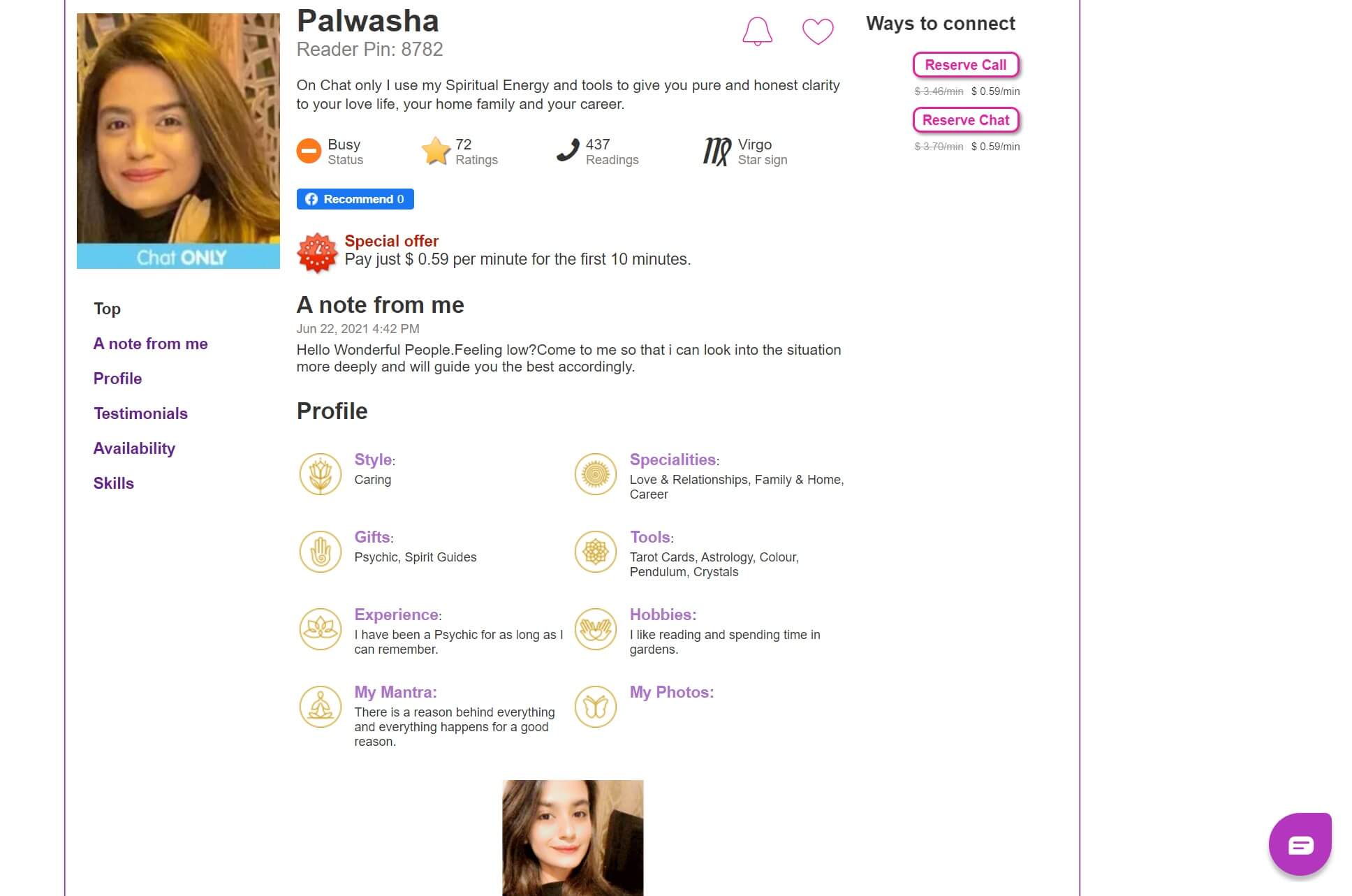 TheCircle only provides a basic profile on each reader. Most psychic's bios are just a few sentences, which indicates a lack of professional dedication to the craft. There are 7 headers in the profile — Style, Gifts, Experience, Specialties, Tools, Hobbies, My Mantra — allowing a broad picture of the reader, but these are just single or few-word answers. Overall, the reader profiles seem to lack substance.
Each reader's profile also lists time/days of the week when they are typically available, so that can be helpful if you're interested in repeated readings.
Are there customer reviews of readers?
Yes. You'll find customer reviews/ratings of readers in their profiles, including their total number of ratings, how many readings they've done, and their average rating out of 5 stars. Their ratings are broken down per star, which is a nice feature. However, the common criticism that TheCircle edits and deletes unfavorable ratings doesn't engender confidence.
How easy is it to book a reading?
Booking readings on TheCircle is pretty standard. Once your account is set up, you just choose your payment plan for the reader. Then you receive a callback from TheCircle or simply begin the chat reading. Because TheCircle always calls the user, the turn-around is likely immediate. However, there is no indication of what happens if the chosen reader is unavailable.
How can you connect to a TheCircle advisor?
TheCircle allows for readings either by phone or by chat. Both are easily accessed from the psychic's profile and/or thumbnail. Rates for each kind of reading differs, so the corresponding rate is listed next to that option.

Can you block or unblock an advisor?
No. TheCircle does not seem to allow users to block/unblock readers.
Can you leave feedback or rate an advisor?
Yes. You can leave feedback and a rating on a 5-star scale of their reader. However, TheCircle reserves the right to edit or delete any rating or feedback at their discretion. Deleting unfavorable reviews has been a consistent concern voiced by users on third-party review sites, and TheCircle also states that only the most current rating/review of a reader by each user is kept on the site.
Can you create a favorite list?
Yes. You can create a favorites list to return to psychics they've liked in the past. TheCircle also allows users to activate an availability notification for each reader as well. Most reading sites combine these features, so it seems this gives users a little more control over how to manage their notifications.
Can you ping your personal advisor?
Yes. You may send messages (emails) to a psychic through the site's mail service. Replies are received in your account on TheCircle and forwarded directly to your email address. There is no guarantee that the readers will respond to these messages.
Does TheCircle Have an App?
For readings on the go, TheCircle also has an app on Android and iOS. This allows users to streamline their experience for phone and chat readings. The reviews in the Apple Store and Google Play Store are generally favorable, but there are a decent number of users who did not have good experiences.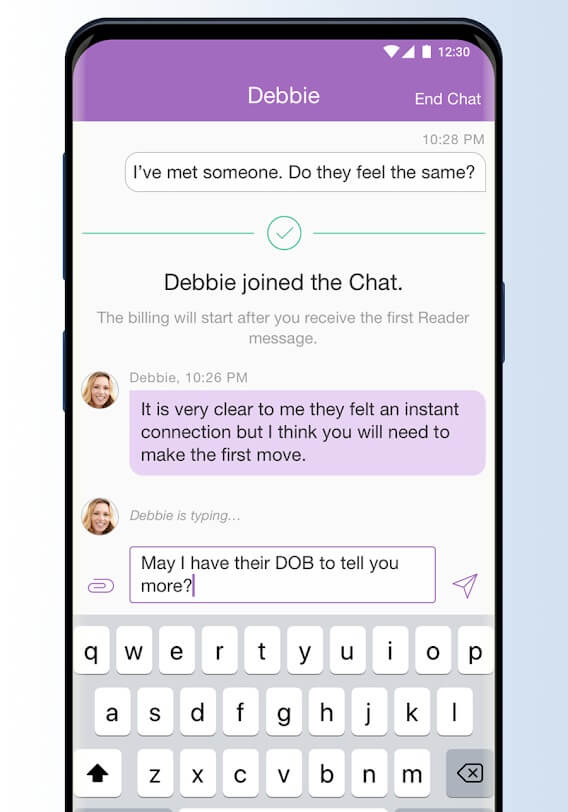 The apps seem to lack some of the functionality of the website, such as displaying a psychic's pin code or the ability to see previously used readers. Other reviews voice technical concerns: the app shuts down or doesn't accept coupon codes. Although the app may be a convenient option for some users, it seems to lack the professional implementation of apps from other psychic services.
How Does TheCircle App Work?
TheCircle's app functions very similarly to the website, allowing users to connect with readers by phone or live chat. However, some of the informative or convenient features of the website were left out of the app. Users looking for the full range of TheCircle's services are probably better off using the website.
Help and Support
The customer service at TheCircle falls short of other online psychic services. Its Help page is primarily geared toward advertising and using customers to expand TheCircle's client base rather than helping customers with difficulties. For instance, the FAQs offer guidance about only the most basic concerns — for example, "How do I choose a username?" — yet there are two separate entries about recommending TheCircle to others/your friends.
That said, TheCircle does give users three customer service options: live chat (8 am - 10 pm GMT), phone, or email. This is a better range of options than you might find on other sites, so that is a plus. On the other hand, reviews of their customer service aren't stellar, so it seems to be a mixed bag.
How to Get a Refund From TheCircle
TheCircle does offer a money-back guarantee… so long as you end the call within the first 5 minutes. Users are limited to only 5 refunds ever and only have 1 hour to submit the request — much stricter limits than most other online psychic services.
How easy (or difficult) is it to request a refund?
All you have to do is call TheCircle's main phone number to request a refund within 1 hour of the reading, where you're given the option to connect to a new reader or receive a refund to your given payment method. All requests are subject to verification and, again, are only applicable to readings lasting less than 5 minutes.
How long does it take to get a refund?
TheCircle doesn't state how long a refund request might take to be fulfilled.
How TheCircle Compares to Other Psychic Reading Sites
Welcome offer: $0.59 per minute for 10 minutes
Introductory free 3 minutes or $1.99 for 10 minutes
Introductory value package of $1 per minute for 10, 20, or 30 minutes
$1 - $4 per minute for first reading based on tier level
TheCircle vs. Keen
TheCircle has far more competitive rates than Keen: $3.46 - $6.40 per minute compared to $1.99 to $30 per minute, although Keen does have a better introductory offer at $2 as opposed to $5.90 for 10 minutes. TheCircle also lacks the wider range of psychic services that keen offers, though this might be a good thing for those who might be overwhelmed with too many options. Both offer the standard phone and text readings, but what really sets these two apart is that TheCircle may both sell user data and edit their psychics' reviews, making this site the less trustworthy of the two.
TheCircle vs. Psychic Source
TheCircle handily beats out Psychic Source by price, with their maximum per minute rate of $6.40 only being slightly above the $4.99 minimum of Psychic Source. However, if you take full advantage of Psychic Source's introductory offer, it becomes a much better deal. And price is the only category where TheCircle has the advantage over Psychic Source. Not only does the Psychic Source offer a much greater variety of reading types and video chat, they are much more dedicated to exemplary service and honesty than TheCircle, which retains the right to sell user data and edit reviews on the site.
TheCircle vs. California Psychics
TheCircle has an edge over California Psychics with regard to pricing, as their maximum per minute rate, $6.40, is less than half that of California Psychic's $15. Although the two remain competitive at the low end of the pricing scale, TheCircle has a nice $0.59 per minute introductory rate (up to 10 minutes) versus California Psychics' $1 - $4. While they both offer the same services, you'll find more reading styles as well as a far superior dedication to customer service at California Psychics.

TheCircle Visit Site
Bottom Line
While there may be some legitimate psychics offering their services through TheCircle, it seems 50/50 at best whether you're going to get a good reading. Although the website states that the company turns away over 90% of those who apply to become readers, the general consensus seems this turn-away rate isn't good enough. On top of that, the stated standard rate of $3.46 per minute is very misleading, as this seems to only indicate the minimum a reader can charge, and there may be hidden fees tacked on to your bill as well.
This less-than-forthcoming pricing model may be forgiven, as TheCircle clearly tells users what the psychic's rate will be before starting the call. But what's more unnerving is the trustworthiness of TheCircle's review/rating system and its privacy protection policies. Since TheCircle admittedly may edit or delete readers' reviews/ratings and may share your personal information among their psychics — or even with outside parties — this puts up a big red flag about how well users can trust they are receiving a genuine psychic reading.
Some readers even give the impression of simply being a comforting presence for the customer, someone who is there to soothe the user rather than offer any sort of guidance. If this is what a customer ultimately wants/needs, that's perfectly fine. But for those looking for a genuine psychic, it's probably best to look elsewhere.