In a Nutshell
Psychic Encounters has closed. The site is now owned by California Psychics. Read their review here to get an idea of the range of psychics and reading methods.
pros
Super low, transparent rates — only $0.99 or $1.99 per minute
250+ readers on the site
Sleek, modern website design
cons
No information about the psychic screening process
No refunds, period

Psychic Encounters has closed. The site is now owned by California Psychics. Read their review here to get an idea of the range of psychics and reading methods.



Psychic Encounters: The New Face on the Psychic Readings Scene

How Much Did Psychic Encounters Cost?
Psychic Encounters stuck to a flat rate system across the board. You either paid $0.99 or $1.99 per minute, which are some of the lowest rates you'll find for psychic services on the web. Although different readers would charge one of the two rates, there was no wide variance like you'll find on other sites. The downside to this policy was that you wouldn't find any sort of introductory offer on Psychic Encounters (although it did offer a 10% coupon code for new users).
Whenever you added a new payment method, Psychic Encounters would pre-authorize your payment method by putting a temporary hold on the account equal to a 30-minute reading: $30 or $60. However, you would only be charged for the time of the actual length of the reading and the hold was removed within 2 hours (though your financial institution can sometimes take longer). Future pre-authorizations with the same payment method would only have a $1 hold. Psychic Encounters stated all of this right up front on its Pricing page.
Top Payment Methods
Credit Card (Visa, Mastercard, AMEX, Discover)
PayPal
Debit Card
Prepaid Gift Card (Visa, Mastercard)
Pricing and Special Offers
Price per minute, either $0.99 or $1.99 depending on the reader.
Was Psychic Encounters Legit?
How did Psychic Encounters screen potential readers?
There was no information anywhere on the website about how Psychic Encounters vetted its readers. All the company said was that its psychics have helped thousands of users seek answers, and their years of experience provided sound guidance.
What was the process for becoming a reader?
There was no information whatsoever on how to sign up to become a reader, or the process potential psychics must go through. The only way to find out was to contact Psychic Encounters directly through their customer service messenger.
Did Psychic Encounters psychics work for the company?
Just like most other psychic sites, Psychic Encounters was merely a platform to connect psychics and customers. That means, all psychics were independent contractors and were responsible for the quality of their service.
How did users feel about Psychic Encounters?
Many of the psychics were rated 4 stars or above, with many having several hundred, if not thousands, of reviews. However, a little poking around revealed that there were almost no 1 or 2-star ratings. This seems a little fishy. Psychic Encounters reviews from third-party sites were somewhat favorable, aside from those who don't read all the details about the payment verification on the Pricing page.
However, there were also general complaints that the psychics may try to draw out the readings in order to try and maximize the amount retained from the hold placed on the account. Although the site boasts 250+ readers, there were only 10 to 15 available at any given time, so wait times can be an issue.
How to Get Started with Psychic Encounters
How easy was it to sign up?
Signing up was easy — you could use your email address to create an account. As soon as you entered a payment method, you were all set.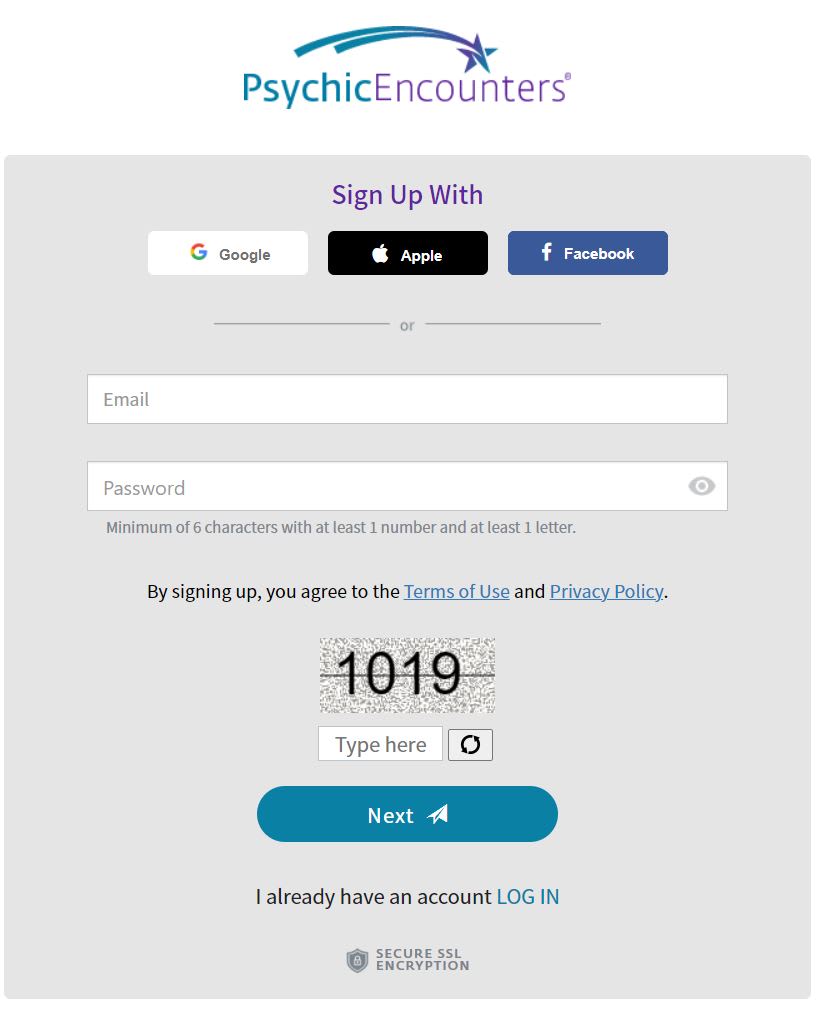 What personal information did you have to provide?
The only personal information you were asked for was your email address, payment info, and phone number. That's it! Much better than other sites which ask you for a lot more.
What payment methods were accepted?
Psychic Encounters accepted major credit and debit cards (Visa, Mastercard, Discover, AMEX), prepaid gift cards, and PayPal.
Did you have to deposit funds before being able to choose a reader?
No. You never had to deposit funds on Psychic Encounters — it was always pay-as-you-go. However, the site did put a hold on your payment method the first time you use it, which was equivalent to the cost of a 30-minute reading.
Psychic Encounters Features and Tools
Sleek and user-friendly website.
Filter readers by topic (love, money, life path), price, language (English/Spanish), and top ratings.
Huge pool of psychics (though not too many seem to be available at one time).
Incredibly affordable and transparent pricing structure.
Phone or live chat readings.
How to Choose a Reader at Psychic Encounters
Types of readings at Psychic Encounters
Psychic Encounters offered a very limited array of reading types. Most online psychic websites allow users to filter psychics by their method (cards, astrology, mediums) and topic (love, money, career). This site offered very few options in general and only allows you to filter by topic:
Love
Departed Loved Ones
Money
Life Path
That's it. Although the psychics may use a reading method, this certainly wasn't the site's emphasis. This gives the impression that most readers were just going to probe you with questions or listen to you talk.
What type of reader information was available?
Reader profiles were relatively spartan on Psychic Encounters com. They provided a tagline, rate, reader specializations, number of readings given, average rating out of 5 stars, and reviews. Many reader bios were only a couple sentences, although a few have a full paragraph or more.
Were there customer reviews of readers?
They certainly did. Along with the total number of reviews and their average rating, you could read, search, and even sort Psychic Encounters reviews by rating (low to high, high to low) or most recent. This last feature was particularly nice so you could easily find both the best and worst ratings. As mentioned earlier though, there were pretty much no ratings below 3 stars to be found. This gives the impression that the readings were curated. One review states the user gave "3 stars so [the] review will show. She hung up on me after one minute."
How easy was it to book a reading?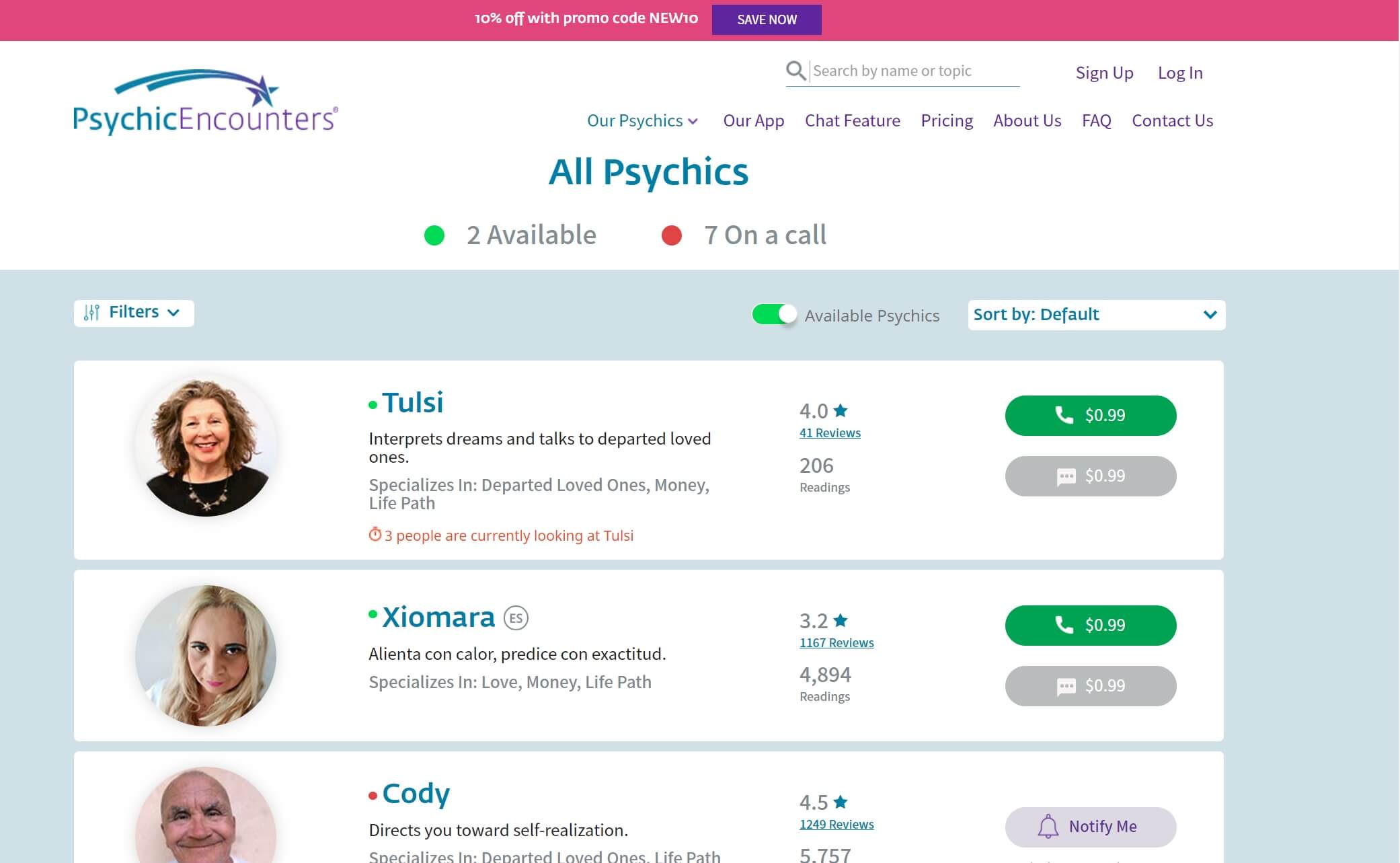 It was extremely easy to book a reading. As long as you have your Psychic Encounters login and payment info set up, you could start a phone or text reading right away. However, there seemed to be a very limited number of psychics available at any given time, so you might have ended up waiting a while for a psychic you like.
How could you connect with Psychic Encounters advisors?
Only phone and live chat readings were offered by Psychic Encounters, although some psychics may only opt for one method or the other. Both options were clearly indicated on the psychic's profile/thumbnail.
Could you block or unblock an advisor?
No. There seemed to be no ability to block/unblock a reader on this site.
Could you leave feedback or rate an advisor?
Yes. You could definitely leave feedback and provide a 5-star rating for a reader. As mentioned above, however, it seems that most ratings/reviews of less than 3 stars were omitted by the site. This made the trustworthiness of the site very suspect.
Could you create a favorite list?
No. You could create a favorites list on Psychic Encounters, although you could look through a list of past readers in your account profile.
Could you ping your personal advisor?
No. Psychic Encounters did not allow you to message or ping a reader unless you were actually starting a reading. You could have the site send you a notification when the reader comes online/becomes available.
Did Psychic Encounters Have an App?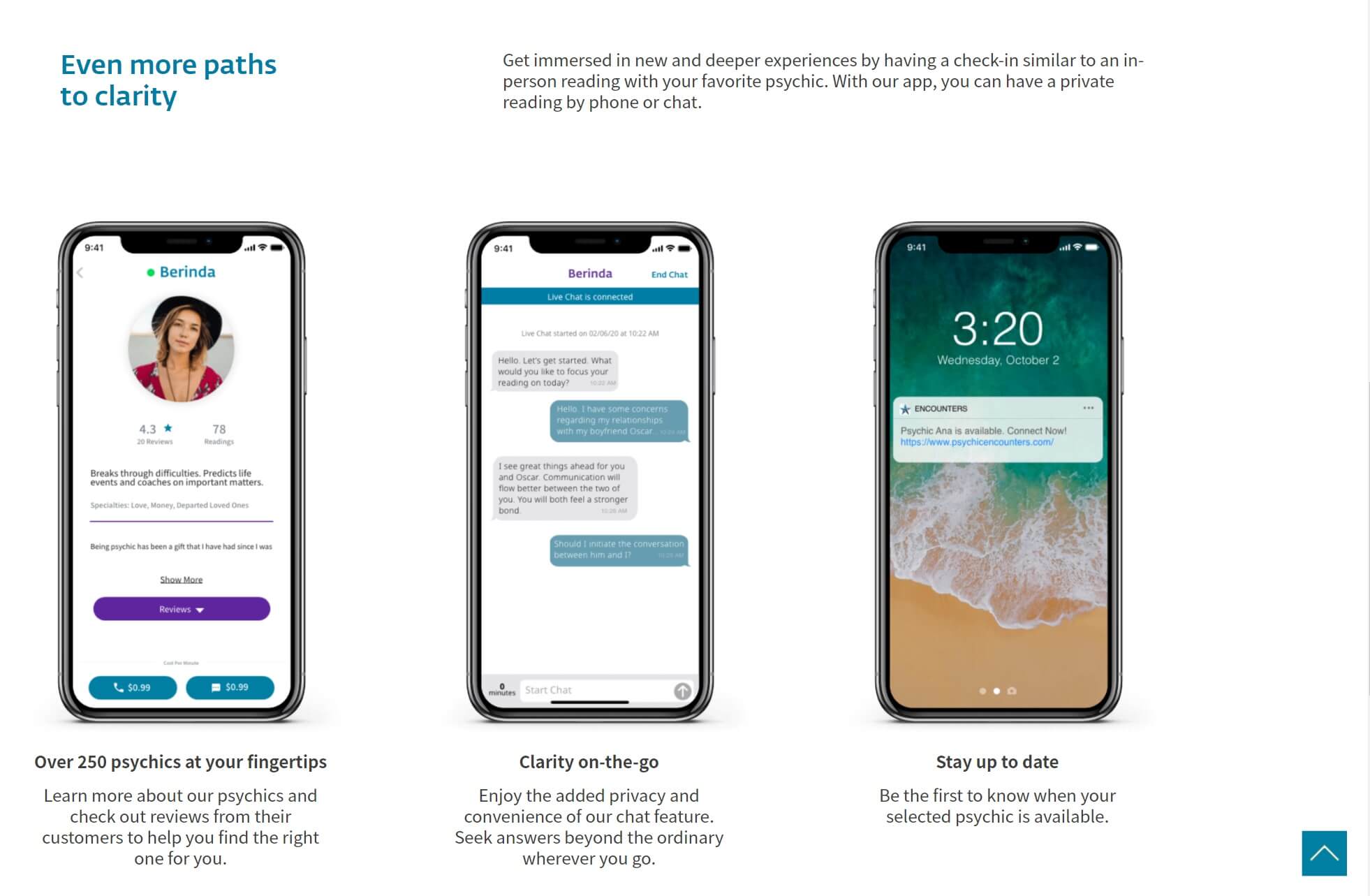 Psychic Encounters had an app for both Android and iOS, which they prominently displayed in the banner at the top of the Psychic Encounters website. Both apps seemed to be sleek and functional like the website itself. But the apps suffered from the same problems of the site in general.
Often, not enough psychics were available when you were looking for a reading, so having the convenience of a mobile platform doesn't help that much. Many of the bad reviews for the apps have to do with the "unexpected" verification fee. It seems many people on the app didn't look at the Pricing page.
How Did the Psychic Encounters App Work?
The app for Psychic Encounters worked the same as the website: create an account, provide your payment information, and start a phone or chat reading with a psychic.
Help and Support
Psychic Encounters' provided support through their Help Center. You would be directed to one of two pages to help you with questions about Psychic Encounters' service on the one hand, or account-related questions on the other. Both FAQ pages answered relevant, though basic, questions. The topics under About Our Psychics were somewhat geared toward curbing the user's expectation of the service. For example, some psychics will provide good ideas about timelines, while others may decline to make predictions or say that timing isn't one of their specialties.
The only way to contact Psychic Encounters customer service was through their mail system — there was no Psychic Encounters customer service number. To submit a ticket, you had to choose from a premade list of topics or choose "Other," which may indicate that the site used pre-generated responses or constrains user issues in an artificial way. This was not a live chat, and you were only guaranteed a response within 24 hours — definitely not ideal, especially compared to other sites with live customer service options.
How to Get a Refund From Psychic Encounters
Psychic Encounters definitively states in their Terms of Service that it did not issue refunds, period. Although its rates were lower than most sites out there, lacking any sort of refund policy is not a great sign.
How Psychic Encounters Compared to Other Psychic Reading Sites
Psychic Encounters was among the cheapest online psychic services out there with prices starting at only $0.99. That is significantly cheaper than some of the bigger players such as Keen or Kasamba, whose prices can reach up to $30 per minute. You could reach Psychic Encounters' readers via phone or chat. The site also had various promo codes that can bring prices down even further. If you were looking for affordable psychic advice, Psychic Encounters was certainly worth checking out.
Introductory free 3 minutes or $1.99 for 10 minutes
3 free minutes and 70% off first session (up to $50)
Introductory value package of $1 per minute for 10, 20, or 30 minutes
Psychic Encounters vs. Keen
Psychic Encounters had Keen absolutely beaten with their $0.99 or $1.99 per minute rates, compared to Keen's at $1.99 - $30 per minute. Although Keen did have a great introductory offer of $1.99 for 10 minutes, the always low-prices and promo codes at Psychic Encounters made the latter a far better price option in the long run. Psychic Encounters had a sleek website, but as part of its no-frills design, the site offered little else than the reading services: no articles, horoscopes, etc. Psychic Encounters also lacked in the area of customer service, as they could have sold user data, edit reviews, and offered no refunds whatsoever; but, if you were looking for readings in Spanish, Psychic Encounters would be a good choice.
Psychic Encounters vs. Kasamba
Psychic Encounters came out way ahead on pricing compared with Kasamba, whose maximum per minute rate goes all the way up to $30 compared to just $1.99 at Psychic Encounters. Kasamba does give you 70% off your first reading (up to $50), but if you are planning to be a repeat customer, Psychic Encounters was a better deal. It also offered phone readings instead of just the text-based ones at Kasamba, though the latter offers a wider range of reading types. If you were looking for a reading in Spanish, Psychic Encounters might have been the go-to site, but it was best to proceed with caution, as they may have sold your data.
Psychic Encounters vs. Psychic Source
Psychic Encounters had some of the lowest rates for psychic readings on the web: Psychic Source will charge you anywhere from $5 - $15 per minute, whereas Psychic Encounters would only charges $1.99 per minute at most. Psychic Sources introductory offer is able to match Psychic Encounters' normal rate, but the latter also gave you promo codes to discount your readings. However, Psychic Source is a site with decades of experience and strong dedication to customer service - Psychic Encounters, on the other hand, may have manipulated their psychics' reviews, sold user data, and offered no refunds whatsoever.

Psychic Encounters Visit Site
Bottom Line
Psychic Encounters may have been a good site for Spanish speakers, as there were many readers on the site that only gave readings in Spanish. In order not to get a reading in Spanish, you could read advisor profiles and check language offerings. The flat, inexpensive, and transparent pricing structure was really nice compared to pricier sites where it can be a little confusing to know how much you'll end up paying for a reading. The website design was definitely more modern and sleek than others on the web, but it was also a very "no-frills" deal. No articles or horoscopes were available like on many other sites, and the reader profiles were very slim.
Although Psychic Encounters was an inexpensive and user-friendly psychic services option, it was valuable to tread with caution. Very few readers were available at any given time, so you might have ended up waiting for one you like. Reviews of less than 3 stars seem to be deleted so the readers' ratings wouldn't go down. So, while it appeared that many readers have 4+ stars, this was definitely deceptive. This practice was likely covered by Psychic Encounters' Terms of Use, where they allowed themselves to do whatever they would like with user submissions. Coupled with a flat-out refusal of refunds and a tendency for readers to elongate the sessions made one think this site should probably be avoided if you were looking for a genuine psychic reading, even if you have to pay more for it elsewhere.