In a Nutshell
Isha Tarot Reading is a simple service that can provide insight into life's burning questions. The 100% free detailed consultation provides more than enough insight to provide clarity into whatever situation you may have occurring in your life, even if it could be improved a bit by cutting back on the upselling. You can get further email readings for a simple flat fee of $99,making it a great choice if you don't need a costly phone consultation.
pros
Tarot, numerology, and astrology options
30-day, 100% money-back guarantee
Blog is nicely organized around each service offered
cons
Only available via email
Few reviews online

Isha Visit Site
How much does Isha cost?
I was quite impressed with Isha's overall pricing model, which leads with a 100% free, zero-pressure approach. After getting one free reading, you'll be invited to purchase further paid readings for a flat fee of $99 each, with $40 off your first reading. In comparison to competitors, this is a superior approach if you are likely to have long and complicated readings; your price is fixed and won't go up by the minute.
Your purchase is 100% secure and encrypted and can be paid in one full or three separate installments without any additional fees. (Any bank fees for currency conversion or state/country charges taxes may apply.). Visa, Mastercard, and American Express are accepted.
Is Isha Legit?
While Isha does appear to partner with another psychic site, The Medium Maria, Isha himself is solely responsible for performing all readings, so you shouldn't have to worry about authenticity.
The reading provided in my free consultation proved to be both timely and somewhat accurate. On Facebook, Isha's interactions with his following of nearly 9,500 are congenial and altruistic.
While Isha is not rated on Trustpilot or the Better Business Bureau, Scam Detector rated the site 58/100. A few negative reviews mentioned the frequency of Isha's contact via email and that the free services only seemed to lead to being asked to purchase a paid service for greater detail.
How to Get Started with Isha
Getting started with Isha is very easy. On the homepage, just sign up for an 100% free consultation via the signup form. Provide your first name, email address, and date of birth, and a few hours later, you will be greeted with a welcome email that contains the link to your free consultation. If you decide to obtain a paid reading after your consultation, Visa, Mastercard, and American Express cards are all accepted forms of payment.
Isha Features and Tools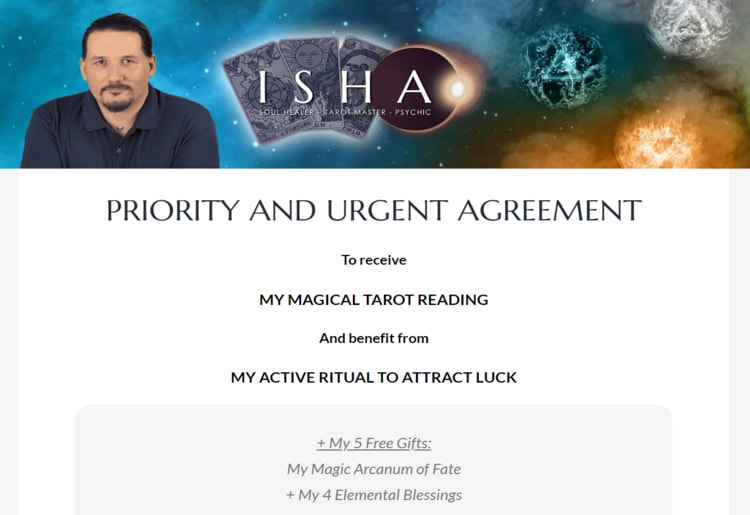 All readings are performed exclusively by Isha himself.
The emphasis of the readings is on the Zodiac and its corresponding elements.
Get a free detailed astrological consultation, jam-packed with a thorough and clear explanation of not only what's at play astrologically but suggestions on how to address these.
Guided meditations are available for purchase on the website and priced based on length–the longer the meditation, the more it will cost.
At this time, there is no option for phone, video, or chat readings.
Working with Isha
Working with Isha is simple, as there is only one reader to choose from, Isha himself.
To book a reading, simply get a free consultation, then follow the embedded links. All of Isha's paid readings are performed via customized email reports. If you want to find out more about his process of performing readings, on the website you can read his biography, which details his gift and how it works.
You can contact Isha via the contact form on his website or via Facebook. However, his last activity on Facebook appeared in December of 2020.
Types of Readings at Isha
Free consultations.
Active Magical Tarot reading, which highlights in great detail what your life could look like once your soul has been healed and balance restored to your aura.
Active Ritual of the 4 Elements, which helps resolve the opposition between the core element of your Zodiac sign and your aura.
Isha's Magic Arcanum of Fate, which serves as a constant connection between Isha and yourself to strengthen the effects of any readings or rituals performed.
What about the Isha app?
At this time, there is no Isha smartphone app available.
Help and Support
Isha has partnered with the company Apps & Go Limited, which handles all customer service inquiries on his behalf. Its customer service department will communicate with you via email. First, use the contact form on Isha's website form to reach out. It's worth mentioning that I sent a query about services using this method, but did not receive a reply to my inquiry.
Should you find yourself curious about the modalities Isha employs during his readings, there is a dedicated blog page on numerology, soul readings, tarot readings, and psychic readings.
How to get a refund from Isha
Isha offers a 30-day, 100% money-back guarantee if you are not satisfied with any purchase.
To get the refund, navigate to the contact form on the contact page and write "Refund Request" accompanied by the product or services you purchased in the subject field. You'll have to repeat this information in the body of your email.
Apps & Go Limited will carry out the refund, returning the funds to the bank or credit card account you used to purchase.
How Isha Compares to Other Psychic Reading Sites
Isha Tarot Reading is unlike most other psychic sites as there is not a selection of readers from which to choose. Isha personally does each reading himself, with results delivered completely digitally, and the pricing is typically a flat rate.
Isha vs. Keen
Isha Tarot Reading, while an affiliate of Keen, is comparatively more expensive. Keen charges $1.99 per minute for 10 minutes, with an introductory rate for your first reading, which comes out to much less than the $99 fee for a paid Isha reading. However, Isha's free detailed consultation and myriad of additional gifts for $40 off the original price can be worthwhile if you don't need to actually talk to your reader.
Isha vs. California Psychics
Unlike Isha, California Psychic has a database of readers you can connect with via a phone call. California Psychics offers per-minute rates ranging from $1-$4, with discounts available for your first reading. While Isha offers the best free deals, if you're looking for personalized advice, being able to contact your reader via phone makes California Psychics the frontrunner.
Isha vs. Psychic Source
Psychic Source maintains a large database of trustworthy readers with whom you can get a video reading at your convenience. Unlike Isha's flat-rate paid readings, Psychic Source readings cost $4.99-$15 per minute. Though there are some promos and discounts, your costs could rise quickly, making Isha a better source for a cost-effective reading and free gifts. However, Psychic Source is a better fit for those who prefer a live connection.

Isha Visit Site
The Bottom Line
I would recommend Isha's email-based readings if you're seeking clarity or insight about your life. For the sheer detail that Isha provides in his free consultation, it's definitely worth your time. He does a great job explaining how your Zodiac sign, corresponding element, and numerology interact and how they may be affecting your current circumstances. While paid readings are a bit on the pricey side, the flat rate can save you from some competitors' high per-minute fees, and the value of the free reading and $40-off discount is hard to beat.
FAQs
Can I trust Isha?
Isha offers a ton of value in his free consultation alone. His approach to reading is insightful, lighthearted, and friendly. While some online reviews disliked the suggestions to get a paid reading to find out more, my experience was positive and trustworthy.
Is Isha free?
Isha does provide a totally free consultation. Besides a few guided meditations in his e-store, there is nothing to purchase until after you receive your free consultation. After that, you can opt to go further and book him for paid services.
Does Isha have good customer service?
Isha's customer service is handled by a third-party vendor, Apps & Go Limited.