BitWine Visit Site
Overview
What types of readings does BitWine offer?
Although BitWine com doesn't offer the greatest variety of specific topics or reading methods that other sites do, they have some that are a rarity. Some of these unique offerings include parapsychology, psychic healing, the occult, card readers, and reiki. BitWine psychics also provide more run-of-the-mill long term advice, striving for accurate readings. With fewer categories, it means users need to go through reader profiles more directly, which helps users get a better sense of the psychic before committing to a reading.

What type of reader information is available?
BitWine psychic profiles are often much more robust than you'll find on some other sites. Since the psychics have to basically sell themselves on BitWine, it behooves them to have more comprehensive profiles.
You'll find a general description (including any of their packages/$10 deals), specializations and qualifications, and the psychic's experience. The psychic's rating, total number of reviews, language(s), and reading type (phone, chat, etc.) are also available.
Is BitWine Legit?
How does BitWine screen potential readers?
BitWine offers a more structured application than many other psychic platforms, but it does not disclose any other aspect of their screening/vetting process. Other than the application questions, BitWine only states that readers must abide by the site's Code of Conduct. BitWine is more of a directory service for connecting users with readers rather than being a curator of psychic talent.
What's the process for becoming a reader?
Potential readers must fill out the online application and provide contact/residential information, a photo ID, and answers to several questions about their abilities and experience. BitWine also asks for links/sources that would show whether the applicant has existing psychic profiles elsewhere online. This may strengthen the application, but it is not required.

Do BitWine psychics work for the company?
All of BitWine's psychics are independent contractors and the site is a just mediator for all communication between their readers and the users. Psychics and users may not share contact information or conduct sessions with one another outside of the site.
Are there customer reviews of readers?
All reader reviews are posted, along with the ability to sort between reviews rated as Excellent, Satisfactory, and Unsatisfactory. This is very different from other online psychic services which may curate and delete poor reviews in order to boost a rated psychic. Comments are often more informative than the ones you'll find elsewhere, too — users take their time to write about their experience.
How do users feel about BitWine?
It's difficult to find feedback about BitWine that isn't just feedback on the psychic's profile pages. Since BitWine's model is sort of unique in that it doesn't claim to screen its readers — it's just a place for users and readers to connect — reviews of the site itself are less important.
Ultimately, the BitWine psychic reviews are the ones that matter and many psychics have pretty favorable ratings. The reader can also respond to negative ratings/feedback, so it's cool to get their side of the story when a reading isn't ideal.
A Look at One Of BitWine's Top Psychics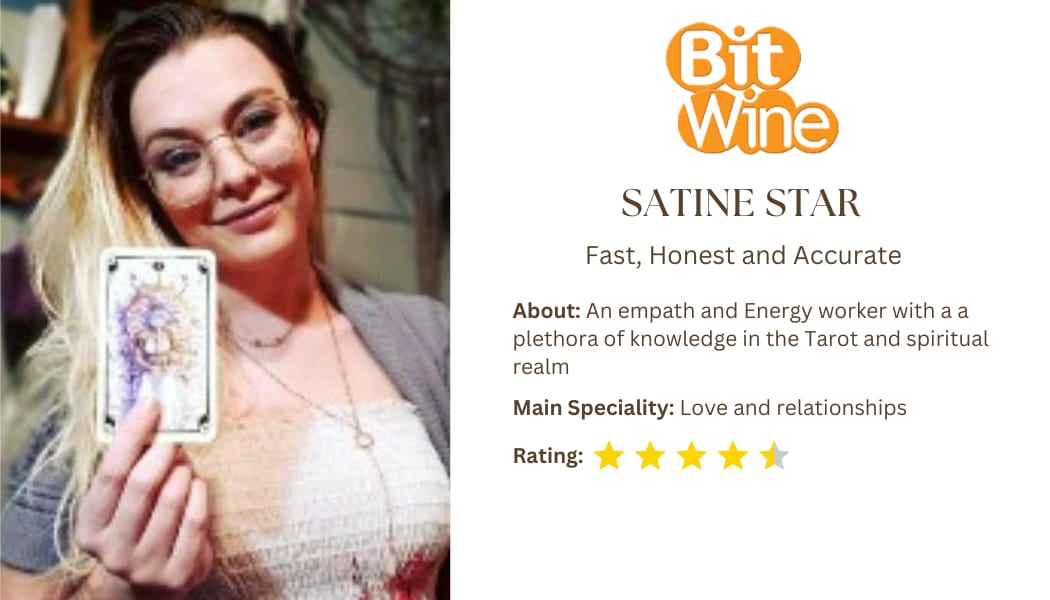 Satine Star is a certified psychic with over 15 years of experience. Specializing in love and relationships, she offers guidance in complicated situations with a non-judgmental approach. Her tools include tarot cards, pendulums, runes, herbs, and crystals.
Satine is adept in energy work, offering sessions for chakra healing and balancing, and possesses profound clairvoyance, particularly in understanding the influence of karma on love lives.
Having conducted over 50,000 tarot layouts, she's known for her empathetic nature and deep connections with clients. Satine Star's services are priced at $1.99 per minute, with a special $10 deal for 10 minutes for new client
BitWine Features and Tools
Users negotiate rates/packages directly with each psychic rather than abiding by a fixed rate mediated by the site.
No need to create a BitWine login to start your free chat with a psychic.
Refunds are available at the psychic's discretion, not mediated by the website.
Site doesn't tamper with user feedback, and allows psychics to respond directly to reviews.
Simple, no-frills website. BitWine is simply there to connect users to readers.
How BitWine Works
How to Get Started With BitWine
How easy is it to book a reading?
BitWine makes it super easy to book a reading (unless you don't like negotiation). You can start a free 3-minute chat with any psychic without even having a BitWine login. Once you and the reader set the terms of the reading, the psychic sends you an invite to officially start the reading.
How can you connect with BitWine advisors?
The type of readings available is completely up to the psychic. Although you initiate the session, the user and reader decide whether to start a reading by phone, video, or chat.
Can you block or unblock an advisor?
No. BitWine does not allow you to block/unblock a reader.
Can you leave feedback or rate an advisor?
Yes. You'll be prompted to leave a review for the reading immediately after concluding the session. In addition to providing written feedback, you also rate the psychic on a 5-star scale and indicate whether the reading was Excellent, Satisfactory, or Unsatisfactory. This last system is unique to BitWine and really helps to sort through and view the good and not-so-good reviews to see whether the reader is a good match for you.
Can you create a favorite list?
No. BitWine doesn't offer a favorites list feature, but they do keep track of the psychic that you've used in the past so you can return to the ones you liked.
Can you ping your personal advisor?

Yes. You may leave a message for a psychic who is either busy or offline. However, there is no guarantee how long they will take to respond.
Does BitWine Have an App?
No. BitWine does not have an app.
Help and Support
Just like many aspects of their site, the BitWine customer service is also pretty basic. Their Help section is fairly small for users, although readers have a much more comprehensive FAQ page. Since BitWine's functionality is pretty minimal compared to most online psychic services, it doesn't require something as robust. However, should you run into a problem while using the site, you'll still find a BitWine phone number and email address for customer support.
It's worth noting that since all services are directly negotiated between a user and a psychic, BitWine has no sort of satisfaction guarantee or refund policy. The site is there more to help with technical issues than to mediate disputes between users and readers. However, this lack of support cuts both ways: if users abuse the psychics or mediums, it is not BitWine's policy to mediate or reprimand the abusive party. This is one reason that some psychics choose not to work on BitWine.
How to Get a Refund From BitWine
Unlike most online psychic sites, BitWine offers no satisfaction guarantee or refund policy. This is because users and psychics agree on their own terms for each reading. However, the psychics themselves do have the option to issue refunds at their discretion.
How easy (or difficult) is it to request a refund?
Since any refund request is made directly to the psychic, you wouldn't have to provide any details of the reading for investigation. However, unless a technical difficulty or the like was the cause of an unsatisfactory reading, it's unlikely the psychic is going to issue a refund for their services.
How long does it take to get a refund?
Refunds would be issued via PayPal, so they would be more or less immediate if the reader decides a refund is warranted.
BitWine Pricing
How Much Does BitWine Cost?
BitWine appears to have one of the lowest-cost pricing structures that can be found online. Each psychic usually charges between $0.50 and $3 per minute — very reasonable when compared to other sites charging as much as $30 per minute. However, just glancing through the list of BitWine psychics, there are some that may charge up to $10.
Still, the vast majority of the readers on BitWine do stay under the $3 rate. Many readers also offer package deals for a certain number of minutes that provide a fairly good discount from their normal rate. However, per BitWine's policies, these rates are not absolutely fixed. During the initial free 3-minute chat with a psychic, both parties agree to a rate or fixed price for the upcoming reading.
A unique feature of BitWine is the $10 deal that may be offered by a psychic. What you get for this deal is completely up to the psychic, while some readers don't offer these deals or free readings at all. For example, you might get a 3-card tarot spread or get the first 5 minutes of the reading for "free" (aside from the $10). Although these little deals might not be life-changing, they are a neat feature unique to the site.
Top Payment Method
Pricing and Special Offers
Price per minute, from $0.50 to $9.99 per minute.
Each reader can offer their own package(s)
BitWine Alternatives
How Does BitWine Compare to Other Psychic Reading Sites?
BitWine's prices start at a jaw-dropping $0.50, placing it far below the average price among its main competitors. Readings are available via phone, chat, or video—common options in the industry. Unlike other services, BitWine doesn't have any special offers, but you can negotiate rates with readers directly, an option that can still yield you a discount.
N/A. However, all reading rates are negotiated between user and reader, so prices might differ from listed rates.
Introductory 3 free minutes or $1.99 for 10 minutes
Introductory value package of $1 per minute for 10, 20, or 30 minutes
$1 per minute for New Customers
5 Free Minutes (CODE: "ADD5") + 80% Off
BitWine vs Keen
BitWine looks a little gimmicky compared to Keen, whose site is sleek and modern. With the flashing buttons and reader profile pictures that do not always show the face of the reader, users may be more dubious about the quality of readers on BitWine. Keen, on the other hand, is filled with reputable psychics and is known among sites for having transparent psychic ratings and outstanding customer service, which provides users with more reassurance. BitWine is limited in the selection of readers and services offered, while Keen services over a million users per year and has an abundance of readers to choose from. The one neat feature of BitWine is the ability for users and readers to negotiate prices, setting either a fixed price or agreeing upon a per-minute rate. BitWine also offers video readings, which Keen does not.
BitWine vs Psychic Source
BitWine and Psychic Source both offer phone, chat, and video readings, but there are a few differences between the sites that make Psychic Source the better option. Psychic Source is focused on the customer's experience and ensures high-quality readings through their satisfaction guarantee policy. This site also has a membership rewards program where users earn points. BitWine does not have a refund policy and only has limited customer support to negotiate disputes between users and clients. Plus, there is no incentive for return customers. Psychic Source also has a much wider range of psychic readers with clear profiles, compared to the smaller selection available through BitWine.
BitWine vs California Psychics
BitWine looks very outdated compared to the professional, clean presentation of California Psychics. In comparison, BitWine's readers are much more eclectic, almost to a fault where users might question their authenticity. In contrast, California Psychic, one of the most reputable psychic reading sites, has detailed reader profiles, a satisfaction guarantee policy, transparent customer reviews, and a customer loyalty program One thing BitWine does have that California Psychics does not is video readings. However, overall California Psychic seems like a better choice for users looking for a genuine psychic experience.

BitWine Visit Site
Bottom Line
BitWine offers a unique platform for users to connect with online psychics from all over the world. Unlike most online psychic services — which are heavily invested in maintaining readers' ratings — BitWine allows the direct exchange of money, services, and feedback between the users and psychics. This means that you must do your own research when looking for a psychic advisor on this site. Viewing the reader's profile and looking through the feedback — both positive and negative — will help you weed out which psychics are offering legitimate services.
Since BitWine complaints or general feedback cannot be removed or altered, meaning you'll be able to see exactly what other people think about their readings. In all likelihood, choosing rated psychics on the pricier end ($3+ with a "Top Advisor" tag) is going to find users a better match than looking for the bargains.
The site offers a basic design and functionality compared to other psychic sites, which may or may not be appealing to users. BitWine's customer service is likewise pretty minimal. Overall, users who do their research, even by using the site's forum page, may have a good chance of connecting with a genuine psychic.