An open mind is vital when it comes to all practices within the psychic realm, but it requires a lot more than that to master the skill of reading auras.
What's an Aura?
An aura is a person's true nature, and it cannot be hidden or faked. It presents itself as an energy field around your physical body, and is a projection of what's going on inside. This includes our health, peace of mind, thoughts, and spirituality; and all of these will affect the color and intensity of the aura.
If a person is sick or suffering—even if they're not yet aware of the illness—that can be seen in a person's aura as well. Luckily there are psychic healers who can help you cleanse your aura.
Here are 4 of the best online aura reading and cleansing sites:
1. Psychic Source
Over 130 aura readers

Special offer: First 3 minutes free
Psychic Source stand out as an online psychic reading site for aura cleansing with its 130 clairvoyant psychics to choose from (clairvoyants see things beyond the physical sphere, like auras, spirits, and visions, as well as the past and future).
The first 3 minutes are free with your first paid reading, and after that you can chat with psychics for as little as $0.66/minute. Psychic Source also allows you to chat from any device, anywhere in the world, as long as you have an internet connection. Have your aura read where and when you want it with Psychic Source.
Read the full Psychic Source review

Psychic Source Visit Site
2. Keen
6 aura cleansing specialists

Newcomer deal: First 3 minutes free
Keen has 6 aura cleansing specialists you can currently book a reading with. When you register with a credit card, you'll get your first 3 minutes free. With Keen, you can have peace of mind knowing that all conversations are private and anonymous.
Find out more about your aura and cleanse it to bring about positive energy with a Keen aura cleansing specialist.

Keen Visit Site
3. California Psychics
Over 380 clairvoyants with aura reading abilities

As low as $1/minute
With California Psychics, your aura cleanser or reader will be able to tune into your energy as soon as the call begins. Apart from your birthday and any questions on your mind, your reader won't require any more information to get started and relay information to you that they're seeing with regards to the colors, shapes and density of your aura.
California Psychics advises all customers to be prepared with questions before the reading, and have an idea of what you want from your session. Make the most of an aura reading with California Psychics.
Read the full California Psychics review

California Psychics Visit Site
4. Kasamba
73 aura readers

Special offer: 70% off your first reading
Kasamba currently has 73 aura readers to choose from. Each time you contact a new reader, you'll get the first 3 minutes of that session free. Kasamba suggests using this time to introduce yourself, ask questions, and gauge whether there's a real connection with the reader.
Kasamba guarantees full confidentiality in all sessions. It also has one of the best phone psychic service, with a unique real-time chat platform that allows you to chat freely with your aura reader and ask questions without having a phone conversation.

Kasamba Visit Site
A Simple Guide to Aura Colors
Depending on your energy, your aura will change color. Your aura is constantly evolving depending on your mood, thoughts, and health.
Here's a simple explanation of what the different aura colors signify:
Red is the most powerful of the colors, and can either suggest strong ambition, survival instinct, or a strong sex drive. It's also the color of danger, and can represent anger or hate.
Yellow within adults represents high intellect or an analytical mind, whereas in children it usually means happiness and creativity.
Green represents healing, nurturing, and comfort. This might show up for those who are psychic healers, too.
Blue is a calming aura, signalling peace and honesty. This also often symbolizes an intuitive and caring nature, and someone who people seek out for support during difficult times.
Orange represents energy and enthusiasm—in a physical or mental state.
White energy fields are rare because they mean purity of the heart and mind, and someone who is deeply in tune with their spirituality.
Black tends to be a negative aura color, along with browns and greys. This might signify ill-health, depression, or fear.
What Is an Aura Cleansing, and Where Can I Get One?
Your aura is made up of 7 energy levels which correspond to your 7 chakras. A skilled aura reader will give you insights about all of them.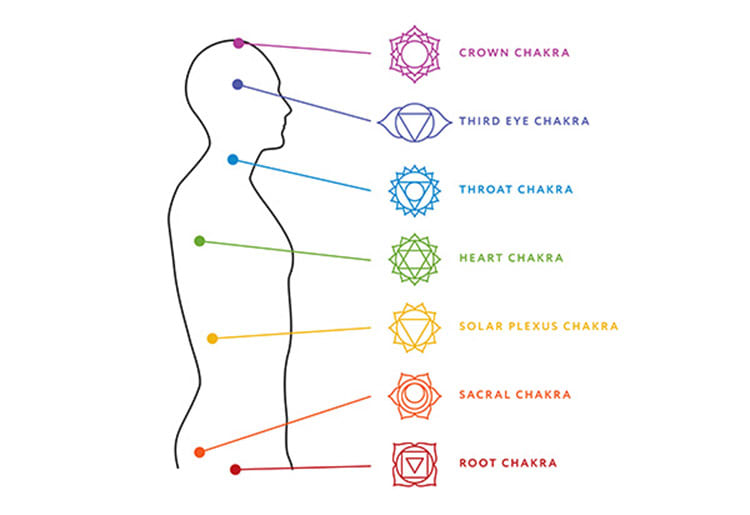 Here are the 7 layers:
The first auric layer (Root Chakra) - relates to the health or sickness of the physical body.
The second layer (Sacral Chakra) - is where you display feelings of attraction or rejection, and develop security and emotional well-being. A healthy aura here also means you're in touch with and at peace with your sexuality.
The third layer (Navel Chakra) - shows how you interact with your world and expresses the personal power you hold within.
The fourth layer (Heart Chakra) - this is where you display your heart and emotions tied to your family, friends, partners, pets and colleagues. It's also where your generosity of spirit and compassion can be felt.
The fifth layer (Throat Chakra) - this represents your communication skills as well as your creativity.
The sixth layer (Third Eye Chakra) - is where most people's intuition can be found and any connections to the unseen world.
The seventh layer (Crown Chakra) - is your spirituality and connection to source (whatever higher source or energy you believe in). Highly evolved and developed people will radiate a glow in this area.
Within the layers of your aura, the reader will be able to see a mixture of colors, shapes, movements, density, brightness, and energy blocks, which will tell them what's happening on the inside and outside.
If you're in a toxic relationship, if you haven't yet dealt with the death of a loved one, or if you're unhappy in your current job—an aura reader will be able to see all of these details and advise you how to regain health and inner peace.
Just as you cleanse your skin, it's important to regularly cleanse your aura. When you're feeling confident, grounded, and in great health, your aura will be clean and extending brightly out at least a foot in all directions from your body. But when you're sick, unhappy, or heartbroken, your aura will be much closer to your body, appearing in darker colors, and needs to be cleansed.
To cleanse your aura, your reader will suggest certain practices, meditations, and affirmations to create a positive force of protection around you, and boost your inner happiness. As a result, you should have more energy, more focus, and much more control over your emotions.
Aura readings and cleansings by healers can be done using online psychic reading sites, and there are many reputable companies who have a number of aura specialists to choose from.
Cleanse Your Aura
Whichever site you choose for your aura reading, browse the selection of aura readers and contact whoever you feel most drawn to. Allow your intuition to guide you.
Most importantly, try to relax and enjoy the experience of learning more about yourself, and the layers of your aura.
You might also like: