Zenefits Visit Site
Overview
How Zenefits Works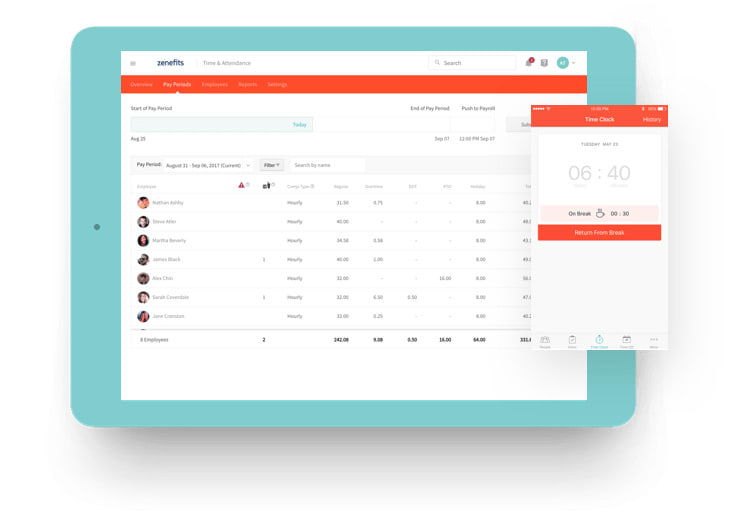 Zenefits Highlights
Low monthly rates
Lots of add-ons
Winner of PCMag award
Automates day-to-day tasks
Features and Add-ons
Zenefits puts all of your payroll details into a single system and then automates the process for you. So, payroll gets done efficiently, easily, and without you having to lift a finger.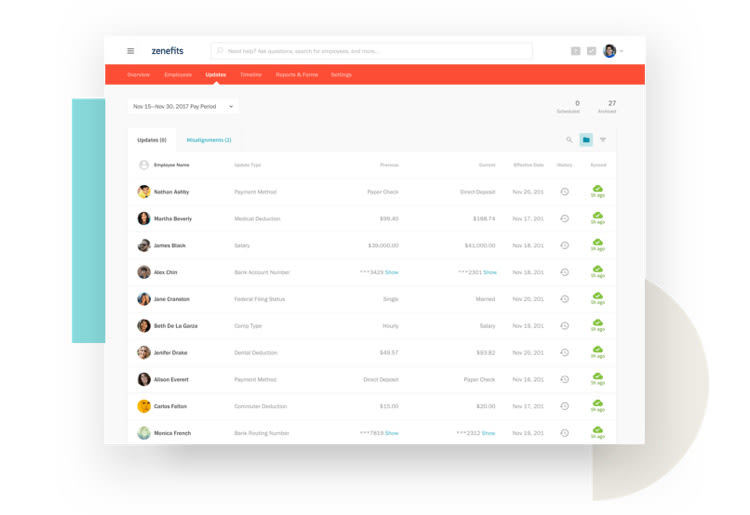 Automatic upkeep
This feature makes sure that everyone is on the same page at all times. Changes made in one place will automatically be updated in the payroll system, as well. This is an extremely important feature because it ensures that no information falls through the cracks or gets left out because of human error.
Automatic onboarding
Automatic onboarding means new hires are instantly added to the payroll and time-tracking systems. So, when a newbie arrives at work for the first time, they are already in the system.
Auto tax filing
Auto-tax filing will save you a boatload of time and aggravation (more about that later).
Payroll timeline
This amazing feature lets you take a bird's eye view of an employee's payment history. That means you can see a specific action or circumstances that affected the team member's paycheck at a moment's notice.
Some other great features from Zenefits include:
HR platform
Custom fields
Business intelligence
Documents app
Time off tracking
ACA compliance
Compliance assistant
HR library
Benefits including commuter, disability, life, vision, dental, and medical
HR Management
In addition to being a quick and efficient payroll service, Zenefits is also a solid HR management tool. It's filled with all the right features to make this aspect of your business run smoothly and without the usual hang-ups or hiccups. Some of the best features include:
Hiring and onboarding
Employee directory
HR records
Company org charts
Mobile app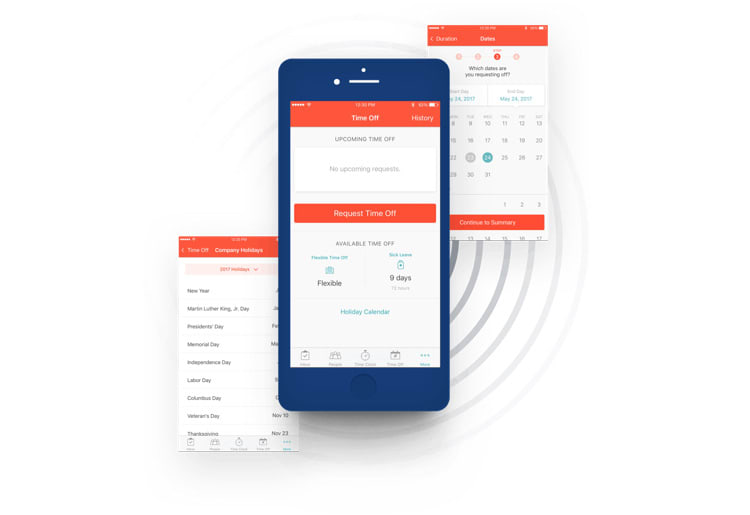 It takes all of the headache out of human resources, making it a pleasure to work with people again. The mobile app lets managers stay on top of things whenever and wherever they are, the onboarding and hiring ensures a smooth transition that everyone can be happy with from day one, and the compliance advisors help you navigate those legal matters that never seem to make sense.
Tax Compliance
Zenefits provides you with automatic tax filing, including everything from state and federal tax filings to end of the year W2s for every employee. These services come included in your payroll packages, which is nice because some payroll vendors require you to pay for this type of feature. It's worth noting, however, that Affordable Care Act compliance is an add-on that comes with an additional fee. Zenefits is available in all 50 states too, so you can rest assured it's got all of your state requirements covered.
Payment Options
Zenefits proudly offers direct deposit as its payment option, so you can go completely paperless in your paycheck processing—it'smore organized, good for the environment, and good for everyone.
Zenefits App
We found Zenefits to be extremely user-friendly. The dashboard layout is not only visually appealing (a plus when you are constantly staring at a screen), but also intuitive. That means you'll be able to easily locate the various tasks and menus within well-organized subcategories and visual icons. And since most of the beauty of Zenefits lies in the fact that most functionality is automated, there is so little that you actually have to do on a regular basis to maintain this platform.
Zenefits automatically updates the system and includes a dynamic workflow, so you don't even have to input much data. All information you put into your Salesforce, QuickBooks, or Expensify apps, for example, will automatically be updated into this platform as well. What's more, Zenefits makes it easy to connect with other software or plans you might already have in place; your medical, dental, or disability benefits plans for example.
Zenefits Pricing
Pricing & Special Offers
Zenefits' pricing structure can be a little confusing at first if you aren't familiar with this type of software. In essence, there are only 2 types of plans to choose from, the Standard Plan or the Advanced Plan. Each of these plans can be signed up for with annual or monthly contracts. You can save up to 25% with the annual contracts, so if you know that Zenefits can help your organization, the long-term plan is an economical choice. Regardless of which plan and what type of contract you choose, your total costs will include a flat-rate $40/month membership fee as well. Here's a look at what you get from both Zenefits plans:
$5 per month per employee
$9 per month per employee
$6 per month per employee
$12 per month per employee
In addition to the features that come bundled with your plan, there are several add-ons you can include in your plan for a more customized package:
Price Per Month Per Employee

Zenefits Visit Site
So, in order to get a comprehensive payroll service out of Zenefits with 10 employees, you'll pay the base rate $40 fee, along with either $50 or $60 per month for the Standard Plan and $90 or $120 for the Advanced Plan, plus the $60 per month for payroll add-on. Remember, if you take any add-ons, these will be added to the total. All together per month, it comes to $150-$160 for Standard and $190-$220 for Advanced. This is comparable with other SMB employee management and payroll services including competitors like Gusto.
Bottom Line
From Human Resource management to getting payroll out quickly and effortlessly, Zenefits really nails it. The system is easy to use, running most functions behind the scenes without you even realizing it. The automatic timesheets, along with benefits and vacation day integrations, allows Zenefits to process payroll without you having to input any information or do a thing. Add to that the add-ons like professional advisors and performance management tools, and Zenefits truly is a fabulous tool for SMBs in any industry.