Quickbooks Payroll Visit Site
Overview
How Quickbooks Payroll Works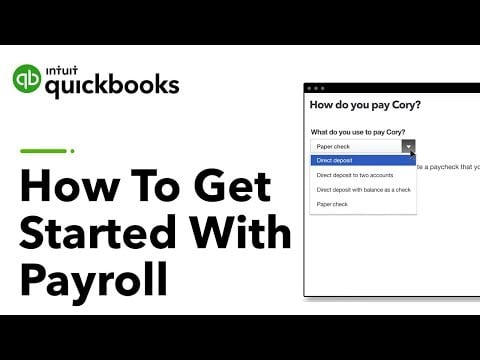 Features and Add-ons
Quickbooks has a leg up on the competition when you factor in its simplified pricing model and all-inclusive features. There's no additional buy-in required from premium services compared to competitor payroll solutions, and the laundry list of features is a mile long.
Payroll services with Quickbooks includes (but isn't limited to):
Automated new-hire reporting
Employee portal for easy personal updates
Automatic tax processing
Automated payroll processing (run payroll on autopilot)
Unlimited payroll runs (you don't pay per run)
Detailed payroll reporting
Flexible schedule with employees paid on different schedules based on your classification
Simple collaboration tools so bookkeepers can work more closely with accounting and other team members
Pre-tax benefits including HAS, FSA, IRA and 401(k) processing
Mobile accessibility
Tax Compliance
Quickbooks offers an impressive approach to tax filing, providing accurate and automatic deductions and filing of all payroll taxes. The platform automatically calculates, pays and files all of your local, state, and federal payroll taxes. There's no additional cost—it's completely done for you. Along with that is an accuracy guarantee so you never have to worry about fines from improper calculations.
Payment Options
Getting employees paid is easy, with free direct deposit for employees and the ability to print checks on site when payday comes. Processing payroll happens quickly so getting payments to your employees is never a stalled process that takes several days with other payroll providers.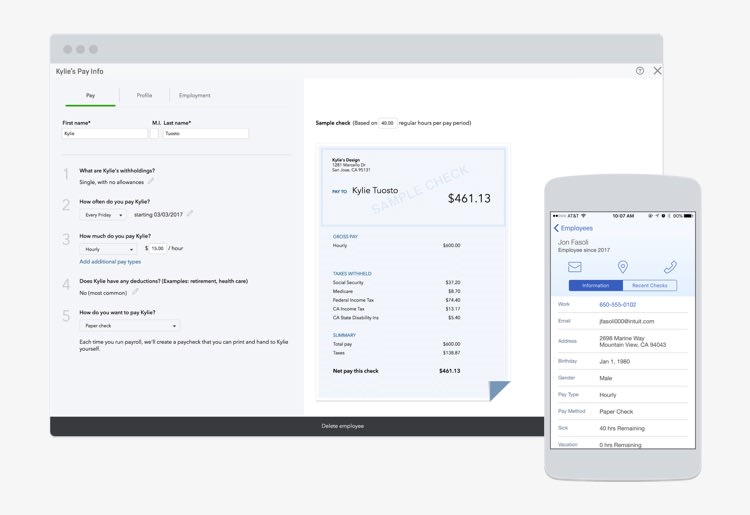 Unfortunately, Quickbooks doesn't offer payments through card services like prepaid cards.
Quickbooks Payroll App
Payroll is a complex set of data and tasks but Quickbooks simplifies the entire process with a visual appeal that is intuitive and easy to use. That applies not only to the administrative portal but the employee portal as well. The only downside is that there are fewer reports to be accessed on the backend compared to other payroll services which can be a usability limitation for data minded administrators.
Quickbooks Payroll Pricing
Pricing & Special Offers
Quickbooks has a simple pricing model that you can adjust on a sliding scale on the website to see how much the service will cost you. It's always a base price of $39 per month plus an additional $6 per employee.
The per employee price is a bit higher than others, as competitors tend to charge closer to $2-3 per employee however Quickbooks bundles a lot more features into the service making it a fair trade off.
*Prices last updated June 2018

Quickbooks Payroll Visit Site
There is a free trial in place, giving you the opportunity to try the service before making a commitment.
Bottom Line
Quickbooks has a lot of competition on the market but the simplified pricing and rich feature set makes it pretty evenly matched with some of the biggest names in payroll processing, even just a bit ahead. You would be hard pressed to find this many features at a more reasonable price.