In a Nutshell
Servicing more than 40,000 small businesses across all 50 states, Gusto has a reputation for being on your side, and with a tagline like, "We believe that humans aren't resources," it's no wonder. Gusto has made its mission to emphasize the "human" in human resources, focusing on employee benefits, automation, and ease of use.
pros
Easy integration with QuickBooks, Xero, Deputy, and others
Friendly, easy-to-use, personable software
cons
No PEO option
Only manual processing for mandated deductions

Gusto Visit Site

Gusto's HR Features
As previously mentioned, Gusto tries its hardest to "treat people like people, not ID numbers." It does this by offering an easy platform for managers to work with (taking much of the burden and stress off of their shoulders) and a benefit-laden program for employees to enjoy (making workers happier to work for you!) These are some of the features we really liked from Gusto's feature menu:
Payroll
Most HR software offers payroll services, and Gusto is no different. What does make it stand out is the unlimited payroll option. This service allows users to pay employees any time they want for no additional fees. No need to wait until the scheduled payment cycle arrives. Gusto payroll lets you make off-cycle payments, award bonuses, and factor in one-time workers without a hassle. Cancelling payments is also easier with Gusto than most other sites.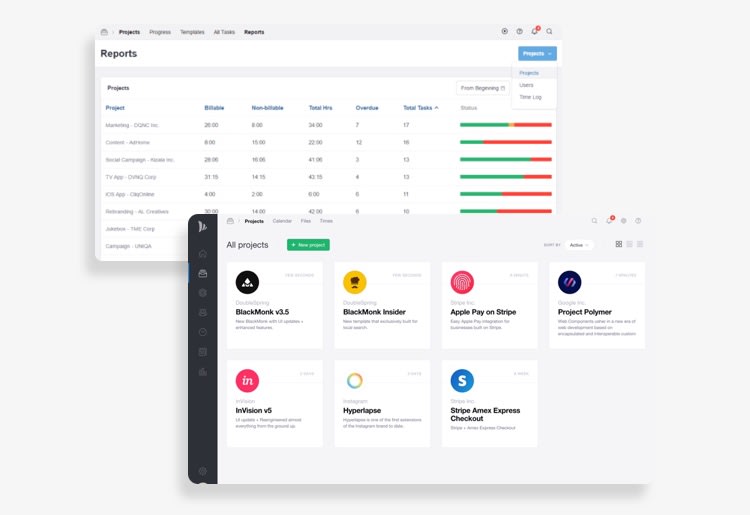 HR Services
HR services are the things that make your life easier and your company a better place to work. Some of the most relevant features are available from Gusto including employee health benefits like health insurance and unemployment, time off tracking and payments, college savings, and 401Ks. And for added convenience, all of these benefits are handled and organized on the same online dashboard for faster, easier management.
Onboarding
Hiring managers will appreciate the ease with which Gusto incorporates new hires into the system. When an applicant is approved for the job, the manager just clicks a button to automatically onboard the new employee. Then, the system sends all of the necessary contracts, tax forms, and paperwork to the new recruit to sign and send back. It's faster and more efficient than ever.
Accounting and Time Management
Gusto integrates with Deputy time-tracker so you can easily see which employees are taking their work seriously (combine that with the talent, attendance, and task management features, and you can get a really clear picture of employee productivity). Additionally, Gusto syncs with QuickBooks, Xero, TSheets, and other time sheets so your hours are instantly updated and added to the payments system. Tax management features ensure that your books are always handled properly according to state and federal legislations, and Gusto will even update your taxes according to the latest reforms and regulations.
Bundle this software with other Gusto features like data security and back office assistance, and it's easy to see why so many people like this company.
Records and Reports
Gusto reports are simple for even the most non-technical employee. Fields are customizable, and you can create, manage, and print several types of reports including payroll reports, individual employee productivity charts or team reports, timesheets, employee surveys (anonymous or by name), and new hire reports.
Flexibility of Terms
Gusto has several HR packages that businesses can sign up for on a monthly or yearly basis. Additionally, Gusto lets you customize your packages, so you can choose which features you want to pay for and which are unnecessary for your business.
Pricing
While the pricing for Gusto services will vary based on which features and plans you are interested in, its prices are highly competitive, much lower than some of the competition. For example, a sample pricing for Gusto's payroll services on the Simple Plan is $40 per month, plus $6 per user. With this package, you receive automatic tax filing, unlimited payrolls, multiple pay rates and schedules, multi-state payroll, time off tracking, and tax form amendments. You'll also get expedited payroll services when applicable.
For the general HR services pricing, see the table below:
$40/mo + $6/mo/per person
Full payroll
Employee benefits
Expert support
$80/mo + $12/mo/per person
Onboarding
Paid time off requests
Employee directory & surveys
Exclusive pricing for larger teams
Certified HR professionals
Dedicated support
HR resources
*Prices last updated July 2022
As you can see, these plans are considerably less than you'll pay elsewhere. The Simple package is a great basic level plan that provides startups and SMBs with an affordable option that is still loaded with useful features like unlimited payrolls, tax filing, unemployment insurance, reports, health benefits, and unlimited customer support.
Gusto also offers a free trial, something you won't find with most other HR software providers. This is a serious advantage as you can test drive the software without any commitment. You also won't have to pay any setup fees or end of the year W2 filing with this company.
Usability
The modern online user interface makes adding and updating information easy. What's more, once you've set up your schedules, settings, and preferences, Gusto HR software takes care of most of the work automatically. This way you don't have to keep going back to update or manually set things in motion.
Gusto does not have a dedicated mobile app. Rather, it is mobile-optimized, so you can log directly onto the website from your mobile device without the added step of downloading an app. The mobile site has all of the same functionality, features, and navigation as the regular desktop site with exactly the same look, feel, and processing for a seamless experience.
Gusto has strong layers of security on its site, so users might not appreciate the 2-step authentication, but it is really the best way to keep your organization and business information secure. As a side note, Gusto also provides thorough security for all of its data centers including biometric and iris scanner locks, surveillance cameras that are monitored 24/7, and onsite security staff.

Gusto Visit Site
Customer Support
The entire look and feel of the site is friendly, open, honest, and clear, which makes for a better, quality user experience right from the start. Gusto continues with the same attitude by hiring and training professional customer support staff to field all of its customer relations and questions. Every experience we had with Gusto's customer service was a positive one, and you will find the same results from an online search of its reviews.
Is Gusto Worth It?
Providing a wide range of helpful features, offering useful and clear information directly on its website, and delivering more services than you could imagine, Gusto is a pleasure to work with. Combine that with the full range of services and a surprisingly affordable price tag, and this company quickly shoots to the top of the charts. With a free trial, you can't go wrong.
---
* Update for April 2023: Gusto was not impacted by the Silicon Valley Bank shutdown. Gusto has a redundant system of leading national banks, including JP Morgan Chase and PNC. A redundant system of banking partners means working with more than one bank for money movement processes - so if one banking partners fails, you can still access funds through another. Gusto has been using this system for many years, ensuring if one bank failed or experienced disruption, customers would still be supported.