Square Visit Site
Overview
How Square Works
About Square
Square began in 2009, and it quickly rose to the top as one of the premium mobile POS options on the market. Offering customers fair rates on small transactions, no monthly fees, and a bundle of features you normally would only find from the really big names, Square makes creating a smooth, streamlined, and professional business platform easy for everyone. It currently has an A+ rating with the BBB, showing integrity and reliability in business.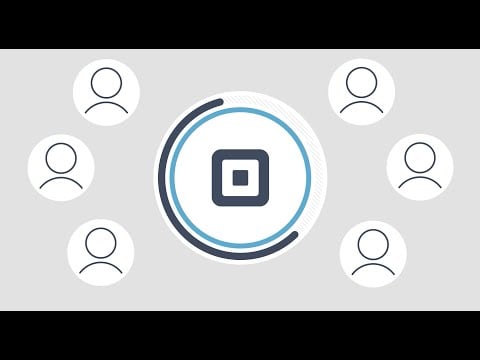 Features and Add-ons
Square has some amazing features to work with. Aside from its regular platform that is already loaded with functionality, the Square Marketplace has hundreds of add-ons and integration options, such as:
Pay employees via direct deposit, manual checks, or to the Cash App or Cash Card
Data import/export

Electronic payments

Overtime calculations

Recurring billing

Sales tracking

Mobile app for maximum flexibility
Some of the features that are particularly attractive to payroll searchers include:
Timecard and sheet imports so the system can automatically make payroll calculations based on employees' clocked hours.

Complete tax management, calculations, and filing (W2, 1099, vacation)

No subscription fee

Only pay per employee you are paying

Custom reporting

Overtime calculations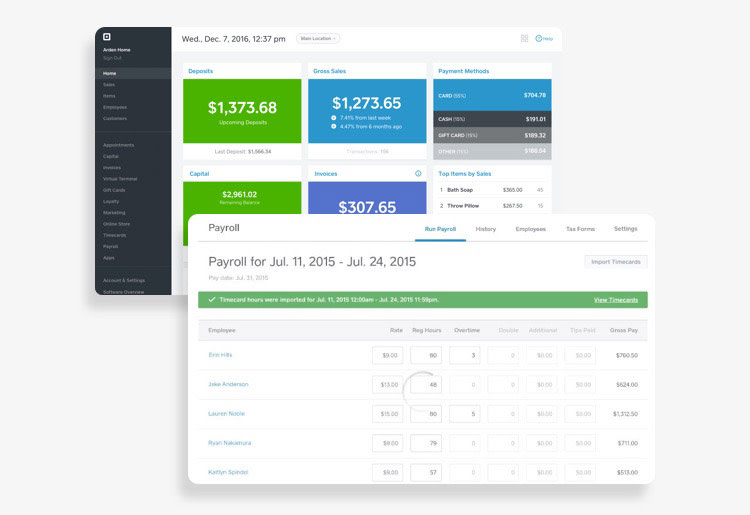 Tax Compliance
Square makes a big statement on its website—it has filed over $230 million for small businesses across the country. While the numbers are staggering, the confidence this engenders is even more impressive. Employers can rest assured that Square is well aware of every tax protocol for their area and business. The service files W2s, 1099s, federal and state tax requirements, post tax deductions, workers' comp and insurance claims, sick leave or other paid time off requests, and more. And, the best part is, these services are all included in your standard Square price packaging, at no extra charge.
Payment Options
Square allows businesses to make hourly, flat rate, or salary-based payroll payments, so each employee gets paid quickly, easily, and in the format they worked for you in. Additionally, you can send out a payment whenever you want, no need to wait until the end of the month or the predefined payroll cycle. You can make direct deposits into your employee accounts, and Square recently added print checks, as well.
Square App
Employers will appreciate the simplicity of the Square payroll system. With the click of a button, you can import timesheets, and any overtime, vacation days, or other considerations are automatically calculated before the checks are paid. Reports are involved, but simple to use. So, you get a lot of information, and you can tailor reports to tell you exactly what you are looking for.
Employees will also find the Square system particularly easy to use. The system is set up with an automatic clocking in and out program and online account management for easy access from anywhere. Employees get their own personalized online account where they submit hours, update personal information, and receive payments. Workers can also view their paystubs or tax forms from this account.
Square Customer Support
Square is the quintessential startup company with the fresh flavor and vibrant feel that resonates through every aspect of its being—and customer support is no different. Aside from being approachable, happy, and native English-speakers, the Square staff is familiar with all aspects of the products and platform for fast remediation of issues when they arise.
There is also a robust support center filled with video tutorials, tips, tricks, and well-written articles to help you navigate through any hiccups you might have along the way.
Phone support during regular business hours, Monday-Friday 6am-6pm PT
Email support
Social media channels support including Facebook and Twitter
A community forum made up of other business owners where you can ask your questions and get real, hands-on answers.

Square Visit Site
Pricing & Special Offers
Square is a piecemeal system that allows you to choose the features you want, bundling them up into individualized packages to suit your business needs. Payroll services fees are as follows:
*Prices last updated June 2018
With Square, there is no subscription fee for paying 1099 contractors, but rather a fee for paying W2 employees. Since you are paying per employee, you can add additional payments without incurring any additional fees. One of the coolest features Square has is the flexible payment feature. The algorithm bases your payments on the number of employees you pay each month. So, if you have fewer employees to pay one month, it'll lower your Square charges automatically without having to switch between plans or start a new package. Square also offers customers a 30-day risk-free return policy for any hardware equipment purchased.
Bottom Line
Square is everything you could hope for in a payroll service. It does taxes (free of charge); it does new-hire reporting; it truly takes care of every aspect of payroll. If Square did the dishes, you might just want to marry this company! With expert services, superior features, and friendly customer support, you get the best of all worlds with Square.