In a Nutshell
Patriot Software is a payroll and accounting provider with a business model designed around small businesses with limited overheads. While the features are limited, those on offer are done extremely well, at a very affordable price.
pros
Fully-integrated employee portal
Guaranteed on-time tax filings
cons
Limited features
No pay cards or check processing/mail

Patriot Software Visit Site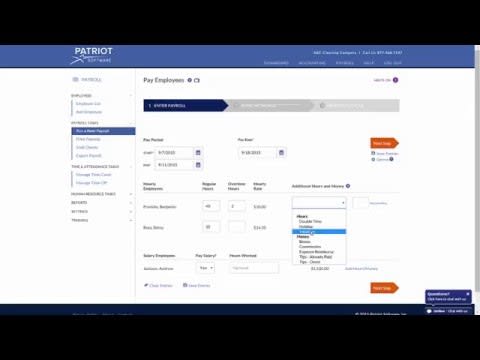 Features and Add-ons
Patriot Software doesn't have much going for it in the area of features. It really is a bare bones service offering payroll processing along with a few limited payment options at the most basic level of service.
It does offer full service payroll which includes everything from the basic plan (processing, payment, W2's and employee portal) and tacks on complete handling of all state, local and federal taxes—depositing and filing.
There are only 2 add-on services, which are time and attendance tracking, along with HR software. The HR software is a nice value-added feature for small business owners, as it allows you to go paperless and improve tracking of employee history and records, digital employee handbooks, and more.
Pricing
It was nice to see transparency in pricing as so many providers require you to engage them and turn over contact information to get a quote. Patriot Software not only provides full disclosure on its site but it priced its service to best fit cash-strapped small-business owners.
Payroll Services
Cost per extra employee (up to 5)

Deposit and file payroll taxes

Guaranteed on-time tax filings

*Prices last updated June 2018
The most basic service starts at just $10 per month for 1 employee, and increases by around $2 per employee, per month, up to 5. At that point you'll begin seeing per-employee discounts to save money.
The full service plan starts at $25 per month and increases by about $4 per employee, per month, up to 5. At that point the same discount begins to apply per employee to reduce cost.
The additional premium features that can be added are:
Time & Attendance Tracking: Starting at $8 per month

HR Software: Starting at $7 per month

The cost of the premium add on features will also increase per employee per month
There is also an online accounting package that starts at only $7.50 per month. It was created specifically for small businesses with no previous payroll experience, and comes in 2 types of packages.
Accounting Services
Create and print 1099s and 1096s

Track bank deposits and withdrawals

*Prices last updated June 2018
Tax Compliance
With the basic plan, Patriot Software will deduct the appropriate taxes based on calculations per employee, however you'll need to run payroll on your own. That also means you're responsible for filing all appropriate payroll taxes when they're due.
For more robust tax compliance, including a complete on-time guarantee for filing, choose the full service payroll plan. This will help you avoid any accidents that result in IRS fines.
Payment Options
Patriot Software only offers 2 options for employees to get paid; direct deposit and printed checks. Checks are printed on site, and check signing and stuffing are not available from Patriot at any service level.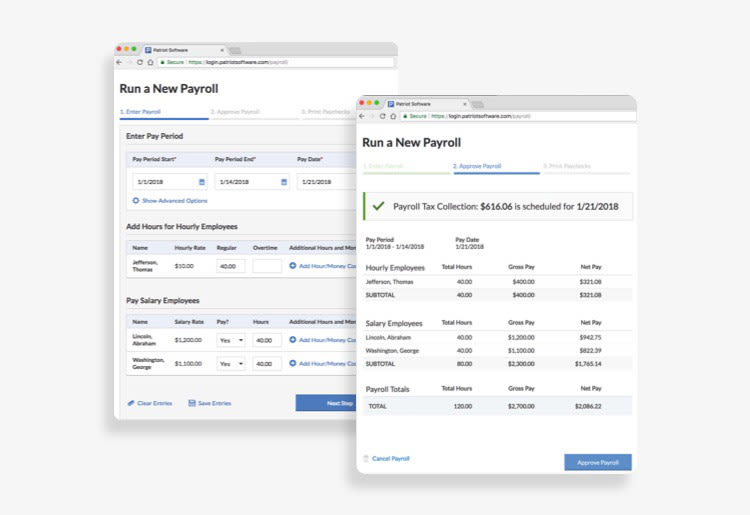 There are no options for payment cards through Patriot Software.
Usability
The most impressive aspect of the payroll solution from Patriot Software is how simple it is to get set up. You can get your employee information loaded and the system configured in just minutes. If you're running payroll manually it's as simple as entering the data at payroll time.
If you use the full service option it's made even easier by only inputting the employee hours each period and hitting approve.
The interface is clean, and it's not clogged with too many visuals or menus. This is one of the perks to offering a minimal feature set – you don't have to worry about getting lost in navigation. It's extremely easy to use, which is ideal for a busy small business owner.

Patriot Software Visit Site
Customer Support
There are 3 ways for customers to get in touch with the Patriot Software support staff, which is headquartered in Canton, Ohio. Users can:
directly speak to a representative by calling (877) 968-7147, 8am to 8pm ET, Monday-Friday,

chat with staff online 8am to 8pm ET, Monday-Friday,

or, send an email to info@patriotsoftware.com anytime.
Conclusion
Patriot Software really nailed down what a small business owner needs in order to get payroll done. It doesn't stack up against some of the more robust payroll services out there, but then again Patriot Software is catering to a very different audience with its highly-focused service offering. For the small business owner this is a great beginner payroll service.