In a Nutshell
Justworks is a fresh payroll and HR service ideally-suited for the contemporary business, offering tools like direct deposit and off-cycle payments for all kinds of employees.
pros
Fast online enrollment
No hidden fees. All-inclusive plans
cons
No free trial
No payroll-only product

Justworks Visit Site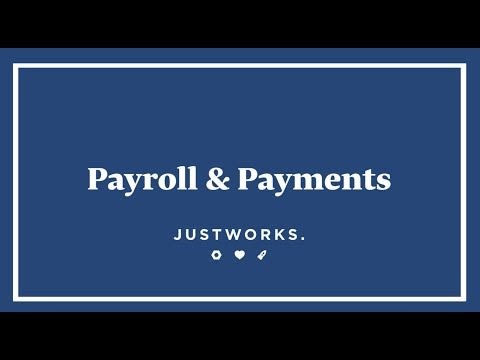 With a clean, easy-to-use system that accommodates all of your organization's payment needs, Justworks offers a feature-rich option to the frustration of more convoluted payroll services. Aside from a fast setup and comprehensive demo available, Justworks also offers:
Justworks integrates easily with some of the major payroll management software like Quickbooks, QBO, and Xero. Employers set up payroll at the initial setup, and the system will pay salaried employees without any further input, so you can "set it and forget it."
Justworks has excellent HR reporting capability, allowing admins to segment their workforce based on salaried workers, hourly workers, location, etc. Users can also run reports on paid time off, benefits usage, vendor payments, salary payments, bonuses, commissions and more.
Justworks bundles enticing perks such as large group medical insurance, dental insurance, vision insurance, life and disability insurance, and 401Ks. Adding a little fun and action to life, it also offers discounted gym and bike memberships for employees who want to get up and go.
Pricing
Justworks has a simple and clear cut pricing structure. It offers 2 plans, the Basic or the Plus, and the more employees you have, the lower the price per employee gets. It also has enterprise level packages that can be tailored to fit your needs. The Basic packages include benefits like:
Payment/payroll services

HR tools and consultation

Compliance

Reporting
And the Plus packages include all of the above, plus:
Plans such as medical, vision, and dental

Ancillary benefits

401K
*Prices last updated June 2018
The beauty of Justworks' pricing plan is that it includes all payments you make no matter how frequent. That means you can make one-off payments to freelance contractors, regular monthly salaries, occasional bonuses, and mid-month payments for random jobs assigned without having to pay extra for each additional transaction. There are also no administrative or signup fees.
Tax Compliance
A welcomed feature by any organization, Justworks handles all payroll tax filing including W-2s, 1099s, reimbursements, bonuses, and more. Under the umbrella of PEO, Justworks is knowledgeable and easily handles local, state, and federal payroll tax requirements for your business. Employers will be happy to learn that these tax services are totally free and available in all 50 states because Justworks is licensed across the US. That means regardless of where your business, branches, employees, or contractors are located, taxes and deductibles will be handled without a care.
Tax services include filing and handling of areas such as withholdings, deductions, and remitting of payroll taxes in all regions, as well as end of the year W-2 filings and 1099 filings. Justworks will even send a copy to your contractors. Justworks takes its services one step further, helping organizations manage unemployment, COBRA, and provide workers' comp insurance, as well.
Payment Options
Justworks makes payments as simple as possible for both employers and employees. All payments are made via direct deposit, so the payments are sent and received electronically. The system is also extremely streamlined. Once you set up your payroll, salaried employees will automatically get paid each month (or pre-defined payment cycle) without you having to manage, monitor, or do anything again.
Usability
The Justworks interface is one of the easiest systems we've seen to date. Everything is clearly displayed in an uncluttered fashion on the user dashboard. Each section is well-defined, so users understand what actions to take.
On the employer end, Justworks allows organizations to pay their employees quickly and easily, whether they're dealing with contractors, vendors, commission-based workers, or direct full or part-time employees. The pre-set payroll system makes set and forget payments a breeze, and being able to add additional mid-cycle payments without penalty or hassle is another useful benefit. It means if an employer wants to reward a worker or add in a seasonal bonus of some sort, this can be done simply and without the complicated repercussions of more complex systems.
On the employee side, Justworks has a simplified timecard system for paying hourly workers, as well. Employees fill out their timecard each time they work, and the system automatically uploads the data, integrates it into the payroll system, and calculates the payments based on their hourly rate. Once again, Justworks takes care of hourly W-2s at the end of the year, even for infrequent and hourly employees. Employees can also request time off, enroll in benefits plans, and review all their pay stubs instantly with the online user dashboard.
Customer Support
Justworks has received resoundingly positive reviews across the board, especially for its customer service representatives. In addition to our own positive experience, online reviewers said that the support staff were dedicated, responsive, and exceptionally thorough. Justworks customer support is available through 3 methods:
Phone service available from Monday-Friday, from 8am-8pm ET

Email support at support@Justworks.com

Live chat

Support Slack channel
Frankly, Justworks' entire system is so intuitive and easy to use that you will generally not need any customer support. However, if you should run into an issue, the support staff is friendly, helpful, and readily available to solve any problem that comes up.

Justworks Visit Site
Conclusion
Justworks offers comprehensive payroll services that are intuitive and easy to use for everyone. Managing a company's payroll taxes, HR support, and employee benefits, Justworks brings loads of perks to the humdrum payroll industry. What's more, these extensive services are offered at competitive pricing. In short, Justworks just works.
About Justworks
Justworks is one of the most user-friendly and pleasant to use payroll services we've reviewed. A cloud-based payroll and HR solution, Justworks assists small- and medium-ranged businesses to handle all of their government paperwork, payments, and employee benefits. Servicing every type of employee possible including full or part-time workers, independent contractors, hourly employees, and regular salaried staff, Justworks makes payments and benefits management a breeze. Additionally, Justworks has received solid, positive reviews across the board, and that says a lot about the company, in general.