Deel Visit Site
How Deel Payroll Software Works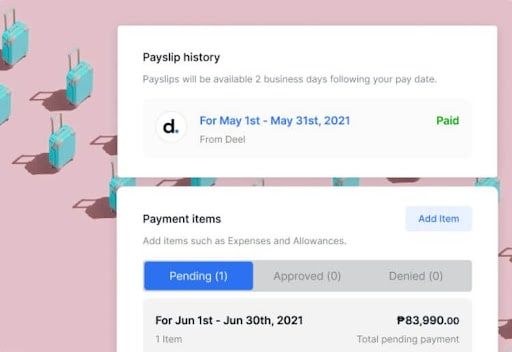 Features and Add-ons
As a PEO focused on international hiring, Deel offers five essential features: payroll, benefits, compliance, role-based access, and enterprise integration. These features come together to create a platform that makes it easy for you to hire workers, regardless of where the worker lives. Deel works equally well when hiring full-time employees or independent contractors.
Payroll. With Deel, you can review your team members' compensation and pay wages monthly with a single invoice. Deel handles the currency conversion and associated fees automatically—you only have to make one payment.
International Compliance. Also included in the single payment are taxes, pension deductions, and other items specific to each worker's local government.
Benefits. Deel offers a range of benefits, including health insurance, various perks, and discounts for popular subscription services. These benefits vary by jurisdiction and are always compliant with local regulations.
Role-based Access. Deel separates employee access by role. There are six roles within Deel: Approver, Controller, Support Specialist, Admin, Employee, and Contractor. These roles each have different levels of access. For instance, Approvers can approve payments, while Admins can add and change roles. These well-defined roles make it easier to delegate responsibilities quickly, but they are a little more limited than fully customizable permissions.
Enterprise Integration. If your enterprise already has in-house HR workflows, Deel will work with you to integrate its system with your existing workflows seamlessly.
Records and Reports
As with most features, reporting in Deel is customizable, so if something is unavailable in the default offering, consult with Deel to see if it can be created for you. That said, managers do get some reporting by default.
Firstly, on your organization's central dashboard, Deel displays upcoming payments, recent payments made, and a chart of payment amount over time that shows payments for the last few months.
Additionally, you can see if any employees or contractors have an upcoming deadline for document submission.
Tax Compliance
Deel partners with 200+ law firms around the world. These firms ensure that Deel's system complies with local laws in over 150 countries.
The information requested from employees will vary based on local regulations. For instance, contractors based in the US are invited to provide their Tax Identification Number (TIN) to handle taxation appropriately, while Deel will ask a contractor from Canada to provide their GST/HST number for the same purpose.
As a unique feature for US users, you can file a form 1099 (for miscellaneous income) directly to the IRS from within Deel.
On the employer's side, Deel calculates all required deductions, including tax-related ones. It then figures out the monthly bill for all employees, including local taxes, pensions, and other deductions applicable in their home countries.
As the employer, your job is simple: pay the monthly invoice while Deel does the rest.
Flexibility of Terms
Deel offers a highly customizable product. At its most basic, you can subscribe to Deel for $49 per contractor per month. This allows you to hire and compensate contractors from over 150 countries and access Deel's network of 200+ legal partners.
You can also add additional protection against misclassification or the ability to hire employees, and you can even outsource your entire HR team to Deel if you like. Misclassification protection is important since accidentally classifying your employee as the wrong worker type (employee as a contractor, contractor as a unionized worker, etc...) can have profound legal, financial, and tax implications.
For large enterprise users, Deel may go even further, with totally custom features and pricing. Contact Deel directly for more information on this.
Payment Options
Thanks to its international nature, Deel supports a broad range of payment methods, including the following.
Card (Debit/Credit)
Direct debit from a USD, CAD, EUR, or GBP bank account
Bank transfers in a variety of currencies
Wise account transfers in a variety of currencies
Mercury account transfers
Brex account transfers
Cryptocurrency payments in USDC using the Coinbase exchange
Deel Payroll Software App
Considering how complex the underlying operations of global hiring and taxation are, Deel is remarkably intuitive. The platform is very easy to use, with one universal menu on the left side for all users. The difference between the employer and employee side of the program lies in the options within the menu items. For instance, under the contracts section, contractors can create their own milestones to submit for compensation, while employers can create contracts and add full-time employees.
Pricing & Special Offers
Deel offers a series of tiered plans, plus some custom plans that are by quote only. These custom plans do not have set pricing, since pricing will vary significantly between subscribers based on your individual needs.
Up to $25,000 for legal liability due to misclassification
Deel assumes liability in the event of improper hiring/contract
Integrate Deel with existing accounting/HR software
Deel's two main plans, Hire Contractors and Hire Employees, allow you to create contracts with salaried employees or independent contractors. You can add protection against liability to your independent contractor plans for an additional charge per contract. If you are hiring employees, Deel assumes liability by default at no added cost. Deel's Global Payroll plan allows you to customize Deel and integrate it with existing payroll and HR software.
Deel can get expensive for large teams, especially if you use it to hire salaried employees. That said, it allows for unparalleled simplicity when your team is spread across two or more countries, making it well worth the price for international teams.

Deel Visit Site
Bottom Line
Deel is an excellent platform for international payroll and HR. It allows you to offer your international workers—even contractors—health insurance and perks, and it makes paying your workers easy with one monthly bill.
Although Deel is not permitted to engage in the practice of law and does not act as an attorney for employers, it partners with 200+ law firms worldwide to ensure that its contracts and transactions remain compliant with local laws and regulatory practices. If you have an international team located in one or more of the 150+ countries it services, look no further than Deel for a robust, flexible PEO solution.