AllianceHCM Visit Site
Overview
How AllianceHCM Works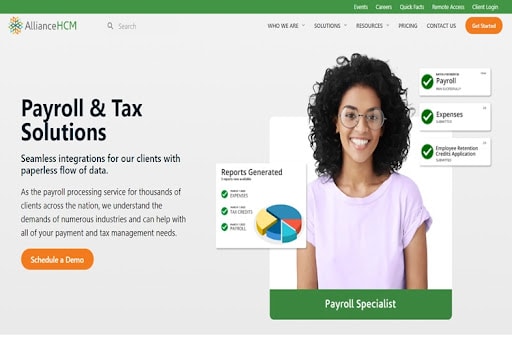 AllianceHCM at a Glance
Best for: All types of businesses in different sectors
Price range: Custom quote
Benefits & HR: 401K, ACA, workers' compensation, COBRA management, paid time off (PTO), benefits reconciliation, unemployment, etc.
Automatic tax filing: Yes
Apps: iOS, Android
Features and Add-ons
AllianceHCM offers many features through its all-in-one human capital management solution, such as payroll processing and tax management services. The software ensures a paperless flow of data, enabling you to access employee information across all the solutions offered by the company.
AllianceHCM is SOC 2 certified, which, according to cybersecurity leader Imperva, means it has fulfilled the principles of customer data management, i.e. privacy, confidentiality, security, processing integrity, and availability.
Here is a summary of the top features to expect:
Import payroll data from various point-of-sale (POS) systems and third-party apps
Secure storage of employee data
Earn tax credits from eligible target groups
Automatic tax deposits to keep you up-to-date with the Internal Revenue Service (IRS)
Ensures compliance with new legal requirements regarding payroll
Multiple payment options to match employee preferences
Employee self-service option, enabling early access to salaries
Automated expense management solutions
Tax Compliance
AllianceHCM's tax management solution can streamline your tax approach to help you meet state and federal requirements. The software imports employee data, calculates employee taxes, reconciles reports, files payroll returns, and automatically deposits taxes with the IRS. AllianceHCM is constantly updated with the latest compliance regulations to ensure your files are in order.
AllianceHCM guarantees that if there's an error on your taxes that happened on its end, the company will pay your penalties and any interest accrued. You're expected to keep your employee information up-to-date or you can be fined by the IRS for the errors in your returns. Furthermore, the AllianceHCM experts can answer all your tax questions, meaning you won't have to call the IRS.
Since AllianceHCM is a single database solution, every change made to the employee benefits will update the payroll deductions automatically. This ensures there won't be errors or missing information when calculating the payroll taxes later, thereby keeping you compliant.
Payment Options
AllianceHCM provides multiple payment options and centrally manages them in one place, enabling you to pay employees with their preferred payment method. The options include agency checks, trust checks, pay cards, and Automated Clearing House (ACH). There are no fees for direct deposits, but there'll be a fee for printing checks.
AllianceHCM App
AllianceHCM has a simple layout that is straightforward to use. All the tab menus are labeled clearly, and you can access the payroll tab and the solutions within. The dashboard is intuitive, with graphs and other insights displayed on the screen simultaneously, giving you an overall view as to the state of your business.
Employees can access their salaries, taxes, and account information through AllianceHCM's Employee Self-Service mobile app. At the time of writing, the app's most recent updates have led to online complaints and negative reviews.
AllianceHCM has an Ideas Community where you can share your views on improving the platform for everyone. The company claims that 95% of system updates have come due to user feedback. These updates make the software more user-friendly, and you feel part of the company's journey, which is crucial for branding.
If there's any issue with AllianceHCM, you can contact customer care by phone and email. I contacted them by email, and it took 10-20 minutes to get a very detailed reply. They also offered multiple times to call instead and answer all questions that way.
AllianceHCM Pricing
Pricing & Special Offers
AllianceHCM's pricing is based on custom quotes and not on any plans. The software serves different types of businesses, and each selects the kinds of services they need. The cost will depend on the number of employees you have. The per-employee-per-month fee decreases as you go up in employee count and the fee is charged depending on the number of active employees during that particular pay period.
Fees for other services depend on which custom services you have activated. Some of these services have fees, while others don't. There's also a payment processing fee, which is not a percentage as is common, and it stays the same whether your company has one employee or 5,000.
AllianceHCM prefers that you connect with a sales representative via phone to discuss your business needs and customize your pricing.

AllianceHCM Visit Site
Bottom Line
AllianceHCM is a convenient and efficient payroll and tax processing software that can serve all types of businesses in different sectors. Its features are part of an all-encompassing human capital management software that can help with your payroll, tax, and employee management needs. Pricing is customized, and you can pick which features you'd like to activate for your business.
The software is SOC 2 certified for data security and management, meaning employee and payroll information will be safe. AllianceHCM is user-friendly with a simple yet intuitive interface. You'll be able to import payroll data from other platforms, process it, and pay employees through their preferred payment options. Moreover, you'll be able to generate reports, file tax returns, and comply with all state and federal tax requirements.
Bottom line, AllianceHCM is an option worth considering for your business needs.