According to Architectural Digest, 29% of Americans plan to move in 2023 to help lower their cost of living.
Read on to uncover where Americans are moving to and away from, as well as the top moving trends for 2023.
Key Takeaways:
The most popular states to move to include Florida, Idaho, South Carolina, Texas, and South Dakota.
States Americans are moving away from include New York, Illinois, Louisiana, West Virginia, and Hawaii.
Moving trends for 2023 focus on a higher quality of living, such as better communities, events, and schools, a rise in long-distance moves due to remote workers, and decreased moving costs.
Most Popular States People Are Moving To
Florida, Idaho, Texas, South Carolina, and South Dakota are the most popular states. This trend indicates a rise in Americans moving to Southern states, which boast warmer weather, affordable cost of living, and steady job growth.
We analyzed population changes from 2022 to 2023 to identify the states attracting Americans.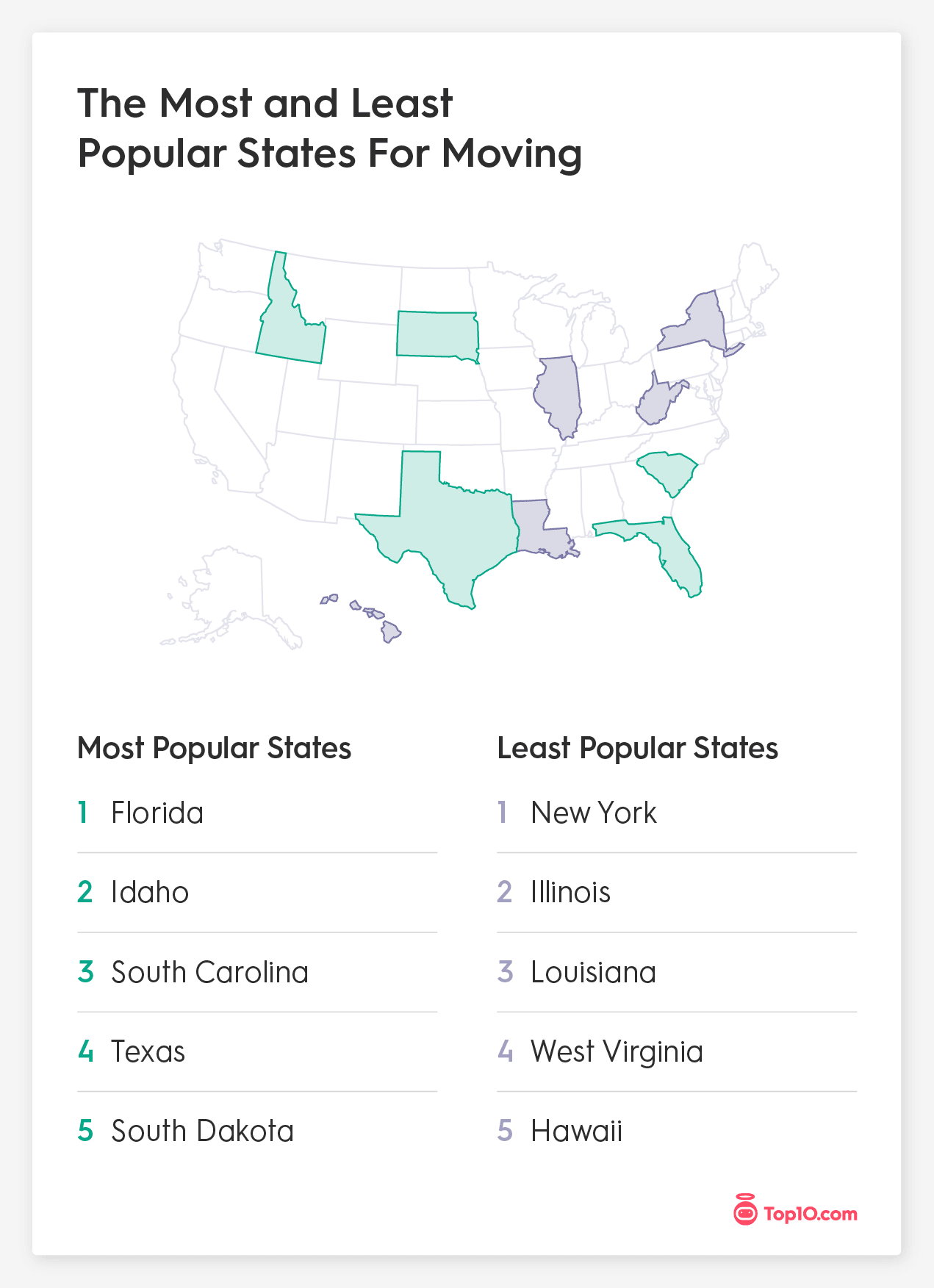 1. Florida
Florida experienced a 1.9% increase in population in 2023 compared to 2022. With sunny weather and various beaches, Florida is a popular relocation choice, even ranked as one of the top 10 states to live in.
Florida offers a vibrant culture and diverse food scene, with many outdoor activities and attractions. Although housing costs are slightly above the national average, residents benefit from no state individual income tax and low property taxes, making it an attractive retirement destination.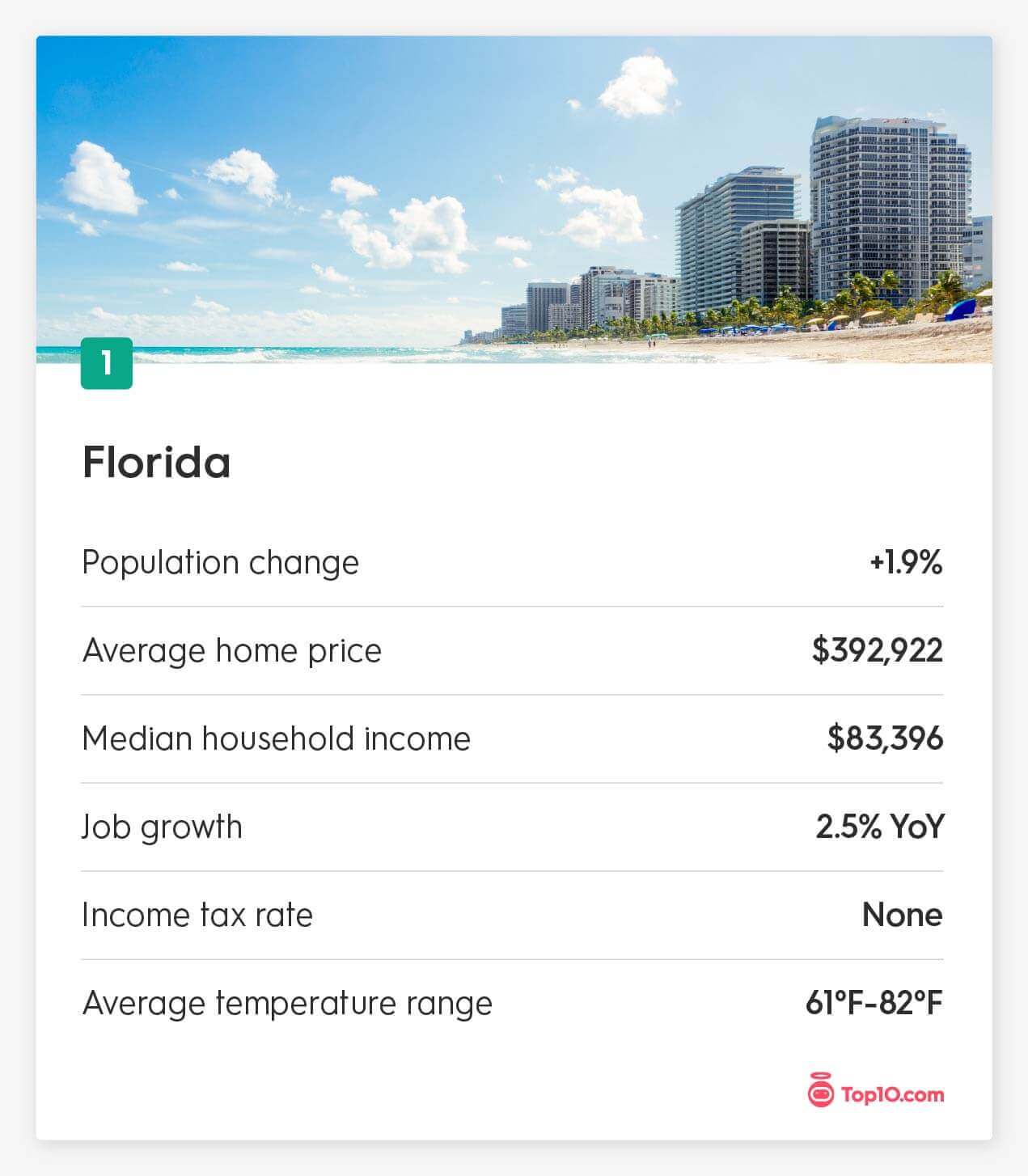 2. Idaho
Idaho, known for its stunning natural beauty and outdoor adventures, is another popular state Americans are moving to.
The state's low cost of living is appealing for families and individuals seeking a relaxed pace. Idaho's strong job growth, booming tech scene, and recreational opportunities create a unique blend of lifestyle and career prospects.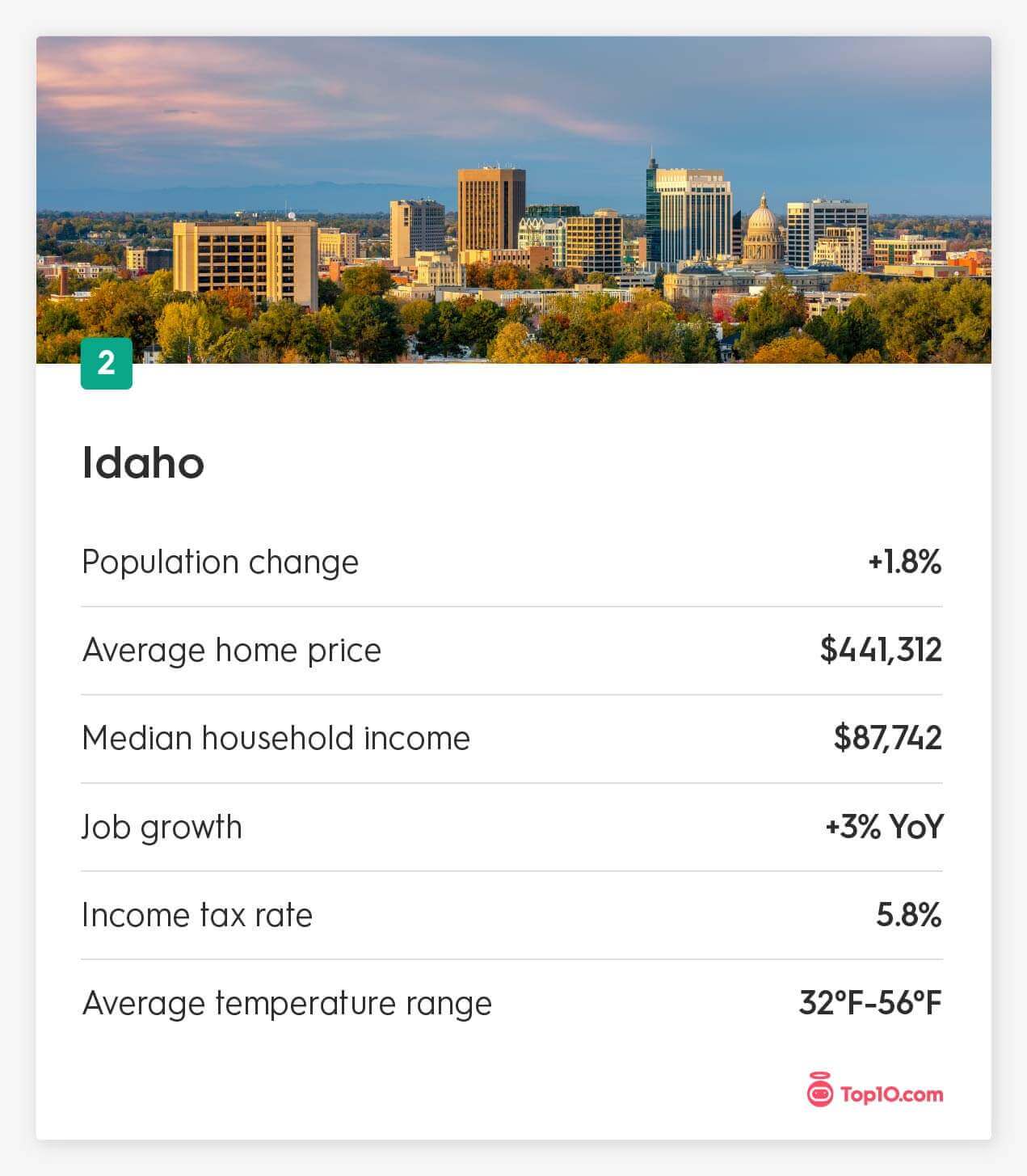 3. South Carolina
In South Carolina, housing costs are 17% cheaper than the U.S. average, and the income tax starts at 0%, lower than most states.
The state's rich history, picturesque landscapes, and beautiful coastline, including Myrtle Beach and Charleston, offer a range of recreational activities, vibrant culture, and cuisine. It's also a top city for singles.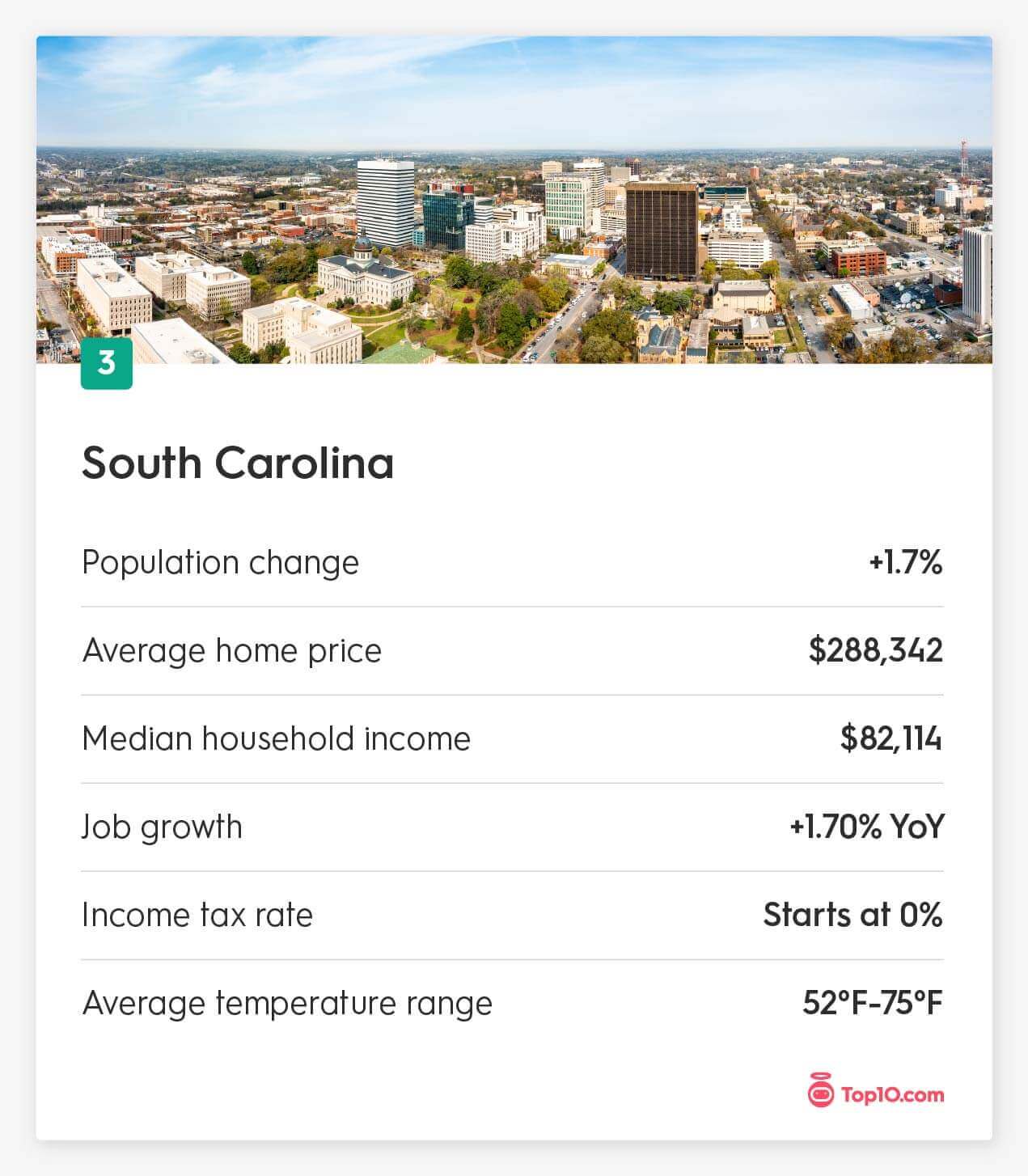 4. Texas
Texas, another Southern state, is popular for its affordable cost of living—housing is 14% cheaper than the U.S. average. The state's diverse job opportunities and absence of state income tax make it financially appealing.
Texas' vibrant culture, cities like Austin and Houston, and varied landscapes offer residents a mix of prosperity and lifestyle.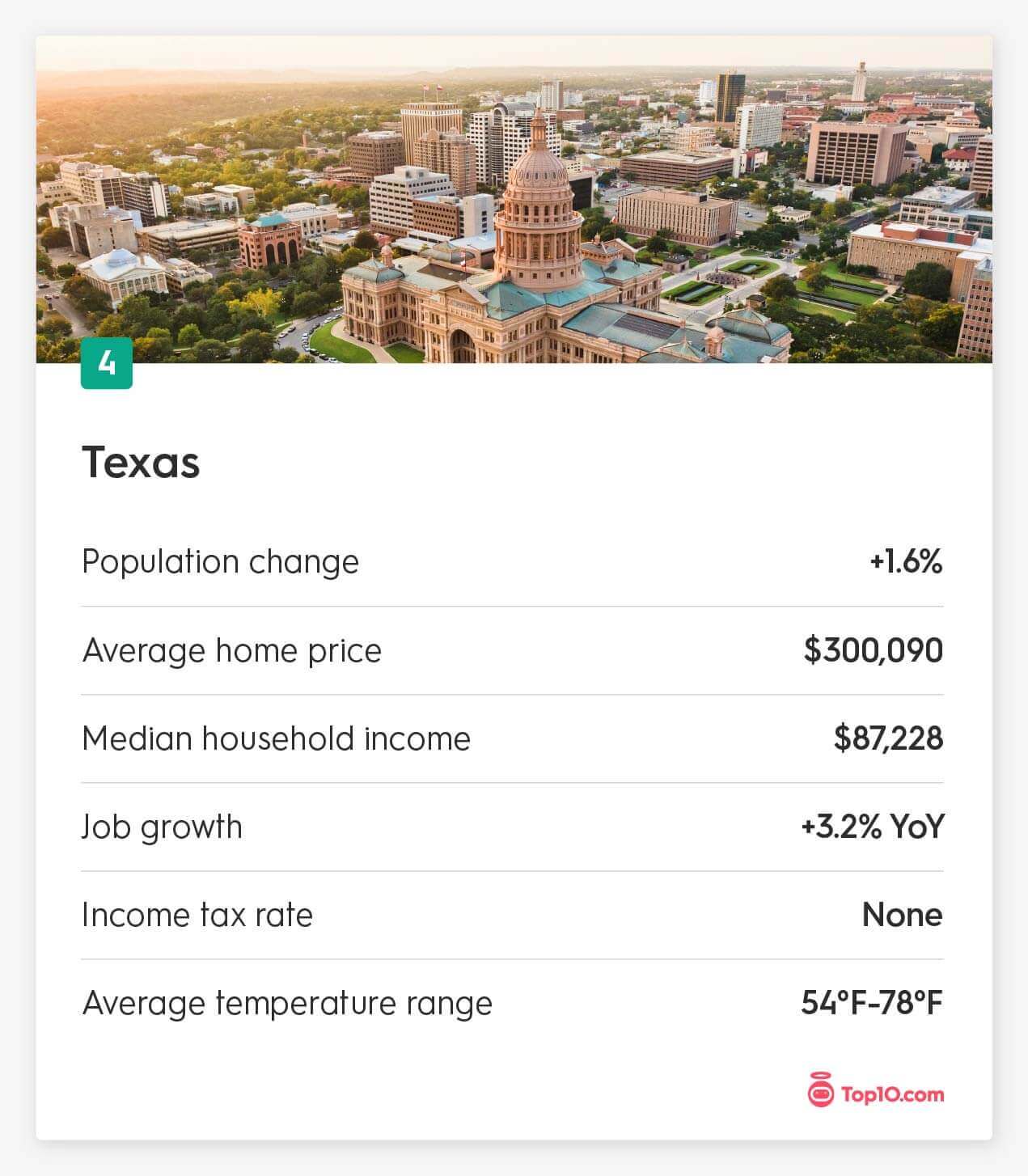 5. South Dakota
South Dakota's low housing costs and no state income tax make it a desirable living place. Plus, South Dakota is the third state on this list with no state income tax, and it also has the fourth-highest job growth increase in the country.
The state's stunning landscapes, like the Black Hills and Badlands, attract outdoor enthusiasts, offering a charm of small-town living and the allure of nature.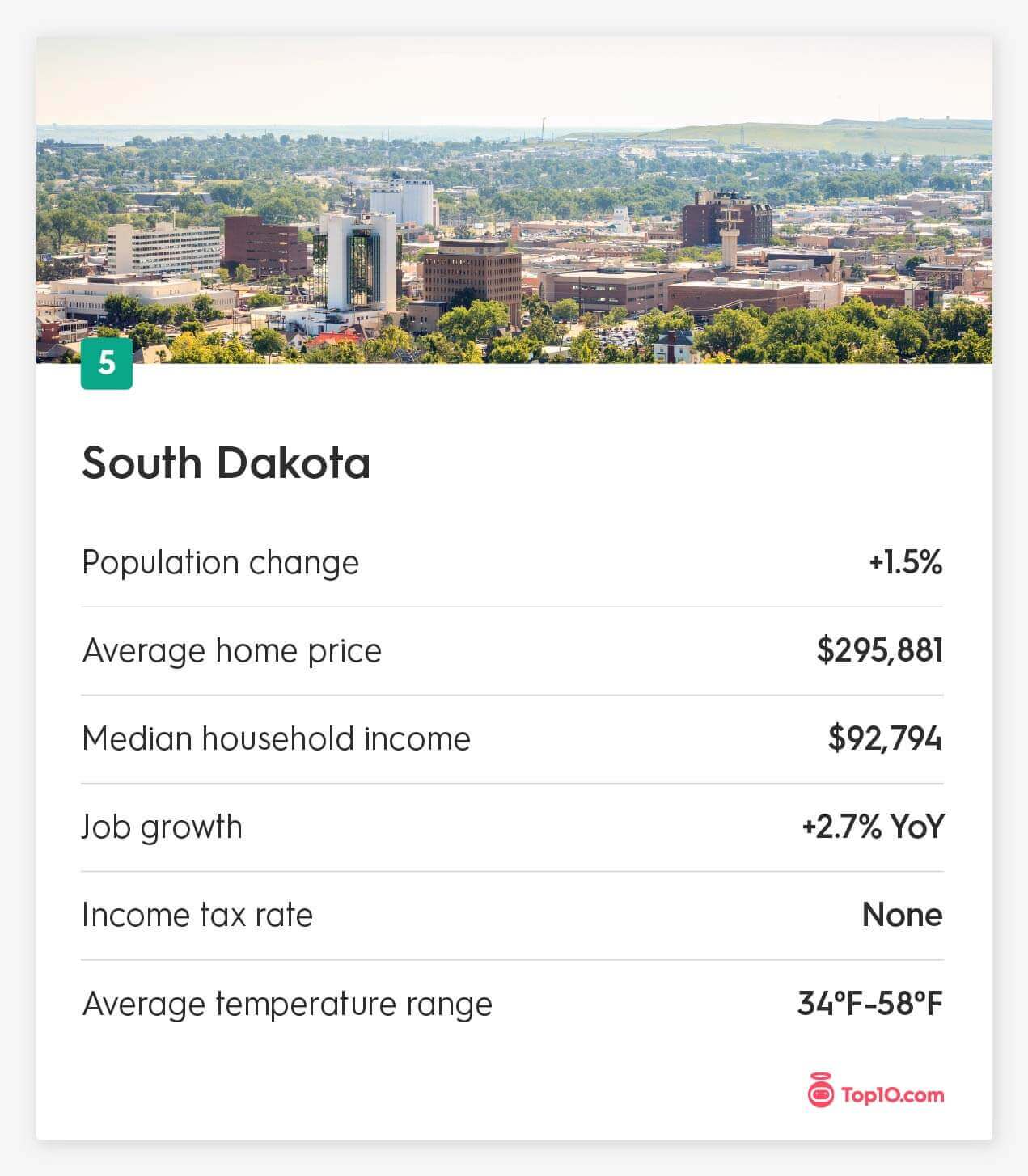 States People Are Leaving
New York, Illinois, Louisiana, West Virginia, and Hawaii are the top states people are leaving, mainly due to high costs and scarce job opportunities.
Here's a deeper look into why Americans may be leaving these states:
1. New York
New York saw a 0.9% decrease in population from 2022 to 2023. Factors include higher housing costs—30% more than the national average—and higher tax rates.
New Yorkers also experience colder average temperatures than warmer and sunnier southern states.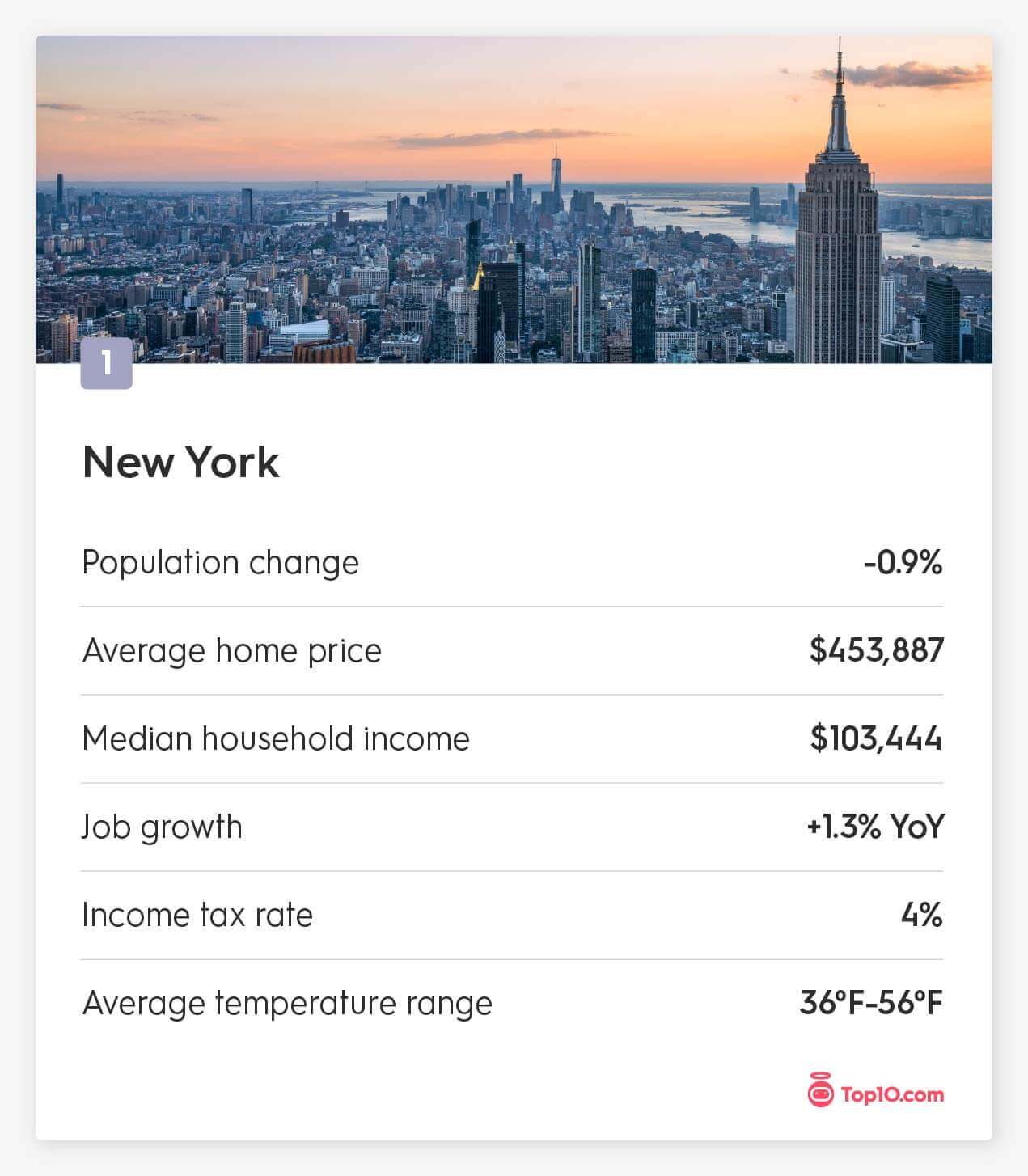 2. Illinois
Illinois, with a state income tax rate of 5% and slow job growth, is among the states people are leaving.
However, its cultural attractions and recreational opportunities, like Chicago's vibrant arts scene, world-class museums, and a rich history continue to attract residents.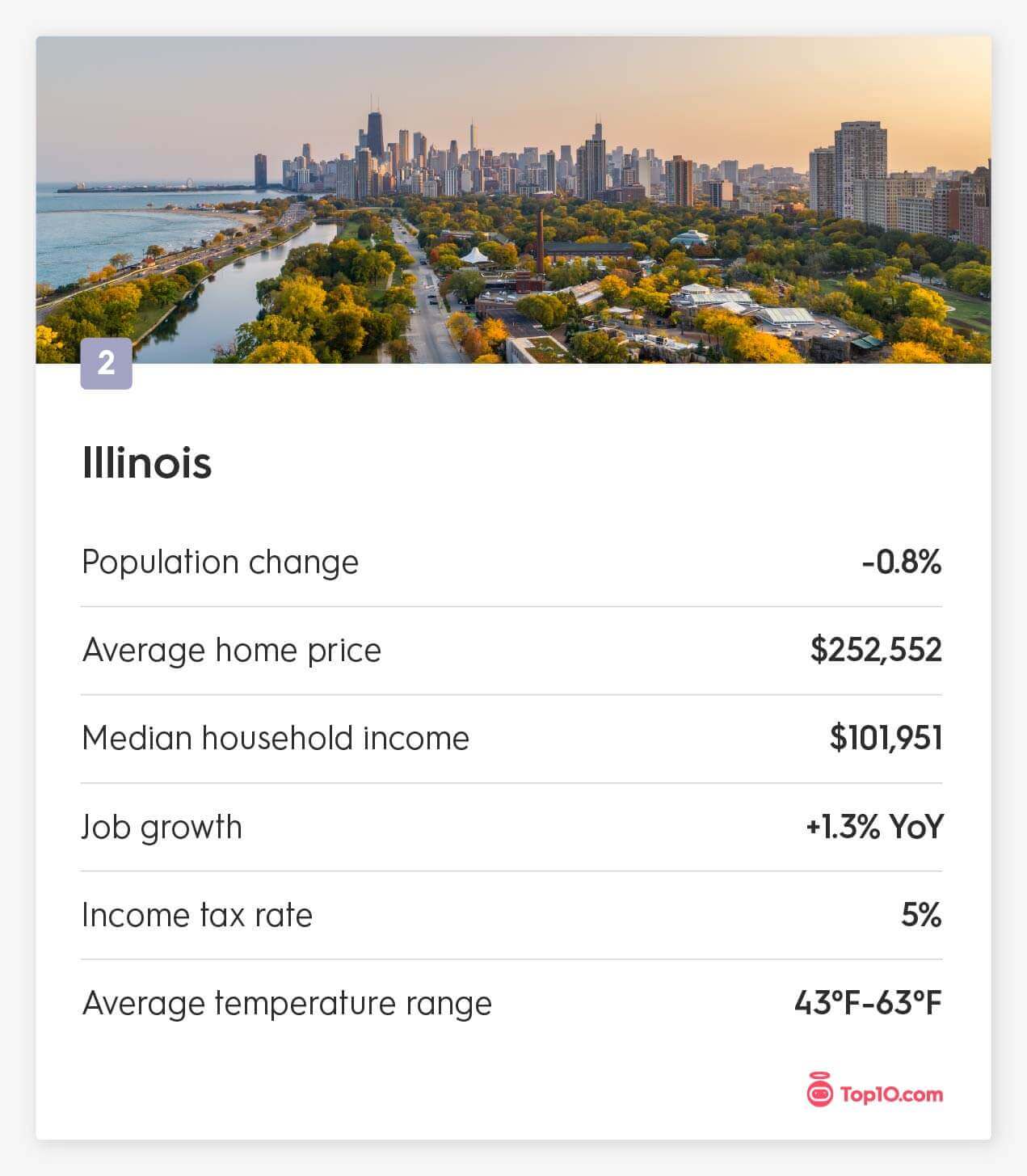 3. Louisiana
Louisiana, which is a southern state facing a population decrease, has the third-lowest median income and a slow job growth rate.
Prone to hurricanes and flooding, many residents are relocating to lower-risk areas for more stable economic conditions and safety.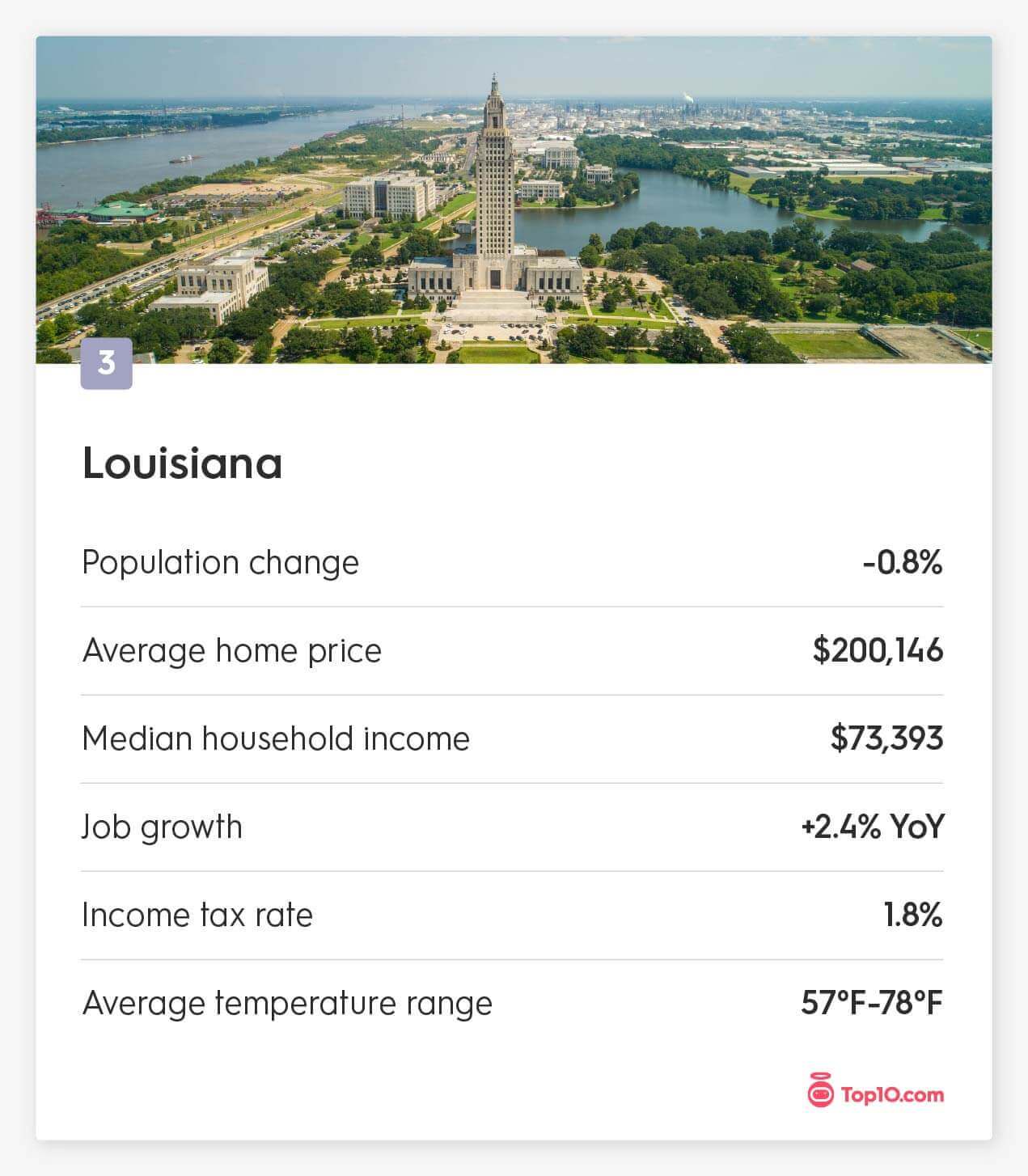 4. West Virginia
West Virginia's low housing prices are overshadowed by a higher state income tax rate and limited job opportunities, leading to out-migration.
For example, a decline in traditional industries, like coal mining, has resulted in limited job opportunities and economic difficulties.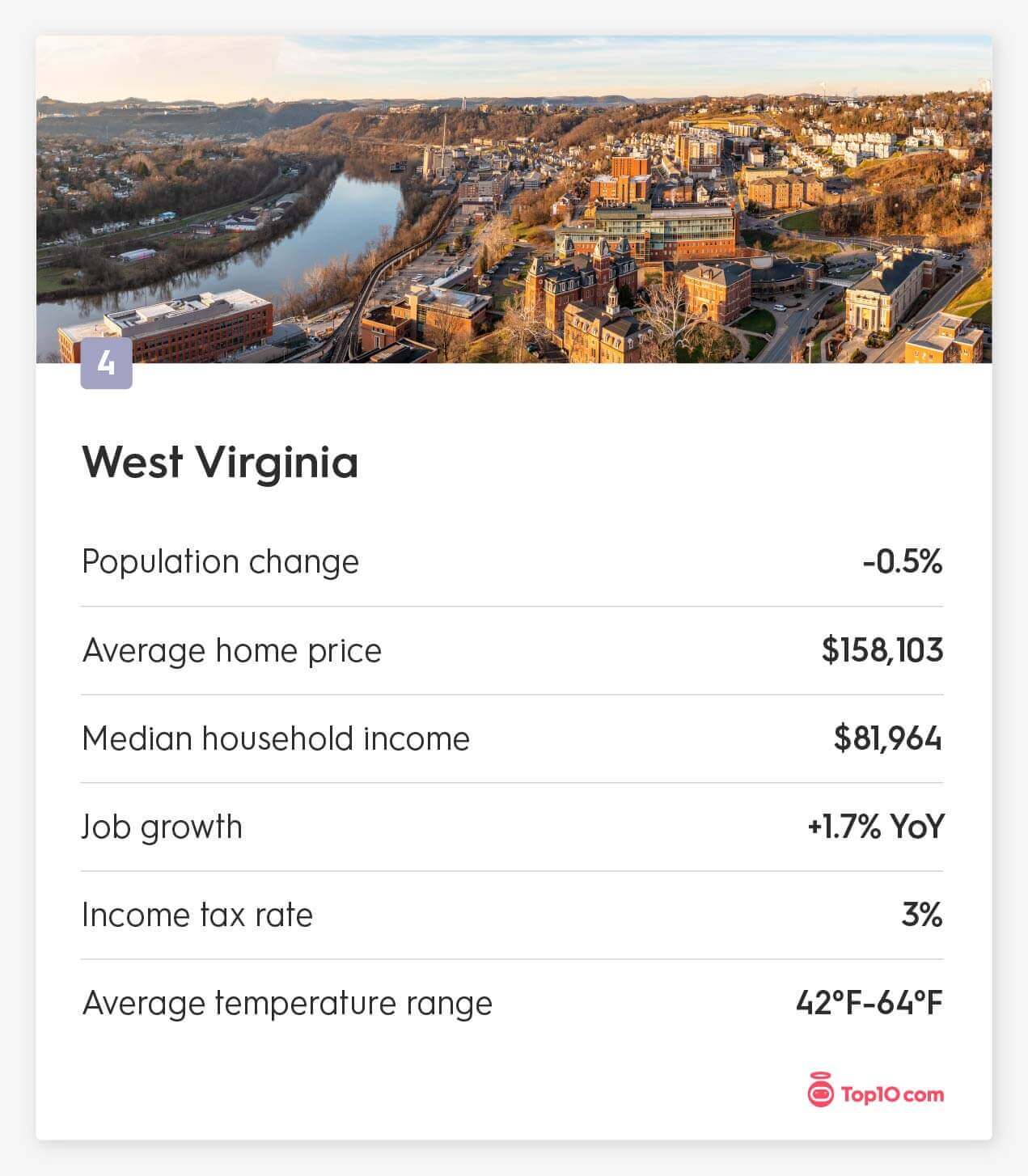 5. Hawaii
Hawaii, with high home prices and slow job growth, is prompting individuals to seek more affordable living conditions and better employment opportunities on the mainland.
Although Hawaii has world-famous beaches, views, weather, and more, it comes with a hefty price tag. Currently, the state's average home prices are the highest in the country, and they are also facing a very slow job growth rate, which is the seventh slowest in the country.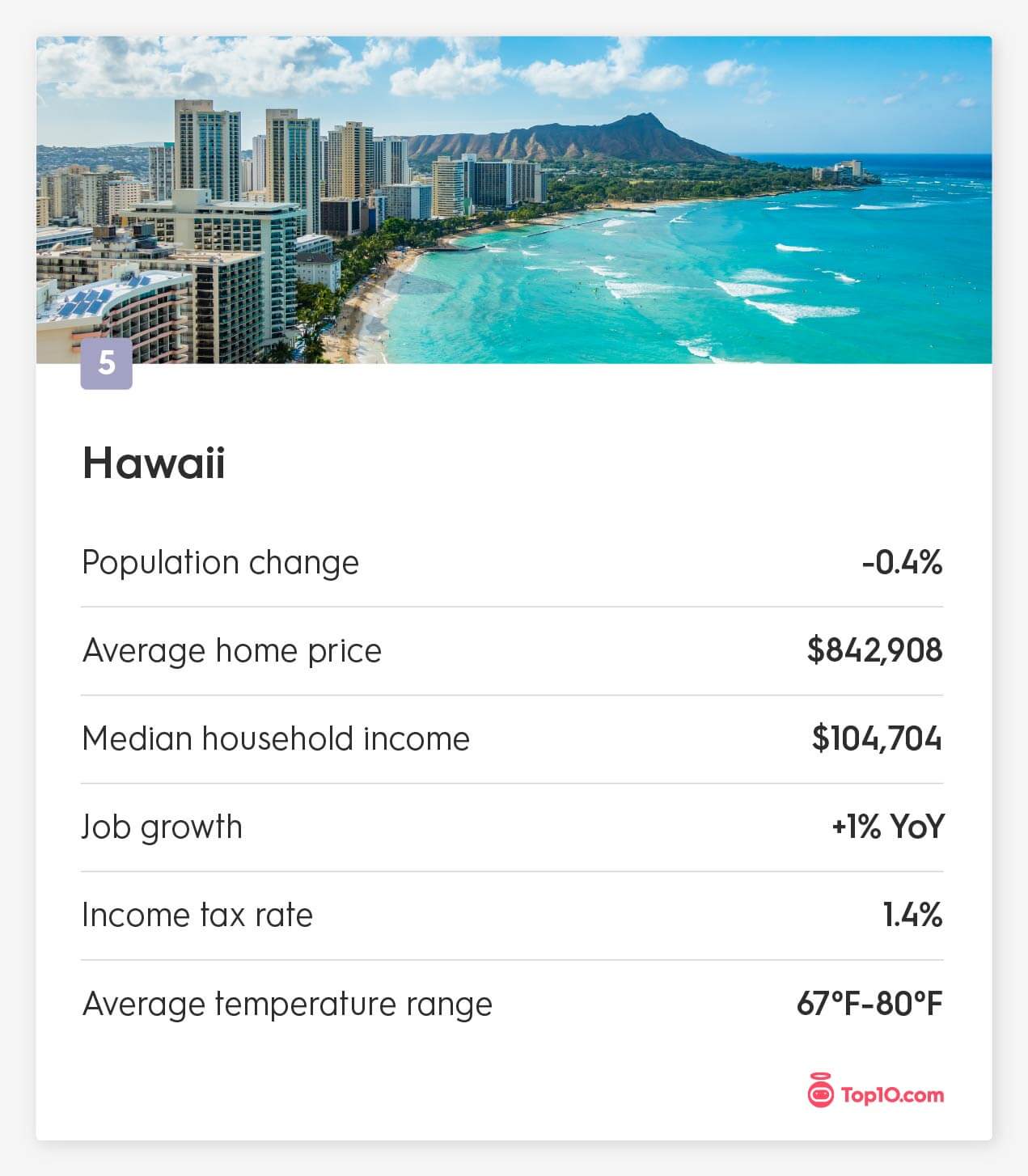 Moving Trends for 2023
The reasons Americans choose to uproot themselves and set down new roots are constantly transforming. However, our data shows an overall theme of moving into more affordable states that offer more job opportunities.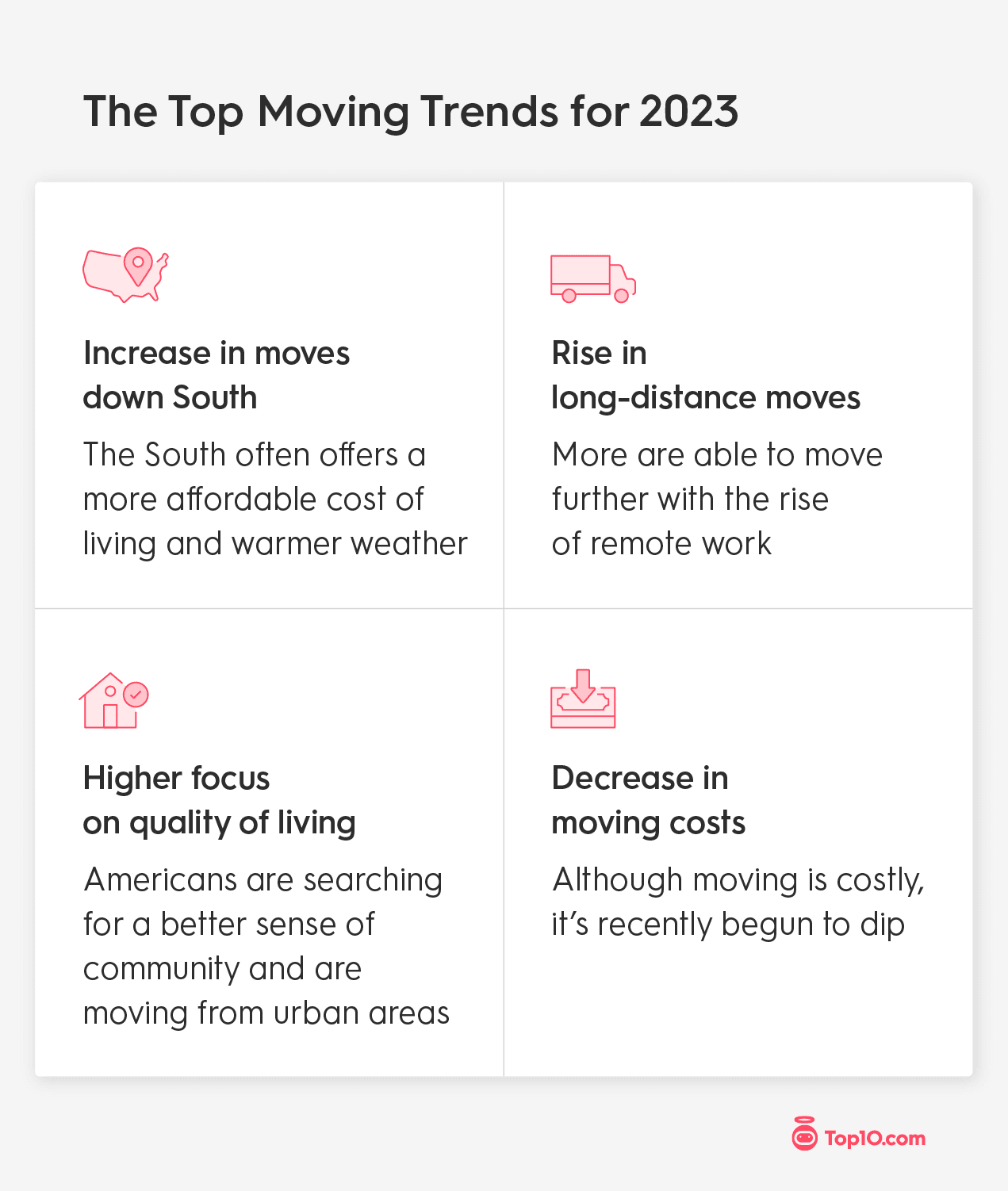 Increase in Moves Down South
One of the biggest reasons people choose to move is affordability, and the South offers some of the most affordable living costs in the country. Ryan Fitzgerald, an experienced Realtor and the owner of Raleigh Realty, told Top10.com that we're seeing high departures from states like New York to the South, "especially to Florida and Texas, seeking lower taxes, better climate and affordable costs."
Decrease in Moving Costs
Since the COVID-19 pandemic, moving costs have decreased, according to Adrian Pedraza, a licensed real estate broker and owner of The California Homebuyer. He told Top10.com that "the financial strain experienced by many during the height of the pandemic, owing to escalated moving costs, is now showing signs of alleviation. This recalibration of costs is certainly a trend to monitor closely."
Rise in Long-Distance Moves
With remote work increasing, more Americans are moving long distances. "Long-distance and international relocations rose, likely due to remote and hybrid work popularity," Fitzgerald states. This enables Americans to move further to seek more affordable housing and living costs.
Higher Focus on Quality of Living
Eric Bramlett, a Realtor and owner of Bramlett Residential, told Top10.com that there is a "real shift toward prioritizing well-being and quality of life. It's not just about the physical house now, but the community, events, and schools - that feeling of home extends to a new feeling of community."
To add to a higher quality of living, many are moving away from urban cities. Pedraza says that " there's a discernible migration pattern away from urban centers, with more individuals and businesses gravitating towards suburban and rural locales." According to the Office for Victims of Crime, urban communities often see higher crime rates, which could also be a factor in increased suburban interest.
Hire a Moving Company For Your Next Adventure
Consider hiring a reliable moving company to ease your move, whether to a popular state or elsewhere. Check out our moving checklist to stay organized.
Methodology
Our team collected data from all 50 states to identify the most and least popular states for relocation. We used World Population Review's percent change data from 2023, along with housing cost data from Zillow, median household income from the U.S. Census Bureau, and job growth data from the Bureau of Labor Statistics. State income tax information from the Tax Foundation and average temperature ranges from World Population Review were also analyzed.