Whether relocating across town or to a different country, staying organized is essential. With a detailed moving checklist, a reliable moving company, and helpful tips, you can transform a potentially stressful experience into a seamless transition.
In this guide, we'll walk you through a comprehensive moving checklist tailored to every stage of your move, along with helpful tips to simplify the process. To help you stay focused on the excitement of creating a new home, we've also included a printable moving checklist for more organization as you move.
2 Months Before Your Move
Whether you've given notice, signed a new lease, or purchased a new home, it's time to begin the moving process. Even though these checklist items cover two months before moving, you can start as early as possible to get ahead.
Choose How You Move
Once you've confirmed the move-out date, decide how to move your items from home to home. If you're going to do it yourself, look into moving truck rental options such as U-Haul. You can also see if friends or family are willing to help you.
If you want to hire movers, establish your budget and compare quotes from different companies.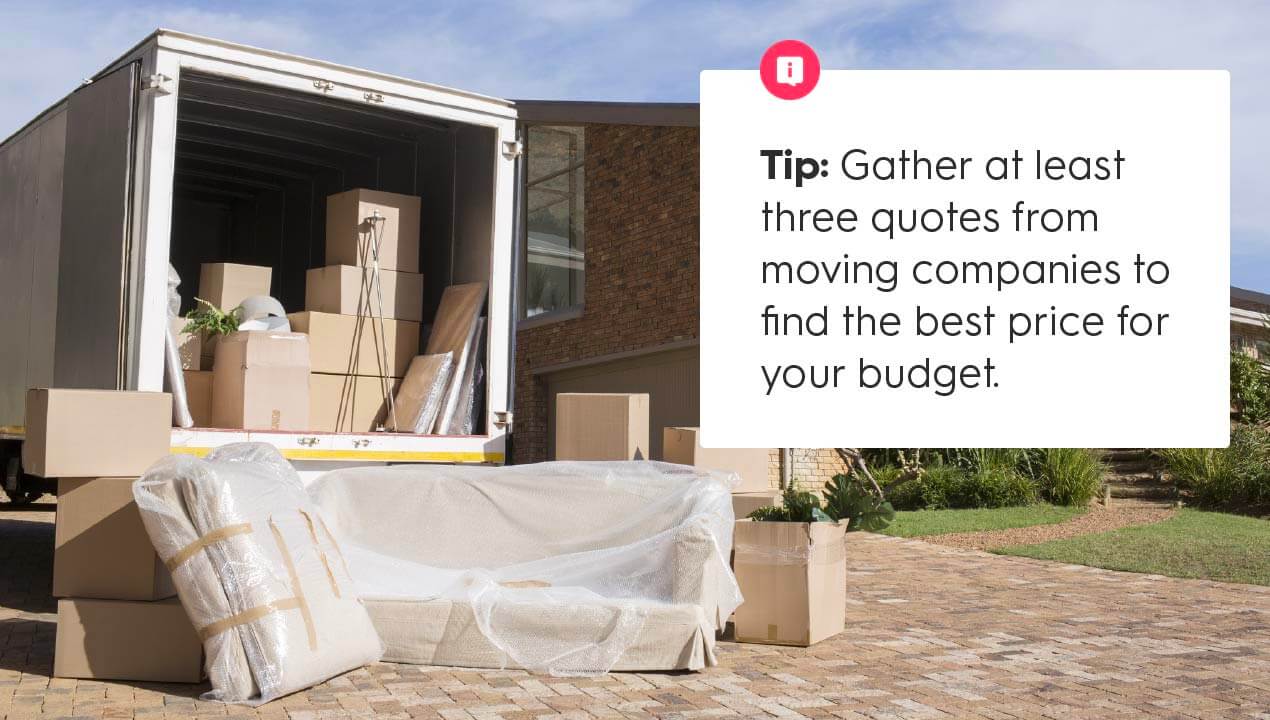 Begin Organizing
Next, list the things you want to pack and gather all your important moving details, such as paperwork from the moving company you choose. Then, start going through your belongings and pairing things down. Before you get too far into the moving process, it's also helpful to familiarize yourself with what your movers will and won't move.
Once you've figured that out, you can pack the items that movers won't move separately and make plans to have those items moved through a different method, whether it's packing them inside your own car for safe transportation or mailing them. Consider organizing your moving information in a folder or binder—an excellent place for your printable moving checklist.
Take Inventory
While organizing, take inventory of your belongings, especially your expensive items. This can give you an idea of what items need special packaging materials or insurance coverage. It will also make the insurance coverage process quicker if you decide to go that route.
Start New School Enrollment
If you have kids, begin the enrollment process at their new school or childcare facility and get a head start on transferring transcripts. Completing this well in advance can make transitioning your kids to a new school a breeze.
Some schools may have limited spots available, so by enrolling early, you increase the chances of securing a place for your child. It also gives you enough time to fill out the necessary paperwork. If your child is enrolling mid-year, gathering paperwork and information from the new school can help calm nerves and make the transition easier.
1 Month Before
This month is about confirming your moving arrangements and prepping. From beginning to pack to arranging travel, here's what to do about one month before moving.
Confirm Moving Arrangements
At this point, you'll want to ensure your moving arrangements are set in stone. Confirm details with your movers or friends and family if they're helping. These details include:
Move-out date
Move-out time
Addresses of both your old and new residence
It's also the time to determine if you need storage options for your move—having this can help you create more space in your home if there are a lot of boxes or if there's a more significant gap between your move-out and move-in date.
Gather Moving Supplies
Gathering your moving supplies ahead of time can ensure you have everything you need before your moving day comes.
Some moving supplies can include:
Tape
Markers
Bubble wrap
Box labelers
You'll also need boxes for your move, but they may be difficult to come by. You can often get free boxes at recycling centers or grocery stores. You can even ask friends if they have extra supplies left over from their last move.
Schedule Utility Cancellation
Notify your service providers of your move and schedule a utility cancellation. You should also set up the necessary services at your new place. These are services like:
Trash
Gas and electricity
Water
Phone and cable
Internet
Any other bills that are attached to your address, such as subscriptions
Begin Packing and Sorting
Now, you can begin packing and sorting your items into moving boxes. Start by packing the things that you use the least, such as your Christmas decorations or old keepsakes. Pack fragile items in bubble wrap or other protective materials to keep them safe during the move.
At this point, it's an excellent time to file moving insurance for items you'd like coverage for. For example, if you hire a moving company, any items lost or damaged during the relocation should be covered by insurance. The restoration charges for any harm done to your property during the transfer should also be covered by that insurance.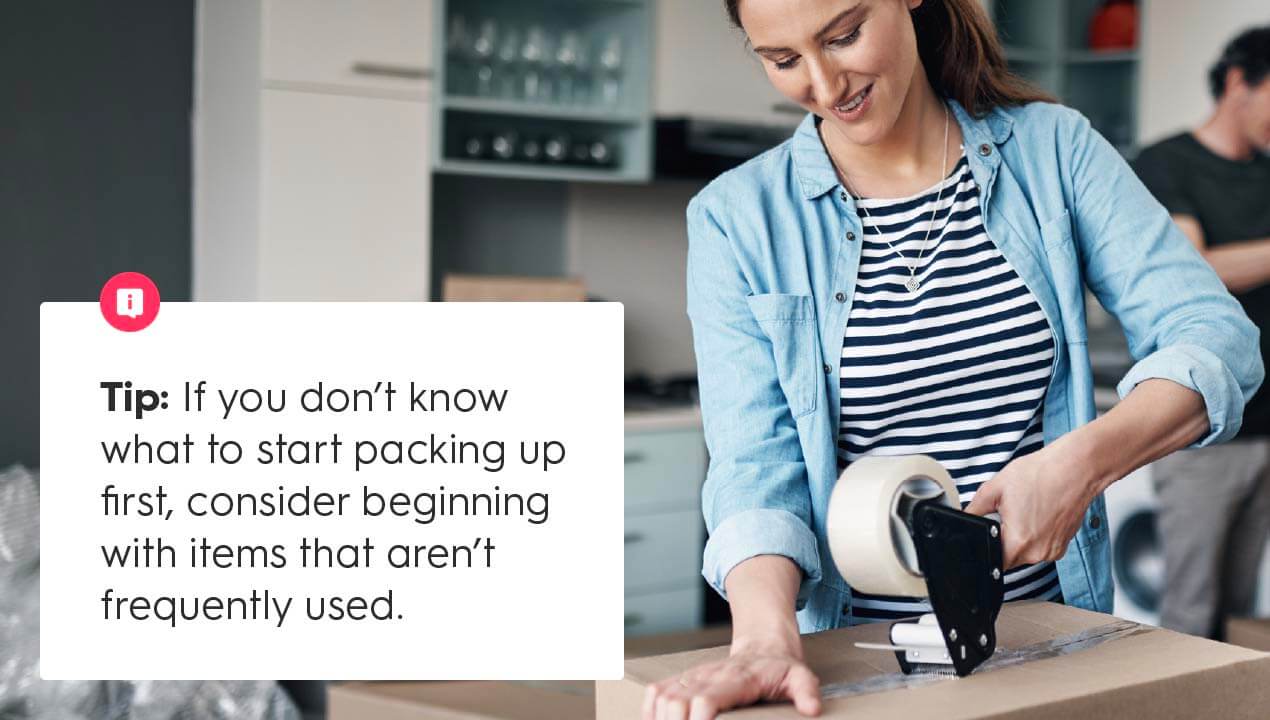 Arrange for Travel
You can do this further in advance if you'd like, but by now, it's a good idea to book travel and get the details squared away. Arrangements include flights, rental cars, and hotel stays in case there's a delay between when you move in and when your items arrive.
2 Weeks Before the Move
By now, you've checked off many items from the moving checklist and are even more prepared to move. Below are some essential items to remember about two weeks before moving day.
Set Up Mail Forwarding
Setting up mail forwarding when you move is vital to ensure you receive your mail at your new address. Many postal companies allow you to do this online, but you can also file for your new address in person. Use this time to inform family members and friends of your new address.
Schedule PTO
Let your employers know you need to take some time off to move.
It's usually best practice to schedule your paid time off (PTO) at least two weeks in advance. Making sure you have as much time as possible to move can reduce stress and give the process the attention it needs.
Update License and Registration
If applicable, update your car's registration and driver's license information. You should also update your auto insurance with your new address.
Plan Out Meals (Optional)
An optional but helpful step is to plan out your meals before you move. You'll likely need to clear out your fridge and pack your pantry items, so planning can make mealtime easier.
Moving is a hectic time, so try meal delivery kits to save you a trip to the grocery store.
Have a Going Away Party (Optional)
A going away party can be a great way to say farewell to close friends and close out the final chapter at your place. Alternatively, you can plan a housewarming party at your new place once unpacked and settled in.
1 Week Before
As moving day approaches, you'll likely have most of your belongings packed up and ready. Here are some moving checklist items to consider about a week before moving day.
Pack a Bag With Essentials
Set aside essential items that you'll need during your move and pack them in an overnight bag. These items are set aside from the items that are included in your moving boxes and contain essentials like:
Toiletries and medications
Extra clothes
Electronics and chargers
Important moving paperwork
Break Down Large Furniture
Some movers require you to break down large furniture, such as bed frames, before moving. Sometimes, they can do this themselves without an extra charge, but be sure to ask. If disassembling yourself, try to keep all of the hardware together so you can find it when it's time to rebuild at your new place.
Also, some larger furniture, such as antique sets, mirrors, and televisions, can be more fragile. For these items, most movers will likely wrap them with protective materials such as blankets to keep them protected and cover your floors to prevent scuff marks.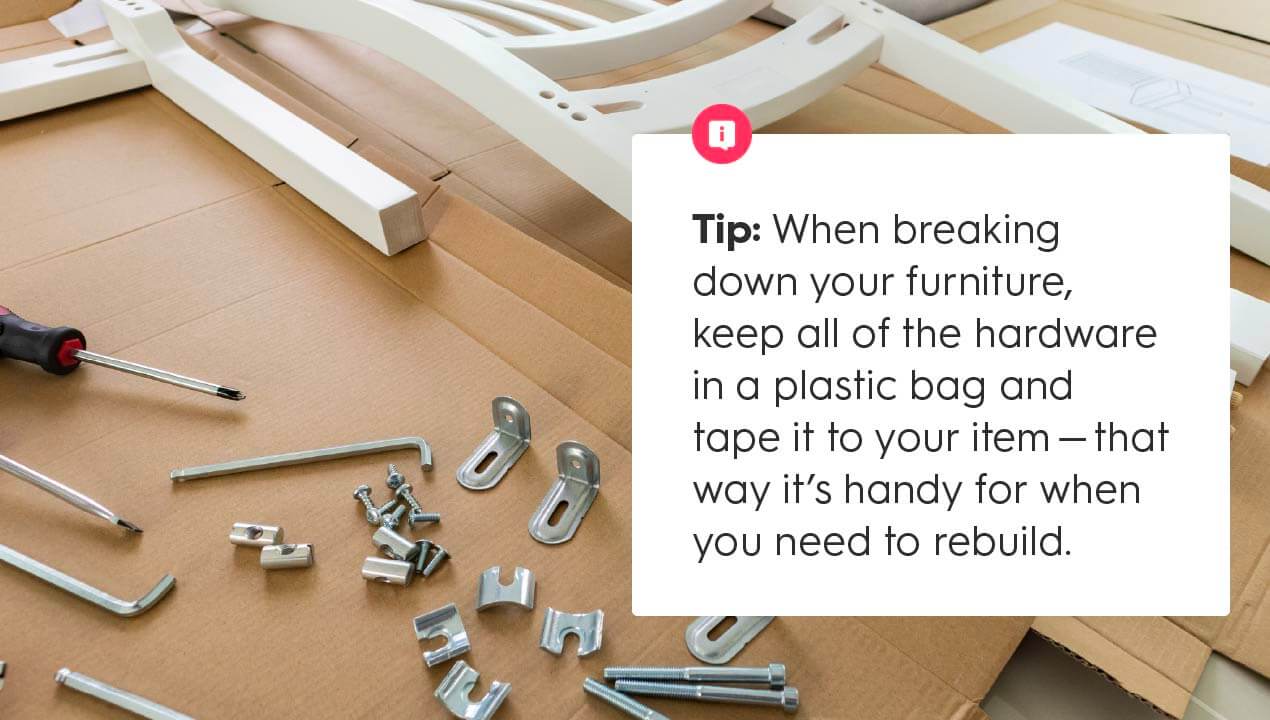 Update Neighbors
You should also alert your neighbors that you're leaving if you haven't already. When you do, you can inform them about potential blockage on the street with moving vehicles or if it may be noisy. Plus, this can also give you a chance to offer to stay in contact and get their information before leaving.
Clean Your Home
Consider cleaning your home before moving so the new owners or renters have a fresh space to move into. Sometimes, this can be a requirement if you own the house and it's in the selling contract, so be sure to check this beforehand.
If you are renting, this could also be required by your landlord. If you have a security deposit with a landlord, make quick repairs, such as filling small holes in the walls or painting over scuff marks.
A Few Days Before
It's the final countdown—now it's time to focus on reviewing important information and wrapping up loose ends. Here's what to do a few days before you leave:
Review Paperwork
Many moving companies will send confirmation emails and documents, so you can take this time to review the information and terms and conditions before signing off. Here, you'll likely sign off on an inventory list and sign the bill of lading.
Verify the Movers
While reviewing the paperwork, you should verify the moving company. Moving scams can happen, and doing this extra verification step can help prevent this and give you what you need to look for to make sure a moving company is legitimate.
Verify if the moving company is licensed and registered with the appropriate authorities. You can check the Federal Motor Carrier Safety Administration (FMCSA) database in the United States for their USDOT number.
Change Locks or Return Keys
Some rentals require you to change the locks before moving out. Turn in any keys if you were a renter. Additionally, change the locks on your new home since you don't know who has access—be sure to check with the landlord if you're renting.
Get Some Cash
Pull out some cash from the ATM. Having cash handy is excellent for tipping movers and any emergencies that may come up. A good rule of thumb is to tip 10 to 20 percent of the total move amount for every mover that's helping. You should consider tipping a little more if you have larger items that require more labor to move.
Do a Final Walk-Through
Finally, do a final walk-through of your place to ensure everything is accounted for and not left behind. Double-check that everything is also in good condition for the new owners or renters. Be sure to take pictures of your place to maintain records if damage happens after you move.
Top 10 Tips for an Easy Move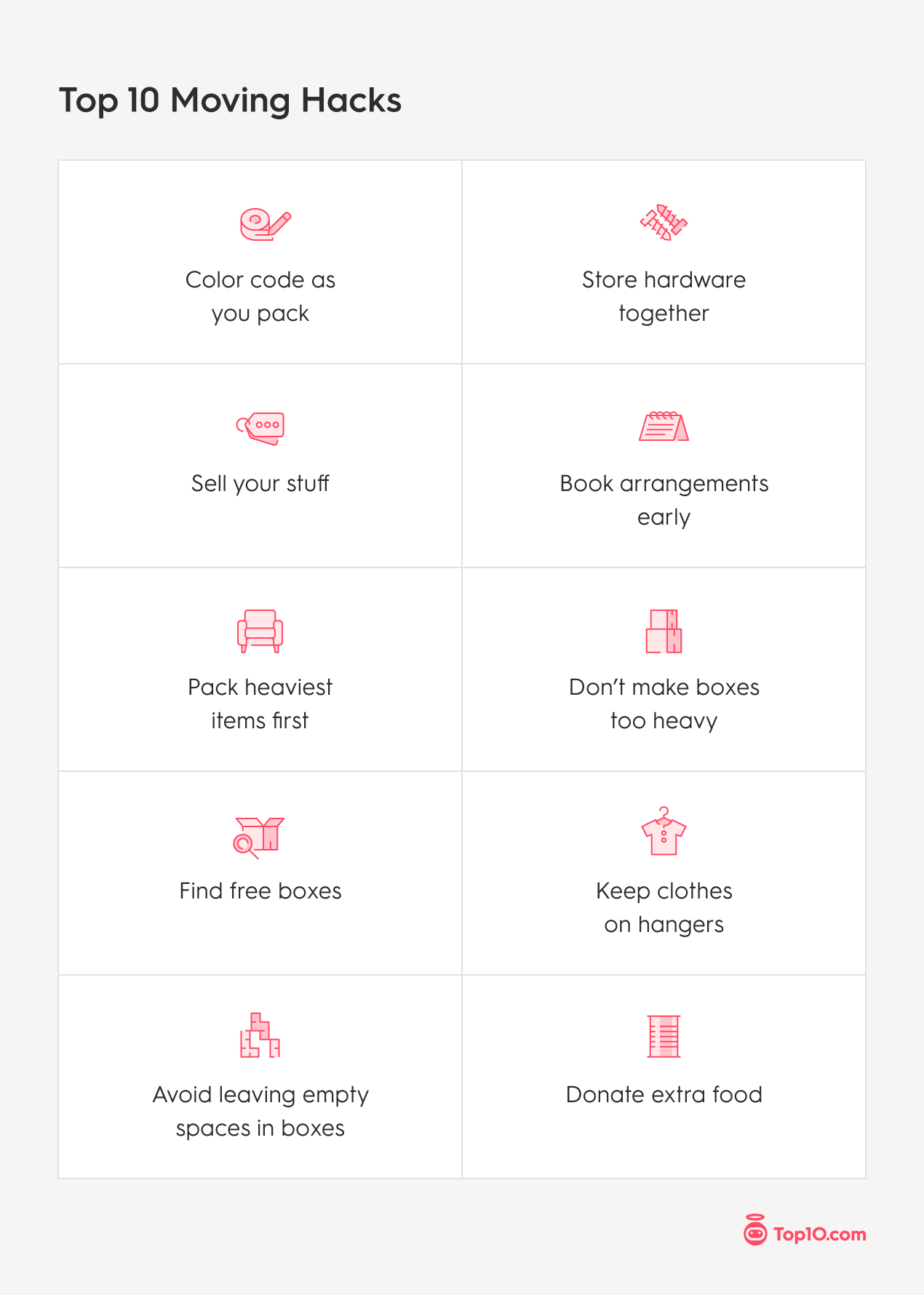 Moving can be taxing, but if you have the right tools and tips, you can help smooth the process. Here are our top 10 moving tips and hacks to make things easier once moving day rolls around:
Color code as you pack: Consider color coding as you pack., where you mark boxes with different colored markers or tape. Doing so can help you identify which items are for the kitchen, dining room, etc.
Store hardware together: Keep all your hardware in one place, such as your nails, hammers, screws, and more. Doing so lets you quickly find what's necessary when it's time to rebuild your furniture after the move.
Sell your stuff: If you are overwhelmed by the number of items you have to pack, consider selling items you no longer need or use. Plus, this can provide you with some extra cash that can help with moving costs.
Book arrangements early: As soon as you know your move-in date, consider scheduling your arrangements early. This includes booking your movers and air travel if you're moving to another state.
Pack heaviest items first: By packing your furniture and other oversized, heavier items in the moving truck first, you'll leave more room for smaller items to unload first. However, if you hire movers, they will usually do this for you.
Don't make boxes too heavy: Lessen the load on you and your movers by avoiding making your moving boxes too heavy. For example, use smaller boxes to transport heavier items such as books rather than combining them into a larger box with additional heavy items.
Find free boxes: To help you save on moving costs, look for free moving boxes. You can check out your local grocery store or even sites like Craigslist and search for people looking to get rid of extra boxes.
Keep clothes on hangers: Packing a large closet can be daunting. To make it easier, keep the hangers on your clothes and pack them in trash bags so you don't have to deal with taking them off.
Avoid leaving empty spaces in boxes: Avoid leaving too much space when filling your moving boxes. Fill gaps with bubble wrap or towels to pad extra cushioning—this is even more important for fragile items.
Donate extra food: To save space in your kitchen-related boxes, consider donating unexpired canned goods to your local food bank or shelter.
Printable Moving Checklist
Download and print this moving checklist to help organize and guide you through your move. There are also spaces to add your items and customize the checklist to fit your needs. Plus, take advantage of the additional hacks in the printable.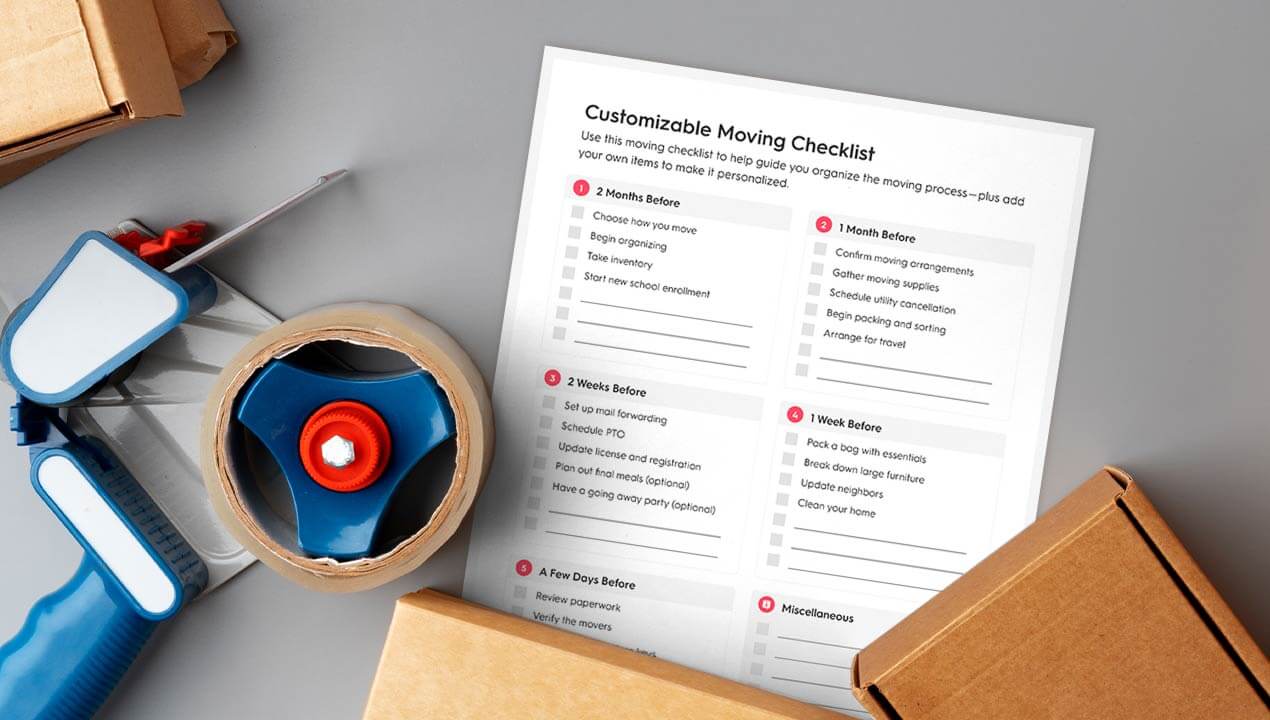 Check out our full customizable moving checklist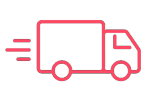 Download
Take the Stress Out of Moving
Moving can be a busy and potentially exhausting time, but with careful planning, organization, and the printable moving checklist, you can make the process smoother and more manageable. To save money when using a moving company, follow the tips above and compare quotes to find the best deal.