In a Nutshell
American Van Lines is renowned for its customer service and prides itself on making your move as simple as possible. The company also specializes in moving antiques and delicate items like pianos. American Van Lines isn't the cheapest option out there, but flat-rate pricing can be a huge plus for anyone who needs to know the exact cost of moving ahead of time.
pros
Flat-rate pricing for every move
Excellent customer service
Capable of moving specialty items like antiques and pianos
cons
Packing and unpacking services rely on local contractors
Relatively expensive
American Van Lines at a Glance
Local and long-distance moves, packing and unpacking, storage, moving specialty items
Services Covered
American Van Lines offers most basic moving services over both local and long distances. Loading and unloading from the moving truck is always included, while you have the option of hiring a crew for packing and unpacking your items. In addition to moving your stuff from one home to another, this top moving service also has a wide range of long-term and temporary storage options. American Van Lines doesn't offer shipment tracking, but you can call the foreman in charge of your move at any time to get an update on the status of your belongings.
Local and long-distance moves — includes loading and unloading and insurance up to $0.60 per pound
Packing and unpacking — may be partial or full depending on your needs
Storage — long-term or temporary; climate-controlled units and personal vaults available with 24/7 security
Packing and moving specialty items — including antiques, collectibles, and pianos

Pricing
American Van Lines offers competitive pricing for most moves, although it is rarely the cheapest company on the market. That's because the company offers flat-rate pricing. With this pricing model, your upfront quote is exactly what you pay for the move—regardless of whether it takes longer than the company estimated when giving you the quote.
This can be both good and bad. On the one hand, American Van Lines has to charge more in its quotes to ensure that the company won't lose money on moves that take an extra day or two. On the other hand, you know exactly how much your move is going to cost before you agree to it. That's a major difference from other moving companies, many of which calculate the final cost only after your stuff is delivered to your new home.
The exact price of any move will depend on the distances involved, how much stuff you have, and what extra services you need. But, to give you an idea of how much American Van Lines charges, a 500-mile move with a 26-foot truck (big enough for most small homes) costs around $6,000. Local moves are typically charged on an hourly basis and may cost anywhere from $500 to $2,000 depending on the city and the amount of care your items need.
Moving Process
The moving process with American Van Lines starts with a quote. You can either call the company or request a quote online for your move, which just covers the basics of when you want to move, where you're located, and where you're going. If you do submit a quote request online, the company will call you to follow up and offer pricing for different delivery speeds, extra services like packing and unpacking, storage, and insurance. In many cases, the company will request photos or a video walk-through of your home to better evaluate what size truck is needed and how long the move will take.
You can finalize the details of your move within a few hours for rapid departures. Otherwise, you're assigned a foreman who is typically very good at following up with you by phone as your move date approaches. On the date of the move, the driver and a loading crew will arrive with a truck at your home and get everything loaded.
From there, your items will either go into storage or to your new home. Once they arrive, the process is repeated in reverse—the driver and a local crew will unload your items from the truck and help you move them into your home. If you requested unpacking, the crew will also help with reassembling large furniture and unboxing smaller items.
Fleet Details
American Van Lines has around 50 drivers and a fleet of 51 trailers. The company's size allows it to be more flexible than some competitors, since there's almost always a truck available near your area. In some cases, American Van Lines will also rent trucks locally when the company doesn't have fleet vehicles available for your move.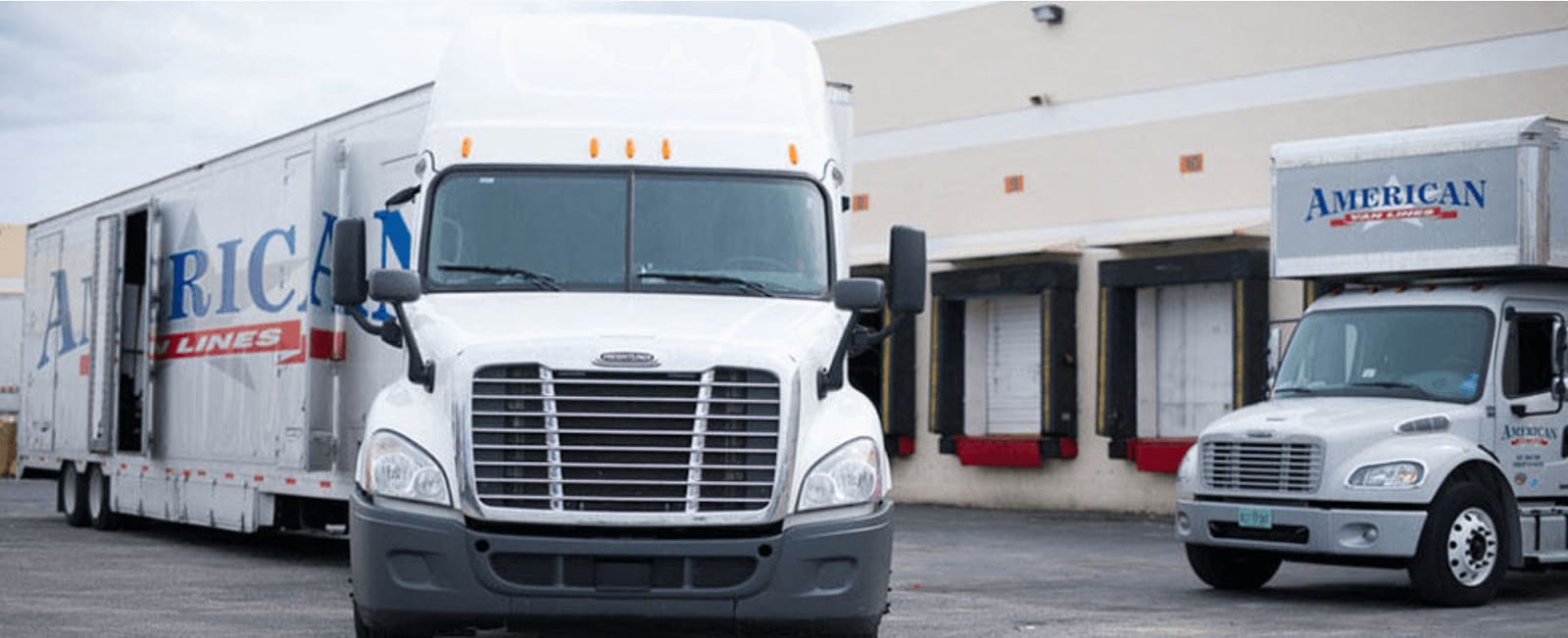 Importantly, American Van Lines primarily relies on contract labor for packing and unpacking services. The quality of your move and the level of protection your items receive during packing can vary quite a bit based on the local movers you get. The company does vet its contractors, though, so it's fairly safe to assume that you're going to get a reliable and hard-working crew to handle your stuff.
Customer Service
Customer service is one of the biggest selling points for American Van Lines. The company makes it easy to reach out to your move foreman at any time during the quote or moving process. There's also an after-hours emergency phone number you can call in case the main American Van Lines office is closed. That's extremely reassuring, since you can always get an update on when your stuff is expected to arrive at your new home or report any issues that crop up during the move.
American Van Lines doesn't provide strict guarantees for your delivery date, although the company has a strong track record of on-time deliveries. Insurance, up to $0.60 per pound for each item, is included as part of every move. You also have the option to pay extra for fully insuring the value of your goods during the move.
Testimonials
"We had a great experience with your organization! The van showed up on time, the employees got the job done, and they were off to deliver the contents of the house to our new location. Everything went off seamlessly! If there was a problem our foreman never let us know it! We would definitely use this organization again! Thanks for a great experience!!"—Marybeth C.
"Friendly and efficient crew for the move out and the move into storage. The guys were thoughtful with many of our precious things. Also, we appreciated the proactive follow-ups from our move coordinator and the assigned person before we made our agreement for the move. I would recommend American Van Lines based on our experience."—Michael M.
Bottom Line
American Van Lines is a strong option for local and long-distance moves anywhere in the continental US. The company offers excellent customer service and a wide range of services, including packing, unpacking, and storage. American Van Lines is particularly suitable if you want flat-rate pricing for your move or have specialty items like antiques that need to be moved with care.