In a Nutshell
Prepping for a life-altering move can be overwhelming. Time, effort, coordination, and ease are essential for a successful transition, and this is where Safe Ship Moving Services excels. As one of the premier companies specializing in long-distance moves, and backed by years of experience, Safe Ship Moving Services will work with you to develop a customized and competitively priced plan to help make your move as stress-free as possible.
pros
Free and fast quotes
Licensed and bonded
Packing, unpacking, storage, and auto transport services
cons
Must contact for a full quote
Brokerage firm that contracts with other moving companies
Safe Ship Moving Services Visit Site
Safe Ship Moving Services at a Glance
Full service moving (packing, unpacking, transport, and storage)
Services Covered
Safe Ship Moving Services provides full-service moving, which can include packing, unpacking, unloading, transport, and even storage if necessary. No matter where you decide to move, it is the mantra of Safe Ship Moving Services that no project is too large to undertake.
As shipping brokers, the company only works with the best carriers who are all fully bonded, licensed, and insured. They seek to take all the stress out of your moving experience so it goes seamlessly.
Safe Ship Moving Services provides movers who will carefully handle and pack each one of your belongings in high-quality packing materials, which are designed to protect your possessions during transport. Each carefully packed item will be moved aboard a carrier truck on your behalf and transported to and unloaded at its final destination. The team will even unpack and put away your valuables as you sit back and simply tell them what goes where.
In addition, Safe Ship Moving Services also provides services for auto transport as part of your move as an optional add-on. This is beneficial, especially if you're moving across large areas where the easiest solution would be to fly. Upon landing you can have your vehicle delivered to you.
Where Safe Ship Moving Services really shines is in long-distance moves. The company has a network of brokered specialists helping families, military personnel, and even businesses make the transition from one location to the next. Its specialists will work closely with you to help design a customized moving plan for your required move dates and times.
What's included:
Packing and unpacking

Loading and unloading

Transport (including auto transport)

Storage (if needed)

Fully bonded and licensed
Pricing
Pricing starts at a modest $1,499, but as each situation is unique, a more personalized quote will need to be generated. Different variables will have to be factored in, such as where you are moving from, where you are moving to, the size of your home, and the number of items to be moved. Also, whether you will require any extra or additional services. All of these factors play a crucial role in formulating your quote.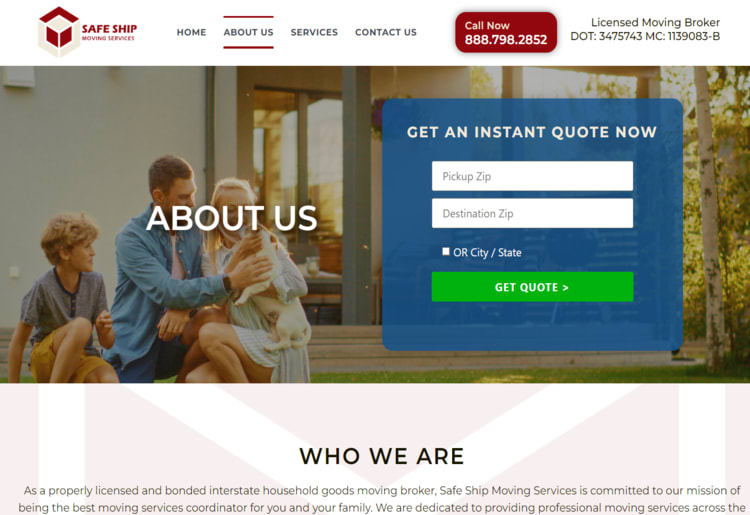 So that you know exactly what you are getting, Safe Ship Moving Services offers a free, no-pressure, no-commitment quote. Once you receive your personalized quote, you can decide to move forward to book its services.
Moving Process
In an effort to make your move as seamless and stress-free as possible, Safe Ship Moving Services has streamlined a process that will allow you to quickly receive a quote and book your move dates with ease and flow. Simply answer a few short questions on its site and quickly receive a quote that will show an itemized detailing of all the services you've requested.
Should you be satisfied with the amount quoted, you will then want to speak with a representative who will get granular detail about your needs, customize your unique plan, and finalize the dates and times of your move.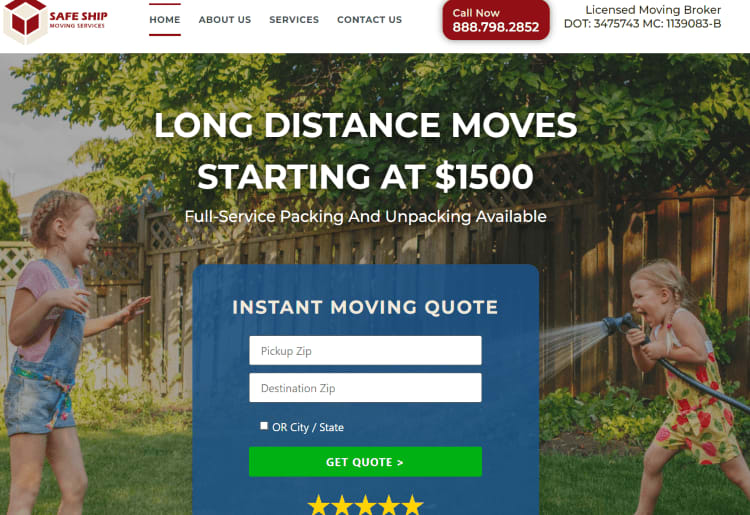 On move day, a bonded, insured, and licensed carrier will meet you at your residence. Each precious item and possession will be respectfully placed into the carrier vehicle and then inventoried so that you can rest assured all your personal effects are accounted for. After this, your carrier will start its journey to your new location, where you will meet it, sign for each of your possessions, and then have each carefully unloaded on your behalf.
Customer reviews report that working with Safe Ship Moving Services is very low-stress as it handles all of the red tape and paperwork on your behalf. Furthermore, the company pre-screens the best carriers to partner with to ensure you have the easiest and most stressless move.
Fleet Details
Safe Ship Moving Services is a brokerage firm that has wide access to a variety of different carriers who can be contracted to suit your particular needs.
Customer Service
Contacting Safe Ship Moving Services is easy. Simply navigate to its website and click the Contact Us link. There you will have the opportunity to generate a quick and free (but not personalized) quote.
Safe Ship Moving Services can be reached via phone by calling 1-888-798-2852 or by emailing admin@safeshipmoving during standard business hours, 9am-6pm, Monday-Friday.
Safe Ship Moving Services Visit Site
Testimonials
"The people who relocated us were extremely competent and talented. They were incredibly careful with our belongings and had all of the necessary tools and boxes for the relocation. Nothing was destroyed during the entire operation. The movers were courteous, hardworking, and cautious. The personnel was friendly, comprehensive, and helpful. I will also recommend them to my friends and relatives."—Charlie Crisp
"When choosing a moving company, it easy to find mistakes. However, Safe Ship Moving services was excellent throughout my relocation. They are timely, friendly, and their pricing is reasonable. The moving crew they provided for me was really skilled. There were no inconveniences or problems at all. When they brought everything, I was surprised to see that none of my valuables had been damaged. These men have made an incredible effort."—Tina
"The rep I worked with from safe ship moving was in touch frequently. She returned my phone calls, which is a 100% improvement over the first company we had selected. She did a really good job. We wanted to be able to know what was going on and she was on the ball with it. We were also super lucky because they had given us a range of delivery. They told us they had a two week window to deliver. We were hoping it wouldn't be two weeks because we would be camping out with nothing in our new home. We moved in on a Tuesday and they came on a Sunday the same week. The drivers on both sides were excellent, very professional, and did inventory on both sides, every single box and piece of furniture. They did a great job."—Mary Olney
Bottom Line
Safe Ship Moving Services offers a dedicated and professional service to individuals, businesses, and families. Furthermore, the company can customize your particular needs to fit your budget. For a free quote, visit its website and contact a specialist who can help you customize the ultimate stress-free moving experience.