In a Nutshell
Balance by BistroMD is the sister meal delivery service to BistroMD, offering health-focused meals based on the science developed by Dr. Caroline Cederquist, a board-certified bariatric physician. Balance is a healthy alternative to supermarket frozen foods. It delivers nutritious, pre-made meals to your door. If you're looking to lose weight or maintain a healthy lifestyle, but don't have time to cook, Balance could be the solution for you.
pros
100+ pre-made meals
Prices starting from $6/meal
No cooking required
cons
No organic, Kosher or Paleo options
No recurring meal plans

Balance Visit Site
Best For
People with dietary restrictions or nutritional needs.
A large variety of healthy, diet-friendly meals approved by nutritionists.
Balance by BistroMD Meal Plans
Balance by BistroMD lets you design your own weight loss menu with nine speciality diet meals that include breakfast, lunch, and dinner options. With this highly flexible and customizable program, you can create meal plans that meets nutritional needs, and personal tastes. You can even order high-protein snacks to help you feel full between meals - like protein bars, snack mixes, jerky, cookies, and shakes.
Dietary Options at Balance by BistroMD:
Heart healthy meals support heart health with less than 3.5 grams of fat and fewer than 600 mg of sodium per serving. These meals can be part of a balanced diet to lower cholesterol and blood pressure.
Gluten-free meals do not contain wheat, rye or barley ingredients, making them good options if you have gluten sensitivities or intolerances. All meals are tested to meet the FDA gluten standards of 20 ppm, and are prepared in kitchens that follow gluten-free protocols.
Diabetic meals have less than 25 grams of net carbohydrates per meal to help keep blood sugar levels within a healthy range. These diabetic meals are ideal if you have prediabetes and diabetes.
Low Sodium meals have less than 600 mg of sodium per meal. You can enjoy a day's worth of low sodium Balance by BistroMD meals and stay under the Dietary Guidelines for Americans recommendation to keep sodium below 2,300 mg per day.
Low Carb meals have less than 25 grams of net carbohydrates per serving, and work well for a low carb lifestyle. These meals have quality fiber in each serving, which is great for heart and gut health.
Menopause meals are designed for the changing hormones and weight challenges women face during menopause. These meals have foods with high nutrition content, moderate carbohydrates, and portions encourage maintaining a healthy weight during menopause.
Dairy Free meals do not have any milk or dairy ingredients, which works if you have lactose intolerance or dairy sensitivities.
Mediterranean meals are centered on the heart-healthy Mediterranean diet that features lean proteins, vegetables, whole grains and olive oil.
Vegetarian meals do not have meat or poultry ingredients. You can find Pescatarian meals that highlight fish as well as other plant-based meals to satisfy the whole spectrum of vegetarian diets.
Important to Note: Individual ingredient substitutions are not possible with the menu options, but you can always contact the team at Balance by BistroMD if you need assistance finding meals that fit your individual nutrition needs.

Our Favorite Meals from Balance by BistroMD
Taking inspiration from Southern Italy, Spain and Greece, the Mediterannean menu options by Balance by BistroMD are big on fruits, whole grains, vegetables, dairy and fish. One of our favorite meal was the Greek Omelet with Fruited Quinoa, featuring egg whites, feta, roasted red pepeers, black olives and spinach:
As for Balance by BistroBD gluten-free meals, it was hard choosing between the Jerk Spiced Chicken with Mango Chutney and Spinach, or the Grilled Salmon with Dill Mustard Sauce. Ultimately, the Jerk Spiced Chcken came out on top, thanks to the delicious tomato okra stew and sweet chutney that paired perfectly well with the spciy chicken:
How Much Does Balance by BistroMD cost?
There is no minimum purchase and no membership cost. Prices per meals range from $6.49 to $15.99, and you control the cost by selecting the type and number of meals you need. Shipping is $19.95 for orders under $99.00, otherwise there are no shipping costs.
$19.95 for orders under $99.00
$19.95 for orders under $99.00
$19.95 for orders under $99.00
With no membership fees, you have the flexibility to customize a Balance by BistroMD order that is right for your budget. Simply choose the meals and snacks you want to eat for the week.
How Does Balance by BistroMD Work?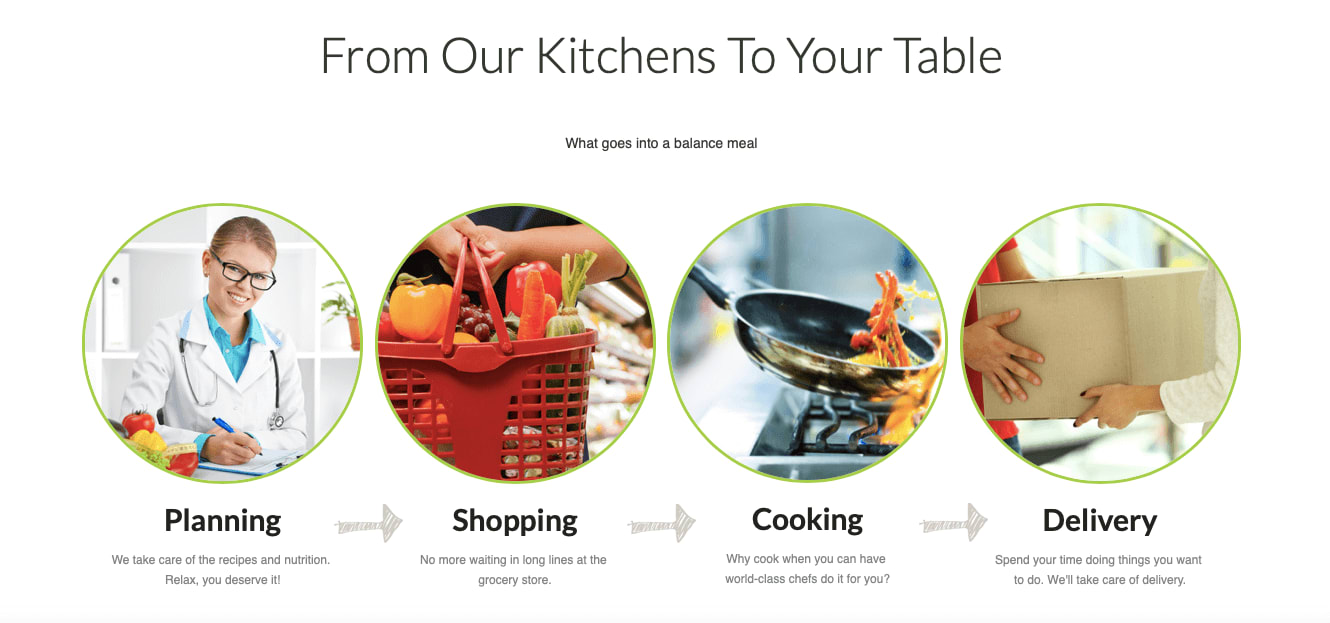 Placing an Order with Balance by BistroMD
Start by registering before making your first order. You'll be asked to enter your first and last name, phone number, Email address and then to create a password. You then will need to enter your billing and shipping information.
How to Choose Meals from Balance by BistroMD
Once you've signe up for a Balance by BistroMD account, you can browse the menu to find the meals you like, or filter through the menu options for breakfast, lunch, and dinner items. You can also choose meals based on your dietary needs (gluten-free, low sugar, etc.). Then all you have to do is add the meals you want for the week into your cart and place your order.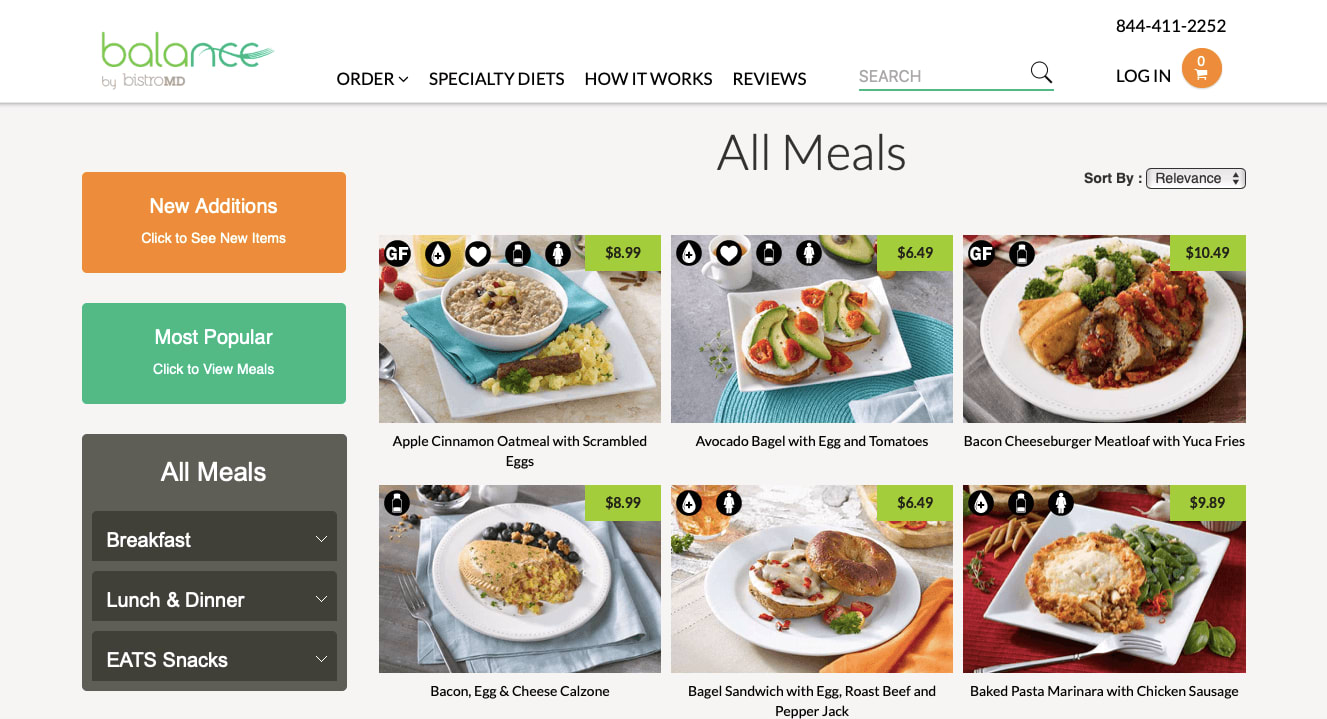 There are no set meal packages with Balance by BistroMD. You decide which meals, and how of them you want for the week. Once you've placed your order, it will be prepared by chefs and sent out by FedEx Ground. Meals can only be sent within the continental US and will arrive within 2-5 days.
It's important to note that individual ingredient substitutions are not possible when selecting meals.
Does Balance by BistroMD Have Cooking Instructions?
Balance by BistroMD meals are a time-saver because no cooking is required, which means the only instructions you'll have to follow are the reheating instructions on the packaging. All meals are flash-frozen to make sure nutrients aren't lost in the process. Most meals take about six minutes to be heated in the microwave.
What Makes Balance by BistroMD Stand Out?
Balance by BistroMD is a weight loss menu that puts you in the driver seat. You don't pay for what you don't need or want, since you get to choose exactly what you want and how much you want. Plus, your meals can be ready in minutes.
We also love the fact that the team of registered dietitians and chefs at Balance by BistroMD work together to create a rotating seasonal menu, meaning you'll rarely get bored of ordering from Balance by BistroMD. And when it comes to corporate social responsibility, Balance by BistroMD works with farmers and vendors across the country to make sure ingredients are both sustainable and local.
How are Balance by BistroMD Meals Packaged and Shipped?
Balance by BistroMD is committed to your personal health and to minimizing its impact on the environment. Packaging is made from 100% post-consumer recycled paper and printed using vegetable-based ink. The coolers are also formed from at least 60% post-consumer recycled foam products. You can recycle your boxes after unpacking your food.
Is There a Balance by BistroMD App?
Balance by BistroMD does not have an app. You order all your meals and snacks directly from their website.
Balance by BistroMD Customer Service
You can find answers to tto common questions on the Balance by BistroMD website. The FAQ page features a comprehensive list of questions related to everyting from ordering, shipping and nutrition. The Balance by BistroMD "On the Table" blog, offers helpful hints and advice on nutrition, fitness and lifestyle.
Balance has a US-based Concierge team to contact with questions or refund requests. You can call 844-411-2252 from 8am-5pm EST Monday-Friday. You can also email the company at customerservice@mybalancemeals.com or chat reps live on the website until 1am EST each night.
How to Cancel or Pause Your Balance by BistroMD Account
Since Balance does not have a recurring membership plan, you can pause or cancel at any time. You have the flexibility to place orders as often as you like. However, if you wish to cancel an order, you will need to contact Balance customer service immediately. Once your order is picked up by FedEx, there is no way to cancel it.
How Balance Compares to Other Meal Delivery Services
Low sodium, low carb, vegetarian, gluten-free, Mediterranean
Gluten-free, low carb, low calorie, vegetarian, vegan, dairy-free, allergies
Keto, paleo, Mediterranean, vegan, vegetarian, gluten-free
Paleo, carb-conscious, gluten-free, vegetarian, pescatarian
100% post-consumer recycled paper
Go-Green plastic containers
Compostable trays, recyclable cardboard and containers
Balance by BistroMD vs Freshly
Both Balance by BistroMD and Freshly offer prepared meals delivered directly to your door, but Freshly only offers gluten-free options, while Balance has meals that cater to a wide variety of dietary preferences. Freshly meals are delivered fresh, never frozen, while Balance only offers frozen meals. However, this means that Freshly meals have a shorter shelf life.
Balance by BistroMD vs Green Chef
Balance by BistroMD offers pre-prepared and ready to eat meals, whereas Green Chef has meal kits that require prep work and hands-on cooking. Green Chef's fresh, organic ingredients does mean you'll have to pay more than you would for meals from Balance by BistroMD.
Balance by BistroMD vs Sunbasket
Sunbasket is an organic meal delivery system offering both prepared meals as well as meal kits. The company's 'classic' and 'family' meal plans give you the ability to choose meals that can feed an entire household. Both Sunbasket and Balance by BistroMD have options to customize orders, instead of having set meal plans. Unlike Sunbasket, Balance by BistroMD doesn't require you to sign up for a weekly, monthly or yearly plan.
Is Balance by BistroMD Worth It?
Balance is a good alternative to frozen supermarket fare for busy professionals and parents who are health-conscious and don't have time for shopping and cooking. Because the food arrives frozen, it does lack the freshness you get from other ready meal services. However, with over 100 tasty menu options, as well as snacks—for as little as $6 each—it's a good value.