In a Nutshell
SE Ranking is a digital marketing tool that features a backlink tracker, keyword research functionalities, and which allows users to plan paid advertising campaigns. Starting from $18.60 per month, the tool also allows users a free 14-day trial. This is a friendly and powerful SEO tool that could be a great fit for businesses new to search engine optimization.
pros
Integration with Google Analytics and Search Console
Monitor and track backlinks
Track site versus competitors
cons
Lots of info for SEO beginners
No 24/7 support

SE Ranking Visit Site
SE Ranking Marketing Tools at a Glance:
Best for: Small businesses that need SEO and digital marketing tracking
Key uses: Keyword research and SEO
Price: From $18.60 per month
Free trial (or Guarantee): 14 days
SEO
Backlink Analysis

SE Ranking can perform an analysis of all backlink sources to see which websites are referring on traffic.
The Backlink checker tool:
Calculates the number of unique domains referring traffic to the website
Computes the total number of backlinks
Assesses the percentage ratio of dofollow to nofollow links
Shows the average domain trust for referring domains
Gives a percentage breakdown of how many backlinks are to the domain homepage and to internal pages
All the information about scanned backlinks is presented on a user-friendly dashboard which uses pie charts and KPI indicators to display the information. Information can be refreshed manually by updating the report.
Users can also see a ranking of the most popular anchor text for inbound links. This information is presented as a table ranking.
Keyword Research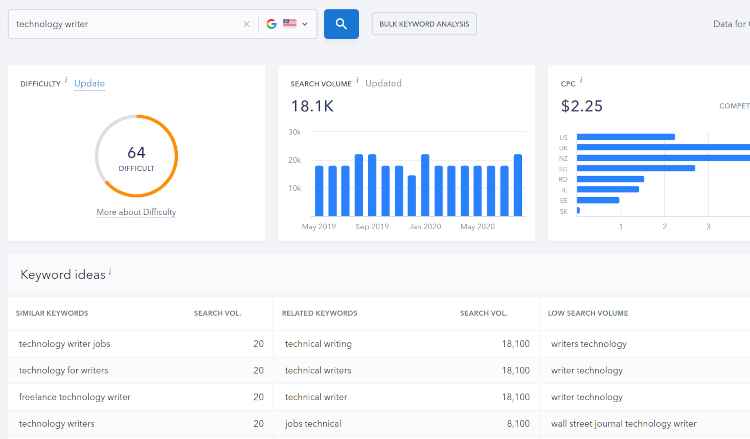 Users can also use SE Ranking to conduct keyword research in order to build lists of which keywords to rank for. After users enter a keyword, they receive an analysis which displays:
The detected keyword difficulty (how difficult it will be to rank in the top 10 search results for that keyword)
Search volume per month
The average CPC for that keyword
Additionally, SE Ranking provides a list of similar keywords with their corresponding search volumes. This feature is designed to make it easy for those looking to pour more resources into their SEO to develop lists of keywords to target through organic mentions and for PPC campaigns. Users can also choose to export the data for analysis in a different program or in a spreadsheet editor. Keywords can also be filtered according to their search volume, estimated CPC, and competition.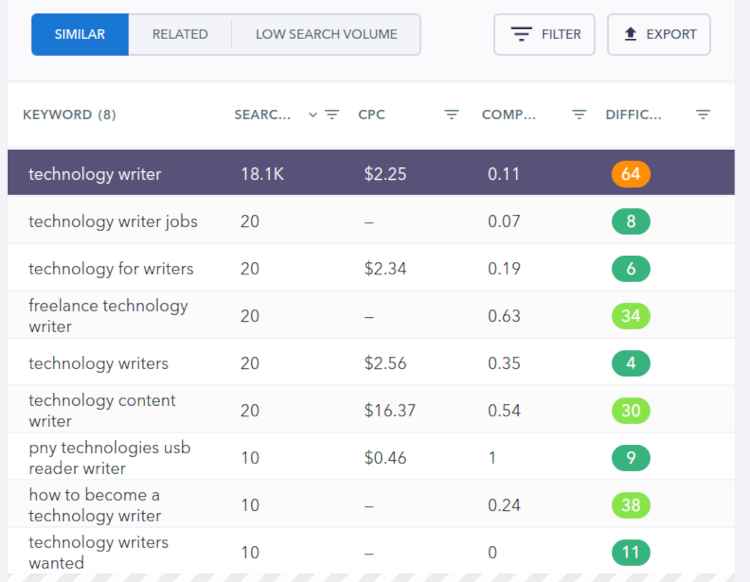 Organic Results Viewer
Sometimes, those planning SEO campaigns will want to see real organic results from actual search engines. SE Ranking allows users to easily see what the real organic listings for certain keywords are—and to change the search engine and location instantaneously. Compared to using a VPN to search from different locations, this is far more efficient and can save a lot of time. Using a simple dropdown menu next to the search bar, users can choose whether to display results as they appear in Google or Yandex. Likewise, any country can be chosen.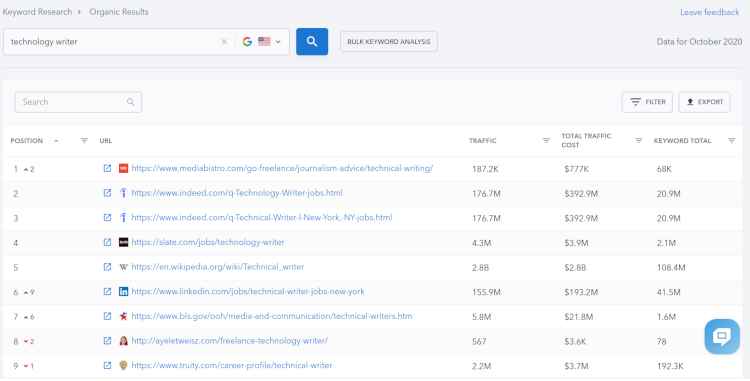 The results page displays:
Each website's current position in the Search Engine Results Page (SERP)
Whether it has moved up or down recently
Total estimated traffic
Total traffic cost
Keyword total
By aggregating this information with their best detected keywords, users are able to plan a bank of keywords that has the best possible chance of realizing favorable results for their budget.
Positioning and Tracking
After configuring a website to be monitored, competitor domains, and keywords to track, SE Ranking indexes the domain and offers insights to help improve performance.
Paid Results Tracker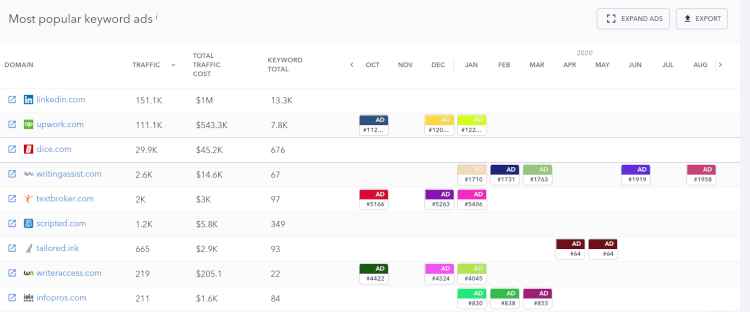 Users can also dive deep into what advertisers have been targeting certain keywords they might be interested in. The information is displayed in calendar format and users can also expand ads to see how they appeared on advertising networks. The information can be exported for offline analysis.
Pricing
Charges for the service vary depending upon the subscription period that the user is signing on for. Additionally, price varies depending upon the ranking check frequency. If users are content with receiving less frequent updates—such as weekly—then the subscription charge is less.
For users that want to sign up for an annual membership and who wish to receive daily updates, the service costs as follows:
As users sign up for progressively more expensive plans, they increase the number of websites that they can use with the system. Additionally, the website audit can index more pages and the backlink monitoring service can keep track of more backlinks. Additionally those on the Plus tier can use the on page checker for checking up to 450 pages, while those on the Enterprise tier can receive results across 750 pages.

SE Ranking Visit Site
Customer Service
Those that require assistance with getting set up on the system, or with making the best use out of it, can get in touch with the SE Ranking customer support team. They can be reached by completing an online Contact Us form. Users simply need to describe the issue they have been having and can also upload attachments if screenshots might help with the diagnostic process. Additionally the company operates phone numbers in the UK and the USA. Finally, SE Ranking contains an extensive knowledge base which is designed for customers that want to be able to resolve their own issues. Documentation is available to instruct users on how to generate an API key, use the on page SEO checker, and other topics.
Bottom Line
SE Rank is a user friendly but powerful SEO and keyword tracking tool that can be used for both backlink analysis, keyword research, and to plan campaigns. This is a tool that could be leveraged by businesses looking to work on its SEO or plan its paid digital advertising campaigns more effectively.