In a Nutshell
PNC Logos provides more than just logos and also offers design services for brochures, brand identity, websites and social media. It has a very impressive portfolio of past work and a 100% satisfaction guarantee for all projects. Additionally, it has a very helpful blog with tips, advice and guidance.
pros
Easy-to-use website
Competitively priced in the industry
cons
Design process can be confusing
Users may need to request quote

PnC Logos Visit Site
Value for Money
The PNC Logos website makes for easy navigation, and all the pricing information is readily available. It's clear that PNC's focus is on excellent service, undisputed expertise, and value for money. There are a multitude of services available - logo design, websites, brochures, brand identity—and all are priced to suit various budgets, business sizes, and customer requirements.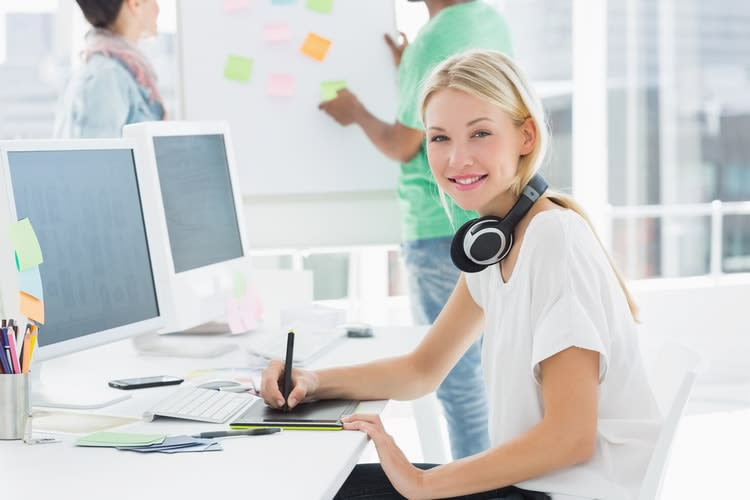 The various packages are designed keeping in mind a variety of businesses, and all range in services provided and pricing.
*Prices last updated May 2018
Portfolio/Experience
It's helpful to see a logo design/brand identity site that puts so much care into presenting its portfolio of past work in an elegant way. It's easy to navigate through the different formats of design offered, i.e by clicking through the categories selector from logos, through to websites, brochures, and brand identity.
It's clear PNC Logos has a highly experienced team that can offer a timely turnaround for work ordered. It would be nice to have more information available on the actual individuals or teams behind the designs, just for added assurance. That said, the site does a great job of making clear this is a bespoke design process for each job, and not automated in any way. It would also be nice to see more examples within certain sections; for example, many of the website examples seem to look very similar in design and layout, so it would be good if PNC logos could show various designs to demonstrate its flexibility.
Contract Terms
The terms and conditions are laid out clearly on the terms and conditions pages. It's very clear on this page, what each package includes in terms of revisions and partly details the process, too. PNC logos are clear that its clients can approach them for unlimited free amendments given that the design and concept remain intact.
Rvision turnaround time will usually be 48 hours. As a rule, the basic package includes 1 revisions; the Startup package includes 3 revisions, and the Corporate package has unlimited revisions. Customers should be aware that unlimited revisions require the initial design and concept to be the same, as a redesign cannot be requested once the design has been selected.
As you'd expect, the site also provides all the information you need regarding other areas of the service, including the refunds policy and how to request them, PNC's quality assurance policy, and delivery information.
Customer Service
PNC makes the process as straightforward as possible for customers, but is on-hand should there be any problems. The company offers 24-hour customer support, and makes it clear that customers are free to get in touch at any time, and to expect a prompt reply. This makes a change, as often with many sites you're waiting 24-48 hours for a reply. There is also a live chat function on the site, which means customers can get answers even quicker if need be.

PnC Logos Visit Site
Design Process
PNC logos makes it easy to get going, whether you're looking for logo design, brochure design, a new website or brand identity. The process is a little unintuitive at times, and some patience may be needed. This is because when you click "Order Now" for your chosen design package, you're invited to put in your details and then discuss project with the team.
This is a thorough way of working of course, because it means that you're getting a bespoke service from the start. But some customers may find it a bit slow and laborious, particularly those who are short of time and want to get things rolling as quickly as possible, themselves.
Sadly there isn't a wealth of information on the actual process itself on the site. You're not clearly given guidance on how long things take, or what happens next once you're ready to order. There isn't even a FAQs section or knowledge hub. Again, these aren't deal-breakers, but could irritate some customers.
Conclusion
If you're looking for quality logo, brochure, and brand identity design, along with websites, too, then PNC Logos is a great place to start that journey. Great pricing and great customer service are the name of the game here. Once you start talking to a customer service representative and get the ball rolling, all your requirements will be taken care of through dedicated account managers.